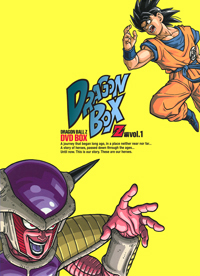 | | |
| --- | --- |
| Note: | Although Dragon Ball Z is the second series chronologically, the Dragon Box DVD series was actually launched with Dragon Ball Z, making this the very first Dragon Box release! |
What are the Dragon Boxes?
Starting in 2003 and ending in 2005, Toei Animation, in cooperation with the DVD manufacturing company Pony Canyon, released a series of four box sets covering the entire Dragon Ball TV series property. In 2006, Toei Animation dropped Pony Canyon and released all of the Dragon Ball movie properties on their own in the fifth and final Dragon Box.
The Dragon Boxes were limited items in the truest sense of the word. An order start date would be announced several months in advance, as well as an order deadline. The ordering windows were typically several months in length, and all manufacturing of the box sets were based solely on the number of orders received. In other words, they only made enough boxes to satisfy the orders made within the given timelines, after which point production on the boxes ended indefinitely. With so few actual Dragon Boxes in circulation (most of which already in the loving arms of Dragon Ball fans), it makes finding these boxes nowadays somewhat difficult.
General Information
Order Start Date:
N/A
Order Deadline:
15 January 2003

---

Released:
19 March 2003
Retail:
¥100,000
Catalog Number:
PCBC-50368
Original Copyright:
1986 – 1989
Property Holders:
Bird Studio / Shueisha / Toei Co. Ltd. / Fuji TV
Manufacturer:
Pony Canyon
Encoding:
Region 2 / NTSC (Japan)

---

Discs:
25 discs + 1 special disc
Disc Format:
Single Sided / Dual Layered
Encoding Format:
MPEG-2
Video Format:
4:3 Standard Size
Running Time:
Approximately 3,700 minutes
Contains:
Dragon Ball Z episodes 001 through 147, plus bonus features

---

Audio Format:
2.0ch monaural (presented in Dolby Digital)
Language:
Japanese
Subtitles:
None
Alternate Angles:
None

---

Extra Features:
— Specially designed box
— Picture labeled discs (uncommon for Japanese DVDs)
— 128-page book (fully colored)
— Kaiyodo Deluxe Son Goku Action Figure (with interchangeable parts)
Box Design
The box uses a special design made specifically for the Dragon Box series. It is a large solid box, inside of which it contains a series of "DVD books". The outer box contains the Dragon Box Z logo on the front and spine, with a nice image of Son Goku lunging toward Freeza, which wraps around the box. These images, including the outlined Shenlong on the back, are all original artwork by veteran Toei Animation artist Katsuyoshi Nakatsuru. The spines of the books are labeled one through seven using both kanji and actual Dragon Balls for the numbering, with a large image of Goku spanning across the spines. This is yet another beautiful image by Nakatsuru, which continues onto Dragon Box Z Volume 2.
Box Dimensions:
Height – 10 ¾ inches
Width – 7 ¾ inches (across the front)
Depth – 4 ¾ inches (across the spine)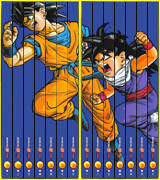 DVD Book Designs
On the front of each book is the primary image of Son Goku, with an outlined image of Shenlong on the back. All DVD books in this box are finished in a nice gloss, and all bear the exact same design. Inside each book is an orange transparent plastic to hold the DVDs, beneath which is a screen shot from an episode on that disc, displaying a character from the corresponding disc's label. The interior of the 7th book only contains discs on one side, with an empty space for the Dragon Book on the other. The image seen in this empty spot is the primary image from this particular boxes' advertising campaign, which is also used on the corresponding Dragon Book cover, as well as the cover for the second disc of the 2006 Dragon Ball Z BGM Collection.
DVD Book Dimensions:
Height – 10 ¼ inches
Width – 7 ½ inches (across the front)
Depth – 5/8 inches (across the spine)
Discs / Contents
The image used on each disc is simply a character cropped out from one of the Dragon Ball Z episodes appearing on that disc. Alternatively, disc 26 features the Shenlong image from the back of this Dragon Box.
Bonus Features
Special 1
One-Hour TV Special, "A Final Solitary Battle"
Special 2
Non-credit "CHA-LA HEAD-CHA-LA" third animation
Non-credit "Come on out, Incredible ZENKAI Power!" animation
Special 3
Clips from Foreign Dubs

AB Droits Audiovisuels, Spain
Dragon Ball Z Opening Theme (1:50 min)
FUNimation Productions Inc., America
Dragon Ball Z Episode 103 recap and title card, "Pathos of Frieza" (1:10 min)
Toei Animation Enterprises Ltd., China
Dragon Ball Z Episode 001, Raditz confronts Piccolo (1:24 min)
AB Droits Audiovisuels, France
Dragon Ball Z Episode 031, discussing the Saiyan at Kame House (0:54 min)
Mediatrade Spa, Italy
Dragon Ball Z Episode 010, discussing Goku at the stadium/parking lot (1:24 min)
大元 C&A Holdings Co., Ltd., Korea
Dragon Ball Z Episode 031, Kamehameha vs Gyariku-Hō (1:16 min)
AB Droits Audiovisuels, Portugal
Dragon Ball Z Episode 031, Goku and Vegeta discuss the Ōzaru (1:24 min)

Special 4
"Hyper Anime Dragon Ball" Promotional CG Video
Special 5
Dragon Ball Z Product Advertisements

Rooto – Kodomo Soft
Famicom – Dragon Ball Z III: A Violent Battle With the Artificial Humans
Kyarakaan – Dragon Ball Z Kobacchi Compilation
Famicom – Side Story: The Plan to Eradicate the Saiyan
Super Famicom – Super Legendary Fighting Warriors 2
Carddass – Dragon Ball Z Station
Sega Mega Drive – Legendary Extreme Bravery
Game Boy – Goku's Legendary Flight
Carddass – Dragon Ball Z Station '95 Spring Edition
Playstation – Ultimate Battle 22
Game Boy – Goku's Legendary Fierce Fighting
Disk Jack – Dragon Ball Z Stage Compilation
Super Famicom – Super Goku's Legend -Awakened Compilation-
Sega Saturn – The True Martial Arts Legend
Rooto – Kodomo Soft
Super Famicom – Hyper Dimension
Koizumi – Dragon Ball Z Study Desk
DVD Menus
The DVDs open with a little Dragon Box Z animation. The main Dragon Box logo first flies onto the screen, followed by the "A journey that began long ago…" text, which materializes itself underneath. The entire logo then bumps up, and the text "Presented By Shueisha, Fuji Television, and Toei Animation" appears.
| | | | |
| --- | --- | --- | --- |
| | | | |
The main menu is actually quite complex in presentation. There is a large green scouter over the screen, and in it you are given the options of "All Play", "Story Mode", and "Episode Select". "All Play" simply plays all the episodes in order, while "Story Mode" plays all episodes, but removes the openings, endings, and previews. In the top right corner of the scouter is a video of Goku fighting Vegeta, which you can also see playing behind the scouter over the entire TV screen. The audio for the menu is actually the audio from this particular fight. There is also a video of Piccolo fighting Imperfect Cell kind of camouflaged into the bottom left corner of the scouter, as well as a static image of Goku clashing with perfect Cell to the right. The episode menus use the same scouter design, except with a fight between Goku and Freeza raging in the background. Once again, the audio for the menu is the actual audio from the fight.
Although the menus are very unique, they are unfortunately all the exact same, with the exception of disc 26. It instead uses a completely static and silent menu.
Episode Presentation
So what exactly are you getting for your money, and what sets this DVD box set apart from other releases? The answer is quite simple, and it's that with this box set you are truly getting the purest presentation of Dragon Ball Z possible.
Complete Episodes
Presented here are the full episodes from start to finish, as they aired on TV over two decades ago (and counting). This includes the complete opening credits, ending credits and episode previews, which are not available outside of the Dragon Box release (although they are now available on the Japanese individual disc releases).
Source Video
For these DVDs they actually pulled the original 16mm film reels out of cold storage, and used them as the primary source material. All previously released Dragon Ball content (even the original Fuji TV airings) were based off either the master tapes (copies of the 16mm film), or copies of the masters. Since the 16mm film is actually the original photography of the animation cels, what you are seeing when viewing these discs is essentially the original cel animation, almost as fresh as the day it was painted!
Remastering
Since the source material is the original cel photography, the picture is already as pristine as it will ever be. However, as with any film, it is bound to suffer some damage. Pony Canyon took the time to carefully remove all damage from the film, presenting us with a perfectly clean picture, yet never compromising the integrity of the actual animation. On top of this, since they have gone back to the 16mm film, they can create an all-new frame alignment!
When making the original masters for a series, it is typical to copy the film while slightly zoomed-in. This reduces the risk of catching the edge of a misaligned cel (i.e. seeing the edge of the image). However, with time, money, and new digital technology on their side, Pony Canyon has created a new print that captures more image than the original masters. In some cases this actually meant re-aligning some of the frames, which not only allowed for a larger image surface, but also greatly reduced all former traces of jitter!
Source Audio
As with the video, they have also gone straight to the source material for the audio. Unfortunately, since the series was recorded in mono, it will always have that dated feel to it, but the audio presented here is of very good quality, all things considered. The audio never gives out or cracks during high notes in a song or loud screams, and the typical background noise (that horrible "shhhhhhh" sound) is virtually nonexistent. Also, the opening and ending themes, although remaining in their broadcast mono forms, have been greatly improved and sound very close to stereo quality.
Dragon Book
The Dragon Book is 128 pages in length and is closest in size to JIS B5 format (18.2 × 25.7 cm). The covers are soft, but are very sturdy, being printed on a thick, almost cardboard-type paper, which was then finished with a nice gloss. The actual pages in the book are in full color and are complete with a nice finish (similar to a gloss, giving thickness and durability to the paper). As with most Japanese books, the book is designed to be read from right to left.
Dragon Book Contents
From Toriyama-sensei (read translation)
001

Dragon Book Z Vol. 1 Contents

Part 1 — The World of Z

005

The Cast of Dragon Ball Z

012

A screen shot collage of the main characters in this portion of Dragon Ball Z, including both heroes and enemies.

Son Goku Early Days

016

A brief recap of the events in the Dragon Ball anime.

Dragon Ball Z Regular Staff

018

A list of the regular series staff for this portion of Dragon Ball Z.

Part 2 — Stories & Characters of Z

019

Profile of Goku Family

020

This section provides character profiles for 16 main characters.

Dragon Ball Z Ultimate Correlation Chart

024

A correlation chart that lists many of the characters, both heroes and enemies, that appear in the first 147 episodes and how they relate to Son Goku.

Dragon Box Z Vol. 1 Perfect Guide (episodes 1–147)

026

The section is essentially an episode guide that examines the series' first 147 episodes, which are divided up by disc, and begins with a breakdown of the series' story arcs. Each episode listing includes the episode title, original air date, respective credits (director, scenario, animation supervisor, and artwork), episode description, and a screen shot. Each page of the episode guide includes a "Close-Up!!" look at a specific point of interest from those particular episodes. Many of the pages also include a "Coming Up!!" section that takes a detailed look at something coming up on the next disc.

Original Story Pick Up!

086

A detailed chart which extracts all of the filler from the first 147 episodes.

Special Index

088

This section provides a detailed look at everything Dragon Ball Z. It serves as a complete reference guide with episode listings for the following events:

People — a listing of when each character is first introduced.
Battles — a listing of every fight in the entire series.
Attacks — a listing of every attack/technique used in the series, and when they are used.
Astonishment — a listing of bizarre/unexpected events.
Wishes — a listing of all wishes, as well as the dragon they were made under.
Romances — a listing of scenes where a character shows affection toward their significant other.
Funnies — a listing of all the gags/puns.

Top Ten Excellent Ratings!!

096

This section breaks down the highest rated episodes, as well as an average rating for each story arc. Amazingly, the Garlic Jr. arc beat out both the Majin Boo, Cell, and Saiyan arcs!

Part 3 — Inside of Z

099

Special Roundtable: Project Z — The "Dragon Ball Z" Anime's Past, Present, and Future

100

An eight page roundtable discussion with:

Kenji Shimizu — Fuji TV Dragon Ball Z producer
Kōzō Morishita — Fuji TV Dragon Ball Z producer
Kazuhiko Torishima — Toriyama's original editor (Shueisha)
Takao Koyama — Dragon Ball Z Series Organizer/Scenario Writer

"Z" Staff and Cast Q&A

108

A short Q&A with ten staff and cast members from Dragon Ball Z, with seven questions each.

Dragon Ball Z Design Works Collection

112

Eight full pages of sketch designs for the series, including character head/expression shots, detailed vehicle and item designs, costume designs, and location designs.

Appendix — About the Special Disc

121

A Final Solitary Battle ~The Z Warrior Kakarrot's Father Challenges Freeza~

122

Opening & Endings

124

Dragon Ball Z Foreign Versions

125

Hyper Anime Dragon Ball

126

Dragon Ball Z CM Collection

127

Handling Notice / How to View the Menu Screen

128

Dragon Column

Column 1 — History of Dragon Ball Z

040

A full timeline from January 1989 to November 1992. The timeline includes important dates in the anime/manga, product release dates, dates concerning other famous Jump series, Dragon Quest release dates, and other dates of interest.

Column 2 — Fashion Check

056

This fashion column looks at various odd outfits characters wore throughout the series.

Column 3 — Anything Countdown

068

A countdown of "Top 3's" — top 3 high-tech gadgets, playboys, etc.

Column 4 — Impressive Words

074

Essentially, a bunch of famous quotes from the series.

Column 5 — Son Gohan's Animal Adventure

098

A look at the various animals seen throughout the series (the saber tiger, Hire Dragon, etc.).

Column 6 — Understanding Moments in Dragon Ball Z

120

A list of little things to look for that are hidden throughout the series (the Capsule Corp. telephone waiting music is a jingle of the Dr. Slump theme, etc.).
Special Present
The special present included with this set was a beautiful Son Goku action figure made by Kaiyodo. The figure stands approximately 10 inches tall and has interchangeable parts. Also, it may be hard to notice in the images below, but the box really has a fantastic design. It is actually a close-up image of the "Kame" kanji on Goku's shirt. If you look closely you can actually see the thatching of the shirt material, and the stitching of the symbol (it even has a few threads starting to come out!).
Negative Aspects
Of course, it wouldn't be fair to not list the downsides of this release, although luckily there isn't much to complain about here.
Dragon Ball Z episodes 001 through 147 contain three opening animations, yet we only get a creditless version for the third one. Why is this?
This one is very debatable, but I find it to be an issue. The DVD books and the actual Dragon Book are finished in a nice gloss. Although this looks very pretty, it is quite easy to damage, and tends to get somewhat scuffed from general usage (i.e. taking the DVD books in and out of the box). This may not be an issue for everybody, and of course I could say just as many good things about the gloss finish, but it does pose as a minor problem.
NOT a Negative Aspect!
Let me just state for the record that this release not having English subtitles, contrary to popular belief, is NOT a negative. This release was intended for the Japanese public, not Dragon Ball fans who live on the other side of the planet. Arguing these sets not having English subtitles as being a negative aspect is about as logical as arguing for Korean, Portuguese, or German subtitles. Not to say that I don't sympathize with the people who want/need English subtitles, but you simply must realize that if you are so desperately in need of subtitles, then these DVDs weren't really created for you to begin with.
On to Dragon Box Z Volume 2!
オッス、オラドラゴンボールウイズドム!
As Vegeta and Trunks begin their training in the Room of Spirit and Time, the Artificial Humans have finally located Son Goku! A clash between Piccolo and No. 17 is about to take place, but who will come out victorious? Be sure to find out in the next exciting edition of Dragon Box!
次回、ドラゴンボクスゼット: 天を裂く激烈光弾!!フジオVS人造人間DBW
糞垂れ…死ね~!!!