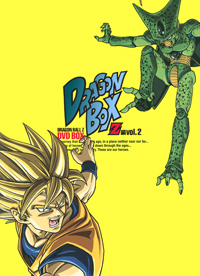 | | |
| --- | --- |
| Note: | Although Dragon Ball Z is the second series chronologically, the Dragon Box DVD series was actually launched with Dragon Ball Z, making this the second Dragon Box release! |
What are the Dragon Boxes?
Starting in 2003 and ending in 2005, Toei Animation, in cooperation with the DVD manufacturing company Pony Canyon, released a series of four box sets covering the entire Dragon Ball TV series property. In 2006, Toei Animation dropped Pony Canyon and released all of the Dragon Ball movie properties on their own in the fifth and final Dragon Box.
The Dragon Boxes were limited items in the truest sense of the word. An order start date would be announced several months in advance, as well as an order deadline. The ordering windows were typically several months in length, and all manufacturing of the box sets were based solely on the number of orders received. In other words, they only made enough boxes to satisfy the orders made within the given timelines, after which point production on the boxes ended indefinitely. With so few actual Dragon Boxes in circulation (most of which already in the loving arms of Dragon Ball fans), it makes finding these boxes nowadays somewhat difficult.
General Information
Order Start Date:
N/A
Order Deadline:
15 July 2003

---

Released:
18 September 2003
Retail:
¥100,000
Catalog Number:
PCBC-50369
Original Copyright:
1986 – 1989
Property Holders:
Bird Studio / Shueisha / Toei Co. Ltd. / Fuji TV
Manufacturer:
Pony Canyon
Encoding:
Region 2 / NTSC (Japan)

---

Discs:
24 discs + 2 special discs
Disc Format:
Single Sided / Dual Layered
Encoding Format:
MPEG-2
Video Format:
4:3 Standard Size
Running Time:
Approximately 3,600 minutes
Contains:
Dragon Ball Z episodes 148 through 291 (series finale), plus bonus features

---

Audio Format:
2.0ch monaural (presented in Dolby Digital)
Language:
Japanese
Subtitles:
None
Alternate Angles:
None

---

Extra Features:
— Specially designed box
— Picture labeled discs (uncommon for Japanese DVDs)
— 128-page book (fully colored)
— Kaiyodo Deluxe Piccolo Action Figure (with interchangeable parts)
Box Design
The box uses a special design made specifically for the Dragon Box series. It is a large solid box, inside of which it contains a series of "DVD books". The outer box contains the Dragon Box Z logo on the front and spine, with some nice images of Goku and Cell lunging toward each other on front of the box. These images, including the Piccolo on the spine and Vegeta on the back, are all original artwork by veteran Toei Animation artist Katsuyoshi Nakatsuru. The spines of the books are labeled one through seven using both kanji and actual Dragon Balls for the numbering, with a large image of Gohan spanning across the spines. This is yet another beautiful image by Nakatsuru, which is a continuation from Dragon Box Z Volume 1.
Box Dimensions:
Height – 10 ¾ inches
Width – 7 ¾ inches (across the front)
Depth – 4 ¾ inches (across the spine)
DVD Book Designs
On the front of each book is the primary image of Son Gohan, with an outlined image of Shenlong on the back. All DVD books in this box are finished in a nice gloss, and all bear the exact same design. Inside each book is an orange transparent plastic to hold the DVDs, beneath which is a screen shot from an episode on that disc, displaying a character from the corresponding disc's label. The interior of the 7th book only contains discs on one side, with an empty space for the Dragon Book on the other. The image seen in this empty spot is the primary image from this particular boxes' advertising campaign, which is also used on the corresponding Dragon Book cover, as well as the cover for the first disc of the 2006 Dragon Ball Z BGM Collection.
DVD Book Dimensions:
Height – 10 ¼ inches
Width – 7 ½ inches (across the front)
Depth – 5/8 inches (across the spine)
Discs / Contents
The image used on each disc is simply a character cropped out from one of the Dragon Ball Z episodes appearing on that disc. Alternatively, disc 25 and 26 feature the beautiful Cell and Son Goku images from the front of the Dragon Box.
Bonus Features
Special 1
One-Hour TV Special, "Defiance in the Face of Despair!!"
Special 2
Non-credit "WE GOTTA POWER" animation
Non-credit "We Were Angels" animation
Special 3
Raw archival footage of the third "CHA-LA HEAD-CHA-LA" opening animation and "WE GOTTA POWER" opening animation. This is a real treat for all the true purists out there, since this is essentially the rawest form of Dragon Ball animation available. It is simply a straight projection of the original 16mm film, completely untouched by Pony Canyon, with all of the film damage and defects still present. Many people may find this to be pointless, but it serves as a great piece of archival footage, and allows those without access to the original film a chance to see the work that Pony Canyon actually put into remastering the video!
Special 4
Famicom "Official Visual Guide"
Dragon Ball Z: Side Story – The Plan to Eradicate the Saiyans, Part 1
Special 5
Famicom "Official Visual Guide"
Dragon Ball Z: Side Story – The Plan to Eradicate the Saiyans, Part 2
Special 6
A promotional video for the Sony PlayStation 2 game, "Dragon Ball Z".
DVD Menus
The DVDs open with a little Dragon Box Z animation. The main Dragon Box logo first flies onto the screen, followed by the "A journey that began long ago…" text, which materializes itself underneath. The entire logo then bumps up, and the text "Presented By Shueisha, Fuji Television, and Toei Animation" appears.
| | | | |
| --- | --- | --- | --- |
| | | | |
The main menu is actually quite complex in presentation. There is a large blue scouter over the screen, and in it you are given the options of "All Play", "Story Mode", and "Episode Select". "All Play" simply plays all the episodes in order, while "Story Mode" plays all episodes, but removes the openings, endings, and previews. In the top right corner of the scouter is a video of Super Saiyan 3 Son Goku fighting Kid Boo, which you can also see playing behind the scouter over the entire TV screen. The audio for the menu is actually the audio from this particular fight. There is also a video of Majin Vegeta fighting Fat Boo kind of camouflaged into the bottom left corner of the scouter, as well as a static image of Goku clashing with Perfect Cell to the right. The episode menus use the same scouter design, except with a fight between Goku and Perfect Cell raging in the background. Once again, the audio for the menu is the actual audio from the fight.
Although the menus are very unique, they are unfortunately all the exact same, with the exception of discs 25 and 26. They instead use a completely static and silent menu.
Episode Presentation
So what exactly are you getting for your money, and what sets this DVD box set apart from other releases? The answer is quite simple, and it's that with this box set you are truly getting the purest presentation of Dragon Ball Z possible.
Complete Episodes
Presented here are the full episodes from start to finish, as they aired on TV over two decades ago (and counting). This includes the complete opening credits, ending credits and episode previews, which are not available outside of the Dragon Box release (although they are now available on the Japanese individual disc releases).
Source Video
For these DVDs they actually pulled the original 16mm film reels out of cold storage, and used them as the primary source material. All previously released Dragon Ball content (even the original Fuji TV airings) were based off either the master tapes (copies of the 16mm film), or copies of the masters. Since the 16mm film is actually the original photography of the animation cels, what you are seeing when viewing these discs is essentially the original cel animation, almost as fresh as the day it was painted!
Remastering
Since the source material is the original cel photography, the picture is already as pristine as it will ever be. However, as with any film, it is bound to suffer some damage. Pony Canyon took the time to carefully remove all damage from the film, presenting us with a perfectly clean picture, yet never compromising the integrity of the actual animation. On top of this, since they have gone back to the 16mm film, they can create an all-new frame alignment!
When making the original masters for a series, it is typical to copy the film while slightly zoomed-in. This reduces the risk of catching the edge of a misaligned cel (i.e. seeing the edge of the image). However, with time, money, and new digital technology on their side, Pony Canyon has created a new print that captures more image than the original masters. In some cases this actually meant re-aligning some of the frames, which not only allowed for a larger image surface, but also greatly reduced all former traces of jitter!
Source Audio
As with the video, they have also gone straight to the source material for the audio. Unfortunately, since the series was recorded in mono, it will always have that dated feel to it, but the audio presented here is of very good quality, all things considered. The audio never gives out or cracks during high notes in a song or loud screams, and the typical background noise (that horrible "shhhhhhh" sound) is virtually nonexistent. Also, the opening and ending themes, although remaining in their broadcast mono forms, have been greatly improved and sound very close to stereo quality.
Dragon Book
The Dragon Book is 128 pages in length and is closest in size to JIS B5 format (18.2 × 25.7 cm). The covers are soft, but are very sturdy, being printed on a thick, almost cardboard-type paper, which was then finished with a nice gloss. The actual pages in the book are in full color and are complete with a nice finish (similar to a gloss, giving thickness and durability to the paper). As with most Japanese books, the book is designed to be read from right to left. This book is essentially just a continuation of Dragon Book Z Volume 1.
Dragon Book Contents
A Message From Toriyama-sensei (read translation)
001

Dragon Book Z Vol. 2 Contents

Part 1 — The World of Z

005

The Cast of Dragon Ball Z Vol. 2

010

A screen shot collage of the main characters in this portion of Dragon Ball Z, including both heroes and enemies.

Legend of Dragon Box Z Vol. 1

012

A brief recap of the events already covered in Dragon Box Z Vol. 1.

Dragon Ball Z Regular Staff / Complete Cast File

014

A list of the regular series staff for this portion of Dragon Ball Z, along with the main voice actors.

Part 2 — Stories & Characters of Z

015

Profile of Goku Family Vol. 2

016

This section provides character profiles for 10 main characters.

Dragon Ball Z Ultimate Correlation Chart Vol. 2

018

A correlation chart that lists many of the characters, both heroes and enemies, that appear in these episodes and how they relate to Son Goku.

Dragon Box Z Vol. 2 Perfect Guide (episodes 148–291)

020

The section is essentially an episode guide that examines the episodes included with the Dragon Box, which are divided up by their respective discs, and begins with a breakdown of the series' story arcs. Each episode listing includes the episode title, original air date, respective credits (director, scenario, animation supervisor, and artwork), episode description, and a screen shot. Each page of the episode guide includes a "Close-Up!!" look at a specific point of interest from those particular episodes. Many of the pages also include a "Coming Up!!" section that takes a detailed look at something coming up on the next disc.

Original Story Pick Up! Vol. 2

078

A detailed chart which extracts all of the filler from episodes 148 to 291.

Special Index Vol. 2

082

This section provides a detailed look at everything Dragon Ball Z. It serves as a complete reference guide with episode listings for the following events:

People — a listing of when each character is first introduced.
Battles — a listing of every fight in the entire series.
Attacks — a listing of every attack/technique used in the series, and when they are used.
Astonishment — a listing of bizarre/unexpected events.
Wishes — a listing of all wishes, as well as the dragon they were made under.
Romances — a listing of scenes where a character shows affection toward their significant other.
Funnies — a listing of all the gags/puns.
Fusions — a listing of every character fusion, and how it was obtained (Fusion dance or potara).

Top Ten Excellent Ratings!! Vol. 2

090

This section breaks down the highest rated episodes, as well as an average rating for each story arc. Amazingly, the Garlic Jr. arc beat out both the Majin Boo, Cell, and Saiyan arcs!

Part 3 — Inside of Z

095

Special Roundtable: Project Z — A Great Gathering of Voice Warriors – The Z Warriors' True Faces

096

An eight page roundtable discussion with:

Masako Nozawa — Son Goku
Mayumi Tanaka — Kuririn
Toshio Furukawa — Piccolo
Ryō Horikawa — Vegeta
Tōru Furuya — Yamcha
Hiromi Tsuru — Bulma
Naoko Watanabe — Pu'er
Jōji Yanami — Narrator (Kaiō-sama)

Dragon Ball Z Design Works Collection Vol. 2

106

Six full pages of sketch designs for the series, including character head/expression shots, detailed vehicle and item designs, costume designs, and location designs.

Appendix — About the Special Disc

117

Defiance in the Face of Despair!! The Remaining Super Warriors – Gohan and Trunks

118

Opening & Endings — 2nd Version

120

Original Film Videos

121

Dragon Ball Z: Side Story – The Plan to Eradicate the Saiyans / PS2 "Dragon Ball Z" Demo Video

122

Handling Notice / How to View the Menu Screen

128

Dragon Column

Column 1 — Wise and Strange Sayings Collection

038

Essentially, a bunch of wise and odd quotes from the series.

Column 2 — History of Dragon Ball Z Vol. 2

052

A full timeline from September 1992 to January 1996. The timeline includes important dates in the anime/manga, product release dates, dates concerning other famous Jump series, Dragon Quest release dates, and other dates of interest.

Column 3 — Anything Countdown Vol. 2

066

A countdown of "Top 3's" — top 3 handsome guys, sexy girls, etc.

Column 4 — Saiyan & Namekian – The Two Great Races Perfect Analysis

076

A detailed analysis/comparison of the Saiyan and Namekian races.

Column 5 — World's Greatest Couples Championship

080

A look at some of the various couples seen in Dragon Ball Z (Son Goku and Chi-Chi, Vegeta and Bulma, Tenshinhan and Lunch, etc).

Column 6 — Shine! The First Place One Hit Wonder

092

A quick look at some of the weaks fighters who got their asses whooped!

Column 7 — Son Goku's Path to Infinite Power

094

A detailed look at Son Goku's apparent ever-increasing power.

Column 8 — Great Saiyaman Explanatory Diagram

104

An illustrated diagram of the Great Saiyaman with explanations for all his gadgets.

Column 9 — Fashion Check Vol. 2

112

This fashion column looks at various odd outfits characters wore throughout the series.

Column 10 — The Two Faces of Mr. Satan

114

A brief look at the two faces of Mr. Satan; the hero of Earth and a complete wuss.

Column 11 — Understanding Moments in Dragon Ball Z Vol. 2

116

A list of little things to look for that are hidden throughout the series (Colonel Sanders in the Majin Boo arc, etc.).

Column 12 — Trivial Data

124

A rundown of trivial series data, such as Son Gohan fights in 35 battles, Son Goku's name appears in 62 title cards, Yamcha is dead for 36.8% of the series, etc.
Special Present
The special present included with this set was a beautiful Piccolo action figure made by Kaiyodo. The figure stands approximately 10 inches tall and has interchangeable parts. Also, it may be hard to notice in the images below, but the box really has a fantastic design. It is actually a close-up image of the "Demon" kanji on Piccolo's shirt. If you look closely you can actually see the thatching of the shirt material, and the stitching of the symbol (it even has a few threads starting to come out!).
Negative Aspects
Of course, it wouldn't be fair to not list the downsides of this release, although luckily there isn't much to complain about here.
The first problem you may notice is the missing episode preview for the series' second TV special. For reasons unknown, they have opted to leave the preview out, even though they included the preview for the first TV special back on Dragon Box Z Volume 1. Seeing as how this set is supposed to be perfect, this is somewhat disappointing.
Also missing from this set is the preview for Dragon Ball GT episode 01 from the end of Dragon Ball Z episode 291. Now to be fair, the preview was released later with the Dragon Box GT, but that particular piece of footage really does belong with Dragon Ball Z episode 291, making its absence from this release somewhat disappointing.
There's a pretty nutty disc misprint which you may have noticed on the above disc scans. They accidentally printed Kid Boo on disc 19, and Super Boo on disc 22. This is no doubt a mistake, as Kid Boo does not appear in the episodes from disc 19, nor does Super Boo appear in the episodes from disc 22. Furthermore, the images printed in the DVD books under the discs are correct, with Super Boo appearing under disc 19 and Kid Boo appearing under disc 22. Oops!
Toei Animation was generous enough to clean out their original archives for their use on these box sets, with one glaring exception. In 1993, Dragon Ball Z hosted a Fuji TV year-end special, which is listed as currently being in the Toei archives. However, this being the last box release of Dragon Ball Z televised material, it is somewhat sad that this footage was not included on either of the boxes. It would be understandable if the footage was lost or caught up in another company, but the special is clearly listed as being present the Toei archives, and was simply never released.
This one is very debatable, but I find it to be an issue. The DVD books and the actual Dragon Book are finished in a nice gloss. Although this looks very pretty, it is quite easy to damage, and tends to get somewhat scuffed from general usage (i.e. taking the DVD books in and out of the box). This may not be an issue for everybody, and of course I could say just as many good things about the gloss finish, but it does pose as a minor problem.
NOT a Negative Aspect!
Let me just state for the record that this release not having English subtitles, contrary to popular belief, is NOT a negative. This release was intended for the Japanese public, not Dragon Ball fans who live on the other side of the planet. Arguing these sets not having English subtitles as being a negative aspect is about as logical as arguing for Korean, Portuguese, or German subtitles. Not to say that I don't sympathize with the people who want/need English subtitles, but you simply must realize that if you are so desperately in need of subtitles, then these DVDs weren't really created for you to begin with.
On to Dragon Box GT!
オッス、オラドラゴンボールウイズドム!
Goku finally convinces Oob to release his power for the sake of all things good. However, as they finish training, an old menace appears and is once again about to cause some serious trouble for Goku! Be sure to find out what happens in the next exciting edition of Dragon Box!
次回、ドラゴンボクスジーティー:  謎のDBW出現!!フジオが助平に!?
あの~ 助平じゃない・・・