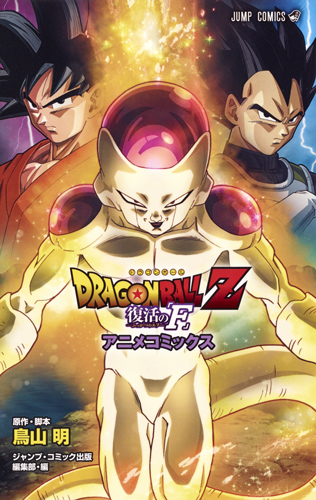 ドラゴンボールZ 復活の「F」
Doragon Bōru Zetto Fukkatsu no "Efu"
Dragon Ball Z: Revival of "F" / Resurrection 'F'
Volume Information
| | |
| --- | --- |
| Released: | 04 December 2015 |
| Retail: | ¥1,350 (plus tax) |
| Publisher: | Shueisha Inc. |
| Size / Pages: | New Book Format (11 × 17 cm) / 360 pages |
| Catalog No.: | 978-4-08-880696-9 |
Dust Jacket & Obi
The comic's dust jacket features the film's main key image and theatrical artwork for its front cover, while the back cover showcases Jaco peeking out from behind a film roll of screen shots. ISBN and pricing information are listed alongside the story's brief summary. The inside flaps tease more of the story and advertise the previous Film Anime Comic for Dragon Ball Z: Battle of Gods, the Anime Comic for the 2008 Jump Super Anime Tour Special, the Film Anime Comic re-releases for the 8th and 12th Dragon Ball Z movies, and the then-recently-completed TV Anime Comics for the Dragon Ball Z television series.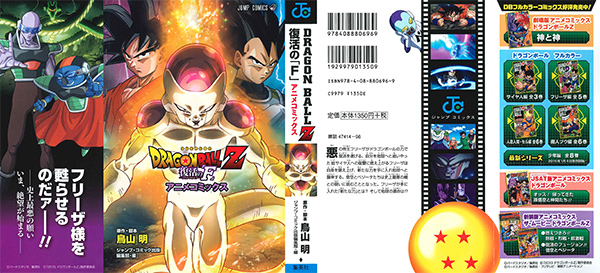 The comic's obi promotes the then-new 30th anniversary "Super History Book" as well as the DVD and Blu-ray home video release for Resurrection 'F' itself.

Volume Contents
The comic's standard front and back cover (sans dust jacket) use a purple-toned version of the film's main character artwork.


The book contains material introducing the characters in the story before covering the entirety of the film itself. After this, promotional material reviews the previous film (and related home releases) before wrapping up with designs and a message from original author Akira Toriyama. Two final pages advertise the home video release of the Dragon Ball Z: Resurrection 'F' movie itself.
Character Introduction

002

Short profiles for all new and returning characters are provided, including that of "Super Saiyan God Super Saiyan" Son Goku and Vegeta right from the start. Tadayoshi Yamamuro's anime designs are incorporated among the biographies.

Chapters

The story in manga format is (somewhat-arbitrarily) broken up into five chapters, each given their own, unique name.

Chapter 1: Freeza, Emperor of the Universe, Resurrected!

007

Chapter 2: Emergency, Z-Fighters!

065

Chapter 3: The Freeza Force Assault on Earth

113

Chapter 4: Explosion! Super Saiyan God Super Saiyan

201

Chapter 5: Clash! Golden Freeza

257

Cast & Staff List

352

A complete list of production staff and cast members involved with the production of the original theatrical film.

God of Destruction x Super Saiyan God Super Introduction

354

A two-page overview of the previous theatrical film, 2013's Dragon Ball Z: Battle of Gods, with additional promotion for the Film Anime Comic release of said story, as well as for the collected release of Akira Toriyama's Jaco the Galactic Patrolman. A third and final page showcases Akira Toriyama's original character designs for SSGSS Son Goku, SSGSS Vegeta, Golden Freeza, Sorbet, Tagoma, and Shisami.

Message From Akira Toriyama-sensei (read translation)
357
Volume Staff Credits
Akira Toriyama's credit of "Original Author & Script" refers to his status as the creator an author of the Dragon Ball series as a whole, and as the scriptwriter of the theatrical film Dragon Ball Z: Resurrection 'F'. The Anime Comic itself was put together in a collaboration between Toei Animation and Shueisha, with assistance from Banana Grove Studio and Kisōsha.
原作・脚本

Original Author & Script

鳥山 明

Akira Toriyama

ジャンプコミック出版編集部・編

Jumic Comic Publication Editorial Department & Compliation

© バードスタジオ/集英社 ©「2015ドラゴンボールZ」製作委員会

© Bird Studio / Shueisha © "2015 Dragon Ball Z" Production Committee

構成/編集

Composition & Editing

中道 茂

Shigeru Nakamichi

得能久子

Hisako Tokunō

 

 

樹想社

Kisōsha

栩野葉子

Yoko Neno

望月 誠

Makoto Mochizuki

中村ちな美

Chinami Nakamura

アートディレクション

Art Direction

並木久美子

(バナナグローブスタジオ)

Kumiko Namiki

(Banana Grove Studio)

デザイン

Design

有限会社バナナグローブスタジオ

Banana Grove Studio Co., Ltd.

山本綾野

Ayano Yamamoto

柳本照雄

Teruo Yanagimoto

菅原悠里

Yūri Sugawara

BGS制作部

BGS Production Department

協力

In Cooperation With

東映アニメーション株式会社

Toei Animation Co., Ltd.

発行人

Publisher

茨木政彦

Masahiko Ibaraki

編集人

Editor

木下暢起

Nobuoki Kinoshita

発行所

Publishing House

株式会社集英社

Shueisha Co., Ltd.

印刷所

Printing House

凸版印刷株式会社

Toppan Printing Co., Ltd.