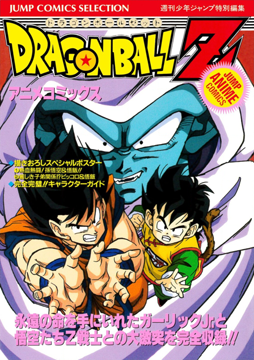 ドラゴンボールZ
Doragon Bōru Zetto
Dragon Ball Z
General Information
| | |
| --- | --- |
| Released: | 24 September 1994 |
| Retail: | ¥670 (plus tax) |
| Publisher: | Shueisha Inc. |
| Size / Pages: | New Book Format (11 × 17 cm) / 151 pages |
| Catalog No.: | ISBN 4-8342-1198-3 |
Introduction

The original movie "Dragon Ball Z", which was a big hit when it premiered during the summer vacation of 1989, makes its long-awaited debut in the Jump anime comic series!!
This marks the debut of Goku's son, Gohan, who hides unknown power, and is very active as Goku and the other Z Warriors face off against Garlic Jr. and his men! The wide appeal of the movie has been perfectly compiled in full-color!! This book is a must-see for fans and non-fans alike!!!
Contents
The comic's standard front and back cover (sans dust jacket) use maroon-toned versions of the comic's main dust jacket artwork and the movie's official poster, respectively.


The book contains material introducing the characters in the story before covering the entirety of the film itself. Following this, the entire staff and cast of the movie is listed on the last page.
Two Exclusive Special Posters

This anime comic includes a double-sided fold-out poster featuring Gohan with his father (Goku) on the front and with his Namekian father figure (Piccolo) on the back. Both posters are credited as being drawn by Toei Animation, with no specific artist listed.

Feverous Fighting! Son Goku & Gohan!! (view poster)
003

A Lovely Young Relationship?! Piccolo & Gohan (view poster)
006

A Special Corner to Help You Re~ally Understand the Movie Characters!!

This section provides a brief look at every character that appears in the movie, including additional background information and details regarding Gohan's hidden power, God and Piccolo's link, Garlic's bid to become God, and Garlic Jr.'s appearance in the TV series. The guide also includes a tutorial on how to pose as you charge and fire a Kamehameha.

Completely Perfect!! Character Guide

009

The Complete, Full-Color Compilation of the Z Series' First Movie!!

The animation theater is the main feature of the comic. It is comprised of screen shots from the movie in comic form, with added sound effects and dialogue. Unlike typical tankōbon-sized releases, it is printed in full-color on high quality paper.

Animation Theater: Dragon Ball Z

016

Staff & Cast – All Data

151

The last page of the comic lists the entire staff and cast of the movie.
Notes
Shueisha did not begin releasing film animation comics for the Dragon Ball franchise until 1992, well after many movies had already been produced. This film comic was eventually released in September 1994, just over 5 years after the movie's theatrical premiere in July 1989.
Staff Credits
構成・編集

Composition & Editing

樹想社

Kisōsha

デザイン

Design

バナナグローブスタジオ

Banana Grove Studio

大島美明

Yoshiaki Ōshima

佐藤憲亮

Noriaki Satō

山本綾野

Ayano Yamamoto

小林彩子

Ayako Kobayashi

雫 純子

Junko Shizuku

土井敦史

Atsushi Doi

セル原画 (カバー&ポスター)

Cel Drawings (Cover & Poster)

東映動画

Toei Animation

協力

In Cooperation With

東映動画

Toei Animation

著者

Author

週刊少年ジャンプ編集部

Weekly Shōnen Jump Editorial Department

発行人

Publisher

小島民雄

Tamio Kojima

発行所

Publishing House

株式会社ホーム社

Home-sha Co., Ltd.

発売元

Sales Agency

株式会社集英社

Shueisha Co., Ltd.

印刷所

Printing House

廣済堂印刷株式会社

Kōsaido Printing Co., Ltd.