Super Dragon Ball Heroes: Dark Demon Realm Mission! is a promotional manga series written and illustrated by Yoshitaka Nagayama, which originally ran in Shueisha's Saikyō Jump magazine. The series adapts events from story lines original to the Super Dragon Ball Heroes arcade game.
The original ten chapters of Dark Demon Realm Mission! were published from the September 2016 to March 2018 issues of Saikyō Jump.
Dark Demon Realm Mission! was succeeded by a sister series titled Super Dragon Ball Heroes: Universe Mission!! beginning in the May 2018 issue, also authored by Nagayama. Demon Realm Mission! began serialization again in the May 2019 issue, running alongside Universe Mission!! at the same time. Both series came to a close in the March 2020 issue of Saikyō Jump, succeeded by Nagayama's Super Dragon Ball Heroes: Big Bang Mission!!! series in the following issue.
The series received a collected print edition spanning three volumes. Individual, named chapter titles were not assigned until the collected edition, where they are listed in respective volume's table of contents. The second collected volume, released in May 2018, inserted an additional chapter between the "original" ninth and tenth chapters, shifting what was originally the "tenth" chapter in serialization to become the eleventh chapter.
Yoshitaka Nagayama debuted in a supplemental booklet packed in with the December 2013 issue of Saikyō Jump, with "Dragon Ball Heroes: Rookie Charisma Mission 0" depicting the daily life and "training" of Engineer Yoshito and new Battle Navigators Tsubasa and Momo-chan in a cartoony style. The Charisma Mission series eventually received its own standard serialization in Saikyō Jump beginning in the July 2014 issue, followed by traditional story serials beginning with Super Dragon Ball Heroes: Dark Demon Realm Mission! in the September 2016 issue.
Serialization

Chapter 1
Softcover | A5 (14.5 × 21 cm) | 32 pages
| | |
| --- | --- |
| Premiered: | 05 August 2016 (Saikyō Jump, September 2016 Issue) |
| Retail: | ¥530 |
| Publisher: | Shueisha |

Chapter 2
Softcover | A5 (14.5 × 21 cm) | 23 pages
| | |
| --- | --- |
| Premiered: | 01 October 2016 (Saikyō Jump, November 2016 Issue) |
| Retail: | ¥530 |
| Publisher: | Shueisha |

Chapter 3
Softcover | A5 (14.5 × 21 cm) | 22 pages
| | |
| --- | --- |
| Premiered: | 02 December 2016 (Saikyō Jump, January 2017 Issue) |
| Retail: | ¥530 |
| Publisher: | Shueisha |

Chapter 4
Softcover | A5 (14.5 × 21 cm) | 22 pages
| | |
| --- | --- |
| Premiered: | 03 February 2017 (Saikyō Jump, March 2017 Issue) |
| Retail: | ¥500 |
| Publisher: | Shueisha |

Chapter 5
Softcover | A5 (14.5 × 21 cm) | 24 pages
| | |
| --- | --- |
| Premiered: | 01 April 2017 (Saikyō Jump, May 2017 Issue) |
| Retail: | ¥540 |
| Publisher: | Shueisha |

Chapter 6
Softcover | A5 (14.5 × 21 cm) | 26 pages
| | |
| --- | --- |
| Premiered: | 02 June 2017 (Saikyō Jump, July 2017 Issue) |
| Retail: | ¥530 |
| Publisher: | Shueisha |

Chapter 7
Softcover | A5 (14.5 × 21 cm) | 27 pages
| | |
| --- | --- |
| Premiered: | 04 August 2017 (Saikyō Jump, September 2017 Issue) |
| Retail: | ¥530 |
| Publisher: | Shueisha |

Chapter 8
Softcover | A5 (14.5 × 21 cm) | 32 pages
| | |
| --- | --- |
| Premiered: | 06 October 2017 (Saikyō Jump, November 2017 Issue) |
| Retail: | ¥500 |
| Publisher: | Shueisha |

Chapter 9
Softcover | A5 (14.5 × 21 cm) | 28 pages
| | |
| --- | --- |
| Premiered: | 01 December 2017 (Saikyō Jump, January 2018 Issue) |
| Retail: | ¥530 |
| Publisher: | Shueisha |

Chapter 10
Softcover | New Book Format (11 × 17 cm) | 18 pages
| | |
| --- | --- |
| Premiered: | 02 May 2018 (Dark Demon Realm Mission! Volume 2) |
| Retail: | ¥440 |
| Publisher: | Shueisha |

Chapter 11 (*originally Chapter 10 in serialization)
Softcover | A5 (14.5 × 21 cm) | 44 pages
| | |
| --- | --- |
| Premiered: | 02 February 2018 (Saikyō Jump, March 2018 Issue) |
| Retail: | ¥530 |
| Publisher: | Shueisha |

Chapter 12
Softcover | A5 (14.5 × 21 cm) | 33 pages
| | |
| --- | --- |
| Premiered: | 05 April 2019 (Saikyō Jump, May 2019 Issue) |
| Retail: | ¥540 |
| Publisher: | Shueisha |

Chapter 13
Softcover | A5 (14.5 × 21 cm) | 32 pages
| | |
| --- | --- |
| Premiered: | 01 June 2019 (Saikyō Jump, July 2019 Issue) |
| Retail: | ¥540 |
| Publisher: | Shueisha |

Chapter 14
Softcover | A5 (14.5 × 21 cm) | 29 pages
| | |
| --- | --- |
| Premiered: | 02 August 2019 (Saikyō Jump, September 2019 Issue) |
| Retail: | ¥550 |
| Publisher: | Shueisha |

Chapter 15
Softcover | A5 (14.5 × 21 cm) | 32 pages
| | |
| --- | --- |
| Premiered: | 04 October 2019 (Saikyō Jump, November 2019 Issue) |
| Retail: | ¥550 |
| Publisher: | Shueisha |

Chapter 16
Softcover | A5 (14.5 × 21 cm) | 32 pages
| | |
| --- | --- |
| Premiered: | 06 December 2019 (Saikyō Jump, January 2020 Issue) |
| Retail: | ¥550 |
| Publisher: | Shueisha |

Chapter 17
Softcover | A5 (14.5 × 21 cm) | 32 pages
| | |
| --- | --- |
| Premiered: | 01 February 2020 (Saikyō Jump, March 2020 Issue) |
| Retail: | ¥550 |
| Publisher: | Shueisha |
Bonus Chapters

Extra Edition 1
Softcover | A5 (14.5 × 21 cm) | 2 pages
| | |
| --- | --- |
| Premiered: | 22 July 2017 (Jump Victory Carnival 2017 Official Guidebook) |
| Retail: | Free with event attendance |
| Publisher: | Shueisha |

Extra Edition 2
Softcover | A5 (14.5 × 21 cm) | 2 pages
| | |
| --- | --- |
| Premiered: | 21 July 2019 (Jump Victory Carnival 2019 Official Guidebook) |
| Retail: | Free with event attendance |
| Publisher: | Shueisha |
Collected Volumes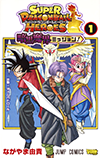 Volume 1
Softcover | New Book Format (11 × 17 cm) | 176 pages
| | |
| --- | --- |
| Premiered: | 02 May 2017 |
| Retail: | ¥440 |
| Chapters: | Chapters 1 (SJ September 2016) – 5 (SJ May 2017) |
| Publisher: | Shueisha |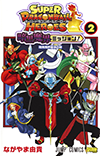 Volume 2
Softcover | New Book Format (11 × 17 cm) | 192 pages
| | |
| --- | --- |
| Premiered: | 02 May 2018 |
| Retail: | ¥440 |
| Chapters: | Chapters 6 (SJ July 2017) – 11 (SJ March 2018) |
| Publisher: | Shueisha |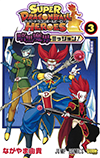 Volume 3
Softcover | New Book Format (11 × 17 cm) | 200 pages
| | |
| --- | --- |
| Premiered: | 13 May 2020 |
| Retail: | ¥484 |
| Chapters: | Chapters 12 (SJ May 2019) – 17 (SJ March 2020) |
| Publisher: | Shueisha |