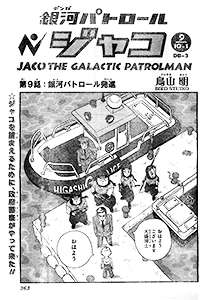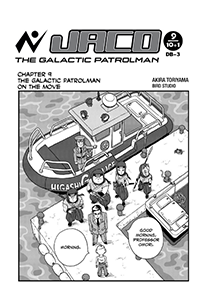 DB-3
銀河パトロール発進
Ginga Patorōru Hasshin
The Galactic Patrolman on the Move
Chapter Information
Premiered:
14 September 2013 (Weekly Shōnen Jump, 2013 #42) (Japanese)
16 September 2013 (Weekly Shonen Jump Issue #42 / 13-09-16) (English)
Author:
Akira Toriyama

---

Availability:

Original weekly print (Japanese) & digital (English) versions
Chapter Synopsis
Omori and Katayude exchange brief pleasantries with each other before getting down to the point: where is the "Mask Man" hiding?! Omori plays dumb, but Jaco yells from the distance that he will never come out so long as they keep referring to him as "Mask Man". Katayude agrees to call him "Super Elite", and so Jaco jumps out! Jaco apologizes for attacking the police by mistake, and goes on to say they should be appreciative of his apology, which is a very rare occurrence. The next order of business: Jaco wants his sketch redrawn!
The group turns to see the rocket being launched. Katayude turns his attention back to Jaco, though, and declares his intent to arrest him. Katayude explains that he has brought the strongest members of the government police, but Jaco is too distracted by the rocket; something is very wrong. All of a sudden, the rocket starts to fall from the sky! The first stage has already detached, which means they only have two minutes before the rocket crashes back to the ground. Jaco rushes to his ship to help, and grabs Omori, as well; he will need the old man's help for this one.
Katayude fires a warning shot from his gun to stop them, but Jaco is getting increasingly impatient. He jumps to the ground and swiftly takes out every single government member that Katayude brought along before rushing back to the ship. Jaco confirms with Omori that his "failed" time machine can temporarily stop time, but only for 50 seconds. Jaco grabs Omori and flies over to the time machine. Omori will be ready in five seconds!
As they crawl back out of the water, the government members cannot believe what just happened to them. One of Katayude's lackeys calls from their own ship to confirm that the rocket has malfunctioned, and it is set to crash down into the city.
Omori turns the machine on, and it appears that time has indeed temporarily stopped. They hop back into Jaco's spaceship in an attempt to save Tights and the entire capital!
Chapter Notes
Monday, 16 September 2013, was a national holiday in Japan (Respect-for-the-Aged Day / Keirō no Hi); therefore, the Japanese issue of Weekly Jump containing this chapter came out the Saturday before the English edition.
Each issue of Weekly Shōnen Jump features short comments from the various series' authors, giving fans a brief insight into their current thoughts, ranging from series-related announcements to trivial happenings in their personal lives. Akira Toriyama's comments from this issue were:

先日1年ぶりに2日間だけ休みを取ったがやりたい事が多すぎ迷っただけで終了。〈明〉

---

The other day, I took just a two-day break for the first time in a year, but there were too many things I wanted to do, and it ended before I could decide. (Akira)
Page Breakdown
The majority of the Dragon Ball (and Jaco) series was drawn in black and white, but every once in a while the fans were graced with some color pages. This breakdown will take a look at how many colored, red and gray scale, or black and white pages appeared in this chapter.
Fully Colored

None
Red and Gray Scale

None
Black and White

Title; Pages 01-14