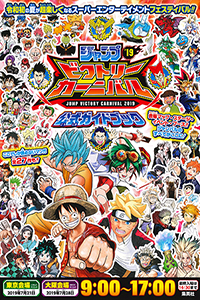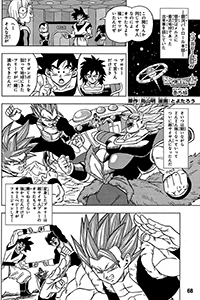 番外編
Bangaihen
Extra Edition
Chapter Information
Premiered:
21 July 2019 (Jump Victory Carnival 2019 Official Guidebook)
Author:
Toyotarō

---

Availability:
Jump Victory Carnival 2019 Official Guidebook
Dragon Ball Super Volume 11 (Collected Manga Edition)
Chapter Synopsis
At Galactic Patrol headquarters, Goku brings Merusu up to date on recent Earth events: Freeza had come to Earth looking for the Dragon Balls, and had brought another Saiyan named Broli with him. Broli kept getting stronger and stronger, and in his transformed Super Saiyan state, Goku and Vegeta were no match for Broli even in their own Super Saiyan Blue forms. The two of them had to perform fusion in order to keep up, and somehow they were able to pull off a win.
Jaco wonders where this Saiyan is now, and what might happen if he were to come back to continue the fight. Goku casually mentions that he doesn't think Broli was actually a bad guy, and that he went back home, to a place Vegeta names as Vampa.
Merusu is shocked to hear someone lives on a planet with such a harsh environment, and asks how he even ended up there in the first place. Goku doesn't remember, nor does Vegeta. Goku thinks maybe he is just a weird guy, while Vegeta feels that it must be his father's fault, somehow…
These two Saiyans have no idea just how much this tale has been weaved by their parents' generation…!
Chapter Notes
At each year's Jump Victory Carnival, a special guidebook is produced that all attendees receive. Within this guidebook is booth information, promotions for upcoming products, as well as short manga chapters from Shueisha's team of authors. In previous guidebooks, Toyotarō had contributed Dragon Ball Heroes: Victory Mission bonus chapters; with that series on hiatus, for the 2015 guidebooks onward, he moved on to Dragon Ball Super bonus chapters.
Page Breakdown
The majority of the Dragon Ball series was drawn in black and white, but every once in a while fans were graced with some color pages. This breakdown notes how many full-color, limited-color, and black-and-white pages appeared in this chapter.
Full Color

None
Limited Color

None
Black and White

Pages 01-02