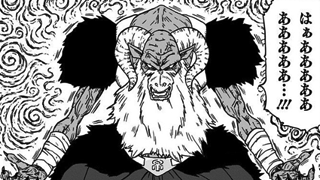 Arc Information
| | |
| --- | --- |
| Original Run: | 21 December 2018 – 21 December 2020 (25 months) |
| Corresponding: | Dragon Ball Super Chapters 43 – 67 (25 chapters) |
| Page Count: | TBD |
Arc Synopsis
Following their encounter with Freeza and Broli on Earth, Goku and Vegeta continue their training until one day the Galactic Patrol arrives to take the slumbering Majin Boo. As the two try to stop this, they are knocked unconscious and taken as well. Eventually awakening, they learn that a dangerous criminal imprisoned for 10 million years has escaped Galactic Prison and that only Majin Boo, or rather Dai Kaiōshin inside of him, can recapture the criminal known as the planet-eater Moro and save the universes from his wrath. Hearing this, Goku volunteers their help to the Galactic Patrol and they are quickly appointed "Special Member" status.
They soon discover that Moro is heading to New Planet Namek in search of the Dragon Balls, which he learned of from Freeza's former underling, Cranberi, in prison. Goku and Vegeta immediately teleport to the planet and warn the Namekians of the impending danger. Moro soon arrives and a grand battle unfolds; however, the two Saiyans quickly realize that Moro wields powerful magic allowing him to absorb the power of those around him, including them!
NOTE: The Galactic Patrol Prisoner arc technically begins with the final pages of chapter 42.
Chapter List

Dragon Ball Super Chapter 43
Pages: 45
銀河パトロール入隊!
Ginga Patorōru Nyūtai!
Galactic Patrol Enlistment!
21 December 2018
V-Jump February 2019

Dragon Ball Super Chapter 44
Pages: 45
脱獄囚モロ
Datsugoku-shū Moro
Escaped Prisoner Moro
21 January 2019
V-Jump March 2019

Dragon Ball Super Chapter 45
Pages: 45
モロの魔力
Moro no Maryoku
Moro's Magical Power
21 February 2019
V-Jump April 2019

Dragon Ball Super Chapter 46
Pages: 45
衰耗するナメック星
Suikousuru Namekku-sei
Planet Namek in Decline
20 March 2019
V-Jump May 2019

Dragon Ball Super Chapter 47
Pages: 45
奪われたドラゴンボール
Ubawareta Doragon Bōru
Stolen Dragon Balls
20 April 2019
V-Jump June 2019

Dragon Ball Super Chapter 48
Pages: 45
モロの願い
Moro no Negai
Moro's Wish
21 May 2019
V-Jump July 2019

Dragon Ball Super Chapter 49
Pages: 45
宇宙空間バトル
Uchū Kūkan Batoru
Outer Space Battle
21 June 2019
V-Jump August 2019

Dragon Ball Super Chapter 50
Pages: 45
20 July 2019
V-Jump September 2019

Dragon Ball Super Chapter 51
Pages: 45
それぞれの行動
Sore Zore no Kōdō
To Each Their Own Plans
21 August 2019
V-Jump October 2019

Dragon Ball Super Chapter 52
Pages: 45
悟空とベジータの修業
Gokū to Bejīta no Shugyō
Goku and Vegeta's Training
21 September 2019
V-Jump November 2019

Dragon Ball Super Chapter 53
Pages: 45
サガンボ銀河強盗団
Saganbo Ginga Gōtō-dan
Saganbo's Galactic Bandit Brigade
21 October 2019
V-Jump December 2019

Dragon Ball Super Chapter 54
Pages: 45
悟飯VSセブンスリー
Gohan Buiesu Seben Surī
Gohan vs Seven-Three
21 November 2019
V-Jump January 2020

Dragon Ball Super Chapter 55
Pages: 45
メルスの正体
Merusu no Shōtai
Merusu's True Identity
21 December 2019
V-Jump February 2020
Dragon Ball Super Chapter 56
Pages: 45
地球戦士集結
Chikyū Senshi Shūketsu
Warriors of Earth Assemble
21 January 2020
V-Jump March 2020

Dragon Ball Super Chapter 57
Pages: 45
それぞれの闘い
Sorezore no Tatakai
Battles Abound
21 February 2020
V-Jump April 2020

Dragon Ball Super Chapter 58
Pages: 45
孫悟空到着
Son Gokū Tōchaku
Son Goku Arrives
21 March 2020
V-Jump May 2020

Dragon Ball Super Chapter 59
Pages: 45
発動! 身勝手の極意"兆"
Hatsudō! Migatte no Goku'i "Kizashi"
Activation! Ultra Instinct "Sign"
21 April 2020
V-Jump June 2020

Dragon Ball Super Chapter 60
Pages: 45
メルスの誤算
Merusu no Gosan
Merusu's Miscalculation
21 May 2020
V-Jump July 2020

Dragon Ball Super Chapter 61
Pages: 45
新生ベジータ
Shinsei Bejiita
Vegeta Reborn
19 June 2020
V-Jump August 2020
Dragon Ball Super Chapter 62
Pages: 45
絶体絶命
Zettai Zetsumei
Edge of Defeat
21 July 2020
V-Jump September 2020

Dragon Ball Super Chapter 63
Pages: 45
メルスの覚悟
Merusu no Kakugo
Merusu's Resolve
21 August 2020
V-Jump October 2020

Dragon Ball Super Chapter 64
Pages: 45
銀河パトロール孫悟空
Ginga Patorōru Son Gokū
Son Goku the Galactic Patrolman
19 September 2020
V-Jump November 2020

Dragon Ball Super Chapter 65
Pages: 45
地球人 孫悟空
Chikyū-jin Son Gokū
Son Goku the Earthling
21 October 2020
V-Jump December 2020

Dragon Ball Super Chapter 66
Pages: 45
星喰いのモロ
Hoshi-kui no Moro
Moro the Planet-Eater
21 November 2020
V-Jump January 2021

Dragon Ball Super Chapter 67
Pages: 45
大団円そして…
Dai-Dan'en Soshite…
The Grand Finale, And Then…
21 December 2020
V-Jump February 2021