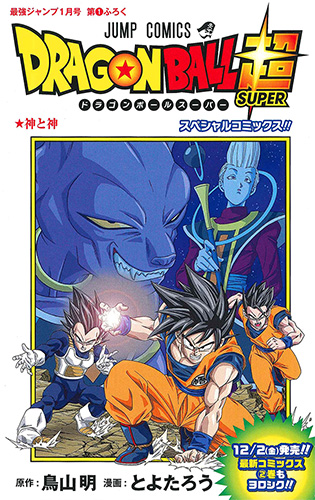 ドラゴンボール超 神と神 スペシャルコミックス!!
Doragon Bōru Sūpā Kami to Kami Supesharu Komikkusu! !
Dragon Ball Super: "Battle of Gods" Special Comic
Volume Information
| | |
| --- | --- |
| Released: | 02 December 2016 (Print) |
| Retail: | ¥530 + tax (as part of Saikyō Jump January 2017 issue) |
| Publisher: | Shueisha Inc. |
| Size / Pages: | New Book Format (11 × 17 cm) / 76 pages |
| Catalog No.: | n/a |
Dust Jacket & Obi
No dusk jacket or obi are included with this volume.
Volume Contents
This volume was included as a separate, promotional pack-in alongside the January 2017 issue of Saikyō Jump in Japan, released 02 December 2016. That same day, the series' second collected edition (covering chapters 10-15) was also released. The series' nineteenth chapter would be released a couple weeks later in the February 2017 issue of V-Jump.
The title for the collected volume — 神と神 (Kami to Kami or "God and God") — is taken directly from the fourth chapter's title, and originally from the 2013 theatrical film's title (which was adapted into a separate English title of "Battle of Gods").
The volume's standard front cover uses artwork originally created for the series' first chapter, while the back cover uses the artwork from the first collected edition's cover.


The table of contents includes a stylized dragon leaning atop the chapter listing (the same as seen in the first collected volume), followed a chibi-fied collection of characters (also reused from the first collected volume).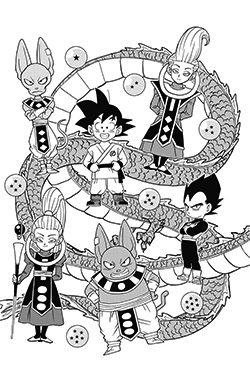 Following the four chapters, a four-page "Dragon Ball Super Information" column previews the manga's first and second collected editions, the Universe 6 vs. 7 tournament, the then-new Future Trunks arc, as well as briefly mentioning the Dragon Ball Heroes and Dragon Ball XENOVERSE 2 video games. This "Information" section is labeled as spanning pages 72-75, with page 74 specifically (and somewhat strangely) also sectioned out as its own "V-Jump News" section.
Chapters

The four chapters presented in this volume were originally serialized in the June 2015 through September 2015 issues of Shueisha's V-Jump magazine on a monthly basis.

04

21

37

53

"Dragon Ball Super" Information

72

V-Jump News

74
International Releases
This collected volume has not seen any international and translated releases.
Volume Changes & Adaptation Mistakes
The chapters are presented as-is from their collected edition.