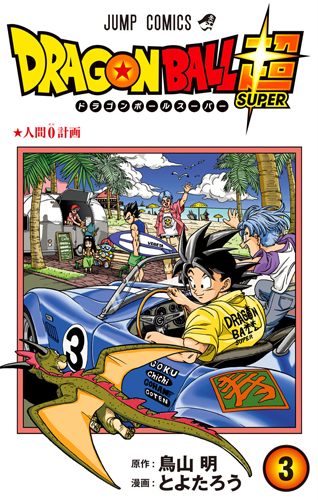 人間0計画
Ningen Zero Keikaku
0 Mortals Plan
Volume Information
Released:
02 June 2017 (Print)
04 July 2017 (Digital)
Retail:
¥420 + tax
Publisher:
Shueisha Inc.
Size / Pages:
New Book Format (11 × 17 cm) / 208 pages
Catalog No.:
978-4-08-881084-3
Dust Jacket & Obi
The third volume's dust jacket features a new cover illustration by Toyotarō with the heroes gathering together on vacation. The back cover features Beerus along with Zamasu and Gowasu inside the Jump Comics logo. The cover image is an homage to various original tankōbon covers which would regularly feature Goku and friends on different types of vehicles.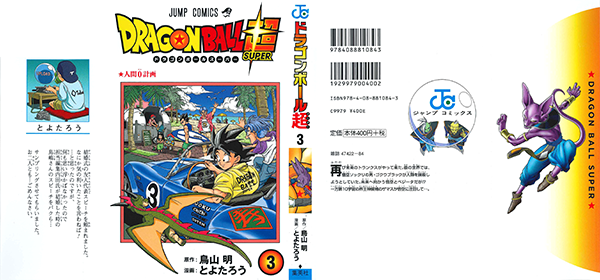 The included obi promotes the monthly release of Shueisha's V-Jump magazine (where the Dragon Ball Super manga is serialized). Other products featured are the "Full Color" version of the manga release and the 30th anniversary "Super History Book".

Volume Contents
The title for the collected volume — 人間0計画 (Ningen Zero Keikaku or "0 Mortals Plan") — is taken directly from the twentieth chapter's title, both of which have the katakana spelling of ゼロ (zero) switched out for the numeral itself (with furigana) in this compilation.
The volume's standard front cover is a desaturated version of the dust jacket's front cover, while the back cover is a complementary illustration of the various gods in a similar pose.


The inside title page showcases Trunks with his sword along with Super Saiyan Goku and Vegeta. Two pages of character profiles and a brief summary showcase the main characters and antagonists. The table of contents features a Barbarian carving the characters もくじ (mokuji or "Table of Contents") into stone.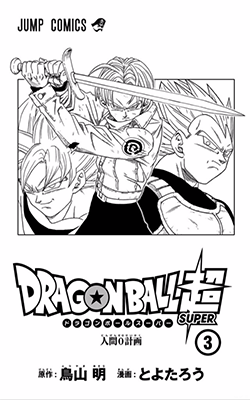 To fill out the necessary page count, Toyotarō supplies new drawings between chapters. In one drawing, Zamasu switches bodies with Monaka only to find out he is totally weak; next up he should switch with Goku as he originally planned.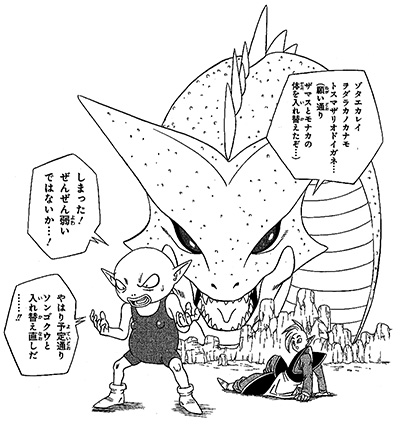 No bonus manga chapters are included; the Jump Victory Carnival 2017 bonus chapter would not be released until after this third collected edition was already available. The volume wraps up with two bonus pages where Toyotarō discusses the approval and revision process with original author Akira Toriyama. Toyotarō reflects on sending drafts of Zamasu and Kaiōshin where Toriyama later adjusted the hair volume and thinness of the eyes, as well as an adjustment from a surprised look to one that was "a little more dignified". Toyotarō then thanks Toriyama for this reference material, which became invaluable for drawing the characters later on.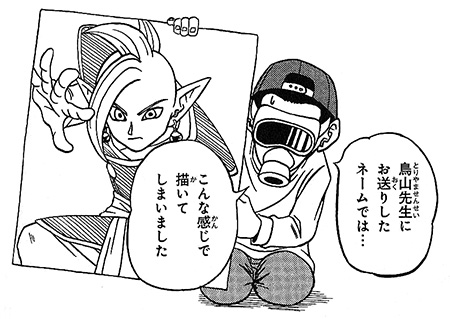 Chapters

The five chapters presented in this volume were originally serialized in the November 2016 through March 2017 issues of Shueisha's V-Jump magazine on a monthly basis.

07

39

61

93

133

Additional Content

These items are not listed in the volume's table of contents; we have independently documented them here.

Corrections Done by Toriyama-sensei Himself #1
206

Corrections Done by Toriyama-sensei Himself #2
207
International Releases
This collected volume has seen various international and translated releases:
Volume Changes & Adaptation Mistakes
The third collected volume of Dragon Ball Super adjusts the underside of the Omni-King summoning device to have buttons on each side (one to travel to the Omni-King, and one to bring him to the user).


The third collected volume of Dragon Ball Super adjusts a piece of dialog between Whis and Gowasu to not have the angel initially address the Kaiōshin by name.


Original V-Jump Serialization Script:
WHIS: "How nice to see you looking so well, Lord Gowasu."
GOWASU: "Hahaha, I wonder when the last time someone addressed me by name was…"

---

Updated Collected Edition Script:
WHIS: "How nice to see you looking so well, Kaiōshin of Universe 10."
GOWASU: "Hahaha, you can call me 'Gowasu' like in the old days."
Volume Credits
As with most Dragon Ball products released, Akira Toriyama received an "Original Author" (原作 or gensaku) credit indicating his work and authorship of the original Dragon Ball series. Toyotarō is credited for the comic itself (漫画 or manga), stylized here as "Toyotarou".
原作

Original Author

鳥山 明

Akira Toriyama

漫画

Manga

とよたろう

Toyotarō

編集

Editing

株式会社ホーム社

Home-Sha, Inc.

発行人

Publisher

鈴木晴彦

Haruhiko Suzuki

発行所

Publishing House

株式会社 集英社

Shueisha Co., Ltd.

製版所

Master Printing Plates

株式会社 コスモグラフィック

COSMO GRAPHIC Co. Ltd.

印刷所

Printing House

凸版印刷株式会社

Toppan Printing Co., Ltd.