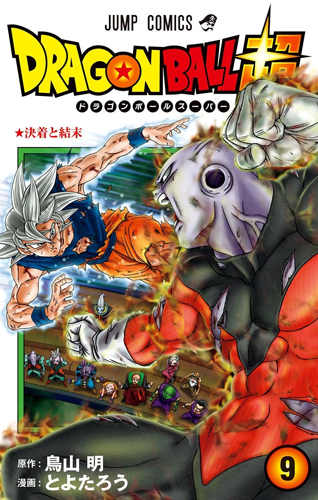 決着と結末
Ketchaku to Ketsumatsu
Battle's End and Aftermath
Volume Information
Released:
04 April 2019 (Print)
04 April 2019 (Digital)
Retail:
¥440 + tax
Publisher:
Shueisha Inc.
Size / Pages:
New Book Format (11 × 17 cm) / 192 pages
Catalog No.:
978-4-08-881811-5
Dust Jacket & Obi
The ninth volume's dust jacket features an illustration by Toyotarō with Son Goku fighting against Jiren. On the back cover, No. 17 extends a hand toward Freeza while Hit sulks on the side.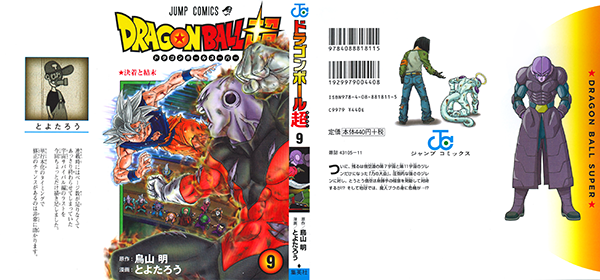 The included obi promotes the Dragon Ball Super: Broly Film Anime Comic set for release that May, as well as the recently-begun "Galactic Patrol Prisoner" arc exclusive to the manga.

Volume Introduction by Toyotarō

This time, I've added just a bit to the end of the Universe Survival arc, which ended kind of abruptly in the serialization because there weren't enough pages. It's a real lifesaver having the chance to make corrections for when the collected volume comes out.
Volume Contents
The title for the collected volume — 決着と結末 (Ketchaku to Ketsumatsu or "Battle's End and Aftermath") — is taken directly from the forty-second chapter's title.
The volume's standard front cover is a desaturated version of the dust jacket's front cover, while the back cover is an alternate version featuring Vegeta taking on Jiren.


The inside title page showcases a sketch of Son Goku and Vegeta, while the table of contents features the angels Awamo, Souwa, and Camparri.


To fill out the necessary page count, Toyotarō supplies new drawings between chapters, with this volume featuring the Universe 11 team lineup, Gogeta noting to Broli that their story has been skipped, and the Macareni siblings being led off in Galactic Patrol handcuffs. Though two additional pages worth of content are added into chapter 42, no interviews or supplemental chapters are included.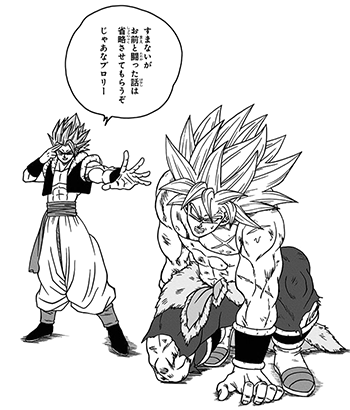 Chapters

The four chapters presented in this volume were originally serialized in the April 2018 through July 2018 issues of Shueisha's V-Jump magazine on a monthly basis.

07

53

99

145
Volume Changes & Adaptation Mistakes
Chapter 42 features two pages worth of additional content added, bringing its page count from 45 to 47. These differences begin with page 28, with added reaction panels from the Omni-Kings, the Great Priest, and the other universes upon their resurrection. The chapter otherwise lines back up with its original serialization starting with its thirty-second page (equivalent to its original thirtieth page):


Along with the other additions in chapter 42, the panel of the Universe 7 team flying away was notably missing Son Gohan in its original serialization; this was redrawn entirely and corrected in the collected edition:
Volume Credits
As with most Dragon Ball products released, Akira Toriyama received an "Original Author" (原作; gensaku) credit indicating his work and authorship of the original Dragon Ball series. Toyotarō is credited for the comic itself (漫画; manga), stylized here as "Toyotarou".
原作

Original Author

鳥山 明

Akira Toriyama

漫画

Manga

とよたろう

Toyotarō

編集

Editing

株式会社ホーム社

Home-Sha, Inc.

発行人

Publisher

北畠輝幸

Teruyuki Kitabatake

発行所

Publishing House

株式会社 集英社

Shueisha Co., Ltd.

製版所

Master Printing Plates

株式会社 コスモグラフィック

COSMO GRAPHIC Co. Ltd.

印刷所

Printing House

凸版印刷株式会社

Toppan Printing Co., Ltd.