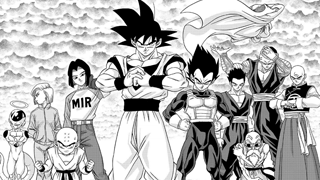 Arc Information
| | |
| --- | --- |
| Original Run: | 21 August 2017 – 21 November 2018 (16 months) |
| Corresponding: | Dragon Ball Super Chapters 27 – 42 (16 chapters) |
| Page Count: | 720 pages (0 full color / 720 black and white) |
Arc Synopsis
Having thoroughly enjoyed the martial arts tournament between Universes 6 and 7, the Omni-King plans to hold another one himself, although this time with all 12 universes! Much to Beerus and Whis' relief, and thanks to the events with Goku Black, the Omni-King seems to have been OK with sidelining this next tournament. However, with the prospect of battling the greatest warriors in every universe, Goku has not let the idea slip his mind. While training with Whis, Goku suddenly recalls the Omni-King mentioning that he planned to hold the tournament "soon". Before Whis can stop him, Goku summons the Omni-King to discuss it. While Goku is filled with unabashed delight, Beerus and Whis are fraught with fear at the consequences of losing… complete annihilation of their universe!
Goku recruits Earth's greatest warriors, including Freeza, to represent Universe 7 in the tournament. With each universe's team set, they assemble in the "Word of Void" and the Universe's Greatest Martial Arts Tournament is set to begin. It is quickly apparent that each universe has it out for Goku and Universe 7 for putting their mere existence in jeopardy. As the tournament unfolds, six of the eight competing universes have been annihilated from existence, with only Universes 7 and 11 remaining.
Chapter List

修行と日常そして…
Shugyō to Nichijō Soshite…
Training and Everyday Life, and…
21 August 2017
V-Jump October 2017

12宇宙の破壊神
Jū-ni Uchū no Hakaishin
The 12 Gods of Destruction
21 September 2017
V-Jump November 2017

第11宇宙破壊神候補トッポ
Dai Jū-ichi Uchū Hakaishin Kōho Toppo
The Universe 11 God of Destruction Candidate, Toppo
21 October 2017
V-Jump December 2017

ジレンという男
Jiren to iu Otoko
The Man Named Jiren
21 November 2017
V-Jump January 2018

集まれ超戦士たち!
Atsumare Chō Senshi-tachi!
Super Warriors Assemble!
16 December 2017
V-Jump February 2018

集まれ超戦士たち! 2
Atsumare Chō Senshi-tachi! Tsū
Super Warriors Assemble! 2
20 January 2018
V-Jump March 2018

宇宙サバイバル! 力の大会開始!
Uchū Sabaibaru! Chikara no Taikai Kaishi!
Universe Survival! The Tournament of Power Begins!
21 February 2018
V-Jump April 2018

Dragon Ball Super Chapter 34
Pages: 45
最初の消滅宇宙
Saisho no Shōmetsu Uchū
The First Annihilated Universe
21 March 2018
V-Jump May 2018

Dragon Ball Super Chapter 35
Pages: 45
ヒットVSジレン
Hitto Buiesu Jiren
Hit vs Jiren
21 April 2018
V-Jump June 2018

Dragon Ball Super Chapter 36
Pages: 45
個悭的な選手たち
Kosei-teki na Senshi-tachi
Quirky Competitors
21 May 2018
V-Jump July 2018

Dragon Ball Super Chapter 37
Pages: 45
覚醒・超サイヤ人ケール
Kakusei・Sūpā Saiya-jin Kēru
Awaken, Super Saiyan Kale
21 June 2018
V-Jump August 2018

Dragon Ball Super Chapter 38
Pages: 45
第6宇宙の最終手段
Dai-Roku Uchū no Saishū Shudan
Universe 6's Last Resort
21 July 2018
V-Jump September 2018

Dragon Ball Super Chapter 39
Pages: 45
孫悟空覚醒の"兆"
Son Gokū Kakusei no "Kizashi"
"Sign" of Son Goku's Awakening
21 August 2018
V-Jump October 2018

Dragon Ball Super Chapter 40
Pages: 45
ジレンVS第7宇宙
Jiren Buiesu Dai-Nana Uchū
Jiren vs Universe 7
21 September 2018
V-Jump November 2018

Dragon Ball Super Chapter 41
Pages: 45
身勝手の極意
Migatte no Gokui
Ultra Instinct
21 October 2018
V-Jump December 2018

Dragon Ball Super Chapter 42
Pages: 45
決着と結末
Ketchaku to Ketsumatsu
Battle's End and Aftermath
21 November 2018
V-Jump January 2019