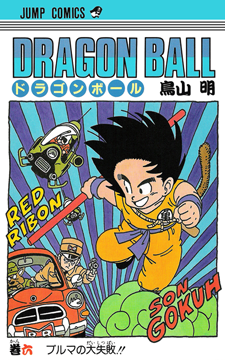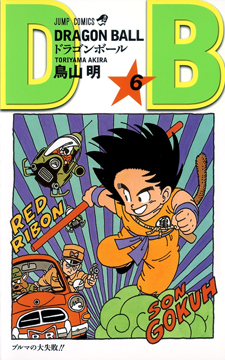 ブルマの大失敗!!
Buruma no Dai-Shippai!!
Bulma's Big Blunder!!
General Information
First Release:
10 March 1987 (print edition)
12 October 2012 (digital edition)
Retail:
¥360, not taxed (initial print edition)
¥400 + 5% tax (current print edition, since May 2009)
¥350 + 5% tax (digital edition)
Publisher:
Shueisha
Size / Pages:
New Book Format (11 × 17 cm) / 192 pages
Catalog No.:
ISBN 4-08-851836-5
Introduction
The volume's introduction from author Akira Toriyama is printed on the front flap of the dust cover and accompanied by a small color illustration.

These days, the neighborhood where I live has been getting pretty busy, with new shops and roads being built. It's quite convenient, but I don't get to see weasels, pheasants, or bush warblers at all any more.
The noise level has increased too. Being a country boy by nature, it seems like a slooow, quiet lifestyle suits me best. It might be pretty inconvenient, but I'd like to live much, much farther out in the country. This is the sort of thing I get to thinking about.
Contents
This volume compiles chapters 61 to 72 as originally serialized in Weekly Shōnen Jump, covering issues 1986 #11 to 1986 #22. All chapter title pages shown below are those included in this volume. The chapter premiere dates listed below are based on the sale date of their respective issue of Weekly Shōnen Jump, which is when that issue officially went on sale.
Chapters (061 – 072)

忍法! 四畳半タタミ返し!!
Ninpō! Yonjōhan Tatamigaeshi!!
Ninja Arts! The 4½ Tatami Flip!!
11 February 1986
Weekly Shōnen Jump 1986 #11

危機!分身の術
Kiki! Bunshin no Jutsu
Peril! The Art of Division
18 February 1986
Weekly Shōnen Jump 1986 #12

人造人間8号
Jinzōningen Hachi-Gō
Artificial Human No. 8
25 February 1986
Weekly Shōnen Jump 1986 #13

5階 戦慄のブヨン
Gokai Senritsu no Buyon
Floor Five: The Hair-Raising Buyon
04 March 1986
Weekly Shōnen Jump 1986 #14

ブヨン攻略法
Buyon Kōryakuhō
How to Defeat Buyon
11 March 1986
Weekly Shōnen Jump 1986 #15

マッスルタワーの最期!!
Massuru Tawā no Saigo!!
Muscle Tower's End!!
18 March 1986
Weekly Shōnen Jump 1986 #16

25 March 1986
Weekly Shōnen Jump 1986 #17

西の都のブルマんち
Nishi no Miyako no Buruma n'chi
Bulma's House in West City
01 April 1986
Weekly Shōnen Jump 1986 #18

ブルマと悟空part2
Buruma to Gokū Pāto Tsū
Bulma and Goku, Part Two
08 April 1986
Weekly Shōnen Jump 1986 #19

ブルマの大失敗!!
Buruma no Dai-Shippai!!
Bulma's Big Blunder!!
15 April 1986
Weekly Shōnen Jump 1986 #20

KAME HOUSE 発見さる!!
Kame Hausu Hakken Saru!!
Kame House Discovered!!
22 April 1986
Weekly Shōnen Jump 1986 #21

ブルー将軍 攻撃開始
Burū Shōgun Kōgeki Kaishi
General Blue Commences His Assault
26 April 1986
Weekly Shōnen Jump 1986 #22
Title Page Special Feature
As the tankōbon are compilations of pre-existing chapters, they are intended to be continuously read from beginning to end. Often times, any title pages not considered integral to the story, or due to page count issues between chapters, were moved to the back of the volume and collected in a special gallery following the volume's final chapter. The gallery notes the title pages are "as they appeared in Weekly Shōnen Jump", which include the original tag lines and "Bird Studio" logo. These features are typically removed from the title pages remaining in the volume's main content.
Toriyama-san's Dragon Ball Ask-Me-Anything Corner
Each of the first 12 tankōbon volumes contains a short, two-page Q&A session with Akira Toriyama (essentially the continuation of a similar section in Dr. Slump), where he answers questions sent in by readers. Anyone was able to send in a postcard to the address listed in the book, and individuals whose submissions ran in a subsequent volume were promised a signed illustration (shikishi) from Toriyama himself. This solicitation remained in place in all printings through mid-1995 (the end of the series' run in Weekly Shōnen Jump), after which it was removed. The Q&A section is not included in the digital edition.
The first six volumes also included an invitation to join Toriyama's official fan club, the "Akira Toriyama Preservation Society" (Toriyama Akira Hozon-Kai), whose members received a newsletter with "inside stories" and other bonus content that would "make the comics ten times more fun". Readers were invited to send a ¥60 stamp in an envelope to the address given, after which they would receive a membership form. This invitation remained until May 1987 (concurrent with the publication of volume 7); it was then replaced with a notice that the club had reached its predetermined membership limit, and an apology to those who still wished to join. This notice remains in current printings, even though the club has long since disbanded, with the final newsletter (issue #25) published in September 1987.
Notes
This volume omits one of the original chapter title pages, although it was later included in the kanzenban release.
The first interstitial page (a page presented before or after an expected content page; typically to fill a blank page) features Son Goku from Dragon Ball and Sun Wukong from the 16th-century Chinese tale Journey to the West curiously looking at one another, as the former is based on the latter.
The second interstitial page advertises the release of the next tankōbon volume:


COMMERCIAL TIME
General Blue Approaches!! What Will Happen?!
Dragon Ball Volume 7: On Sale Now!

Presumably in initial prints the release date for Volume 7 or a "Coming Soon" promotional line was included instead, as it would not have actually been released at the time.
Supplemental Images
The following supplemental images are included in this volume and are original illustrations drawn by Akira Toriyama exclusively for this tankōbon volume:




Staff Credits
Note that the publisher credited varies by print edition based on the staff at Shueisha at the time of its printing. The publisher listed below coincides with this volume's first edition printing.
著者

Author

鳥山 明

Akira Toriyama

編集

Editing

ホーム社

Home-sha Co., Ltd.

発行人

Publisher

堀内末男

Sueo Horiuchi

発行所

Publishing House

株式会社 集英社

Shueisha Co., Ltd.

印刷所

Printing House

凸版印刷株式会社

Toppan Printing Co., Ltd.