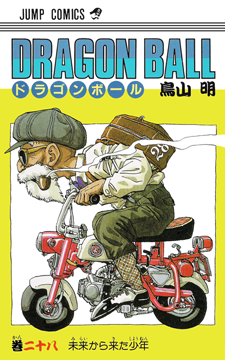 未来から来た少年
Mirai kara Kita Shōnen
The Boy From the Future
Volume Information
First Release:
08 November 1991 (print edition)
12 October 2012 (digital edition)
Retail:
¥379 + 3% tax (initial print edition)
¥400 + 5% tax (current print edition, since May 2009)
¥350 + 5% tax (digital edition)
Publisher:
Shueisha
Size / Pages:
New Book Format (11 × 17 cm) / 192 pages
Catalog No.:
ISBN 4-08-851418-1
Volume Introduction by Akira Toriyama

I can't just sit around and do nothing. I never feel comfortable if I'm not completely absorbed in something. Just like how sharks will die if they stop swimming. Anything is fine, no matter how pointless, but I have to be completely absorbed. Because of this, though, when there isn't anything I want to do, I get really fidgety and pace around the room…. It'd be nice if "work" was one of those things I could absorb myself in, as well….
Volume Contents (326 — 337)
All chapter title pages shown below are as available in this tankōbon volume, featuring the original chapter tag lines and "Bird Studio" logo. Fortunately, this volume does not omit any of the original chapter title pages. The chapter premiere dates listed below are based on the sale date of their respective issue of Weekly Shōnen Jump, which is when that issue of the magazine officially went on sale.

空しい決着
Munashī Ketchaku
An Empty Conclusion
28 May 1991
Weekly Shōnen Jump 1991 #25
すべての終わり
Subete no Owari
The End of It All
04 June 1991
Weekly Shōnen Jump 1991 #26

ナメック星 消ゆ
Namekku-sei Kiyu
Planet Namek Fades Out
11 June 1991
Weekly Shōnen Jump 1991 #27

帰らない悟空
Kaeranai Gokū
Goku Won't Be Coming Home
18 June 1991
Weekly Shōnen Jump 1991 #28

フリーザ親子地球に降り立つ
Furīza Oyako Chikyū ni Oritatsu
Freeza and his Father Descend to Earth
25 June 1991
Weekly Shōnen Jump 1991 #29

謎の少年
Nazo no Shōnen
The Mysterious Boy
02 July 1991
Weekly Shōnen Jump 1991 #30

ふたりめの超サイヤ人
Futarime no Sūpā Saiya-jin
A Second Super Saiyan
09 July 1991
Weekly Shōnen Jump 1991 #31

帰って来た孫悟空
Kaette Kita Son Gokū
Son Goku Comes Home
16 July 1991
Weekly Shōnen Jump 1991 #32
未来から来た少年
Mirai kara Kita Shōnen
The Boy From the Future
23 July 1991
Weekly Shōnen Jump 1991 #33

恐怖のメッセージ
Kyōfu no Messeiji
A Message of Terror
30 July 1991
Weekly Shōnen Jump 1991 #34

3年後の賭け
San-Nengo no Kake
A Three Year Gamble
06 August 1991
Weekly Shōnen Jump 1991 #35

集う超戦士たち
Tsudō Sūpā Senshi-tachi
The Super Warriors Assemble
13 August 1991
Weekly Shōnen Jump 1991 #36/37