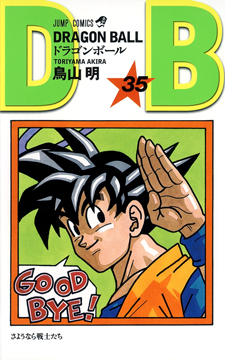 さようなら戦士たち
Sayōnara Senshi-tachi
Farewell, Warriors
Volume Information
First Release:
03 September 1993 (print edition)
12 October 2012 (digital edition)
Retail:
¥379 + 3% tax (initial print edition)
¥400 + 5% tax (current print edition, since May 2009)
¥350 + 5% tax (digital edition)
Publisher:
Shueisha
Size / Pages:
New Book Format (11 × 17 cm) / 192 pages
Catalog No.:
ISBN 4-08-851700-8
Volume Introduction by Akira Toriyama

With this volume, Son Goku has died. I'm not the kind of person who has much affection for the characters he draws, but as you'd expect, I did feel a bit sorry at the death of the main character I've been drawing for close to ten years. I thought about doing things some other way, but in the end, I felt that it was best for him to die. I did at least try not to make it too dark, but Son Goku-kun, I beg your sincere pardon. Please forgive me.
Volume Contents (409 — 420)
All chapter title pages shown below are as available in this tankōbon volume, featuring the original chapter tag lines and "Bird Studio" logo. Fortunately, this volume does not omit any of the original chapter title pages. The chapter premiere dates listed below are based on the sale date of their respective issue of Weekly Shōnen Jump, which is when that issue of the magazine officially went on sale.

本気対本気
Honki Tai Honki
Seriousness vs Seriousness
09 February 1993
Weekly Shōnen Jump 1993 #10

究極のかめはめ波
Kyūkyoku no Kamehameha
The Ultimate Kamehameha
16 February 1993
Weekly Shōnen Jump 1993 #11

追い詰められたセル
Oitsumerareta Seru
Cell, Driven to the Wall
23 February 1993
Weekly Shōnen Jump 1993 #12

セルゲームの結末
Seru Geimu no Ketsumatsu
The End of the Cell Games
02 March 1993
Weekly Shōnen Jump 1993 #13

苦しむ孫悟飯
Kurushimu Son Gohan
Son Gohan in Agony
09 March 1993
Weekly Shōnen Jump 1993 #14

思わぬ形勢逆転
Omowanu Keisei Gyakuten
An Unexpected Turning of the Tables
16 March 1993
Weekly Shōnen Jump 1993 #15

孫悟空からのメッセージ
Son Gokū kara no Messēji
A Message From Son Goku
23 March 1993
Weekly Shōnen Jump 1993 #16

かめはめ波対かめはめ波最後の決戦
Kamehameha Tai Kamehameha Saigo no Kessen
Kamehameha vs Kamehameha: A Final Showdown
30 March 1993
Weekly Shōnen Jump 1993 #17

大団円
Dai-Dan'en
The Grand Finale
06 April 1993
Weekly Shōnen Jump 1993 #18

さようなら戦士たち
Sayōnara Senshi-tachi
Farewell, Warriors
13 April 1993
Weekly Shōnen Jump 1993 #19

もうひとつの結末
Mō Hitotsu no Ketsumatsu
One More Conclusion
20 April 1993
Weekly Shōnen Jump 1993 #20

未来に平和を…
Mirai ni Heiwa o…
Peace for the Future…
27 April 1993
Weekly Shōnen Jump 1993 #21/22