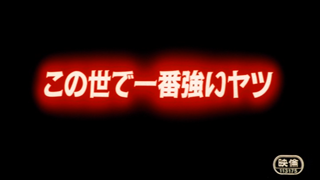 この世で一番強いヤツ
Kono Yo de Ichiban Tsuyoi Yatsu
The World's Strongest Guy
General Information
Movie Premiere & Promotion
The movie premiered as part of the Spring 1990 "Toei Anime Festival" (東映アニメまつり; Tōei Anime Matsuri) on 10 March 1990, along with two other movies from the Akuma-kun and Sally the Witch series. The event's name was changed for this season from its original name, the "Toei Cartoon Festival" (東映まんがまつり; Tōei Manga Matsuri), which was established by Toei in 1969 as a way to showcase their popular children's series as theatrical films during seasonal breaks in the school year. In Japan, almost all schools below the university level run a three-term school year (trimester system) with a vacation period of several weeks to a month at the end of each trimester: spring vacation, summer vacation, and winter vacation. The movies were screened together back-to-back in various cities across Japan, with a typical total running time of roughly three hours. Most festivals would last roughly one month, or as long as the seasonal vacation allowed. Tickets could be purchased at the theater, or discount tickets could be purchased in advance which covered the cost of admission, as well as a bonus item such as a promotional pamphlet describing the featured movies, and various other special presents, such as posters, paper hats, cards, and toys. Additional items, including the official theatrical pamphlet and a variety of other commemorative goods, were available for purchase at cinemas or by mail during this period.



Home Video Release
Up until the Dragon Box DVD sets began being released in the early 2000s, the only Dragon Ball properties released to home video in Japan were the original seventeen theatrical films, most of which were available on VHS, LaserDisc, and 8mm film reels. These home video releases were a luxury for most fans, as they came at a rather high price point for the time. They were later re-released in 1996 to replace the then out-of-print VHS tapes with a lower price point and slightly different covers.
After releasing the entirety of the three Dragon Ball TV series, Toei released their fifth and final "Dragon Box", which was entitled "Dragon Box The Movies". The Dragon Box contained all seventeen original Dragon Ball movies presented in their theatrical 16:9 widescreen aspect ratio. As a special bonus for the movie's first DVD release, Toei dug through their vaults and included some of the movie's original promotional material.
Theatrical Preview (劇場予告)
Running Time: 1 minute
Following the "Dragon Box", Toei began releasing each movie individually on DVD. To help promote the sale of movie individual discs, Shueisha handed out a free promotional DVD highlighting the releases at Jump Festa 2009. The DVD contained promotional trailers for each movie which were narrated by veteran Dragon Ball cast member Shigeru Chiba, the voice of such notable characters as Pilaf, Garlic Jr. (TV series), and Raditz. More information about the promotional DVD is available in our "Home Video Guide".
In July 2018, the original seventeen theatrical films were released on Japanese Netflix and Amazon Prime streaming services. The addition of the movies themselves was heavily promoted throughout social media, however it was not announced or promoted at the time that they were actually new, high-definition remasters of the films scanned, and subsequently remastered, from the original film negatives. Shortly thereafter on 09 August 2018, Toei Animation formally announced the release of these newly-remastered versions of the movies across eight Blu-ray volumes. All non-credit versions of the opening and endings included with the release are up-converts of those originally included on the original LaserDisc releases and all bonus promotional materials (trailers, digests, etc.) are presented in their original standard definition format as included in the Dragon Box release.
Movie Synopsis
While looking at the Dragon Radar, Oolong notices that all of the Dragon Balls are starting to be gathered together. He and Gohan, who were also searching for the Dragon Balls, head out to investigate and end up at the Tsurumai-Tsuburi Mountains' eternal wall of ice, where coincidentally, Piccolo is also training. Dr. Kochin summons Shenlong and wishes for Dr. Uiro's lab to be released from the ice. The ice begins to break away and a building emerges. Gohan and Oolong look on in disbelief, when they are suddenly attacked by Dr. Kochin's Biomen. Piccolo shows up to save Gohan, but is overcome by three mysterious fighters, while Gohan and Oolong escape.
Dr. Kochin and his Biomen soon appear at Kame House, and request that Kame-Sen'nin come with them. He refuses and easily defeats the Biomen, but Dr. Kochin kidnaps Bulma to force Kame-Sen'nin to go back with him to the lab. There, Kame-Sen'nin is forced to fight three bio-warriors, but it soon becomes apparent he's no match. Bulma discovers that Dr. Uiro's goal is to obtain the body of the strongest man so he can be revived. Bulma informs them that Son Goku is now the strongest man in the world.
Oolong informs Goku of the situation, and he heads out to find Bulma and Kame-Sen'nin. He arrives at Dr. Uiro's lab and is greeted by Misokattsun, Kishime, and Ebifurya, Dr. Kochin's three bio-warriors. Goku defeats Misokattsun by bursting through him with the Kaiō-Ken, but is then sealed up in ice by Ebifurya. Gohan and Kuririn arrive to back him up, but are at their wit's end against Kishime. Using the Kaiō-Ken, Goku breaks free from ice and defeats the two remaining bio-warriors. Goku confronts Dr. Uiro, demanding he give Bulma back, but Dr. Uiro just wants Goku's body.
Piccolo, who has been brainwashed by Dr. Uiro, appears and a battle between the two rivals commences. Gohan tries to stop Piccolo, but he simply swats Gohan away. Being unable to stop them from fighting, Gohan's anger explodes, shattering Dr. Uiro's brainwashing device on Piccolo. Dr. Uiro is stunned by Gohan's power and decides he must fight Goku himself. He begins to break his robot body free from the wall, subsequently knocking Dr. Kochin down an energy shaft, killing him. Everyone watches on in horror, including Kuririn, who has freed Bulma.
The true battle begins, and Dr. Uiro seems to have the upper hand. Even the three-person Kamehameha of Goku, Kame-Sen'nin, and Kuririn has no effect on him. Soon, Goku and Piccolo are the only ones left able to fight. Goku resorts to using a Kaiō-Ken powered Kamehameha, which merely knocks Dr. Uiro into space. Goku begins to form a Genki-Dama, but Dr. Uiro interupts him before he can throw it by shooting ki blasts at him. The others fly up to distract him so Goku can successfully throw the Genki-Dama. Goku lets it fly and it's a direct hit. Dr. Urio's brain is destroyed and peace once again returns to Earth.













Movie Characters & Items
The following original character profiles were translated from Daizenshuu 6, with additional character design comments from the movie's character designer, Minoru Maeda, as published in the "Design Lab" section of the "Dragon Box The Movies" Dragon Book.
Movie Notes
Daizenshuu 6 classifies this movie as an event that takes place between the end of Goku's battle with Vegeta and his arrival on Planet Namek, with a few caveats:


From Goku's dōgi having a "Kame" mark on the breast and a "Kaiō" mark on the back, it seems this is an event from between the battle with Vegeta and Goku's arrival on Planet Namek. However, there are also inconsistencies such as Gohan being on Earth when he should be in the middle of fighting on Planet Namek.
— "Dragon Ball Daizenshuu 6: Movies & TV Specials" (p. 44)

Although this movie was presented in a 16:9 widescreen aspect ratio in theaters, it was actually animated in a 4:3 fullscreen format. In fact, when the movie was initially released in 1990 on VHS and LaserDisc, it was presented in this 4:3 fullscreen format. However, the "Dragon Box The Movies" release would later drop this format, instead presenting all of the movies in their original widescreen theatrical format. Overall, this movie has been released to the home market on VHS, LaserDisc, 8mm film reel, DVD, and Blu-ray.
The movie was eventually adapted and released by Shueisha as a film animation comic in June 1994, and subsequently re-released under Shueisha's "Jump Remix" line in April 2005.
Name Puns
Daizenshuu 6 states in the "'89~'90 Memorial" section that Dr. Uiro and all of his subordinate's names are derived from various specialties from the city of Nagoya.


Moving on, the names of the enemies who appeared in "The World's Strongest Guy" all got their names from Nagoya specialties, such as uirō, Nagoya Cochin, kishimen, ebi-furai, and miso-katsu. These name puns were thought of by scenario writer Takao Koyama.
— "Dragon Ball Daizenshuu 6: Movies & TV Specials" (p. 68)

Koyama himself mentioned his role in naming the characters in a 1995 roundtable with other anime staff in the "Shenlong Times" pamphlet that came with Daizenshuu 6:

[Shunsuke] Kikuchi: The naming of the original characters from the theatrical films is a lot of fun, too.
Koyama: That's right. That alone, I look forward to. (laughs) For the movies, the [characters] are mostly named on this end, so it's fun. I like naming them. While pondering things I can't quite get a handle on….
[Kōzō] Morishita: Although there are times when it's a struggle. (laughs)
[Tadayoshi] Yamamuro: But the power of naming truly is amazing.
[Masako] Nozawa: It's important.
[Shigeyasu] Yamauchi: That's because naming has great power in bringing a character to life.
Koyama: That's why, at the time of "The World's Strongest Guy", I went with foods from Nagoya. (laughs) Ebifurya, Kishime, Dr. Uiro, and so on…. Once the names are set, the characters come to life.
— "Shenlong Times" Issue #6 (p. 3)

He also mentions the fun he had creating these names in a 2004 roundtable with Akira Toriyama and Masako Nozawa for the book Tenka'ichi Densetsu:

Koyama: I was always looking forward to making names in the movie scenarios. For the film "The World's Strongest Guy", I even brought out a Nagoya theme, from "Uirō" all the way to "Cochin". (laughs) I had a lot of fun playing around with that.
— "TV Anime Complete Guide: Dragon Ball Tenka'ichi Densetsu" (p. 83–84)

Dr. Uiro's name comes directly from uirō, a chewy, rice-based confection subtly flavored with ingredients such as azuki bean or green tea.

外郎

(

u·i·ro·o

)

›

ウィロー

(

u·i·ro·o

)

Kishime is derived from kishimen, a flat variety of udon noodle.

棊子麺

(

ki·shi·me·n

)

›

キシーメ

(

ki·shi·i·me

)

Ebifurya takes its name from ebi furai (fried prawns), a dish that is universally popular in Japan, but particularly well-known in Nagoya. The form "Ebifuryā" in particular is a nonsense-word used to poke fun at Nagoya dialect, where "[consonant] + -yā" is a sound-change that occurs at the end of many words (but not, in fact, ebi furai). (It is for the same reason that speakers of the dialect are sometimes said to "talk like cats".)

海老フライ

(

e·bi·fu·ra·i

)

›

エビフリャー

(

e·bi·fu·rya·a

)

Misokattsun comes from miso-katsu, a variant of tonkatsu (fried pork cutlets) which is a Nagoya specialty.

味噌カツ

(

mi·so·ka·tsu

)

›

ミソカッツン

(

mi·so·ka·t·tsu·n

)

Dr. Kochin's name is based on the Nagoya Cochin, the regional variant of a Chinese chicken breed which is known for its prodigious size and for the quality of its meat and eggs.

名古屋コーチン

(

na·go·ya ko·o·chi·n

)

›

コーチン

(

ko·o·chi·n

)
Musical Notes
The orchestral score for this film, as with all Dragon Ball Z TV series background music, was composed by Shunsuke Kikuchi. It was recorded on 21 February 1990 at AVACO Studios in Kawasaki, Kanagawa Prefecture; pieces recorded for the film are designated by the numbering M9xx, where xx stands for the ordering of the track within the film itself.
The Dragon Ball Z TV series began making use of music from this movie with episode 47 (aired 09 May 1990), and continued to use it regularly. Dr. Uiro's leitmotif, which runs through much of the score, is closely associated with the villainous characters of the Freeza arc: Zarbon, the Ginyu Special-squad, and (of course) Freeza himself. Perhaps the most notable of the pieces in the score, however, is the one that plays just before the end credits (M929); a mid-tempo, major-key piece, it effectively expresses the happiness and relief of the characters after Dr. Uiro's defeat in the film. In the TV series, while not used often, it is closely associated with happy moments that conclude individual story arcs, such as at the end of the Bardock and Trunks specials, and in episodes 107 and 117.
[Uses in Kikuchi score of Dragon Ball Kai, if relevant]
[Commercial Release]
Ending Theme
[Ending theme description]
Movie Credits
All credits listed below are as originally presented in the theatrical film. All original credit errors have been corrected to maintain accurate spellings throughout the site. For more information and a complete listing of the series staff, visit the Production Guide.
Cast Credits
The cast credits are listed in order of character importance within the series. For more detailed information about the series cast, visit the Cast Guide.
孫悟空

Son Goku

孫悟飯

Son Gohan

野沢雅子

Masako Nozawa

ピッコロ

Piccolo

古川登志夫

Toshio Furukawa

クリリン

Kuririn

田中真弓

Mayumi Tanaka

ブルマ

Bulma

鶴 ひろみ

Hiromi Tsuru

亀仙人

Kame-Sen'nin

宮内幸平

Kōhei Miyauchi

チチ

Chi-Chi

荘 真由美

Mayumi Shō

ウーロン

Oolong

龍田直樹

Naoki Tatsuta

神龍

Shenlong

内海賢二

Kenji Utsumi

Dr.コーチン

Dr. Kochin

矢田耕司

Kōji Yata

キシーメ

Kishime

岸野幸正

Yukimasa Kishino

エビフリャー

Ebifurya

山口 健

Ken Yamaguchi

ミソカッツン

Misokattsun

郷里大輔

Daisuke Gōri

Dr.ウイロー

Dr. Uiro

中田浩二

Kōji Nakata

ナレーション

Narration

八奈見乗児

Jōji Yanami
Opening Credits
製作総指揮

Executive Producer

今田智憲

Chiaki Imada

原作

Original Author

鳥山 明

Akira Toriyama

(週刊少年ジャンプ・連載)

(Weekly Shōnen Jump – Serialization)

企画

Planning

森下孝三

Kōzō Morishita

製作担当

Production Manager

岸本松司

Shōji Kishimoto

脚本

Script

小山高生

Takao Koyama

音楽

Music

菊池俊輔

Shunsuke Kikuchi

オープニング テーマ

Opening Theme

作詞

Lyrics

作曲

Composition

編曲

Arrangement

うた

Vocals

「CHA-LA HEAD-CHA-LA」

"CHA-LA HEAD-CHA-LA"

森雪之丞

Yukinojō Mori

清岡千穂

Chiho Kiyo'oka

山本健司

Kenji Yamamoto

影山ヒロノブ

Hironobu Kageyama

(コロムビアレコード)

(Columbia Records)

エンディング テーマ

Ending Theme

作詞

Lyrics

作曲

Composition

編曲

Arrangement

うた

Vocals

「戦 (I·KU·SA)」

"Ikusa (I·KU·SA)"

佐藤 大

Dai Satō

池  毅

Takeshi Ike

山本健司

Kenji Yamamoto

影山ヒロノブ

Hironobu Kageyama

(コロムビアレコード)

(Columbia Records)

挿入歌

Insert Song

作詞

Lyrics

作曲

Composition

編曲

Arrangement

うた

Vocals

「ピッコロさんだ~いすき」

"I Lo~ve Piccolo-san"

谷穂ちろる

Chiroru Yaho

池  毅

Takeshi Ike

山本健司

Kenji Yamamoto

野沢雅子

Masako Nozawa

(コロムビアレコード)

(Columbia Records)

撮影

Photography

池上元秋

Motoaki Ikegami

編集

Editing

福光伸一

Shin'ichi Fukumitsu

録音

Recording

二宮健治

Kenji Ninomiya

美術監督

Art Director

池田祐二

Yūji Ikeda

作画監督

Animation Supervisor

前田 実

Minoru Maeda

監督

Director

西尾大介

Daisuke Nishio
Ending Credits
声の出演

Voice Performances

~~~~

協力

In Cooperation With

青二プロダクション

Aoni Production

原画

Key Animation

海老沢幸男

Yukio Ebisawa

久田和也

Kazuya Hisada

劉 輝久

Teruhisa Ryū

志田直俊

Naotoshi Shida

江口寿志

Hisashi Eguchi

中鶴勝祥

Katsuyoshi Nakatsuru

沖本日出子

Hideko Okimoto

佐伯哲也

Tetsuya Saeki

飯塚葉子

Yōko Iizuka

柴田則子

Noriko Shibata

島貫正弘

Masahiro Shimanuki

山室直儀

Tadayoshi Yamamuro

飯田倫也

Tomoya Iida

小原太一郎

Tai'ichirō Ohara

佐藤正樹

Masaki Satō

井手武生

Takeo Ide

宮原直樹

Naoki Miyahara

片田亜起夫

Akio Katada

三角昌子

Masako Misumi

 

動画

In-Between Animation

上杉千佳子

Chikako Uesugi

市橋則子

Noriko Ichihashi

伊東美奈子

Manako Itō

小松崎繁

Shigeru Komatsuzaki

市木 泉

Izumi Ichiki

中村美雪

Miyuki Nakamura

舘 直樹

Naoki Tate

牛来隆行

Takayuki Gorai

増田清美

Kiyomi Masuda

岩上久仁子

Kuniko Iwagami

中村まゆみ

Mayumi Nakamura

門田英彦

Hidehiko Kadota

芝脇峰人

Mineto Shibawaki

江原 仁

Hitoshi Ehara

広川智子

Tomoko Hirokawa

宮司好文

Yoshifumi Miyaji

白須順子

Yoshiko Shirasu

伊月一郎

Ichirō Itsuki

美術補

Assistant Art Director

高田茂祝

Shigenori Takada

長崎 斉

Hitoshi Nagasaki

背景

Backgrounds

高橋 忍

Shinobu Takahashi

工藤英昭

Hideaki Kudō

伊藤 豊

Yutaka Itō

松井 睦

Mutsumi Matsui

小野忠彦

Tadahiko Ono

土井則良

Noriyoshi Doi

仕上

Finishing Touches

入江三帆子

Mihoko Irie

鳥本佐智子

Sachiko Shimamoto

上村育代

Ikuyo Uemura

柳堀拓也

Takuya Yanagihori

藤橋清美

Kiyomi Fujibashi

増井美知子

Michiko Masui

樋口真理子

Mariko Higuchi

 

検査

Inspection

酒井日出子

Hideko Sakai

特殊効果

Special Effects

橋本由香里

Yukari Hashimoto

撮影

Photography

前原勝則

Katsunori Maehara

大藤哲生

Tetsuo Daitō

池谷和美

Kazumi Iketani

伊藤 寛

Hiroshi Itō

鈴木克次

Katsuji Suzuki

配島尚久

Naohisa Haijima

鈴木典子

Noriko Suzuki

黒田洋一

Yōichi Kuroda

野口博志

Hiroshi Noguchi

難波充子

Michiko Nanba

池上伸治

Shinji Ikegami

安生哲也

Tetsuya Anjō

音響効果

Sound Effects

新井秀徳

Hidenori Arai

ネガ編集

Negative Editing

麻生芳弘

Yoshihiro Asō

録音助手

Recording Assistant

渋江博之

Hiroyuki Shibue

監督助手

Assistant Director

折目達也

Tatsuya Orime

藤瀬順一

Jun'ichi Fujise

記録

Documentation

原 芳子

Yoshiko Hara

仕上進行

Finishing Manager

植木知子

Tomoko Ueki

美術進行

Art Manager

中村 実

Minoru Nakamura

製作進行

Assistant Production Manager

末永雄一

Yūichi Suenaga

山口彰彦

Akihiko Yamaguchi

録音スタジオ

Recording Studio

タバック

TAVAC

現像

Film Developing

東映化学

Toei Chemistry

宣伝協力

Promotional Support

週刊少年ジャンプ

(集英社)

Weekly Shōnen Jump

(Shueisha)

フジテレビ

Fuji TV
おわり
The End
© TOEI ANIMATION STUDIO 1990