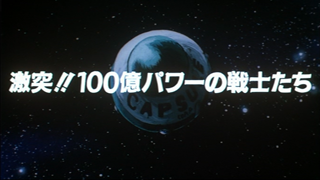 激突!!100億パワーの戦士たち
Gekitotsu!! Hyaku-Oku Pawā no Senshi-tachi
Clash!! 10,000,000,000 Powerful Warriors
General Information
Movie Premiere & Promotion
The movie premiered as part of the 1992 Spring "Toei Anime Fair" (東映アニメフェア; Tōei Anime Fea) on 07 March 1992, along with two other movies from the Magical Taluluto and Dragon Quest series. The event originated from the "Toei Manga Festival" that was established by Toei in 1969 as a way to showcase their popular children's series as theatrical films during seasonal breaks in the school year. In Japan, almost all schools below the university level run a three-term school year (trimester system) with a vacation period of several weeks to a month at the end of each trimester: spring vacation, summer vacation, and winter vacation. The movies were screened together back-to-back in various cities across Japan, with a typical total running time of roughly three hours. Most festivals would last roughly one month, or as long as the seasonal vacation allowed. Tickets could be purchased at the theater, or discount tickets could be purchased in advance which covered the cost of admission, as well as a bonus item such as a promotional pamphlet describing the featured movies, and various other special presents, such as posters, paper hats, cards, and toys. Additional items, including the official theatrical pamphlet and a variety of other commemorative goods, were available for purchase at cinemas or by mail during this period.



Home Video Release
Up until the Dragon Box DVD sets began being released in the early 2000s, the only Dragon Ball properties released to home video in Japan were the original seventeen theatrical films, most of which were available on VHS, LaserDisc, and 8mm film reels. These home video releases were a luxury for most fans, as they came at a rather high price point for the time. They were later re-released in the late-1990s to replace the then out-of-print VHS tapes with a lower price point and slightly alternate covers.
After releasing the entirety of the three Dragon Ball TV series, Toei released their fifth and final "Dragon Box", which was entitled "Dragon Box The Movies". The Dragon Box contained all seventeen original Dragon Ball movies presented in their theatrical 16:9 widescreen aspect ratio. As a special bonus for the movie's first DVD release, Toei dug through their vaults and included some of the movie's original promotional material.
Theatrical Preview (劇場予告)
Running Time: 41 seconds
Following the "Dragon Box", Toei began releasing each movie individually on DVD. To help promote the sale of movie individual discs, Shueisha handed out a free promotional DVD highlighting the releases at Jump Festa 2009. The DVD contained promotional trailers for each movie which were narrated by veteran Dragon Ball cast member Shigeru Chiba, the voice of such notable characters as Pilaf, Garlic Jr. (TV series), and Raditz. More information about the promotional DVD is available in our "Home Video Guide".
In July 2018, the original seventeen theatrical films were released on Japanese Netflix and Amazon Prime streaming services. The addition of the movies themselves was heavily promoted throughout social media, however it was not announced or promoted at the time that they were actually new, high-definition remasters of the films scanned, and subsequently remastered, from the original film negatives. Shortly thereafter on 09 August 2018, Toei Animation formally announced the release of these newly-remastered versions of the movies across eight Blu-ray volumes. All non-credit versions of the opening and endings included with the release are up-converts of those originally included on the original LaserDisc releases and all bonus promotional materials (trailers, digests, etc.) are presented in their original standard definition format as included in the Dragon Box release.
Movie Synopsis
One peaceful day the New Planet Namek is engulfed by the Big Gete Star, which begins sucking the energy from the planet. Back on Earth, Dende sees what is happening and immediately sends Goku and the others off to save New Planet Namek from this danger. Meanwhile, on New Planet Namek, robot soldiers begin hunting down all the Namekians in order to gather their energy. Some of the Namekians put up a resistance, but it only proves to be a futile effort. Just as the robots are about to finish off some of resisting Namekians, Goku and the others appear!
As the battle is about to begin, Metal Coola appears before them. Goku is shocked to see he is still alive, but vows to defeat him once again. While Goku begins his one-on-battle with Metal Coola, the others take on the robot soldiers. Piccolo soon figures out that by concentrating their ki at the moment of attack, they can easily pierce their heavy army. However, they are eventually captured as the increasing number of robot soldiers overwhelms them.
Goku and Metal Coola seem quite even, but after using both the Kaiō-Ken and Shunkan-Idō Goku realizes he is outmatched. With no other choice he finally transforms into a Super Saiyan. However, even his increased power and speed have little effect on Metal Coola, who can regenerate thanks to his mechanical self-repairing ability. Goku finds himself in dire straits, but at that point Vegeta appears and saves him, saying he will be the one to kill Kakarrot. The strong Super Saiyan combo quickly overtakes Metal Coola, and after using all of their strength they finally smash him to pieces.
The two Saiyans fall to ground, completely exhausted, but to their bewilderment they see they are totally surrounded by hundreds of Metal Coolas. Even though they are completely outmatched, the two will not go down without a fight, but are eventually captured. Inside the machine planet they find the core of Coola, who explains how he took over the Big Gete Star and used it to create mechanical duplicates of himself. Coola then quickly begins to drain their energy and the two scream out in pain. At the same time, Yajirobe and the others are about to be sawed up so that their energy can be absorbed, when the saw abruptly stops.
Coola appears to have drained all of Goku and Vegeta's energy, when more energy suddenly explodes from the two. Their Super Saiyan energy quickly overwhelms Coola's circuits and the Big Gete Star begins to collapse in on itself. Meanwhile, the others flee from the exploding machine planet to safety. Back inside Coola creates a mechanized body and rushes forward to finish of the duo himself, but with Vegeta's help Goku is able to pierce Coola's chest with a ki attack, blowing him up along with the Big Gete Star.
As the smoke clears, Goku and Vegeta fall back to the planet and crash head first into the ground. Yajirobe heals everyone with some Senzu and Goku is glad to see everyone else is okay. The Namekians thank him for all he has done, but Gohan wonders where Vegeta went. Goku says he must have taken off after being given a Senzu. In space, Vegeta is flying in a space pod, holding Coola's main computer chip in his hand… He slams it closed, crushing the chip with a "Hmph!"













Movie Characters & Items
The following original character profiles were translated from Daizenshuu 6. Additional character design comments from the movie's character designer, Minoru Maeda, have also been included as published in the "Design Lab" section of the "Dragon Box The Movies" Dragon Book.
Metal Coola (

メタルクウラ

; metaru kūra)
After being done in by Goku, his brains drifted to the machine planet Big Gete Star. Fusing with the main computer, he was regenerated as a Metal Coola with self-repairing capabilities. He torments Goku and the others with battle ability that has increased several levels.

I made him on the concepts of "Coola in metal" and "plus, a lot of them will appear". Nowadays, it would be possible to depict lots of them using CG… but at the time, we drew them all by hand, so anyway, it was rough. I drew the highlights, reflections and such while looking at an actual metal art-object, and even specified light and shadow in the design illustrations. This is probably the work I struggled with the most, including both designs and workload. (laughs)
— Minoru Maeda
Items
Big Gete Star (

ビッグゲテスター

; biggu gete sutā)
The fearsome machine planet Big Gete Star, which sucks up a planet's energy after clinging onto it. A computer chip floating through a universal graveyard took in the objects around it and absorbed their energy. It grew gigantic by repeating the process multiple times. That main computer regenerated Coola.
Movie Notes
Daizenshuu 6 classifies this movie as an event that fits within the continuity of the original story, explaining:


From Goku's mark-less dōgi, to Dende being God and Vegeta transforming into a Super Saiyan, it can be inferred that this is an event from between when the Cell Games were announced and their opening.
— "Dragon Ball Daizenshuu 6: Movies & TV Specials" (p. 88)

Although this movie was presented in a 16:9 widescreen aspect ratio in theaters, it was actually animated in a 4:3 fullscreen format. In fact, when the movie was initially released in 1992 on VHS and LaserDisc, it was presented in this 4:3 fullscreen format. However, the "Dragon Box The Movies" release would later drop this format, instead presenting all of the movies in their original widescreen theatrical format. Overall, this movie has been released to the home market on VHS, LaserDisc, 8mm film reel, and DVD.
The movie was eventually adapted and released by Shueisha as a film animation comic in July 1992, and subsequently re-released under Shueisha's "Jump Remix" line in July 2004.
Name Puns
The "Animation's Gleanings" section of the Supplemental Daizenshuu notes that Metal Coola's name comes from the fact that "his body is made of metal".
Movie Credits
All credits listed below are as originally presented in the theatrical film. All original credit errors have been corrected to maintain accurate spellings throughout the site. For more information and a complete listing of the series staff, visit the Production Guide.
Cast Credits
The cast credits are listed in order of character importance within the series. For more detailed information about the series cast, visit the Cast Guide.
孫悟空

Son Goku

孫悟飯

Son Gohan

野沢雅子

Masako Nozawa

ピッコロ

Piccolo

古川登志夫

Toshio Furukawa

クリリン

Kuririn

田中真弓

Mayumi Tanaka

ベジータ

Vegeta

堀川 亮

Ryō Horikawa

亀仙人

Kame-Sen'nin

宮内幸平

Kōhei Miyauchi

ウーロン

Oolong

龍田直樹

Naoki Tatsuta

デンデ

Dende

鈴木富子

Tomiko Suzuki

ミスターポポ

Mister Popo

西尾 徳

Toku Nishio

誘導ロボ

Guidance Robot

小林通孝

Michitaka Kobayashi

ナメック星人

Namekian

田中一成

Kazunari Tanaka

江川央生

Hisao Egawa

ムーリ

Muri

あずさ欣平

Kinpei Azusa

クウラ

Coola

中尾隆聖

Ryūsei Nakao

ナレーション

Narration

八奈見乗児

Jōji Yanami
Opening Credits
製作

Executive Producer

今田智憲

Chiaki Imada

茅野力造

(集英社)

Rikizō Kayano

(Shueisha)

原作

Original Author

鳥山 明

Akira Toriyama

(週刊少年ジャンプ・連載)

(Weekly Shōnen Jump – Serialization)

企画

Planning

森下孝三

Kōzō Morishita

清水賢治

(フジテレビ)

Kenji Shimizu

(Fuji TV)

金田耕司

(フジテレビ)

Kōji Kaneda

(Fuji TV)

週刊少年ジャンプ

Weekly Shōnen Jump

製作担当

Production Manager

末永雄一

Yūichi Suenaga

脚本

Script

小山高生

Takao Koyama

音楽

Music

菊池俊輔

Shunsuke Kikuchi

オープニング テーマ

Opening Theme

作詞

Lyrics

作曲

Composition

編曲

Arrangement

うた

Vocals

「CHA-LA HEAD-CHA-LA」

"CHA-LA HEAD-CHA-LA"

森 雪之丞

Yukinojō Mori

清岡千穂

Chiho Kiyo'oka

山本健司

Kenji Yamamoto

影山ヒロノブ

Hironobu Kageyama

(コロムビアレコード)

(Columbia Records)

エンディング テーマ

Ending Theme

作詞

Lyrics

作曲

Composition

編曲

Arrangement

うた

Vocals

「HERO (キミがヒーロー)」

"Hero (You're the Hero)"

佐藤 大

Dai Satō

清岡千穂

Chiho Kiyo'oka

山本健司

Kenji Yamamoto

影山ヒロノブ

Hironobu Kageyama

YUKA

(コロムビアレコード)

(Columbia Records)

撮影

Photography

片山幸男

Yukio Katayama

編集

Editing

福光伸一

Shin'ichi Fukumitsu

録音

Recording

二宮健治

Kenji Ninomiya

美術監修・設定

Art Supervision & Design

池田祐二

Yūji Ikeda

美術監督

Art Director

谷口淳一

Jun'ichi Taniguchi

作画監督

Animation Supervisor

前田 実

Minoru Maeda

監督

Director

西尾大介

Daisuke Nishio
Ending Credits
声の出演

Voice Performances

~~~~

協力

In Cooperation With

青二プロダクション

Aoni Production

作画監督補佐

Assistant Animation Supervisor

佐藤正樹

Masaki Satō

原画

Key Animation

中鶴勝祥

Katsuyoshi Nakatsuru

井手武生

Takeo Ide

沖本日出子

Hideko Okimoto

志田直俊

Naotoshi Shida

久田和也

Kazuya Hisada

稲上 晃

Akira Inagami

北野義宏

Yoshihiro Kitano

大西陽一

Yōichi Ōnishi

佐野哲郎

Tetsurō Sano

宇佐美皓一

Kōichi Utsumi

福田道生

Michio Fukuda

大森英敏

Hidetoshi Ōmori

佐藤正樹

Masaki Satō

宮原直樹

Naoki Miyahara

小原太一郎

Tai'ichirō Ohara

島貫正弘

Masahiro Shimanuki

梨澤孝司

Kōji Nashizawa

沼子哲也

Tetsuya Numako

長谷川眞也

Shin'ya Hasegawa

木下和栄

Kazue Kinoshita

奥野浩行

Hiroyuki Okuno

鈴木雅也

Masaya Suzuki

新井浩一

Kōichi Arai

青井清年

Kiyotoshi Aoi

動画

In-Between Animation

完甘美也子

Miyako Shishikai

楠 知津子

Chizuko Kusunoki

中島早苗

Sanae Nakajima

杉本 功

Isao Sugimoto

武田 毅

Takeshi Takeda

山田真紀

Maki Yamada

吉田政保

Masayasu Yoshida

苫 政三

Seizo Toma

村上佳子

Yoshiko Murakami

菅野由美子

Yumiko Kan'no

鈴江賢二

Kenji Suzue

勝田ふじ江

Fujie Katsuda

動画チェッカー

In-Between Animation Checker

福島伸一郎

Shin'ichirō Fukushima

背景

Backgrounds

佐藤美幸

Miyuki Satō

谷口百範

Momonori Taniguchi

小板橋かよ子

Kayoko Koitabashi

小杉光芳

Mitsuyoshi Kosugi

工藤英昭

Hideaki Edō

高木佐和子

Sawako Takagi

伊藤雅人

Masato Itō

青木龍夫

Tatsuo Aoki

本田 修

Osamu Honda

市谷正夫

Masao Ichitani

一色美緒

Mio Isshiki

長崎 斉

Hitoshi Nagasaki

仕上

Finishing Touches

大堀陽子

Yōko Obori

本橋政江

Masae Motohashi

瀬口愛子

Aiko Seguchi

菅野保子

Yasuko Kan'no

吉沢啓子

Keiko Yoshizawa

堀井安子

Yasuko Horī

松下久美子

Kumiko Matsushita

今井八重子

Yaeko Imai

色指定・検査

Color Coordinator & Inspection

酒井日出子

Hideko Sakai

特殊効果

Special Effects

平尾千秋

Chiaki Hirao

下川信裕

Nobuhiro Shimokawa

佐藤章二

Shōji Satō

河内正行

Masayuki Kawachi

岡田良明

Yoshiaki Okada

 

撮影

Photography

福井政利

Masatoshi Fukui

清水政夫

Masao Shimizu

相磯嘉雄

Yoshio Aiso

髙橋 基

Motoi Takahashi

濱木 淳

Atsushi Hamaki

中得 覚

Satoru Nakatoku

梶原裕美子

Yumiko Kajiwara

小谷野 武

Takeshi Koyano

細田民男

Tamio Hosoda

武井利晴

Toshiharu Takei

坂西 勝

Masaru Sakanishi

田代儀幸

Noriyuki Tashiro

安藤 茂

Shigeru Andō

高橋博子

Hiroko Takahashi

若尾卓見

Takumi Wakao

 

音響効果

Sound Effects

新井秀徳

Hidenori Arai

録音助手

Recording Assistant

渋江博之

Hiroyuki Shibue

ネガ編集

Negative Editing

麻生芳弘

Yoshihiro Asō

記録

Documentation

小川真美子

Mamiko Ogawa

製作進行

Assistant Production Manager

高水俊郎

Toshirō Kōsui

仕上進行

Finishing Manager

植木知子

Tomoko Ueki

美術進行

Art Manager

北山礼子

Reiko Kitayama

助監督

Assistant Director

門田英彦

Hidehiko Kadota

プロデューサー補

Assistant Producer

蛭田成一

Sei'ichi Hiruta

録音スタジオ

Recording Studio

タバック

TAVAC

現像

Film Developing

東映化学

Toei Chemistry

宣伝協力

Promotional Support

フジテレビ

Fuji TV
おわり
The End
© TOEI ANIMATION STUDIO 1992