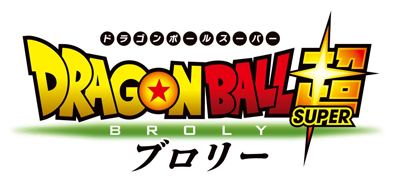 ドラゴンボール超 ブロリー
Doragon Bōru Sūpā Burorī
Dragon Ball Super: Broly
General Information
Premiered:
14 December 2018
EIRIN Code:
121530
Running Time:
100 Minutes
Box Office:
Unknown
Theme Song:
"Blizzard" by Daichi Miura

---

Availability:
"Dragon Ball Super: Broly" Special Limited Edition Blu-ray/DVD Box (05 June 2019)
"Dragon Ball Super: Broly" Standard Edition Blu-ray/DVD (05 June 2019)
Movie Premiere & Promotion
In the film's original release announcement, no mention of the film being connected with the Dragon Ball Super brand name was made; rather, it was announced as being the twentieth theatrical film for the franchise. In March 2018, several months following the original announcement, additional details regarding refreshed character designs and key staff were announced, as well as the movie's official premiere date. It was here that Naohiro Shintani was revealed as the film's animation supervisor and character designer, alongside his new design for Son Goku, which served as the movie's key visual for various pieces of promotional material. The announcement also included a new comment from original author Akira Toriyama teasing the movie's story and unveiled the movie's teaser poster. Shortly following this, a promotional flyer featuring the movie's key visual and Akira Toriyama's comment soon began appearing in movie theaters across Japan.
Shortly after the movie's teaser poster was unveiled, Toei released a teaser trailer for the yet unnamed Dragon Ball Super movie, which was first shown on 20 March 2018 during a live stream event hosted by Bandai Namco to promote the upcoming Dragon Ball Legends mobile video game.
Teaser Trailer
Running Time: 33 seconds
Official Trailer (Version 1)
Running Time: 1 minute, 35 seconds
Official Trailer (Version 2)
Running Time: 1 minute, 35 seconds
Official Trailer (Version 3)
Running Time: 1 minute, 33 seconds
"Blizzard" Music Video (Movie Version)
Running Time: 1 minute, 59 seconds
Official Trailer – Gogeta Joins the Battle!
Running Time: 25 seconds
The movie's official sub-title, "Broly", was eventually announced on 09 July 2018 alongside the release of movie's official poster, which was accompanied by another new comment from Akira Toriyama introducing the movie's main antagonist, Broli. Just 10 days later, on 19 July 2018, the movie's first official trailer debuted at Funimation's hour-long Dragon Ball Super panel at Comic-Con International in San Diego. The panel featured voice actors Sean Schemmel (Goku) and Christopher Sabat (Vegeta), as well as Toei Animation producers Akio Iyoku and Norihiro Hayashida.
Advance tickets for the movie went on sale 20 July 2018, with 23,866 tickets sold within the first three days. This marked a 270% increase compared to the first two day advance ticket sales for the franchise's previous movie, Dragon Ball Z: Resurrection 'F'.
In the months leading up to the movie's premiere, joint promotional campaigns and product tie-ins were launched with several major companies in Japan, such as Bandai Namco, 100 Year Housing, and Mister Donut. To further increase hype for the movie, a "Dragon Ball North America Tour" was hosted at seven conventions across the continent between July and October 2018 by various Dragon Ball copyright holders, including Toei Animation and Shueisha, as well as Funimation, the franchise's North American license holder. Each tour location was setup to imitate the "World Martial Arts Tournament", with a check-in table at the center and numerous products and promotional items on display throughout, as well as large character statues.
Original Concept
Producer Akio Iyoku, the head of Shueisha's "Dragon Ball Room", revealed in an interview that in the spring of 2017 the movie's producers approached original author Akira Toriyama with the idea of producing a new movie. Several different story suggestions were provided during this initial meeting, with Toriyama ultimately deciding on revising Broli's story.


First, around the spring of 2017, we presented Toriyama-sensei with several different story suggestions for the new movie. I believe there were also suggestions that weren't in his strike zone at all, but using what we threw his way as a reference, we got him to come up with the story.

This was later elaborated upon by Toei Animation producer Norihiro Hayashida, as he noted at Bandai Namco's Dragon Ball Legends live stream event that the movie's production, and more specifically the refreshed character designs, had begun in February 2017 just as the TV series' "Universe Survival" story arc was beginning.

Akira Toriyama noted in his second official movie comment that the idea of including Broli as the main antagonist was pitched to him by the movie's producers.


So, about Broli. I hear these days he's still very popular not only in Japan, but also overseas. Based on that, those in charge asked, "Won't you have Broli appear in this next movie?"
Refreshed Artistic Style
From the onset, the movie's promotional campaign centered around the shift in artistic style of the series' character designs. Akio Iyoku, the head of Shueisha's "Dragon Ball Room", noted in an interview leading up to the movie that the producers felt that the timing was right with the Dragon Ball Super TV series ending to refresh the franchise's character designs to fall more inline with Akira Toriyama's current art style. With this in mind, the producers held auditions in which numerous animators submitted artwork to be reviewed and critiqued by Akira Toriyama, who ultimately selected Naohiro Shintani as the movie's animation supervisor and character designer.
Son Goku was the first of Shintani's new character designs to be unveiled, which was prominently featured on the movie's teaser poster, official website launch, and numerous other promotional items. This design, as well as later character designs, showcased a drastic departure from what had become the franchise's standard stiff, muscular, and overly-emphatic designs from character designer Tadayoshi Yamamuro. In contrast, Shintani's new character designs feature a slimmed down look with lean muscles and flowing, wavy hair. An emphasis has also been placed on how the character's clothes fit, allowing for a more natural and comfortable look.
In addition to falling more inline with Akira Toriyama's current art style, Akio Iyoku also noted that the movie's color palette has been adjusted to be closer to the colors of the original comic. The following are a select number of character design sheets released thus far as part of the promotional campaign:
As a part of the movie's official trailer debut at Comic-Con International in San Diego, several new character designs were showcased to the audience. These included Super Saiyan God Vegeta and Super Saiyan Broli.
Son Goku Character Designs — Normal, Super Saiyan, Super Saiyan God, SSGSS, Arctic Clothes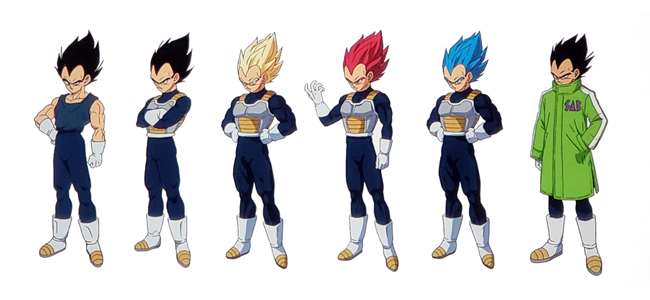 Vegeta Character Designs — Normal, Super Saiyan, Super Saiyan God, SSGSS, Arctic Clothes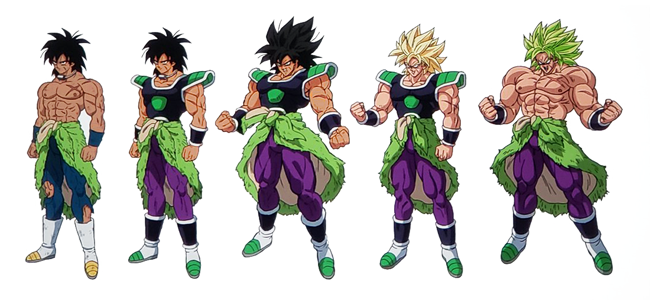 Broli Character Designs — Rugged, Normal, Powered, Super Saiyan, Full Power
Movie Characters
Cheelye (

チライ

; Chirai)
After getting caught stealing a Galactic Patrol ship, she joined the Freeza Army to escape their pursuit. She only knows rumors of Freeza, but has never seen him.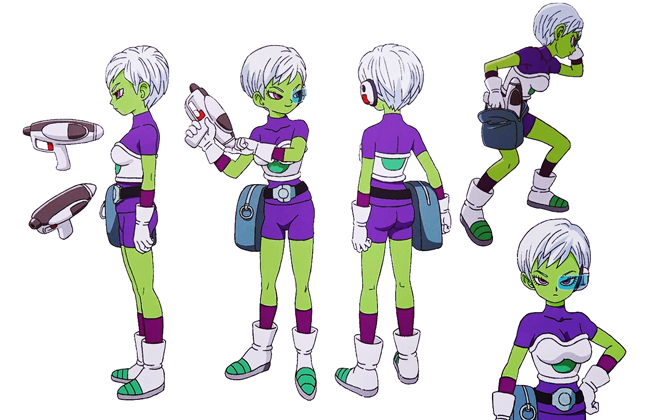 Lemo (

レモ

; Remo)
A veteran member of the Freeza Army, he previously served in a combat support unit during the era when Freeza's father, King Cold, led the army. Because he is not a combatant, he is not personally acquainted with Freeza and has only ever seen him at the space station.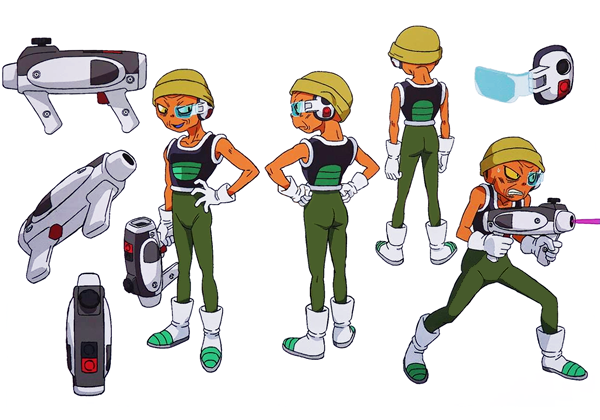 Kikono (

キコノ

; Kikono)
A brilliant scientist who has served since the King Cold era. Scouters, armor, spaceships, and the like are all his inventions.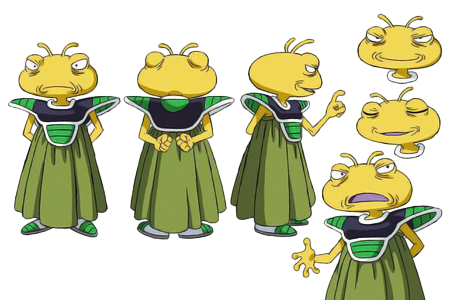 Beriblu (

ベリブル

; Beriburu)
An old woman who serves Freeza, Beriblu isn't afraid to say anything to even a tyrant such as him.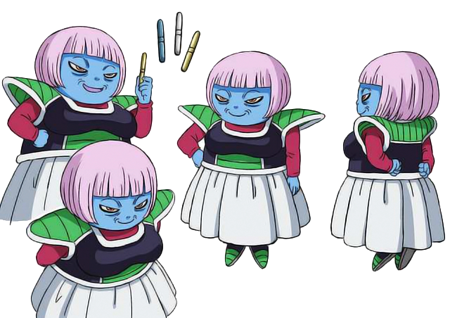 Movie Notes
This movie marks the 20th produced for the franchise, with the first movie premiering 32 years prior in December 1986. It is also the first movie under the Dragon Ball Super brand name.
Characters
Kikono first appeared in the "Dragon Ball Minus" bonus chapter of the Jaco the Galactic Patrolman collected edition, which was confirmed on the franchise's official website.
Name Puns
Paragus and Broli's name puns remain the same as originally intended when developed for Dragon Ball Z Movie 8 and come from "asparagus" and "broccoli", respectively, with some of the syllables removed.

アスパラガス

(

a·su·pa·ra·gu·su

)

›

パラガス

(

pa·ra·gu·su

)

ブロッコリー

(

bu·ro·k·ko·ri·i

)

›

ブロリー

(

bu·ro·ri·i

)

Other Saiyan names in the movie continue to maintain the Saiyan vegetable theme. Beets and Taro's names come directly from the words "beets" and "taro", respectively, which are both root vegetables. Leek's name is taken directly from the alternate Japanese spelling for the "leek" vegetable (

リーク

), which is traditionally spelled

リーキ

. Being close comrades, Moroko and Shito's names are likely both taken from splitting up toumorokoshi, the Japanese word for corn or maize.

トウモロコシ

(

to·u·mo·ro·ko·shi

)

›

モロコ

(

mo·ro·ko

)

+ シトウ

(

shi·to·u

)

Cheelye's name is likely an anagram of "lychee". This underlying name pun source was previously used for Dr. Lychee in the 1993 Nintendo Famicom game Plan to Eradicate the Saiyans (and its various remakes), as well as the alien Lychee, seen during the brief "Fake Planet Namek" filler sequence in the Dragon Ball Z television series.

ライチ

(

ra·i·chi

)

›

チライ

(

chi·ra·i

)

Lemo's name is likely taken directly from the word "lemon", with its final syllable removed.

レモン

(

re·mo·n

)

›

レモ

(

re·mo

)

Kikono's name is likely an anagram of kinoko, the Japanese word for "mushroom".

きのこ

(

ki·no·ko

)

›

キコノ

(

ki·ko·no

)

Beriblu's name is likely a rearrangement of the Japanese spelling of the English word "blueberry", with the vowel elongations removed.

ブルーベリー

(

bu·ru·u·be·ri·i

)

›

ベリブル

(

be·ri·bu·ru

)
Movie Credits
The movie credits are listed below as originally presented in the feature. For more detailed information about the series cast, visit the Cast Guide.
Cast Credits
孫悟空

Son Goku

孫悟天

Son Goten

バーダック

Bardock

野沢雅子

Masako Nozawa

 

 

ブルマ

Bulma

久川 綾

Aya Hisakawa

ベジータ

Vegeta

堀川りょう

Ryō Horikawa

ピッコロ

Piccolo

古川登志夫

Toshio Furukawa

トランクス

Trunks

草尾 毅

Takeshi Kusao

フリーザ

Freeza

中尾隆聖

Ryūsei Nakao

ビルス

Beerus

山寺宏一

Kōichi Yamadera

ウイス

Whis

森田成一

Masakazu Morita

神龍

Shenlong

大友龍三郎

Ryūzaburō Ōtomo

パラガス

Paragus

宝亀克寿

Katsuhisa Hōki

ギネ

Gine

渡辺菜生子

Naoko Watanabe

ベジータ王

King Vegeta

銀河万丈

Banjō Ginga

ラディッツ

Raditz

千葉 繁

Shigeru Chiba

ナッパ

Nappa

稲田 徹

Tetsu Inada

チライ

Cheelye

水樹奈々

Nana Mizuki

レモ

Lemo

杉田智和

Tomokazu Sugita

キコノ

Kikono

菊池正美

Masami Kikuchi

ベリブル

Beriblu

斉藤貴美子

Kimiko Saitō

ブロリー幼少期

Young Broli

森下由樹子

Yukiko Morishita

ビーツ

Beets

桐本拓也

Takuya Kirimoto

モロコ

Moroko

江川央生

Hisao Egawa

シトウ

Shito

谷 昌樹

Atsuki Tani

リーク

Leek

阿座上洋平

Yōhei Azakami

ダイゲン

Daigen

松山鷹志

Takashi Matsuyama

執事

Butler

青森 伸

Shin Aomori

サイヤ人

Saiyan

高塚正也

Masaya Takatsuka

フリーザ軍兵士

Freeza Army Soldier

沼田祐介

Yūsuke Numata

ブロリー

Broli

島田 敏

Bin Shimada
Opening Credits
原作・脚本・キャラクターデザイン

Original Author, Script, & Character Design

鳥山 明

Akira Toriyama

製作

Production

東映

Toei

集英社

Shueisha

フジテレビジョン

Fuji Television Network

東映アニメーション

Toei Animation

バンダイ

Bandai

バンダイナムコエンターテインメント

Bandai Namco Entertainment

村松秀信

Hidenobu Muramatsu

木下暢起

Nobuoki Kinoshita

石原 隆

Takashi Ishihara

高木勝裕

Katsuhiro Takagi

垰 義孝

Yoshitaka Tao

伍賀一統

Kazuto Goka

企画

Planning

森下孝三

Kōzō Morishita

伊能昭夫

Akio Iyoku

シニア・プロデューサー

Senior Producer

鈴木篤志

Atsushi Suzuki

臼井裕詞

Hirotsugu Usui

プロデューサー

Producer

林田師博

Norihiro Hayashida

冨永理生子

Rioko Tominaga

企画協力

Planning In Cooperation With

集英社

Shueisha

ドラゴンボール室

Dragon Ball Room

Vジャンプ編集部

V-Jump Editorial Department
Ending Credits
CAST

キャスティング協力

Casting Coordination:

原道太郎

(青二プロダクション)

Michitarō Hara

(Aoni Production)

音楽

Music

住友紀人

Norihito Sumitomo

主題歌

Theme Song

Blizzard

Blizzard

作詞

Lyrics

作曲

Composition

編曲

Arrangement

歌

Vocals

三浦大知・Nao'ymt

Daichi Miura & Nao'ymt

Nao'ymt

Nao'ymt

Nao'ymt

Nao'ymt

三浦大知

Daichi Miura

Produced by Nao'ymt

(SONIC GROOVE)

主題歌協力

Theme Song Collaboration

田代雅裕

Masahiro Tashiro

大多康平

Kōhei Ōta

榊 紘太郎

Kōtarō Sakaki

安久慎一

Shin'ichi Yasuhisa

音楽ミュージシャン

Musicians

宮坂雅美Strings

Masami Miyasaka Strings

高桑英世

Hideyo Takakuwa

井上俊次

Toshitsugu Inoue

藤澤健至

Kenji Fujisawa

辻本憲一

Ken'ichi Tsujimoto

古賀 光

Hikaru Koga

松坂 隼

Shun Matsuzaka

富永TOMMY弘明

Hiroaki TOMMY Tominaga

From 「鱧人 -HamojiN-」

From "-HamojiN-"

KOTETSU

KOTETSU

金子亜未

Ami Kaneko

今泉 洋

Hiroshi Imaizumi

住友紀人

Norihito Sumitomo

安藤友樹

Tomoki Andō

鳥塚心輔

Shinsuke Torizuka

村中美菜

Mina Muranaka

musique luxueuse

musique luxueuse

矢幅 歩

Ayumu Yahaba

伊藤大輔

Daisuke Itō

音楽録音

Music Recording

中村"E.T"悦弘

Etsuhiro "E.T." Nakamura

音楽録音助手

Music Recording Assistant

石塚陽大

Yōta Ishizuka

平井美桜

Mio Hirai

作家マネージメント・音楽制作

Composition Management & Music Production

木尾栄子

Eiko Kono'o

木村菜穂子

(レガートミュージック)

Naoko Kimura

(Legato Music)

音楽プロデューサー

Music Producer

島谷浩作

Kōsaku Shimaya

金野沙矢香

Sayaka Kon'no

津島玄一

Gen'ichi Tsushima

野村賢吾

Kengo Nomura

音楽協力

Music In Association With

ライジングプロダクション

Rising Production

クループレイス

CrewPlace

東映アニメーション音楽出版

Toei Animation Music Publishing

レガートミュージック

Legato Music

エイベックス・エンタテインメント

Avex Entertainment

東映音楽出版

Toei Music Publishing

フジパシフィックミュージック

FUJIPACIFIC MUSIC

Sound City

Sound City

製作担当

Production Manager

稲垣哲雄

Tetsuo Inagaki

絵コンテ

Storyboard

長峯達也

Tatsuya Nagamine

唐澤和也

Kazuya Karasawa

三塚雅人

Masato Mitsuka

 

CGディレクター

CG Director

牧野 快

Kai Makino

デジタル撮影監督

Director of Digital Photography

元木洋介

Yōsuke Motoki

編集

Editing

後藤正浩

Masahiro Gotō

録音

Recording

伊東光晴

Mitsuharu Itō

音響効果

Sound Effects

西村睦弘

Mutsuhiro Nishimura

色彩設計

Color Design

永井留美子

Rumiko Nagai

美術設定

Art Design

須江信人

Nobuhito Sue

美術監督

Art Director

小倉一男

Kazuo Ogura

作画監督

Chief Animation Supervisor

新谷直大

Naohiro Shintani

パート作画監督

Assistant Animation Supervisor

辻 美也子

Miyako Tsuji

高橋優也

Yūya Takahashi

中谷友紀子

Yukiko Nakatani

井手武生

Takeo Ide

舘 直樹

Naoki Tate

渡邊巧大

Kōdai Watanabe

エフェクト作画監督

Effects Animation Supervisor

橋本敬史

Takashi Hashimoto

サブキャラクターデザイン

Sub Character Design

多嘉良敢

Isami Takara

メカニックデザイン

Mechanical Design

升井秀光

Hidemitsu Masui

プロップデザイン

Prop Design

仲條久美

Kumi Nakajō

原画

Key Animation

大西 亮

Ryō Ōnishi

多嘉良 敢

Isami Takara

仲條久美

Kumi Nakajō

高橋優也

Yūya Takahashi

仁井宏隆

Hirotaka Nii

井手武生

Takeo Ide

本多弘幸

Hiroyuki Honda

東出 太

Futoshi Higashide

村 俊太朗

Shuntarō Mura

辻 美也子

Miyako Tsuji

板井寛幸

Hiroyuki Itai

森 佳佑

Keisuke Mori

森宗弘樹

Hiroki Morimune

稲葉 仁

Hitoshi Inaba

渡邊巧大

Kōdai Watanabe

Eddie Mehong

Eddie Mehong

Mehdi Aouichaoui

Mehdi Aouichaoui

楡木哲郎

Tetsurō Nireki

馬場充子

Mitsuko Baba

雪村あい

Ai Yukimura

酒井智史

Satoshi Sakai

橋本敬史

Takashi Hashimoto

久保田 誓

Chikashi Kubota

馬越嘉彦

Yoshihiko Umakoshi

鳥井隼人

Hayato Torii

小酒井智也

Tomoya Kosakai

島崎 望

Nozomi Shimazaki

久保田由華

Yūka Kubota

篠塚 超

Takeru Shinozuka

高野やよい

Yayoi Takano

浦田幸博

Yukihiro Urata

志田直俊

Naotoshi Shida

二階堂渥志

Atsushi Nikaidō

佐藤雅将

Masayuki Satō

梨澤孝司

Kōji Nashizawa

増井直子

Naoko Masui

山本拓美

Takumi Yamamoto

眞部周一郎

Shūichirō Manabe

星野 守

Mamoru Hoshino

唐澤雄一

Yūichi Karasawa

中澤勇一

Yūichi Nakasawa

黒岩裕美

Yumi Kuroiwa

浦上貴之

Takayuki Uragami

Pol Anonuevo

Paul Añonuevo

舘 直樹

Naoki Tate

Ken Arto

Ken Arto

片山貴仁

Takahito Katayama

石井珠樹

Tamaki Ishii

山田まさし

Masashi Yamada

井野真理恵

Marie Ino

大塚 健

Ken Ōtsuka

能登思之

Shiyuki Noto

林 祐己

Yūki Hayashi

新谷直大

Naohiro Shintani

長田雄樹

Yūki Nagata

横山美雪

Miyuki Yokoyama

松尾俊亮

Shunsuke Matsuo

浦田ひとみ

Hitomi Urata

清水敦哉

Atsuya Shimizu

 

動画検査

In-Between Animation Inspection

久保田由華

Yūka Kubota

長田雄樹

Yūki Nagata

Bong Lustañas

竹内未和

Miwa Takeuchi

富田美穂子

Mihoko Tomita

Jeun Coquia

動画

In-Between Animation

久保田由華

Yūka Kubota

清水敦哉

Atsuya Shimizu

竹内未和

Miwa Takeuchi

齋藤浩登

Hiroto Saitō

稗田貴希

Takaki Hieda

Rey-an Santos

Ferdie Chavez

Florence Jay Dominguito

Zoren Cruz

Ronard Resulta

Clyde Balansag

中村 忍

Shinobu Nakamura

水口貴善

Takayoshi Mizuguchi

山口幸俊

Yukitoshi Yamaguchi

山崎美穂子

Mihoko Yamazaki

小椋淳司

Junji Ogura

馬渡久史

Hisashi Mawatari

山口直倫

Naomichi Yamaguchi

菱沼優子

Yūko Hishinuma

岩堀起久

Kazunaga Iwahori

山崎爽太

Sōta Yamazaki

篠塚 超

Takeru Shinozuka

佐藤秋穂

Akiho Satō

小島隆寛

Takahiro Kojima

田中慎之介

Shin'nosuke Tanaka

藤井睦美

Tomomi Fujii

Francisco Dela Rosa

Edgar Alcabaza

Allan Conti

Sandy Aquino

Paulino Herlandez

Michael David

井上寛子

Hiroko Inoue

小谷瞳美

Hitomi Kotani

下平夕子

Yūko Shimohira

大島孝美

Takami Ōshima

守本優子

Yūko Morimoto

高井一弥

Kazuya Takai

宮元彩花

Ayaka Miyamoto

瀬尾 健

Takeru Seo

園田妃奈子

Hinako Sonoda

 

色指定検査

Color Selection Inspection

加藤良高

Yoshitaka Katō

竹澤 聡

Satoshi Takezawa

デジタル彩色

Digital Coloring

Rick Agquiz

Alexander Antonio

Maricar Balatbat

Noel Santos

Eric Garduño

Ryan Prajinog

井浦祥子

Shōko Iura

佐藤恭子

Kyōko Satō

安藤佳奈恵

Kanae Andō

利根川友紀

Yuki Tonegawa

Dindo Salamanca

Randy Monoy

Roland Dasilio

Marites Corpuz

Eliseo Verdadero

牛山裕美

Yumi Ushiyama

福田由理恵

Yurie Fukuda

村本織子

Oriko Muramoto

田村貴子

Takako Tamura

仕上検査

Finishing Inspection

石井吉忠

Yoshitada Ishii

瀬口愛子

Aiko Seguchi

多田 歩

Ayumi Tada

安藤 茂

Shigeru Andō

中島苗実

Nami Nakajima

相澤里佳

Rika Aizawa

北川太郎

Tarō Kitagawa

Dindo Salamanca

Roy Benabente

Vidal Bautista

中得 覚

Satoru Nakae

髙橋 基

Motoi Takahashi

荻野光雄

Mitsuo Ogino

岡崎ジェシカ舞

Mai Jessika Okazaki

西村美彩

Misa Nishimura

足利裕一

Yūichi Ashikaga

 

Sandy Palma

Ditas Santos

スキャン

Scan

竹内達彦

Tatsuhiko Takeuchi

浅見ゆう子

Yūko Asami

デジタル特殊効果

Digital Special Effects

太田 直

Nao Ōta

下川信裕

Nobuhiro Shimokawa

安部貴俊

Takatoshi Anbe

谷口久美子

Kumiko Taniguchi

小林香織

Kaori Kobayashi

勝岡稔夫

Toshio Katsuoka

河内正行

Masayuki Kawachi

新谷亜文

Amon Shintani

荒畑歩美

Ayumi Arahata

 

美術設定補佐

Art Design Assistance

岩澤美翠

Midori Iwasawa

背景

Backgrounds

小倉一男

Kazuo Ogura

栗林大貴

Daiki Kuribayashi

池田真依子

Maiko Ikeda

根本邦明

Kuniaki Nemoto

鐘 權濱

Quan-bin Zhong

横山淳史

Atsushi Yokoyama

中田洵輝

Junki Nakata

伊東広道

Hiromichi Itō

春日美波

Minami Kasuga

 

背景3Dモデル/レイアウト

Background 3D Model / Layout

相原 誠

Makoto Aihara

関谷 薫

Kaoru Sekiya

背景協力

Background Collaboration

岡部 順

Jun Okabe

荒井 賢

Ken Arai

田中貞彦

Sadahiko Tanaka

THANH CUC

MINH TRIEU

MY TIEN

VAN CUONG

DINH HIEU

THUY LINH

今野明美

Akemi Kon'no

鶴岡宏賢

Hirotaka Tsuruoka

 

NGUYEN QUOC

VU VUONG

BAO CHAU

TU MI

HUY HOANG

NGOC HAN

背景進行

Backgrounds Manager

平田浩章

Hiroaki Hirata

背景進行補佐

Assistant Backgrounds Manager

大川結加

Yūka Ōkawa

NGOC THO

THU YEN

デジタル撮影監督補佐

Assistant Director of Digital Photography

新井拓己

Takumi Arai

撮影監修

Supervising Director of Photography

和田尚之

Naoyuki Wada

モニターワークス

Monitor Works

田村あず紗

Azusa Tamura

楊  怡

Yi Yang

デジタル撮影

Digital Photography

元木洋介

Yōsuke Motoki

新井拓己

Takumi Arai

小島千幸

Chiyuki Kojima

五明真利

Mari Gomyō

寺本友紀

Yuki Teramoto

渡辺 瞳

Hitomi Watanabe

崔 勝求

Seung-goo Choe

山杢 光

Hikaru Yamamoku

山口真樹

Maki Yamaguchi

柯 律安

Lu-an Ke

高玉竜一

Ryūichi Takatama

和田尚之

Naoyuki Wada

千葉秀樹

Hideki Chiba

渡辺有正

Naotaka Watanabe

大久保益野恵

Minoe Ōkubo

安西良行

Yoshiyuki Anzai

大島由貴

Yuki Ōshima

長谷川奈穂

Naho Hasegawa

片山雄太

Yūta Katayama

藤原航毅

Kōki Fujiwara

青木睦希

Mutsuki Aoki

鈴木智昭

Tomoaki Suzuki

CGプロデューサー

CG Producer

横尾裕次

Hirotsugu Yokoo

CGラインプロデューサー

CG Line Producer

福長卓也

Takuya Fukunaga

大上敦子

Atsuko Okami

 

ノブタコウイチ

Kōichi Nobuta

CGシーケンスディレクター

CG Sequence Director

児玉徹郎

Tetsurō Kodama

豊田智士

Satoshi Toyota

大曽根悠介

Yūsuke Ozone

平田貢一

Kōichi Hirata

CGアニメーションスーパーバイザー

CG Animation Supervisor

斉藤拓也

Takuya Saitō

CGリードアニメーター

CG Lead Animator

たかあき

Taka'aki

中西信棋

Shingo Nakanishi

みうら

Miura

 

CGアニメーター

CG Animator

中田俊裕

Toshihiro Nakata

伴野真央

Mao Tomono

下崎由加里

Yukari Shimozaki

田代直弥

Naoya Tashiro

郭 超儀

Chaoyi Guo

小林真理

Mari Kobayashi

明日菜

Asuna

井上貴絵

Kie Inoue

モデリングスーパーバイザー

Modeling Supervisor

村田則子

Noriko Murata

リードキャラクターモデリングアーティスト

Lead Character Modeling Artist

最上亮子

Ryōko Mogami

キャラクターモデリングアーティスト

Character Modeling Artist

岩本千尋

Chihiro Iwamoto

富安勝人

Masato Tomiyasu

坪川尚史

Takafumi Tsubokawa

平田睦実

Mutsumi Hirata

リードセット&プロップアーティスト

Lead Set & Prop Artist

八巻 豊

Yutaka Yamaki

セット&プロップアーティスト

Set & Prop Artist

本間大輔

Daisuke Honma

翁長 優

Yū Onaga

Michael De Vera

Rabboni Matubang

Lhest Bernardo

Jethro Sayson

Kim Pane

海老沢大生

Taiki Ebisawa

富永冴喬

Saetaka Tominaga

Jeffrey Picaso

Emmett Menes

Dindo Tagubasi

Nico Saberon

Narciso Tagros

リギングスーパーバイザー

Rigging Supervisor

中谷純也

Jun'ya Nakaya

リギングアーティスト

Rigging Artist

増田順也

Jun'ya Masuda

馬目江里子

Eriko Manome

森山美里

Misato Moriyama

中嶋聡志

Satoshi Nakajima

柳 竜一

Ryūichi Yanagi

猪野高史

Takashi Ino

村野徳晃

Noriaki Murano

小林 東

Azuma Kobayashi

エフェクトアーティスト

Effect Artist

須藤 悠

Yū Sudō

中村昌樹

Masaki Nakamura

韓 建

Ken Kan

鈴木康之

Yasuyuki Suzuki

宮台直也

Naoya Miyadai

 

Unityエンジニア

Unity Engineer

小原一樹

Kazuki Kobara

CGテクニカルサポート

CG Technical Support

森 一真

Kazuma Mori

橋本 拓

Hiromu Hashimoto

佐藤直樹

Naoki Satō

新澤千明

Chiaki Niizawa

山田倫之

Tomoyuki Yamada

福井優花子

Yukako Fukui

山下浩輔

Kōsuke Yamashita

芦野健太郎

Kentarō Ashino

CGアセットマネージャー

CG Asset Manager

渡辺克博

Katsuhiro Watanabe

高橋麻樹

Maki Takahashi

CGプロダクションマネージャー

CG Production Manager

尾上皓紀

Kōki Onoue

Davidson Davantes

松尾 駿

Shun Matsuo

Francis Cayetano

斎藤広之

Hiroyuki Saitō

 

CG制作統括

CG General Manager

氷見武士

Takeshi Himi

編集助手

Editing Assistance

新見元希

Motoki Niimi

サウンドアドバイザー

Sound Adviser

佐藤恭野

Yasuno Satō

アシスタントエンジニア

Assistant Engineer

都築寿文

Toshifumi Tsuzuki

ダビングエンジニア

Dubbing Engineer

畠山宗之

Muneyuki Hatakeyama

伊藤雄一郎

Yūichirō Itō

記録

Documentation

沢井直子

Naoko Sawai

製作進行

Assistant Production Manager

野本裕也

Yūya Nomoto

本田竜馬

Ryōma Honda

松井 翔

Shō Matsui

動画仕上進行

Animation Touch-up Manager

河本隆弘

Takahiro Kawamoto

美術進行

Art Manager

海野知義

Tomoyoshi Unno

設定管理

Setting Management

矢口雅之

Masayuki Yaguchi

演出助手

Supporting Director

都築悠一

Yūichi Tsuzuki

小松由依

Yui Komatsu

助監督

Assistant Director

唐澤和也

Kazuya Karasawa

宍戸 望

Nozomu Shishido

録音スタジオ

Recording Studio

サウンドインスタジオ

Sound Inn Studio

東映デジタルセンター

Toei Digital Center

音響製作

Audio Production

タバック

TAVAC

技術協力

Technical Support

東映ラボ・テック

Toei Lab Tech

東映デジタルラボ

Toei Digital Lab

オンラインエディター

Online Editor

阿部 理

Osamu Abe

デジタルI/O

Digital I/O

佐々木渉

Wataru Sasaki

初野百花

Momoka Hatsuno

DCPマスタリング

DCP Mastering

馬場 亮

Ryō Baba

小関秀治

Hideharu Ozeki

ラボコーディネーター

Lab Coordinator

與野勝弘

Katsuhiro Yono

配給統括

Distribution Coordinator

木村光仁

Teruhito Kimura

劇場営業

Theater Sales

川井俊一

Shun'ichi Kawai

荻野俊之

Toshiyuki Ogino

間宮裕人

Yūto Mamiya

東藤慶清

Yoshikiyo Tōdō

髙橋大典

Daisuke Takahashi

丸山 格

Tadashi Maruyama

遠山葉子

Yōko Tōyama

若月健太郎

Kentarō Wakatsuki

富﨑勇太

Yūta Tomizaki

高橋結衣

Yui Takahashi

菅原 史

Fumito Sugawara

中田裕子

Yūko Nakata

西野亜紀子

Akiko Nishino

 

劇場宣伝

Theater Publicity

姜 太栄

Tae-young Kang

近藤 槙

Maki Kondō

河西優之介

Yūnosuke Kasai

ローカル宣伝

Local Publicity

井川洋一

Yōichi Ikawa

河野和孝

Kazutaka Kōno

岡野康祐

Kōsuke Okano

里 登志幸

Toshiyuki Sato

和田博貴

Hirotaka Wada

黒川 薫

Kaoru Kurokawa

上野康子

Yasuko Ueno

山﨑 健

Ken Yamazaki

磯部武志

Takeshi Isobe

中澤舞央

Mao Nakazawa

佐藤郁子

Ikuko Satō

 

宣伝統括

Publicity Coordinator

鈴木英夫

Hideo Suzuki

宣伝プロデューサー

Publicity Producer

高橋遥介

Yōsuke Takahashi

土屋 勝

Masaru Tsuchiya

宣伝

Publicity

桝林宏明

Hiroaki Masubayashi

三橋 剛

Takeru Mitsuhashi

田中晃平

Kōhei Tanaka

三瓶貴士

Takashi Sanpei

中村陸真

Rikuma Nakamura

園部 藍

Ai Sonobe

WEBパブリシティ

Web Publicity

後藤謙吾

Kengo Gotō

松本梨未

Rimi Matsumoto

山先利基

Toshiki Yamasaki

成瀬萌美

(J·Grip)

Moemi Naruse

(J Grip)

オフィシャルサイトデザイン

Official Site Design

的場康浩

Yasuhiro Matoba

永井祐子

(weave)

Yūko Nagai

(weave)

宣伝デザイン

Advertising Design

古川 健

Ken Furukawa

野田義貴

(ドラゴンフライ)

Yoshiki Noda

(DragonFly)

予告篇ディレクター

Trailer Director

北山貴之

Takayuki Kitayama

一柳尚輝

(TATSUMI)

Naoki Hitotsuyanagi

(TATSUMI)

宣伝協力

Promotional Support

立石夏子

Natsuko Tateishi

赤羽邦仁

Kunihito Akaba

曽根勇太

Yūta Sone

北崎真吾

Shingo Kitazaki

時田麻里子

Mariko Tokita

露木志保

Shiho Tsuyuki

海外コーディネーター

International Coordinator

長谷川昌也

Masaya Hasegawa

庭瀬健治

Kenji Niwase

漫画連載

Manga Series

「ドラゴンボール超」

"Dragon Ball Super"

原作

Original Author

漫画

Manga

鳥山 明

Akira Toriyama

とよたろう

Toyotarō

(集英社「Vジャンプ」連載)

(Serialized in Shueisha's "V-Jump")

協力プロダクション

A Cooperative Production With

すたじおかぐら

Studio Kagura

スタジオライブ

Studio Live

ヤピコアニメーション

Yapiko Animation

東京アニメーションセンター

Tokyo Animation Center

WHITE FOX

White Fox

スタジオガッツ

Studio Guts

TOEI ANIMATION PHILS.,INC.

Toei Animation Phils., Inc.

アニメアール

AnimeR

Wish

Wish

R.I.C

Reverse Image Creation

たくらんけ

Takuranke

SPJ

SPJ

レヴォルト

REVOROOT

作楽クリエイト

Sakura Create

ウォンバット

Wombat

武遊

Buyū

ダンガンピクチャーズ

Dangun Pictures

イングレッサ

ingresA

スタジオトゥインクル

Studio Twinkle

Great International

Great International

草薙

Kusanagi

旭プロダクション

Asahi Production

ECHOES

ECHOES

DRAWIZ

DRAWIZ

REAL-T

REAL-T

青二プロダクション

Aoni Production

スタジオミュウ

Studio Myū

J&Kコーポレション

J&K Corporation

MSJ武蔵野制作所

MSJ Musashino Production

Acca effe

Acca effe

スノーライトスタッフ

Snow Light Staff

スタジオりぶら

Studio Ribla

スタジオカラー

Studio Khara

動画工房

Doga Kobo

スタジオエル

Studio Elle

ライデンフィルム京都スタジオ

LIDENFILMS Kyoto Studio

チーム・タニグチ

Team Taniguchi

フォントワークス

Fontworks

 

NAM HAI

NAM HAI

 

神央薬品

Zinou Pharmaceutics, Inc.

NORIBA

NORIBA

 

 

「2018ドラゴンボール超」製作委員会

"2018 Dragon Ball Super" Production Committee

東映

Toei

吉田 順

Jun Yoshida

鈴木剛大

Takehiro Suzuki

井上めぐみ

Megumi Inoue

石川 啓

Hiromu Ishikawa

フォックス・インターナショナル・プロダクションズ・ジャパン

Fox International Productions, Japan

木藤幸江

Yukie Kitō

久保田恵

Megumi Kubota

集英社

Shueisha

内藤 桂

Kei Naitō

内田太樹

Taiki Uchida

本安哲人

Tetsuhito Motoyasu

 

フジテレビジョン

Fuji Television Network

岡田翔太

Shōta Okada

渡辺恒也

Koya Watanabe

東映アニメーション

Toei Animation

山下良幸

Kazutomo Yamashita

浮田康平

Kōhei Ukita

上村敏行

Toshiyuki Uemura

松原一哲

Kazunori Matsubara

バンダイ

Bandai

金木 勲

Isao Kaneki

中静智夫

Tomō Nakashizuka

大堀真由

Motoyoshi Ōhori

菅原多絵

Tae Sugawara

バンダイナムコエンターテインメント

Bandai Namco Entertainment

渡邊浩孝

Hirotaka Watanabe

山崎秀之

Hideyuki Yamazaki

吉崎邦法

Kuninori Yoshizaki

花井雄二朗

Yūjirō Hanai

制作プロダクション

Production Company

東映アニメーション

Toei Animation

配給協力

Distribution In Cooperation With

20世紀フォックス映画

20th Century Fox Movies

配給

Distribution

東映

Toei

監督

Director

長峯達也

Tatsuya Nagamine