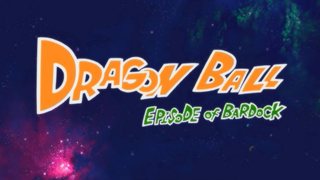 ドラゴンボール エピソードオブバーダック
Doragon Bōru Episōdo Obu Bādakku
Dragon Ball: Episode of Bardock
Feature Information
Premiered:
17 December 2011
Running Time:
Approximately 20 minutes

---

Availability:
Limited Online Streaming
Dragon Ball Saikyō Jump Bonus DVD
Dragon Ball Z for Kinect (Xbox 360) Bonus Feature
Feature Synopsis
The new story begins where the original ended, with Bardock's insubordinate attack on Freeza. Bardock screams at Freeza that they are allies, but Dodoria and Zarbon laugh this off — the Saiyans were just being used all along. Freeza states that the race has become an eyesore and must be eradicated to ensure that the "Super Saiyan" from that ridiculous legend will never appear. Bardock lets out a horrible scream as Freeza's blast engulfs both him and the planet…
Bardock awakens to find himself in a strange place, convinced that he was caught in the explosion of Planet Vegeta. Where is he? The landscape and the color of the sky remind him of Planet Vegeta, but something is different. Two creatures, Ipana and Berry, approach Bardock (who has never seen this race before in his life). Ipana is the village doctor, and along with his shy son, heal Bardock a bit with their village's secret medicine. Whatever the liquid is, it seems to be healing Bardock, who recognizes it as somewhat like the liquid from their own medical machines. Ipana says that with injuries as harsh as Bardock's, it will likely take him half a month to fully recover. Ipana found him collapsed on the outskirts of town, and dragged him all the way back. Bardock is not from Planet Plant, is he? Much like how Bardock does not recognize Ipana's race, Ipana is equally puzzled about Bardock. "Planet Plant"… Bardock thinks to himself that this was supposed to have been Planet Vegeta's original name, but this cannot be the past…! Ipana gives Bardock something to eat, but the noise from a spaceship steals their attention.
An alien named Tobi cannot believe that "Chilled-sama" has his eyes on such a pathetic planet… but regardless, he declares that from here out out, they are the new rulers! Along with Cavira, Tobi notes that Bardock appears different from the others (who thinks to himself that these guys do not look like Freeza's underlings). Cavira goes to make an example of Bardock but is made quick work of by the brutal Saiyan. Bardock strains himself due to his prior injuries, but still manages to take out Tobi… making him the village's savior in the process! The mayor thanks him, but Bardock wants nothing to do with them, saying it makes no difference to him whether they live or die. Bardock camps out by himself, still wondering where he is. He was just fighting Freeza, but cannot remember anything after the explosion. Berry sneaks up toward Bardock with some food, but Bardock threatens to kill him if he doesn't scram. Ultimately, however, Bardock eats the free food.
Ten days after losing contact with Tobi and Cavira, Chilled decides to check up on Planet Plant. One of his henchman states that they have completely lost sight of the two, and have no idea where they might be. Even though the henchman promises to continue searching, Chilled decides to go have a look for himself. It is hard to believe that there might be anyone out there foolish enough to oppose him.
Chilled and the henchman approach Ipana's village, saying they are members of the "Space Police", protectors of peace throughout the entire universe! Evildoers have come to ransack the planet for its abundant resources, and they have arrived to stop them — if a pair of aliens have come recently, they were probably the ones. One of the Plantiens notes that the two are no more thanks to a guy named Bardock who took care of them and flew off. Chilled offers a reward to anyone who tells him where Bardock went, but Berry is concerned about this new guy…
Berry runs off to find Bardock, telling him about the new aliens that arrived and how he has a bad feeling about them. Off in the distance, Chilled is destroying the village! Chilled laughs to himself about the "Space Police" lie, bestowing death upon all for not finding Bardock. Chilled asks for some of the healing liquid from Ipana, who refuses. Chilled will make him suffer, though not kill him, just to prove a point about going against him. Bardock suddenly shows up; as Ipana states his name, Chilled realizes that this is the guy who took out Tobi and Cavira.
Bardock screams Freeza's name and attacks Chilled, who cannot believe a shrimp like this just came after him. Chilled grabs Bardock saying how he keeps going on and on about this "Freeza", but he is Chilled, the mightiest pirate in the universe! Bardock is in a huge pinch now courtesy of Chilled's overwhelming power. Chilled says that he was curious how strong Bardock actually was since he took out his henchman, but this is all somewhat anticlimactic. Berry comes to stop Chilled, but it is no use. Berry is wounded as Ipana looks on, but Chilled simply wonders to himself who the trash was.
Bardock starts muttering to himself about being pathetic, and that if he only had more power he would not have lost back there. As Bardock screams out Freeza's name yet again, he transforms into a Super Saiyan! Chilled laughs to himself, saying that Bardock should not get cocky just because he has gold hair now. Chilled fires a series of blasts and continues laughing, saying that the hair apparently did not change a thing, since all of the blasts hit him head-on! When the dust clears, however, Bardock is still there. Chilled gasps, wondering who this guy is. Chilled attacks Bardock head on, but can't land a blow. He finally forms a giant blast to destroy the whole planet, but his ki is pushed back by Bardock's own blast, which continues pushing through to envelop Chilled. Bardock has done it! He has defeated Chilled and saved both the village and the planet!
Chilled is found by his henchmen and is being treated for his injuries. The henchmen wonder what happened, and Chilled mutters with his last breaths that they should tell his clan about these people called "Saiyans" who can become gold. Back on Planet Plant, Bardock has finally defeated his demons and walks off into the sunset, a hero.












Feature Notes
This feature is based on the three part spin-off manga by Naho Ooishi which ran in the August to October 2011 issues of V-Jump and was produced as a collaboration between Saikyō Jump and V-Jump as part of the "Dragon Ball SSSS (Saikyō Super Saiyan Secret) Project". An advanced preview of the feature was shown at Shueisha's Jump Festa '12 on 17 December 2011 and was subsequently streamed online free for a limited time.
Following the free online streaming, the feature was released on a bonus insert DVD included with Saikyō Jump issue #3 (03 February 2012). The bonus DVD also contained Dragon Ball: Plan to Eradicate the Super Saiyans, the 2010 remake based on the two-part "Official Visual Guides" released by Bandai in August 1993 entitled, Dragon Ball Z: Side Story – Plan to Eradicate the Saiyans.
This feature received an official home release as a part of Dragon Ball Z for Kinect on the Xbox 360 in October 2012. Though the game was not released in Japan, international markets that received the game have it included on the game disc in high definition in its original Japanese language track with English subtitles. The feature is immediately viewable from the game's main menu, though the Kinect peripheral is required to navigate to make the selection.
Interestingly, the main producer of the anime adaptation was Kazuhiko Torishima, Toriyama's first editor from Dr. Slump up through the 23rd Tenka'ichi Budōkai arc of Dragon Ball. While it may seem that this was intentionally planned, it was actually more of a mere coincidence as he was the lead editor of V-Jump at the time.
Some scenes in the anime were slightly altered as to how they originally appeared in the manga. A few examples include: Bardock getting out of bed before Cavira and Tobi arrive on Planet Plant, all of Chilled's subordinates (Cavira and Tobi included) now use beam guns rather than firing ki from their own hands, the way in which Bardock dispatches Cavira and Tobi, Chilled's arrival on Planet Plant, Bardock's Super Saiyan transformation, etc.
The character Chilled was originally designed by Akira Toriyama, as was shown in promotional material for the manga in V-Jump. In addition, an animated version of Chilled first appeared in the card-based arcade game Dragon Ball Heroes and was voiced by Ryūsei Nakao (the voice of Freeza), who returned to voice the role in this feature.
Hiroshi Takaki composed the music for the feature, although much of it was recycled from his original score for Dragon Ball: Plan to Eradicate the Super Saiyans.
Name Puns
Please note that none of the following name puns have been officially confirmed, unless specifically noted otherwise. These are merely educated assumptions of the creator's intent.
Similar to Freeza and his immediate family, Chilled's name is a cold-based pun, specifically on the sensation of coldness. In fact, his name is written in katakana exactly the same as the word for which he is named, with none of the order alterations or vowel elongations typically seen in name puns.
Chilled's henchmen Cavira gets his name from non-fertilized sturgeon roe, better known to most as caviar. In Japanese, the phonetics of the French word "caviar" are approximated using katakana (キャビア; kyabia). Although the trailing 'r' of "caviar" is phonetically present with the hard 'a' sound in Japanese, it is not visually seen when the word is romanized. To create this name pun, the 'r' was playfully reintroduced into the characters name (キャビラ; kyabira), although still not as a trailing consonant. Cavira's single horn is most likely a homage to the large tail fin of the Sturgeon fish he is named after.
Like Cavira, Chilled's other henchmen Tobi also has a fish roe name pun. His name is based on the Japanese word tobiko (とびこ), which is used to describe Flying Fish roe. This type of roe is most widely known for its use in creating certain types of sushi. It is most likely because of his Flying Fish name pun that Tobi features two fin-like horns on his head resembling the Flying Fish's larger pectoral fins.
Ipana (イパナ; ipana) and his son Berry (ベリー; berī) have name puns based on plants, as they are from Planet Plant. While Berry's name quite obviously comes from berry plants, Ipana gets his name from the pineapple plant (パイナップル; painappuru). As with Chilled's henchmen, these character's heads reflect their name puns, with each one shaped like the fruit their respective name pun plant bears.
Feature Credits
All credits listed below are as originally presented in the feature. Unlike the traditional credit structure found in typical Dragon Ball episodes, this feature does not contain any opening credits. All original credit errors have been corrected to maintain accurate spellings throughout the site.
Cast Credits
The cast credits are listed in order of character importance within the series. For more detailed information about the series cast, visit the Cast Guide.
バーダック

Bardock

野沢雅子

Masako Nozawa

フリーザ

Freeza

チルド

Chilled

中尾隆聖

Ryūsei Nakao

イパナ

Ipana

江原正士

Masashi Ebara

ベリー

Berry

桑島法子

Hōko Kuwashima

ザーボン

Zarbon

三浦祥朗

Hiroaki Miura

ドドリア

Dodoria

長嶝高士

Takashi Nagasako

トービ

Tobi

平井啓二

Keiji Hirai

キャビラ

Cavira

石川和之

Kazuyuki Ishikawa

チルドの部下

Chilled's Subordinate

島崎信長

Nobunaga Shimazaki

宮崎寛務

Hiromu Miyazaki

村人

Villager

佐々木智代

Tomoyo Sasaki

照井春佳

Haruka Terui

平尾明香

Sayaka Hirao

ナレーション

Narration

八奈見乗児

Jōji Yanami
Ending Credits
製作

Production

鳥嶋和彦

Kazuhiko Torishima

原作

Original Author

鳥山 明

Akira Toriyama

「Dragonball」集英社刊

"Dragon Ball" Published by Shueisha

企画

Planning

関 弘美

Hiromi Seki

若林 豪

Gō Wakabayashi

企画協力

Planning Coordination

伊能昭夫

(最強ジャンプ編集部)

Akio Iyoku

(Saikyō Jump Editorial Dept.)

寺師大輔

(Vジャンプ編集部)

Daisuke Terashi

(V-Jump Editorial Dept.)

オオイシナホ

Naho Ooishi

脚本

Script

小山 真

Makoto Koyama

音楽

Music

高木 洋

Hiroshi Takaki

製作担当

Production Manager

稲垣哲雄

Tetsuo Inagaki

声の出演

Voice Performances

~~~~

協力

In Cooperation With

青二プロ

Aoni Production

キャラクターデザイン / 作画監修

Character Design / Animation Supervisor

山室直儀

Tadayoshi Yamamuro

原画

Key Animation

井手武生

Takeo Ide

大西 亮

Ryō Ōnishi

宍戸 望

Nozomi Shishido

田中伸昭

Nobuaki Tanaka

島貫正弘

Masahiro Shimanuki

山室直儀

Tadayoshi Yamamuro

第二原画

2nd Key Animation

太田晃博

Akihiro Ōta

紅野華奈

Kana Kōno

動画

In-Between Animation

Toei Phils.

か ぐ ら

Kagura

A-Line

馬渡久史

Hisashi Mawatari

色彩設計

Color Design

澤田豊二

Bunji Sawada

デジタル彩色

Digital Coloring

Toei Phils.

か ぐ ら

Kagura

A-Line

デジタル特殊効果

Digital Special Effects

太田 直

Nao Ōta

牛山裕美

Yumi Ushiyama

河内正行

Masayuki Kawachi

下川信裕

Nobuhiro Shimokawa

勝岡稔夫

Toshio Katsuoka

星野 健

Ken Hoshino

動画仕上進行

Animation Touch-up Progression

村上昌裕

Masahiro Murakami

美術監督

Art Director

行 信三

Shinzō Yuki

背景

Backgrounds

杦浦正一郎

Sei'ichiro Sugiura

斉藤信二

Shinji Saito

大谷正信

Masanobu Ōtani

木下千春

Chiharu Kinoshita

赤保谷則子

Noriko Akahoya

山本真生

Mao Yamamoto

勝又アイ子

Aiko Katsumata

美術進行

Art Manager

澤田真央起

Maoki Sawada

デジタル撮影

Digital Photography

則友邦仁

Kunihito Noritomo

山口博睦

Hiromu Yamaguchi

清水正道

Masamichi Shimizu

佐伯英範

Hidenori Saeki

吉野和宏

Kazuhiro Yoshino

石川晴彦

Haruhiko Ishikawa

金子直広

Naohiro Kaneko

編集

Editing

片瀬健太

Kenta Katase

編集助手

Editing Assistant

西村英一

Ei'ichi Nishimura

記録

Documentation

樋口裕子

Yūko Higuchi

録音

Recording

伊東光晴

Mitsuharu Itō

録音助手

Recording Assistant

新垣未希

Miki Aragaki

選曲

Music Selection

神保直史

(AUDIO·タナカ)

Tadashi Jinbo

(Audio Tanaka)

音響効果

Sound Effects

新井秀徳

(フィズサウンド)

Hidenori Arai

(Fizz Sound)

録音スタジオ

Recording Studio

タバック

TAVAC

オンライン編集

On-line Editing

東映デジタルラボ

Toei Digital Lab

音楽協力

Music Collaboration

東映アニメーション音楽出版

Toei Animation Music Publishing

演出助手

Assistant Director

後藤康徳

Yasunori Gotō

製作進行

Assistant Production Manager

平野正和

Masakazu Hirano

協力プロダクション

A Cooperative Production With

山室作画スタジオ

Yamamuro Animation Studio

AI

きのプロダクション

Kino Productions

Wish

Whisker's

動画工房

Dōga Kobo

A-Line

アテネアートスタジオ

Athens Art Studio

三晃プロダクション

Sankō Production

Toei Animation Phils., Inc.

演出

Director

上田芳裕

Yoshihiro Ueda

製作

Production

東映アニメーション

Toei Animation
おしまい
The End
© BIRD STUDIO / SHUEISHA