Animerica September 1997 (Volume 5, Number 9)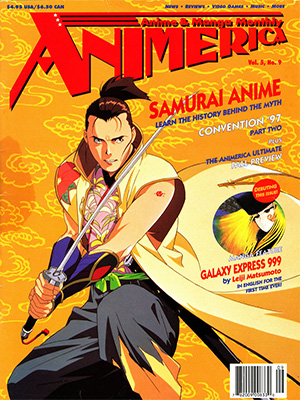 CD Review
The Compact View
You've seen the anime, now listen to the music! In Japan, animation music is every bit as respected as music from more mainstream soundtracks. The Compact View helps you to understand the sometimes confusing world of anime CDs by reviewing the very latest (and some rather old favorites) in both domestic and imported releases.
Music From the Domestic Anime TV Series
DRAGON BALL: ORIGINAL USA TV SOUNDTRACK RECORDING
Released Thru: Super Tracks
Order No.: STCD-600
Length: 50:24 (13 tracks)
Price: $15.98
This is indeed the soundtrack to the U.S. TV series–catchy "Dragon Ball, Dragon Ball, Gotta Find That Dragon Ball…" opening and guitar solo closing and all. (Oddly, no song lyrics are included in the one-fold color insert–you'll have to figure out the sing-along stuff the hard way.) The BGM is all original for the U.S. series, and a good lot of it is synthesized redux of the opening theme. The rest is the kind of thing you'd expect to find accompanying a show like
DUNGEONS & DRAGONS
, which is what one might guess they were aiming for, given a title like "Dragon Ball" to work with. There is a hilarious retooling of Bach's "Toccotta and Fugue in D-minor" for the organ; the traditional theme for
THE PHANTOM OF THE OPERA
on Track 10, "The Awakening Dragon." Kids who got their start on
DRAGON BALL
with the U.S. show oughtta love this, but hardcore fans of the Japanese
DRAGON BALL
series don't need to check in to see if the original music is here–it isn't.
1
Julie Davis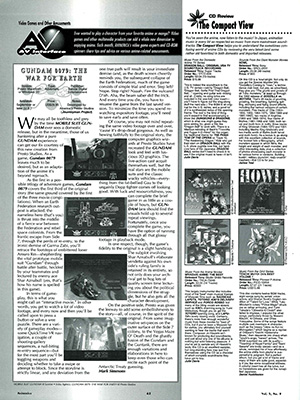 The following historical notes are included for the benefit of the reader as supplemental information and were not originally published in the book.
1 It was not uncommon for a dub production's soundtrack to contain original Japanese music. In particular, Sailor Moon's "Sailor Moon & The Scouts – Lunarock" two years later would contain "Moonlight Densetsu" and "Ai no Senshi" in addition to dub-original songs.
Transcription & Notes: VegettoEX