Electronic Gaming Monthly (Issue 61, August 1994)
International Outlook
Dragon Ball Z 3
Bandai of Japan
Super Famicom
Fighting
September
Unknown Price
Not even a year after the 1.5 million-selling DBZ2 hit the streets, the sequel is already on the way. The cast of fighters has been updated to keep pace with the long-running TV anime series so there are several new characters. For example, one of the newly added characters is Son Goten, Goku's son who was not yet born when Goku died warning the self-destruction cell away from Earth. Another new face is Dabula, a demon helping the twisted mage Babidi set free an ancient god of destruction. Besides the new characters, some familiar fighters also return, including Son Gohan, now a high school student, and Goku back from the dead for one day only–halo included.
Bandai promises that the game system will also undergo some modifications to really turn up the heat of this already exciting fighting series. Count on seeing a blowout on this one soon!
■ Photo
The Split-screen Mode is still here, so you have more fighting options.
■ Photo
All the backgrounds are new, and the characters look better than ever.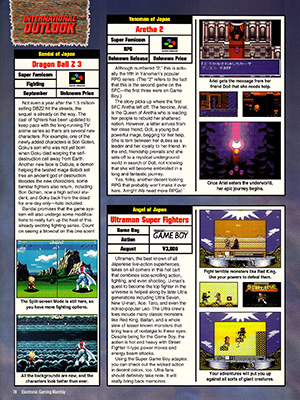 Transcription & Notes: VegettoEX