Next Generation (Issue 39, March 1998)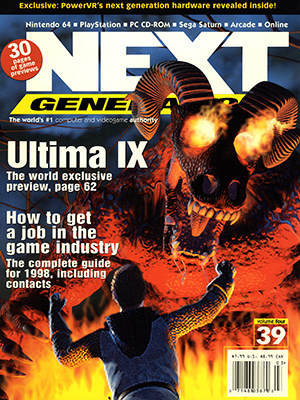 Finals
Dragon Ball GT Final Bout
Publisher: Bandai
Developer: Bandai
At some point during the development cycle of Dragon Ball GT Final Bout, someone should have said, "No." Bandai Japan should've stopped it from being released there. Bandai U.S. should've stopped it from being brought over. Sony should've never approved it. Why? Because it's inarguably the worst PlayStation fighting game ever made.
Once again, Bandai, which is not exactly known for rigorous quality control, brings us a lackluster 3D brawler based loosely on the anime series Dragon Ball. Final Bout takes the wonderful characters from the series and turns them into stiff, blocky polygons with only a hint of resemblance to their animated counterparts. This, however, is just the beginning of Dragon Ball GT's problems.
Control is almost nonexistent. The characters jerk and flop about like mannequins in a wind tunnel and only occasionally seem to respond to any specific controller sequence. The reaction time is so slow, players could walk away, make a sandwich, and watch all of Shogun before the intended punch connects. The characters' "flying" is laughable: Sure, they're in the air, but they remain in their usual standing position.
The camera seems to have been set up in order to obscure as much of the game as possible. When fighters are punched back, the camera jerks with them — there's no such thing as panning in Dragon Ball GT Final Bout. And, when characters fly up out of camera shot of the opponent, there's no pointer to tell you where they are, as in Marvel Super Heroes. The result is a baffling and frustrating experience.
Dragon Ball GT Final Bout is a deplorable waste of disc space. If there's any justice in this world, the people responsible for bringing this out will be kept up at night with the cries of disappointed Dragon Ball owners resounding in their heads.
Rating: ★
[caption] Dragon Ball GT Final Bout is simply the worst PlayStation fighting game ever made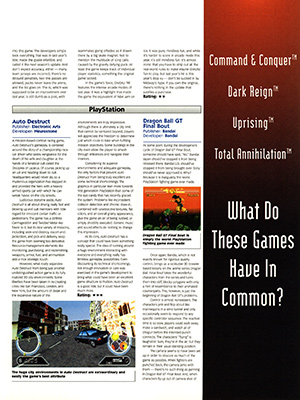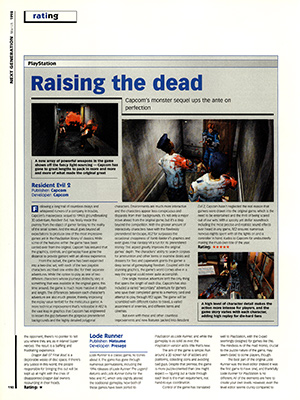 Transcription & Notes: VegettoEX