Protoculture Addicts February/March 1997 (Issue 44)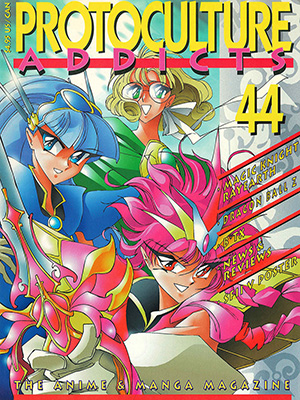 Feature
Dragon Ball Z (Sidebar)
■ RATINGS & TV STATIONS
Currently syndicated in the US by Saban Domestic Distribution in its Saban's Kids Block, DRAGON BALL Z is being broadcast in over 85% of the country with top ratings for a weekly syndicated series (especially in they [sic] key boys 6-11 demographic). It posted impressive ratings during November sweeps (between 4 and 11 for Kids and Teens) in key markets such as New York's WPIX (Sun. 8:30 AM), Baltimore's WNUV (Sat. 8:00 AM), and Dallas' KTXA (Sun. 9:30 AM). For next season, Saban Kids Network came out of NATPE having been cleared in 75% of the US. Participating stations includes: New York's WPIX and WABC, Los Angeles' KCOP & KCAL, Chicago's WPWR & WCIU, Philadelphia's WPHL, Cleveland's WBNX, Tampa's WTTA and Miami's WDZL.
■ MERCHANDISING
At the Toy Fair Bandai announced a full line of merchandise (various Giant Action Figure Assortments, Jak-Paks, t-shirts and Cardzillion trading cards). Other licensees also announced products: DB videos (Kidmark), DBZ trading cards (Japan Printing Products), t-shirts (Olaes), Die-Cast miniatures (Placo), sticker albums (Editorial Navarrete), CD (Supertracks), and more.
■ REVIEW
We have seen just a few episodes of DBZ and it seems quite good. We have not seen traces of editing (but it does not mean that there is none). There is lots of violence, of course, since DBZ is all about fighting. If they wanted to have a show they couldn't cut all the fights. It is probably because of that violence that it has been picked up by less stations than DB. The story seems faithful to the manga, but is progressing slowly because of that. The dubbing is excellent (of course, it's by Ocean Studio). Only negative point: we don't like the new opening and ending. All in all, it's a cool show. If only it could play on more stations! (three out of four stars)
■ REFERENCES
Many thanks to FUNimation and Saban who provided the material for this article. We tooks [sic] the illustrations from promotional art provided by Saban, the animation itself, the Comemorative [sic] Library Books1 and the manga. Finally, there are too many DB web sites on the internet to mention any in particular here (for a choice you can check Yahoo).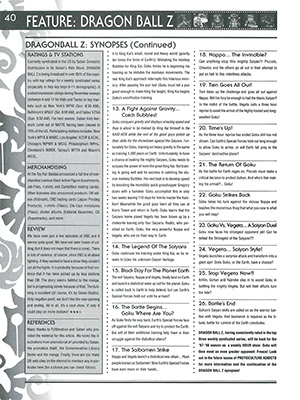 The following historical notes are included for the benefit of the reader as supplemental information and were not originally published in the book.
Transcription & Notes: VegettoEX