Shonen Jump (Issue 8, August 2003)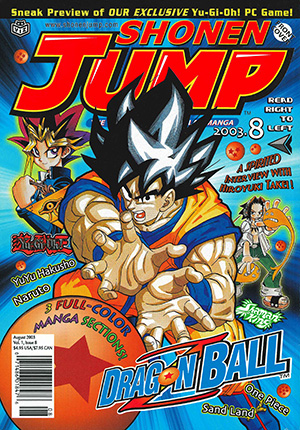 Anime
Saiyan Sensation
Dragon Ball GT: Creation
FUNimation Productions, Ltd.
June 2003
DVD: 62 min., $24.95
VHS: 60 min., $19.95
Edited VHS: 60 min., $14.95
Dragon Ball GT: Proliferation
FUNimation Productions, Ltd.
June 2003
DVD: 62 min., $24.95
VHS: 60 min., $19.95
Edited VHS: 60 min., $14.95
With the new release of Dragon Ball GT episodes, Dragon Ball die-hards have more video Vegeta to add to their Saiyan treasure trove. For those of you who can't get enough of Goku and his chi-powered adventures, flashing forward to his later and, um, younger years yields more exciting stories. Join Trunks, Pan, Baby and Vegeta in a saga of mystery and mayhem! In Creation and Proliferation, your favorite heroes must go to the far reaches of the galaxy to save Earth!
Things don't remain quiet for long in the Dragon Ball GT universe. The (seemingly never-ending) quest for Dragon Balls continues for Goku, Pan and Trunks. As luck would have it, they detect one on a spaceship–but it's headed straight for a star! Is someone on board? And if so, don't they see that big star right in front of them? Meanwhile, Baby and Dr. Myuu's foul plot against the Saiyans finally flowers for all to see. In Creation, unexpected guests, unimaginable dangers and, of course, fighting keep our heroes and their enemies busy–until the video ends.
In Proliferation, Baby has his sights set on Vegeta! Baby's plot to take over the world isn't exactly news–it's just that he's finally putting his plan to action. Step One: get past Gohan and Goten. Stwo Two: pummel Vegeta. Step Three: take over the WORLD! Time's a'wastin' for the big, blue bully. Baby has to finish his business before the Saiyan power trio return from their interstellar trip for a possible Step Four. Can the Saiyans stop him from taking over the world?! Find out in Proliferation.
Transcription & Notes: VegettoEX