Shonen Jump (Issue 32, August 2005)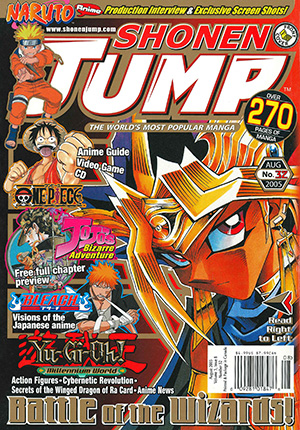 DBZ Video Games
Dragon Ball Z: Budokai Tenkaichi: Live from the Budokai
Just like the action in
Dragon Ball Z
, the
DBZ
video game releases are downright relentless. Just as you've managed to get a grip on
Budokai
, along comes
Dragon Ball Z: Budokai Tenkaichi
. Here's the skinny on this latest senzu-powered fight fest.
This is a true 3D game. You don't just battle it out, you do it in all the elements: land, sea and air. OK, that's three of the four elements, but you know what we're getting at. Not only can you fight in the air, your battles will leave marks on the 3D environs. How cool is that? Just check out these screen shots!
Longtime DBZ gamers will particularly appreciate a new combat setup, which allows for the combination of melee, energy attacks and 3D flight. Of course, this is all in service of a game that maintains continuity with the great Akira Toriyama's classic manga and anime.
Dragon Ball Z: Budokai Tenkaichi
PlayStation 2
Atari, Inc.
November 2005
Fighting-Action
Rating Pending
■ Game Features
Fly to your heart's content.
Fight it out in destructible, free-roaming 3D settings.
Play more than 60 (!) characters — that's more than ever before in a DBZ game.
Construct your own DBZ hero by tailoring more than 10 character attributes.
Authentic attacks include Rush, Dragon Rush and Smash Attack.
Gameplay modes include single-player Dragon; two-player Versus; Ultimate Battle; Dragon Capsule; Evolution Z modes; and World Martial Arts Tournament.
Discover bonus videos from the animated series.
Transcription & Notes: VegettoEX