Originally announced back in December 2012 under the simple, tentative title of "Best Song Collection", what would come to be re-titled as Dragon Ball Z 20th Century-SONGS BEST is an interesting beast. Coming off Dragon Ball Kai and its supposed second-round of Dragon Ball fans, the music set for this new album was really only going to appeal to pre-existing fans from the original broadcast; though the Shunsuke Kikuchi background music would later come in to replace Kenji Yamamoto's score, no vocal tracks from the original Dragon Ball Z popped up in Kai in any capacity. The new CD was also promoted — ever so loosely — as being in conjunction with the then-upcoming film Battle of Gods… which was not going to contain any of this music, anyway, except for FLOW's cover version of "CHA-LA HEAD-CHA-LA"…!
These older fans recently (and by "recently", I mean "within the last decade") got the 2006 1/2 Special Remix CD, which not only collected a similar number and breadth of songs, but also remastered them. The first description of 20th Century-SONGS BEST mentioned remastered music, as well. Why? Unless it was going to be a completely different batch of songs, why double-up on such a similar product?
Quick Details:
Title:
"Dragon Ball Z 20th Century-SONGS BEST"
Artist:
Various
Catalogue #:
COCX-37869
Publisher:
Columbia
Release Date:
27 February 2013
Price:
¥2800
Tracks:
15

---
The review of this CD was made possible by your referral purchases on CDJapan. If you are interested in contributing to the site, please visit our "Donate" page.
Review By: Mike LaBrie (VegettoEX)
Let's be honest: the cover art for the CD is definitely not some of the best we have seen. Proportions seem a little off all around, and the overall image just feels rather uninspired. Goku's face looks the most normal, but Trunks definitely has some weirdness going on with his hair length.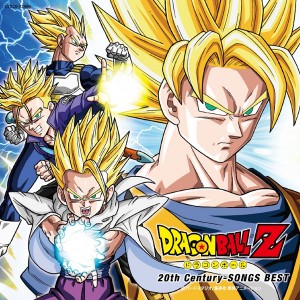 20th Century-SONGS BEST is a rather bare-bones package. The opening pages detail the track listing with a couple nice touches such as the episodes and movies they debuted in, along with the exact air dates (which is also mirrored on the back cover). The inner pages provide lyrics for each of the songs in the same style as previous CDs.
The disc itself is a very stylish black-and-white version of the album's cover art: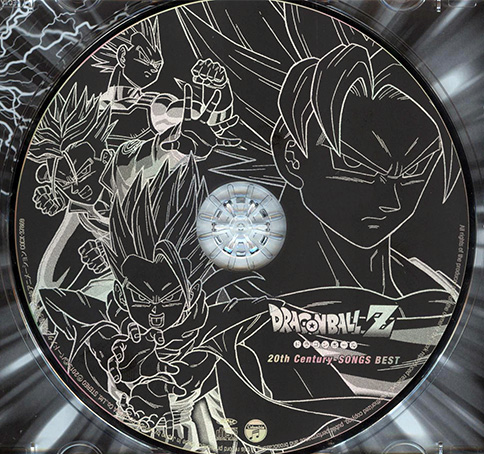 Those of us who nabbed first-pressing editions of the album were at least treated to a bonus poster with the standard style of album art atop the track listing.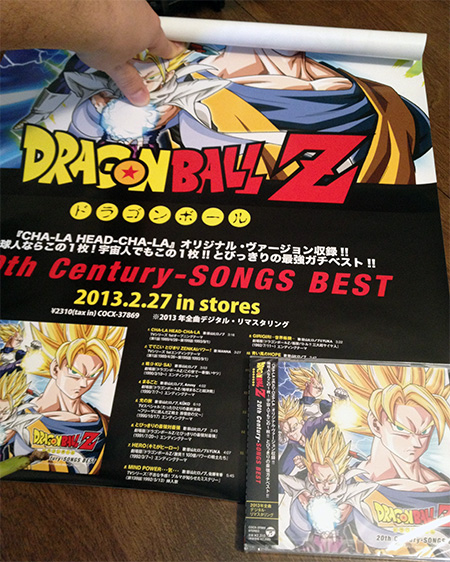 So how about that music…?
The Track Listing
20th Century-SONGS BEST spans the usual-and-expected range of songs from the Dragon Ball Z TV series, specials, and movies:
"CHA-LA HEAD-CHA-LA" — TV Series 1st Opening Theme
"Come Out, Incredible ZENKAI Power!" — TV Series 1st Ending Theme
"The Battle (I·KU·SA)" — Movie 2 Ending Theme
"The Whole World" — Movie 3 Ending Theme
"Light's Journey" — 1st TV Special Ending Theme
"The Incredible Strongest vs Strongest" — Movie 5 Ending Theme
"Hero (You're the Hero)" — Movie 6 Ending Theme
"MIND POWER …Energy…" — TV Series Insert Song (Episode 139)
"At the Brink –The Earth's Limit–" — Movie 7 Ending Theme
"The Blue Wind's Hope" — 2nd TV Special Ending Theme
"Burning Fight –A Close · Intense · Super-Fierce Battle–" — Movie 8 Ending Theme
"Day of Destiny –Spirit vs Spirit–" — TV Series Insert Song (Episode 184)
"Surpassing the Galaxy, Rising High" — Movie 9 Ending Theme
"WE GOTTA POWER" — TV Series 2nd Opening Theme
"We Were Angels" — TV Series 2nd Ending Theme
In a nutshell, that gets you both opening and ending themes to the TV series, two of the four major insert songs for the TV series, the ending themes to the two major TV specials, and the closing themes to DBZ Movies 2-3 & 5-9.
Overall, that is a pretty good selection. When you go to pick up one of these types of compilations you expect the obligatory opening and ending themes alongside a splattering of movie tracks. It somewhat peters out around the ninth Dragon Ball Z movie, though, leaving the last section of the franchise underrepresented. This has happened plenty of times before, and is likely related to some of those songs not appearing on the original Hit Song Collection series. The five-disc Daizenshuu collection from 1994 also capped off at the same point (which was to be expected, since things were still running at that time) and the Never Ending Story two-disc set from 1996 also cut off movie songs at the same point.
If you are looking for something truly-comprehensive, a single-disc compilation probably cannot cover you — 2006's two-disc Dragon Ball Z: Best Song Collection – LEGEND OF DRAGONWORLD is probably the best in that regard, and is also a great bang-for-your-buck at only ¥3,000, essentially the same price as this new single-disc collection.
As a single-disc compilation, though? It mostly does its job. You are getting a great selection of songs that actually appeared in the series (as opposed to just a "good" selection buffered with image songs): all killer, no filler.
That also means that, with the exception of MANNA's "ZENKAI Power!", this is an all-Hironobu Kageyama joint. He is the musical "voice" of the franchise, which is certainly not a bad thing, but the collection of image songs always gave the albums a chance to break things up a bit with Shin'ichi Ishihara, Yuka, KŪKO, etc. There are a couple duets here on 20th Century-SONGS BEST (such as the beautiful "Light's Journey" from the Bardock TV special), but Kageyama leads the way here as only he can.
The Sound
Listings for 20th Century-SONGS BEST promised a new "digitally remastered" sound for 2013. All we really get here is… well… just another Dragon Ball CD.
One of the biggest selling points of the Dragon Ball Z BEST REMIX 2006 1/2 Special CD was the remastering itself. Similar to this new CD, the track listing was the expected mix of series-proper songs as well as insert songs. The attention to detail and bits of extra flair in the remastering actually set it apart, however. Little touches like the "g-g-g-g-g-get it!" in "Ikusa" and the significantly-reduced opening to "Hikari no Tabi" were exclusive to the new remasters. The stereo separation felt enhanced without going overboard, and the entire product was clean, professional, and genuinely made the songs feel "fresh" again.
Take "Burning Fight", for example. The 2006 remix brought down the opening instrumentals to bring out a very clean vocal performance, all while the underlying drums become more distinct with far less reverb. The "20th Century" version here is presented pretty much identical to its original version: certainly not "muddled", but with no separation or clarity.
"ZENKAI Power" feels like a completely new experience with its 2006 remix as things kick off with shorter opening synths and a bit of a muddled speaking voice compared to the original version. None of that "freshness" is present in its "20th Century" version. Similarly, all that "CHA-LA HEAD-CHA-LA" seems to gain in its "20th Century" version over its original is a little bit of a deeper sound. Already-booming songs like "Mind Power" actually seem to lose a bit of their punch in the process!
Final Thoughts:
20th Century-SONGS BEST has a good — not "great" — selection of songs. The problem is, previous collections have been even better (in terms of comprehensiveness and diversity) and at a similar price.
It does not seem as if Columbia was up to the task again. Everything is perfectly fine, but there is very little that I can put my finger (well, ear) on to say that anything about this collection of songs is different. You will have to very forcibly tune your ear just to hear any differences over the existing versions, and other "remastered" versions do a better job than what is presented here.
What Dragon Ball Z needs to celebrate its musical catalog is not a half-hearted "remastered" collection, but something that truly does just that: celebrates it. If FLOW is getting in on the act, and Shoko Nakagawa has already jumped in a few times, why not get together a best-of-the-best group of artists for a full-scale covers album? Let Maximum the Hormone take a stab at a crazy song like "GIRI GIRI". Bring Takayoshi Tanimoto over from Dragon Ball Kai to cover an equally-upbeat song like "A Miraculous Big Fight".
These songs will always be timeless, but that is no reason to tread so lightly.
Purchase This Item:
Dragon Ball Z 20th Century-SONGS BEST may be available at the following retailers: