The Dragon Hero series of soft vinyl figures from Bandai began its release in October 2007, coming out at (usually) two at a time every few months. Series 1 through 6 were marketed under the Dragon Ball Z title, while Series 7 and 8 were marketed under the then-new(ish) Dragon Ball Kai title. No new figures in the line have been released since September 2009, though Bandai also released a series of Play Hero VS sets that, while slightly smaller than the Dragon Hero figures, are clearly inspired by them.
Special thanks to Mike from dragonballtoys.com for a bit of extra background information.
Quick Details:
Figure Line:
Dragon Hero
Character:
Super Saiyan Vegetto
Catalog #:
NEOGDS-14025
Maker:
Bandai
Release Date:
October 2007

---
The review of this figure was made possible by your referral purchases on CDJapan. If you are interested in contributing to the site, please visit our "Donate" page.
Review By: Mike LaBrie (VegettoEX)
While I have always (very casually) collected figures from all sorts of different lines, I would never consider myself an "expert" in the area. I try to keep up with what the latest lines are and what high-priced products I should be drooling over for the next six months, but as you can imagine and are probably familiar with yourself, it can be incredibly difficult to stay on top of things.
While ordering the latest art and illustration book (Ōgon no Senshi / "The Golden Warrior"), I looked for a recent and relatively-cheap figure to add to the package. I happened across the "Dragon Hero" line on CDJapan, and at the $8-9 price point, it seemed like exactly what I was looking for.
The Dragon Hero line primarily features Super Saiyan versions of characters, but also features a younger Gohan, Piccolo, and first-form Freeza. Of the available figures, Vegetto immediately jumped out to me (as my Internet-handle namesake, of course). I would have liked to have also purchased the SSJ4 Gogeta figure, but he was unfortunately no longer in-stock. The majority of figures from the line appear to be in-stock at various online retailers, so take a look around to figure out where you want to purchase which one.
Packaging:
A little over a week later, the box arrived. I was not quite sure what I was expecting from the packaging of the Dragon Hero figure — it was cheap enough that the packaging probably was not going to be particularly elaborate, but simultaneously cost enough to at least warrant something. I was surprised to find the figure wrapped in bubble-wrap. There is no box, but the figure was wrapped inside a more traditional, thicker-plastic bag inside of that.


The tag showcases a classic pose of Super Vegetto repeated across two panels. The front side features a little window that leaves space to complete Vegetto's face from the inside panel.



Your shipping and packaging type may vary depending on how and where you pick up a Dragon Hero series figure.
Construction:
CDJapan's promotional image is a fairly good representation of its "real life" appearance: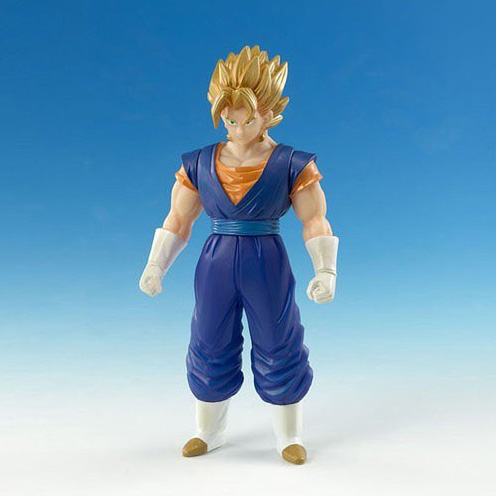 The colors are just as bright and bold as you would expect. He has just the right amount of "shine" to him so that he is not reflecting light all over the place, but definitely feels very "fresh" — it is rather difficult to describe! The golden hue of the hair is up to personal preference. While I generally prefer a more traditional yellow on my SSJ hair, the gold works with the color scheme here.
The figure weighs only about a quarter of a pound — it looks heavier than it actually is, which says quite a bit for its construction quality. The Dragon Hero series are constructed out of vinyl, which lends itself very well to representing these 2D characters as a 3D mold. Every part is smooth and well-crafted.
Super Vegetto's Dragon Hero figure is six and a half inches tall (bottom of feet to top of hair) — that is just a little less than a standard DVD case or box, for comparison's sake. The width from outstretched-arm to out-stretched arm is just about three and a half inches. He is a pretty good size, towering over so many of the tiny gashapon that I have collected over the years.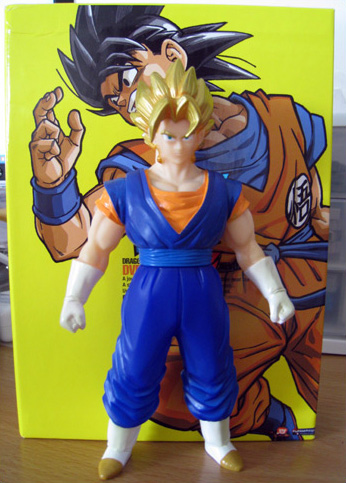 The tag comes attached to the figure at the base of the neck with a standard plastic piece. It took a good tug, but it came out cleanly. There is, however, the tiny hole which held it there. Since the figure is almost always facing forward, it is little more than the smallest imperfection, easily ignored.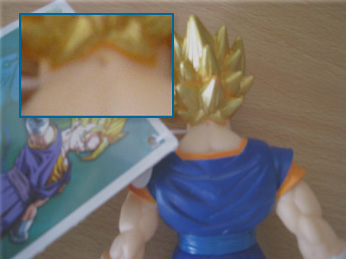 One of the only complaints I have about the figure concerns the area where the two parts stack together. Super Vegetto comes apart at the waist as you would expect. When not standing directly upright, it does feel somewhat loose and does not look as seamless as one would hope. At the same time, this is necessary to allow a little bit of articulation in turning to the side, so if it is ultimately an issue for you, just make sure he does not lay down on the job!


As for genuine articulation, the only twisty bits you will find are at Super Vegetto's shoulders. It is a toss back to so many of the old figures we are used to, including Bandai's Super Collection figures from the 1990s, as pointed out by the folks at dragonballtoys.com (which this line may be somewhat inspired by).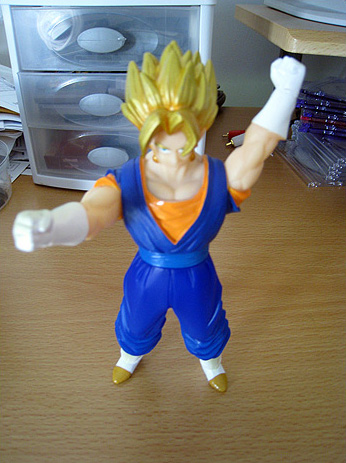 Dance, Vegetto! Dance!
Final Thoughts:
For about eight bucks you are getting a surprisingly well-crafted figure. He stands up all on his own without the need for endless fiddling, but that is not to say that he will not fall over at the slightest touch. The height is fantastic for the price. All in all, I am really impressed with the Dragon Hero series, and hope to pick up a few more in the near future.
Purchase This Item:
The Super Vegetto figure from the Dragon Hero line may be available for purchase online at the following retailers: