Maximum the Hormone made an enormous notoriety leap in 2007 when their songs "What's Up People?!" and "Zetsubō Billy" were used as the second opening and endings, respectively, for the anime series Death Note. Both songs were also on the band's fifth album, which went on to sell over 250,000 copies worldwide. After a DVD release in 2008, the band returned with a new "double-A-side" CD single on 09 July 2008 entitled Tsume Tsume Tsume / 「F」, and while one would not immediately think it has anything to do with the Dragon Ball series, closer inspection of the packaging and song lyrics made it blatantly obvious.
Quick Details:
Title:
"Tsume Tsume Tsume / F"
Artist:
Maximum the Hormone
Catalogue #:
VPCC-82258
Publisher:
VAP
Release Date:
09 July 2008
Price:
¥1157
Tracks:
3

---
The review of this CD was made possible by a generous donation from sailorspaz. If you are interested in contributing to the site, please visit our "Donate" page.
Review By: Mike LaBrie (VegettoEX)
My familiarity with Maximum the Hormone is perhaps the same as most people in my boat: I saw the new opening to Death Note during its original broadcast in Japan, laughed at its craziness and absurdity, and thought the ending was a great complement to the whole package. I of course picked up a copy of the band's album that contained these two songs, Buiikkaesu, and was surprised to find not only an incredibly dynamic and solid album beginning to end, but one that would end up being one of my favorite albums of the entire year.
While most people might first write the band off after hearing "What's Up People?I", those same people might be surprised to find out that the band has an amazing sense of structure, rhythm, and even straight-up pop sensibility. Each song on Buiikkaesu is perfectly crafted in a maniacal sense; songs will change genres mid-chorus, deep growls will be followed by cutesy voices, and distorted guitars will be followed by a cheerful clap-along. None of it seems forced, and none of it seems as if it is just "for show"; these are genuine songs with genuine talent behind them
Maximum the Hormone returns nearly two years later with a CD single that plugs two of its three tracks as the main, featured songs ("Tsume Tsume Tsume" and "F"). Since the band had been without a release for a somewhat-extended period of time (unlike other Japanese favorites like Asian Kung-Fu Generation, who can't seem to go a week without another amazing full-length release), I actually missed out entirely on this CD single's release. It was not until an e-mail to our podcast let us know that… *gasp*… not only were they back, but they were back with a song about Freeza!
The CD single cover artwork is done in almost a cliche 1990s punk rock style with the near-neon colors on a black background with exaggerated art and drippy-looking typeface.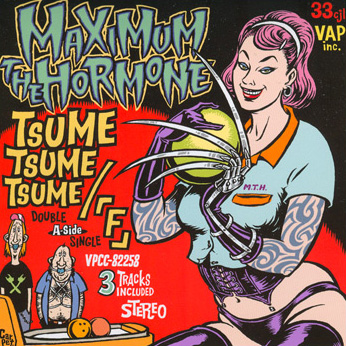 The CD booklet opens vertically, the same way that the cover art is positioned. The lyrics for each of the three songs are spread out over their own two-page-opening, varying in size and color. Of particular note are the lyrics to "F", which blank out certain syllables with proper names from the Dragon Ball series, such as ザーボン being written as ザー○ン.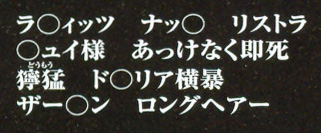 While the booklet does not give any additional hints towards Dragon Ball, if you lift the CD up, a space scene with three planets (including a larger green one covered by the center CD holder) is on the inside of the back cover.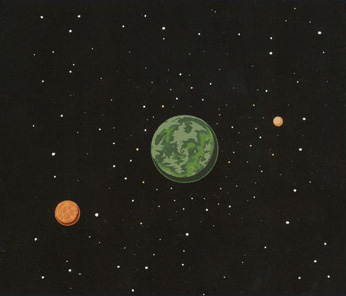 The back cover, itself, lists the three songs and general release information, all underneath an empty hover chair traditionally used by Freeza.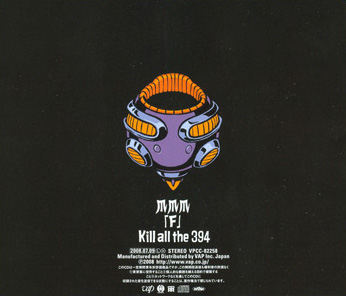 So how about that music…?
Track 1: "Tsume Tsume Tsume"
The opening track is sure to scare off potential listeners who do not know what they are getting themselves into. It pounds away at you right from the get-go, but soon breaks down into a fun, off-beat guitar and bass verse with some mid-range vocals. These themselves quickly turn into some deep growls, which then again transform into an upbeat, poppy end to the "chorus". This is the type of song structure that fans have not only gotten used to, but look forward to and happily yearn for with Maximum the Hormone.
About halfway through the song we get Nao's vocals mixed in with the guys, though she does not stick around for long. The song transforms itself back into a mirror of how it first introduced itself, leading up to another poppy chorus.
Ryo's maniacal laugh around the three minute mark brings the song to its "climax" with a bit of a metal guitar breakdown, and it once again returns to its poppy side with Nao re-entering the picture.
"Tsume Tsume Tsume" is not a particularly stand-out track when compared with the rest of the band's catalogue, but it serves its purpose well in setting up this CD single and the style to be expected in the other two tracks.
Track 2: "F"
The main draw for myself and (most likely) any of you reading this review is the second track, titled simply "F". As is most likely apparent, the song is a sort of tribute to the villain Freeza from the Dragon Ball series. It can most likely be seen as sung from some type of outside, fearful perspective, but not necessarily that of, for example, the Namekian race which he essentially committed mass genocide on.
The lyrics walk a fine line between being silly and simply descriptive of the character ("His upper arms are pink, pink, pink") to more profound and lyrically interesting ("Even those who bow to him are burned to cinders"). Constant "shout-outs" to the series with proper names and places (Namek, all members of Ginyu-Tokusentai, and even Kewi) litter the performance, though they might be hidden behind the growls and screams. Beyond the spoken word references, the bass breakdown played twice in the song mimics the musical style and vocal delivery in the opening theme to the original Dragon Ball series, "Makafushigi Adobenchā!". There is precedent for this far earlier than eve "「F」", though; in Maximum the Hormone's live DVD Debo vs Debo, Nao gets the audience to participate in a random interlude of singing "Romantikku Ageru yo". The influence of the Dragon Ball series has now made its second appearance with the band!
"F" also starts incredibly hard with the chants moving into a growl, all the while backed by some double drum pedal and slapping bass action. Nao gets a chance to shine a little more with her dual-vocals with Ryo, which in classic Maximum the Hormone form switches over to Daisuke-han's screaming/yelping delivery.
If you missed all the character names from the first verse and "Romantikku Ageru yo" breakdown, it will be impossible for you to miss the most important Dragon Ball reference in the entire song: a call-to-action, near-gang-vocal chant of Freeza's name.
The song structure repeats itself in typical pop fashion, all the while dropping more references and descriptions of the villain's actions. A guitar solo brings the song to a slight slowdown for what would clearly be the big sing-along moment for the audience in a live performance of the song. Nao kicks back in with her vocals and drums, and the song brings itself to a close with a reprise of the opening chants and growls.
"F" seems to be a much more coherent thought than "Tsume Tsume Tsume", and makes sense to hold up as a standout track on the CD single just as much as the first title track. While the song will unfortunately be seen as a "joke song" by many fans, hopefully further listens will prove the underlying musical accomplishments (the guitar and drums i "F" are particularly killer) and fun nature to the otherwise disturbing song.
Track 3: "Kill all the 394"
The short "Kill all the 394" feels like an afterthought for this CD single release, coming to an abrupt end before it gets a chance to go anywhere. Championing the 1980s/1990s punk scene that the cover art finds its roots in, the song moves from a circle-pit song to a dance-and-chant song within a minute's time.
It is a shame that the song feels like such a tacked on, incomplete thought. In less than two minutes it channels so many different eras of music and the band itself (the ending "quack" being a staple of the band's 2005 album, Rokkinpo Goroshi) that it is a disappointment not to hear more.
Final Thoughts:
It is both incredibly easy and difficult to recommend this CD. For fans of Dragon Ball, the sheer novelty of having a (relatively popular) band not only write a song about a character, but release it as a CD single is enough to warrant the purchase. Fans of the band will snatch it up without thought, as well. This release may ultimately fall into the camp of "hardcore fans only", however; unless you plan on having it for the sake of having it (as a general collector) or are an active fan of this type of music, it may be more unapproachable than fans give it credit for.
Purchase This Item:
Maximum the Hormone – "Tsume Tsume Tsume / F" may be available at the following retailers: