In early June 2009, industry previews of the new Nintendo Wii game Tenka'ichi Dai-bōken (to be released outside Japan as Revenge of King Piccolo) showcased a new, vocal opening theme to the game, which appeared to be performed by Hiroki Takahashi. Long-time fans will remember Takahashi as the performer of "Makafushigi Adobenchā!", the opening theme to the original Dragon Ball TV series (as well as several of its insert songs). About a month later we learned the song's name — "POWER OF DREAMER" — and that it would be receiving a CD single release on 26 August 2009.
Quick Details:
Title:
"POWER OF DREAMER"
Artist:
Hiroki Takahashi
Catalogue #:
LACM-4647
Publisher:
Lantis
Release Date:
26 August 2009
Price:
¥1200
Tracks:
4

---
The review of this CD was made possible by your referral purchases on CDJapan. If you are interested in contributing to the site, please visit our "Donate" page.
Review By: Mike LaBrie (VegettoEX)
It was exciting to hear that Hiroki Takahashi would be returning as the musical voice for Dragon Ball in a little more official of a capacity. While 2008's Inazuma Challenger combined effort with Ushio Hashimoto did include re-recordings of some previous franchise songs, it was only a minor step up from Takahashi's Makafushigi Adobenchā! – 2005 Ver. release; that is to say, it all felt very "hollow". Hironobu Kageyama is brought up time and time again as a showcase of never-ending enthusiasm and energy for Dragon Ball Z, and it has been a shame that we could not say the same about Takahashi and the original series. Would this song change that?
Early samples from game trailers seemed to point to "yes". It was difficult to hear over the narration and sound effects, but it sounded like an adventurous and whimsical song was coming out way.
Before dipping into the music, let's examine the CD single release, itself. Unlike many previous releases for the franchise, this CD single came only in one version; there was no "Limited Edition" version, and no special pre-order bonuses. Retailing for ¥1200 and containing four tracks (the title song, a b-side, and karaoke versions of both), it fell in line with the standard release style.
The front cover is a cropped version of the Wii game's own front cover, obviously focusing in on the center area with Goku atop Kinto-Un with Upa. It is an incredibly bold and colorful cover, fitting in nicely coming so soon after the CD single.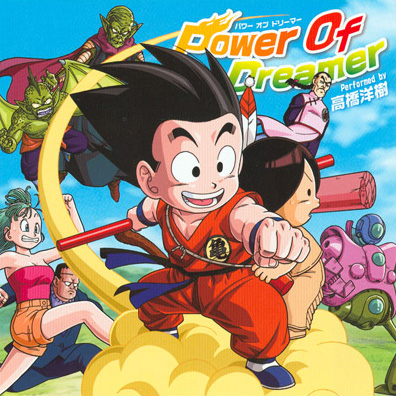 The back cover is a step up from some of the previous releases, with contrasting colors making it much more readable.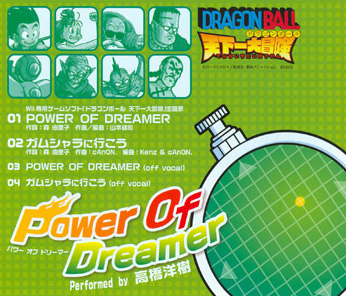 The inside lyrics carry over the color scheme from the back cover, with everything very legible and cleanly organized. There is only the one-page, fold-out insert. There are no extra cards, pages, or any other written information inside the packaging, beyond some musical credits hidden behind the disc itself on the right.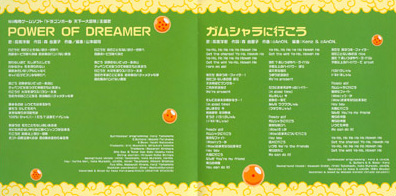 So how about that music…?
Track 1: "POWER OF DREAMER"
The first thing you notice about the title track is the blaring horns. It is a fine indication of the return to style the song will provide.
Hiroki Takahashi certainly does not have quite the growling shōnen spirit as his successor Hironobu Kageyama, but his own personal spin on "feeling" shines through with the vocal delivery. Each and every word is clear and has a smile behind it that you can't see, but know for sure is there.
More endearing than Takahashi's performance is, believe it or not, the overall composition of the song. The aforementioned horns take you into what feels like a new era of nostalgia for little Goku and his earlier adventures. The tip-toe over the breakdown on the piano hops along and brings it full force back into one more chorus. Everything comes together to give you the feeling of flying through the air on Kinto-Un, ready to take on your next challenge with no cares in the world.
This song is exactly what the franchise needs right now. The Dragon Ball Kai songs felt forced and without (Dragon) soul. Even Kageyama's recent songs have walked the line of relying too much on an updated "rock" style and, while it has been a wonderful journey with his music, still left us longing for something that just screamed "fun" first and foremost. The opening to Infinite World on the PS2, "Hikari no Sasu Mirai e!", came close… but "POWER OF DREAMER" scratches that itch perfectly.
Track 2: "Gamushara ni Ikō"
I had absolutely no expectations going into the b-side of the single. I wasn't even sure if it would be a Hiroki Takahashi song before receiving it! I wanted the full surprise. Amazingly enough… I was certainly surprised, and with what may be my favorite b-side / image songs in years.
The song begins with "Yo-ho-ho-ho" chanting along with hand claps and a funky beat. Takahashi's voice soon chimes in matching the funky vibe, but bringing his own style of "suave" to it at the same time. The song flips between this style and a more straight up rock/pop chorus, which makes for a very interesting dynamic… but one that just works.
The additional work from Kenz (Kenji Yamamoto) and cAnON, most recently known for their contributions to the Infinite World soundtrack, fits in perfectly with the style of the song. Bass slides transition into the chorus, synth noises punctuate all of the deliveries, and backing vocals flesh out the sound.
The song's title translates, roughly, to "Let's Go Recklessly", and that is exactly the vibe I get from it. It is everything that Goku is: occasionally hot-headed, naive, and reckless… but honest, true, and pure.
"Gamushara ni Ikō" was a surprise, a welcome addition, and justifies the cost of the CD single.
Track 3: "POWER OF DREAMER" (Off-Vocal)
As always with karaoke tracks, it is fascinating to listen to the backing track. In this song's case, Takahashi sings a very much in-the-background harmony part to the first part of the chorus, which really fleshes out the song when you go back and listen to it in context in the full vocal version.
Beyond the harmony parts, there is really nothing new or exciting that jumps out in the karaoke version of the song. It is a solid inclusion for those inclined to sing along on their own, though.
Track 4: "Gamushara ni Ikō" (Off-Vocal)
As amazing as the standard version of the song is, there is simply nothing of importance to note about its karaoke version. The song is almost minimalist in a way on its own, anyway, so the karaoke version sounds pretty similar.
Final Thoughts:
It feels like it has been a long time since I have been able to offer a resounding "YES! ORDER IT!" recommendation for a Dragon Ball-related CD. There are always minor issues with one of the tracks, the price, or something else that prevents it from being a solid purchase in almost every case for every type of fan. POWER OF DREAMER rises above that and delivers a short, two-song package that embodies everything that the series is, and therefore if you like the series, it should carry over perfectly to this CD.
The only caveat I would note is that since the CD single itself is only ¥1200, if you are only going to order this one CD, you will probably end up paying close to that amount in shipping depending on the retailer. Make it worth your while; research shipping costs ahead of time, and/or add in a few other goodies to your order.
For another look at this CD single with samples from each song, check out Episode #0191 of our podcast.
Purchase This Item:
POWER OF DREAMER may be available at the following retailers: