With the early 2009 debut of Dragon Ball Kai and its theme songs performed by series newcomer Takayoshi Tanimoto, it seemed that we would not be hearing from veteran Hironobu Kageyama in any DB-related context for the time being. Much to our surprise and delight, it was announced in mid-July via Jump that the man behind the voice would be returning for the opening theme song to Raging Blast, the then-upcoming new fighting game for the PS3 and Xbox 360.
Within a month we were beginning to hear samples of the song via trailers for the video game, though we would not receive details about a CD single release until late September. The CD single was slated for release on 25 November 2009, coming within a couple weeks of its corresponding game's release. Hironobu Kageyama was certainly not out-of-practice with the series, having delivered the openings for Burst Limit in 2007 ("Kiseki no Honô Yo Moeagare!!") and Infinite World just a year prior in 2008 ("Hikari no Sasu Mirai e!"). Would it be par for the course for Kageyama, or would we be graced with another song that steps even above and beyond his already-near-universally-praised performances?
Quick Details:
Title:
"Progression"
Artist:
Hironobu Kageyama
Catalogue #:
LACM-4674
Publisher:
Lantis
Release Date:
25 November 2009
Price:
¥1200
Tracks:
4

---
The review of this CD was made possible by your referral purchases on CDJapan and dracostarhome. If you are interested in contributing to the site, please visit our "Donate" page.
Review By: Mike LaBrie (VegettoEX)
It was a strange situation. Despite there being the standard single year's time between new Hironobu Kageyama songs, the release of Kai and its assortment of new music made the wait and general time period feel so much longer, as if it had been multiple years. That somehow made the announcement of a new Hironobu Kageyama song all the more exciting. It had been a minor roller-coaster with his recent franchise material, though; songs had been "good" and even "great", but only every three to four years were we treated to something "amazing." Where would this new song fall on the Kageyama Meter™?
Song samples from an early trailer for Raging Blast were very promising. The swooping sounds and blaring horns last heard on "POWER OF DREAMER" were in full-force. Expectations and emotions were kept in check, though.
Before dipping into the music, let's examine the CD single release, itself. Unlike many previous releases for the franchise (especially under Kai), this CD single came only in one version; there was no "Limited Edition" version, and no special pre-order bonuses. Retailing for ¥1200 and containing four tracks (the title song, a b-side, and karaoke versions of both), it fell in line with the standard release style.
The front cover contains cutouts of the Goku and Broli images used on the cover art for Raging Blast itself. They are placed over a deep red background, however, which is a little much on the eyes, especially with the orange text against the yellow hair, itself against the red background.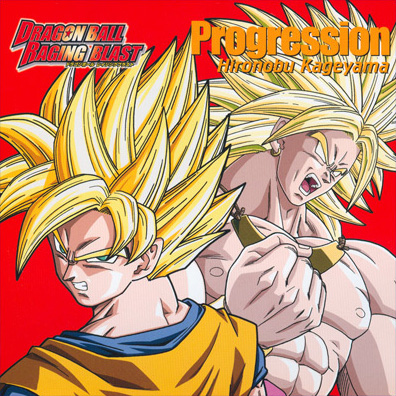 The back cover is a total contrast to the fare as of late, with Mr. Anison himself looking sternly back at the owner. Kageyama has occasionally graced CD artwork (such as the original WE GOTTA POWER CD single), but it is a rare treat and a welcome change-up. He is looking pretty good for his age, here!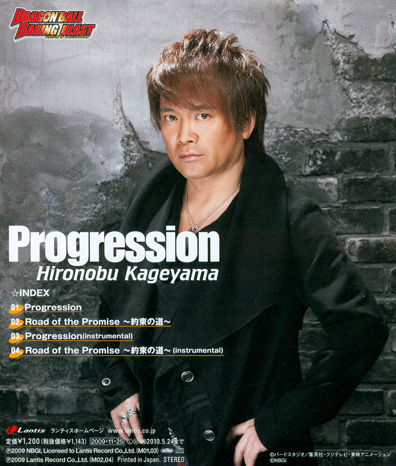 The inside lyrics are vertically stacked on one another (presented below side-by-side for page layout purposes). The layout is very barren, with the white text on the yellow-ish/orange-ish background being difficult to read.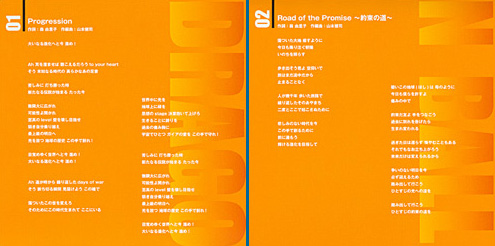 So how about that music…?
Track 1: "Progression"
The opening theme to Raging Blast has quite an interesting mood. It is not fully "adventurous", nor is it fully "action", nor is it fully "triumphant" — it is a mix of all of these things. Perhaps that was intentional, as Dragon Ball does indeed encapsulate all of these feelings.
The backing female vocals from YUKA (credited as "Yuka Muraishi") are the weakest element of the song. With any other lead performer they might be passable, but with Kageyama belting out in his traditional fashion, anything less than "emphatic" from accompanying vocals sticks out like a sore thumb. Most fascinating of all is that, apparently, fellow JAM Project member Masaaki Endoh contributes some of the backing vocals. If I did not read it for myself in the disc's credits, I never would have believed it. There is not an ounce of Endoh audible in this song.

The instrumentation rises to the occasion, at the very least, balancing out the song somewhat respectably. It truly is all about the vocals, though; unlike the Budokai songs and "Super Survivor" that took turns between focusing on the vocals and guitars, Kageyama is the sole star of this song.
We are treated to the standard guitar solo, however, before the final breakdown and chorus round. It does not go in the direction of solos such as those in "WE GOTTA POWER" or "Kusuburu heart ni Hi o Tsukero!!", where it becomes its own spectacle and major highlight of the song; rather, it plays back in a subdued manner that matches the rest of the performances in the song, never quite jumping out into a breakthrough performance, but somehow still finding the appropriate mood and place to feel complete.
Lyrically the song is familiar territory, with lots of talk about the Earth and power. It is a shônen song that is very self aware, trekking on forward with its head held high.
As a whole, the song gives me mixed feelings. As I listen through it, I wonder what exactly it is that I truly like about the song, and am hard-pressed to pinpoint anything. However, the instant it ends and I reflect on the song, I smile and think fondly of it. It apparently does something right!
Track 2: "ROAD OF THE PROMISE ~Yakusoku no Michi~
Similar to the Super Survivor CD single's b-sides, the extra track on this disc is a slow-paced, calm, Hironobu Kageyama song. The singer has excelled in this area many times before; "FOR EVER~" from the DBZ Hit Song Collection series (an image song never used in the franchise proper) showcases his talent here to an extraordinary level. Unfortunately, "ROAD OF THE PROMISE" does little to push itself to this level. The backing piano and string arrangements are indeed beautiful, but you will get a "been there, done that" feeling from them.
With Hiroki Takahashi's "POWER OF DREAMER" CD single receiving such an amazing b-side, it was incredibly disappointing for Kageyama's follow-up to fall flat. Perhaps that is not fair to say, though; the song is very pretty and quite serviceable. It simply does nothing new. At nearly five minutes in length, it needed a spark to set itself apart.
Track 3: "Progression" (Instrumental)
With the vocal version of the song providing such a center stage for Hironobu Kageyama's performance, the instrumental version does little more than "exist". Nothing about the song arrangement particularly stands out to bring itself to the forefront, even without the main vocals.
While not an entirely fair comparison, the recent "Orchestra ver." of "Dragon Soul" (the opening theme to Dragon Ball Kai) has shown how amazing a non-vocal version can be when properly arranged. The comparison does not completely work due to the "Orchestra ver." using instruments in place of the vocals to flesh out the song, but it does showcase how a talented song-writer and arranger can create such a wonderful underlying base of music that does not rely on an actual human voice.
Unfortunately, "PROGRESSION" is not one of those songs.
Track 4: "ROAD OF THE PROMISE ~Yakusoku no Michi~" (Instrumental)
I make no attempts to hide my love of Hironobu Kageyama's vocal performances, so when I say that I prefer the instrumental version of one of his songs, that should hold a lot of weight. It is a very simple arrangement, but all of the little subtleties shine when Kageyama's powerful voice is not overshadowing them.
Final Thoughts:
Production oversight by Kenji Yamamoto and vocal performances by Hironobu Kageyama usually makes for a pretty solid product. That is exactly what we have here — a CD single that is just "solid". It is not overwhelmingly amazing, nor is it a snooze-fest. It does what it set out to do, and delivers two good songs. When you look at recent CD singles like the OP/ED for Infinite World with its karaoke and "English version" songs, though, you have to wonder what it is you are getting for your ¥1200. There is no "Limited Edition" version, so what you see here is what you get.
It may sound like a cliché, but this is probably the type of CD you will want to toss in with a larger order to make the best use of your shipping costs from Japan. We have seen in the past how long it can take for video game theme songs to wind up on mass collections and sets (if at all, like the Final Bout songs being on a different record label), so definitely pick it up if you want it… but consider tossing some other singles and soundtracks into the mix.
For another look at this CD single with samples from each song, check out Episode #0202 of our podcast.
Purchase This Item:
Progression may be available at the following retailers: