ABOUT OUR RUMOR GUIDE
Our
Rumor Guide
here at
Kanzenshuu
is an extensive collection of articles with comprehensive, well-researched, well-documented deep-dives into some of the most prevalent rumors in
Dragon Ball
fandom. There is always more to every story, so be sure to follow along with any additional links provided throughout the articles!
The Budokai Video Games Held Back Story Content Due to the English Dub Being So Far Behind
With the first Dragon Ball Z: Budokai game — released in November 2002 in America — only covering through the Cell arc, and the following year's sequel covering slightly beyond that through the Boo arc (but without going to in-depth into movie or especially Dragon Ball GT characters), one might be tempted to make a reasonable and logical assumption that these story elements were held back because FUNimation's English dub had not yet reached those points in the series.
However, the fact of the matter is that the international audience — nevermind exclusively that of just FUNimation's English dub — had no impact or relevance to the development of the games whatsoever, especially on the earlier end of the series.
Development Hell: "Sorry, but please just throw this away."
Due to the success of a recent Fist of the North Star game on the original PlayStation — a game aimed at the "nostalgia" market (fans who were now old enough with disposable income looking to get back into their childhood interests) — development moved ahead with a new flagship fighting game for the Dragon Ball franchise on the upcoming PlayStation 2 console from Sony.
Due to complicity and inertia from prior game releases, Bandai's development team began working on the Dragon Ball game without ever approaching Shueisha for all of the general approvals that would otherwise be appreciated (indeed, even necessary) before getting too far along in the process. As producer Daisuke Uchiyama recalled during a 2019 panel:
So I talked to [Shin] Unozawa and we started developing this fighting game. But at the time, I thought people would like it as long as I made something interesting, so I didn't explain things properly to the folks at the Jump Editorial Department. If I saw the Daisuke Uchiyama from that time right in front of me, I would outright grab him and give him an earful, but at the time, I was extremely carefree and just thought "well, this looks nice, doesn't it?"

However, it seems there were rumors reaching all the way to the Jump Editorial Department that "the Bandai kid hasn't talked to the Editorial Department at all and is just making the Dragon Ball game however he damn well pleases." And because of that, they summoned me and Unozawa…

In the middle of the Editorial Department, there was a table, and I sat there with Unozawa, but right in front of us was Torishima-san. And around Torishima-san, there were about ten editors-in-chief and deputy editors-in-chief, all lined up. It felt like they were all surrounding me and saying, "you're not getting out of this one." (laughs)

And so, they told me: "show us what you've been making." I flipped through the project proposal, but Torishima-san did not read it. I even brought some footage, but he didn't even watch it. He grabbed the proposal in front of him and told Unozawa: "Sorry, but would you mind throwing this away?"

That is to say: "The project you are all working in right now is effectively suspended." No matter how much the development costs increase, no matter how much work has been poured into it, no matter how much it will sell, none of that matters.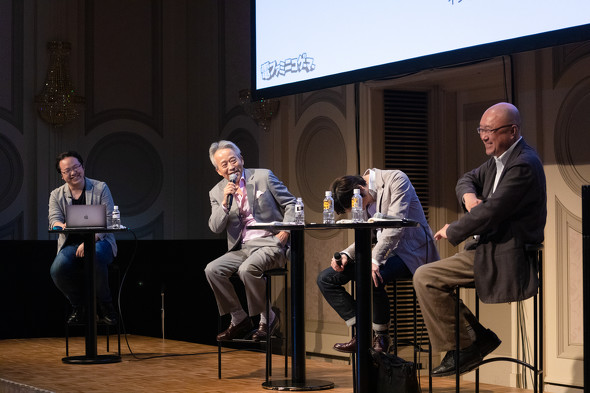 The aforementioned "Torishima" is none other than "Dr. Mashirito" himself, Kazuhiko Torishima — Akira Toriyama's original editor, and at the time moving from the editor-in-chief of Weekly Shonen Jump to a Shueisha board member to Director of Business at Shueisha — became involved, and told Bandai to completely scrap any and all work they had done on the game.
As soon as I saw the footage, I immediately thought "this is no good." As for why it was no good, that is easy to explain. Supervisors can tell with just one glance whether the characters look like themselves or not.

…

I just remembered that Bandai really just up and thought "Fist of the North Star sold well because of its nostalgic characters, so let's do Dragon Ball next." It really does show how incompetent they are. (Conference hall bursts into laughter)
Uchiyama recalled some of this material in Dragon Ball's "30th Anniversary Super History Book" released in January 2016, noting how after Dragon Ball GT ended, the franchise laid low for some time, until the group began working on the aforementioned "nostalgia market" game for the then-still-upcoming PlayStation 2. Development was slow-going as they made the game models from scrap trying over and over again. While their original plan for a Japanese release was the summer of 2002, all of the delays ended up making for not just a better product, but a completely coincidental, serendipitous release book-ended by the kanzenban and the Dragon Box DVD sets. The game sold well in Japan, but what really surprised Bandai was how well it did outside of Japan; it was because of their international distributor demands that they even made an international release in the first place!
In the final part of his "Super History Book" interview, Uchiyama discusses the series' trademark and ever-evolving 3D cel shading, which came out of them trying to make it feel more like Dragon Ball. The team did not have substantial information on-hand as to how to actually accomplish this, and was ultimately the combination of three different versions/shadings of the character: three times the work and three times the cost!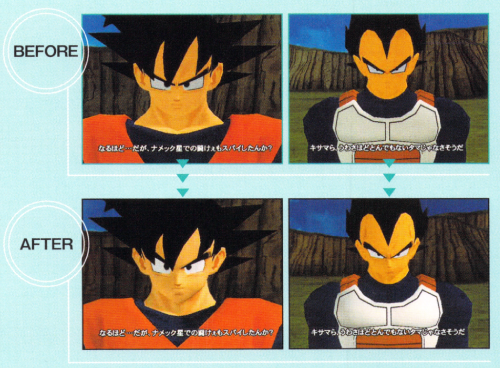 SUGGESTED LISTENING
Check out
Episode #0456 of our podcast
where we discuss more interviews from the 30th anniversary "Super History Book" regarding the
Dragon Ball Z
(
Budokai
),
Sparking!
(
Budokai Tenkaichi
), and
Xenoverse
game series. What are some of the untold stories leading up to their creation, and how do fans and production teams alike look back on them?
Impact and Legacy
This time seems to have left quite an impact on Uchiyama, who also reiterated during a 2017 interview with Game Informer:
Also, the supervision/licensing process was so difficult that one time we had to recreate an almost-finished model from scratch.

…

This was around the development of Budokai 1. As I mentioned, back in the day the licensor rejected our game as a whole and we had to stop the production. When that happened, the Dimps team and I worked through day and night to revise the game; even re-building the game from scratch. Eventually we managed to get through the licensor, and come think of it, it's a really laughable topic when we talk about it today, but at that time I thought I was dead [laughs]. Imagine if I gave up on that situation, I think there won't be any Dragon Ball games today – so I think it was good that I was that desperate to make things happen [laughs].
Later in the same Game Informer interview, Uchiyama reiterated how the Budokai series changed their mind on the international market, and how from that point forward they began to consider it when planning their games:
Since the Budokai series, each and every Dragon Ball game proposal always aims for worldwide success and that has become an obvious thing. We've added our approach in developing the game, like getting feedback from the fans for instance. And since the Budokai series, the sales for Dragon Ball games have increased by 90 percent – and that's happening outside of Japan.
Conclusion
With (1) an explicit description that the first Budokai video game was conceived of as a game for the Japanese nostalgia market, (2) the stories of development Hell with Uchiyama and his teams at Bandai and Dimps, and (3) the fact that international licensees were the ones to request development of translated versions for their markets, it is clear that FUNimation's English dub of Dragon Ball Z had zero impact whatsoever on the material and extent of the story the game covered.
That the first Dragon Ball Z: Budokai video game managed to come together into such a fondly-remembered package containing what it did contain seems to have been a minor miracle and testament to the dedication of its development team!