ABOUT OUR RUMOR GUIDE
Our
Rumor Guide
here at
Kanzenshuu
is an extensive collection of articles with comprehensive, well-researched, well-documented deep-dives into some of the most prevalent rumors in
Dragon Ball
fandom. There is always more to every story, so be sure to follow along with any additional links provided throughout the articles!
There Are 'Lost Episodes'
Rumor Status
Not REALLY (but there is reason to be confused, and there ARE "unreleased" things…)
Trust us: if there were any actual "missing" episodes, fans would have tracked them down ages ago (remember, even Dragon Ball GT ended in 1997; you would think we would have found all of the episodes in all this time!). However, on the other hand, there are plenty of reasons fans may think there are some "lost episodes" (and depending on how you want to actually define "lost episodes", maybe you might still consider them such): some of these items have never seen a home video release, even in Japan!
Plan to Eradicate the Saiyans
The first "lost episodes" fans tend to point out consists of animation involving the 1994 video game, Plan to Eradicate the Saiyans. While this story begins with a fairly standard Nintendo Famicom game (otherwise only notable for being the first Dragon Ball video game to completely revolve around its own original storyline), the Eradicate empire extends to additional video game adaptations as well as a complete animated adaptation!
Alongside the original Famicom game and its two fully-animated adaptations for the Bandai Playdia interactive CD-ROM video game system, a good portion of said animation was actually released on two VHS volumes in Japan as an "Official Visual Guide" to the game. Full, proper documentation about Plan to Eradicate the Saiyans simply did not exist in the English-speaking fandom of the day (with confusion certainly not helped even by our own website back then!), and so stories quickly made their rounds.
The "Official Visual Guide" was fansubbed in English in a partership between "Carddass"/"Gokou3" of the fansite Paozu Yama along with "Ramza" of the fansite Dragon Ball Blast (as "RZ Productions"). The fansub master not being of the best visual quality actually helped contribute to stories of it being a "lost episode" — the worse something looks, the easier it is to imagine how rare or underground it may be.


The "Official Visual Guide" was also later released, albeit not remastered, on the second "Dragon Box" DBZ DVD box set in Japan.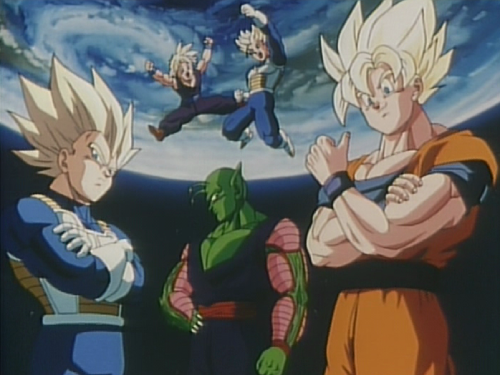 Since we know what it is, and it actually had a legit release in Japan (twice!), it is not entirely "lost" (irrelevant of the fact that a legit release of the original version, will almost certainly never see the light of day outside of Japan…).
Public Safety Videos
Another set of items that actually saw the light of day via the original Dragon Ball's "Dragon Box" set in Japan were the two public safety videos, Goku's Traffic Safety and Goku's Fire Fighting Regiment. Taking place during the early part of the series, these two short features showcase the cast instructing children on, for example, the proper way to handle fireworks.


They are (obviously) well outside the normal series continuity, and are just fun little features to help children develop the necessary skills they will need in order to not burn down their home and not be hit by oncoming traffic.
Summer & New Year Specials
There are actually two other Dragon Ball Z television specials you may not be aware of, though these are completely different than the Bardock and Trunks stories you almost certainly know.
The "Summer Vacation Special" from 1992 (actually titled "Extreme Battle!! The Three Great Super Saiyans – Special") aimed to prime fans for the forthcoming seventh theatrical Dragon Ball Z film, with Goku and Gohan dressing up to review all of the prior movies (three from the first series, and six so far at the time from the "Z" era), along with previewing said seventh film.


A "Year-End Special" from 1993 ("We'll Show You Everything: Forget the Year's Cares with Dragon Ball Z") sports Goku, who is dead, teleporting back to Earth to spend New Years with his family. The family decides to take a look back at what all had happened in Dragon Ball Z that year (covering the Cell Games and the Afterlife Tournament) in a brief, five-minute segment.


Neither special have been included on any home releases in Japan thus far (including extras on Dragon Box sets and individual DVD releases).
FUNimation & Dragon Ball GT
This bring us to FUNimation's release of the various shows in North America. The first two seasons of Dragon Ball Z were originally cut from 67 episodes all the way down to 53 back in 1996-1998; technically, there are some "missing" episodes (or rather, parts of episodes; no single episode was removed in its entirety) in this release of the series. However, with the first two seasons being completely re-dubbed and re-released on DVD with both English and Japanese languages (and having aired in their uncut-dub-entirety on Cartoon Network), they did not remain "lost" for all that long. These days, every bit of content from every DBZ TV episode can legally be purchased on DVD in North America.
Taking the cake, however, was FUNimation's decision to give a surname to the first 16 episodes of Dragon Ball GT: "The Lost Episodes." FUNimation originally began releasing DBGT in 2003 starting with episode 17 of the series (plus a recap episode of their own creation) so they could get straight into the action (with, of course, some clever marketing that created vast demand for those early episodes, as well…). Once they had finished recording through to the end of DBGT, they went back to dub and release the first 16 episodes on DVD (the first of these discs, Reaction, was released 13 July 2004).





Of course, since FUNimation intended all along to release this part of the series (having now generated the level of interest they wanted), they were never really "lost"… they were just conveniently "set aside," while FUNimation sat back and let irate fanboys do the rest.