"Battle of Gods" Differ Ariake Screening Report and Comments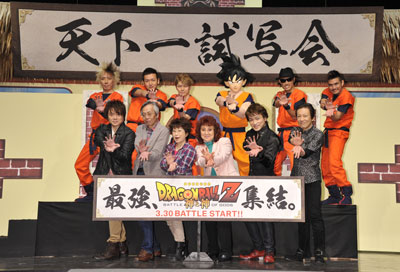 The Dragon Ball Family's Big Get-Together!
Report from Dragon Ball Z: Battle of Gods' Completion Event at the Dream "Tenka'ichi Budōkai" Arena
On 16 March (Sat.) at Differ Ariake, the arena of the "Tenka'ichi Budōkai", which is held occasionally in the Dragon Ball story, was recreated, and an event was held celebrating the completion of Dragon Ball Z: Battle of Gods, the movie which opens nation wide this coming 30 March (Sat.).
At this event, FLOW, which handled the [movie's] main theme and insert song, performed the two songs "Hero: Song of Hope" and "CHA-LA HEAD-CHA-LA". Following that, there was a truly dream-like "Unequaled Under Heaven" gathering of the Dragon Ball family, consisting of Masako Nozawa, who has voiced the main character, Son Goku, since the anime began broadcasting in 1986, along with Masakazu Morita, who played this movie's new character, Uisu, Masaharu Satō (Kame-Sen'nin), Mayumi Tanaka (Kuririn), Ryō Horikawa (Vegeta), and Takeshi Kusao (Trunks). A recreation of each character's memorable scenes, including Goku's and Vegeta's Fusion, and a "Kamehameha" fired by the entire group, greatly enlivened the event.
Dragon Ball Z: Battle of Gods will be released nationwide on 30 March (Sat.).
Comment:
Masako Nozawa (Son Goku)
As [the movie] finally gets close to opening, I'm filled with the same feelings of excitement as Goku, and want to fly out to where all of you are. The atmosphere of the first [movie] recording in 17 years was able to go right back to how it was 17 years ago because we have a strong bond like family. After seeing the preview, and telling the creator Akira Toriyama-sensei, "It was fun!", he gave it a stamp of approval with, "I'm glad to hear you say that, Nozawa-san! It's an even better work than I thought," so I want not just Japan, but the whole world, to see it.
Masakazu Morita (Uisu)
Actually, this isn't my first time appearing in Dragon Ball; I've previously had the pleasure of doing Tarble, Vegeta's younger brother1. At that time, I was the weak younger-brother, but this time, it was in a higher-spirited role: Uisu, who would be able to put up a good fight himself. I was raised on Jump since my childhood, so standing on the big stage for a movie makes me feel strangely nervous.
Masaharu Satō (Kame-Sen'nin)2
It's the first theatrical film in a long while, so I'm happy. Everyone, please enjoy it.
Mayumi Tanaka (Kuririn)
The recording studio didn't feel at all like it had been such a long while. The Kuririn of late has stopped fighting, so today, I visited the hair stylist and had them do up my hair in Saiyan style.
Ryō Horikawa (Vegeta)
I'm really excited. In this work, there's even something like the start of a romance, so please look forward to it.
Takeshi Kusao (Trunks)
I'm happy, and also surprised, that the first new work in 17 years was made. I'm looking forward to seeing what sort of assessment it gets from a generation that doesn't know Dragon Ball.
FLOW (main theme, insert song)
We were raised watching Dragon Ball since we were kids, so it's a dream come true to do a collaboration. If we're able to liven things up along with the new release, we'll be happy. It's also our first time participating with an insert song, so we were nervous about the scene where our song played.
The following translator notes are included for the benefit of the reader as supplemental information.
1
Tarble appeared in the 2008 Jump Super Anime Tour Special,
Heya! Son Goku and Friends Return!!
.
2
While a veteran of the franchise dating back to
Dragon Ball
episode 1 with the Tiger, Satō took over — along with a rotating cast of other actors — as Kame-Sen'nin after the passing of Kōhei Miyauchi in 1995. Satō debuted in the role with
Dragon Ball Z
Movie 13, was replaced intermittently with Hiroshi Masuoka for the remainder of the
Dragon Ball Z
TV series and
Dragon Ball GT
, and returned to the role for all of
Dragon Ball Kai
.
English Translation: SaiyaJedi