Dragon Ball: Heya! Son Goku and Friends Return!! — First Part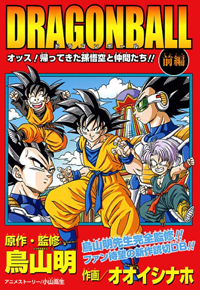 Introduction
Akira Toriyama & Naho Ooishi
A message from Akira Toriyama-sensei and Naho Ooishi-sensei!!
Akira Toriyama-sensei
Ooishi-
san
understands
Dragon Ball
really well, and she knows so much about it, too. I've plumb forgot what happened in
Dragon Ball
, so she knows about a thousand times more about it than me!
But what I admire more about her is her considerable artistic strength and skill at manga composition, so I'm confident that she's made a work that's even more interesting than the original anime, which had a few weak(?) spots.
She did her best in the unfamiliar job of making a manga out of an anime, all because it was too much of a pain for me to make an original work myself. So please be nice and support her.
I think that I probably won't draw any more Dragon Ball, so this is the only place you're going to see anything new!!
Naho Ooishi-sensei
I've loved
Dragon Ball
since I was a child, so even now it feels like such a dream to get to draw it myself. Having Toriyama-
sensei
personally look at my storyboards and offer me advice made me do my very best drawing this manga.
I'm also doing my best to draw the second half, so thank you very much everyone.
English Translation: Herms