It's the first of the year, and I'm bringing something brand-spanking new! You ready for this?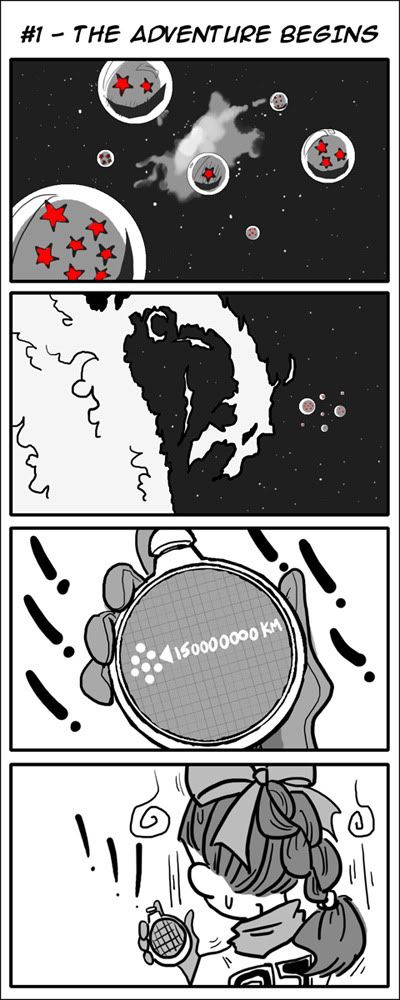 Okay, here's how this is going to work. As I'm sure all six of you who follow GTR know full well, I've been pretty slow to update anything lately. I've just been too busy, and even when I do get time, it's hard to find inspiration and get those creative juices flowing. Thus is my primary goal in starting up this little side-project; it's something small-scale and fun that will only take a little bit of my time, but will also serve to keep the creative side of my brain exercised and ready to really buckle down and crank out the big stuff.
As an added bonus, you guys all get to see something cute and funny once a week. The simple format you see above is what I'll be sticking to; 4 panels, a title up top, black and white or minimal shading/color, no dialogue, and somewhat simple and "chibi-ized" character designs. What will change is the medium. This one was all digitally drawn because I wanted to get a bit fancy with the nebula in the first panel. Next one might be hand-drawn with markers. The sky is the limit in that regard.
This is actually something I've had on the back burner for a long time, and that means I've already got a whole bunch of ideas stockpiled, lined up and ready to be realized. Plus, if there's anything I pride myself in, it's my ability to bring the funny. So there shouldn't be any problem with me thinking up material.
*knock wood*
Finally, I come to my last note for now...
This thing needs a name.
The best I could come up with so far is "Dragon Bites" or "Dragon Bits." Hardly inspired or anything I'd want to stick to for who knows how many future strips. So I'm opening up the floor to suggestions from you guys. I'll draw something for you if you come up with something brilliant and I pick it. Deal?