January 2023 edit:
IT'S ALL CHANGED.
EVERYTHING.
Except not really, because just about every aspect still works.
But anyway, I decided to re-merge the Yabanverse with Dragon Ball after all. Yabans still exist, but they're no longer "Legally Not Saiyans." Rather, they ARE Saiyans. "Yaban" is just an alternative term for them in a way I'm still figuring out.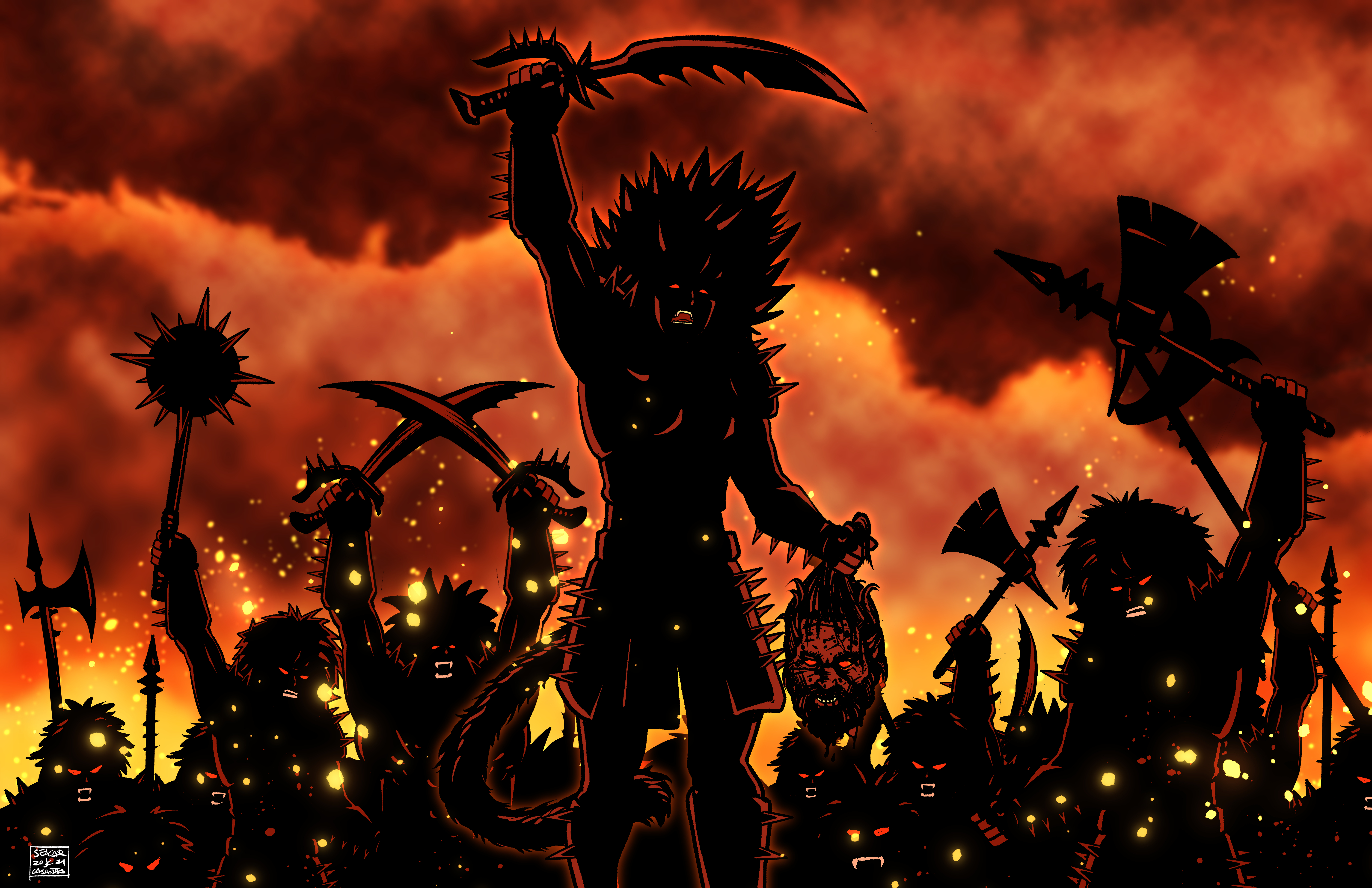 So...
This thing.
I've been on-off working on this project for several years now but only committed to it about a year ago, right as the pandemic really started.
It's not a comic or anything, more a webnovel/webserial.
After all that time doing things like coming up with characters and plots and lore and backstory, I figured "why not just write the damn thing?" The answer being that it was too fun worldbuilding and imagining things, but I have to actually start work on it some day.
So I made it my intention to start writing this thing, starting today in fact, and to start publishing it as a serial over on RoyalRoad and maybe some other sites starting March 16th. It's just a fun story I'm doing more as a hobby, not anything commercial, as you will obviously see.
The gist of the story is that an ultra-powerful monkey-tailed girl who goes by the name "Sol Yulaan" winds up in the possession of an eccentric man on Earth with various conditions, such as that she is not allowed to kill willy nilly and must respect the sovereignty of Earthlings. The man, a weird young lad named Vicente Xaxalpa, is already living an unusual life close to the periphery of the mainstream, being a murkily-legal underground doctor and self-professed lover of the unknown and mythological despite their fleeting existence. In his life skews a few different paths: one being a somewhat lightweight narco story due to him occasionally involving himself in a particular cartel's business due to his line of work (not that they're his only client; just his least legal) that's really just an excuse to get a use of grindhouse tropes; another being what I hesitate to call "a cast of characters from a kid's show" consisting of his younger cousin and his motley crew of friends that he often has to deal with; and the third being his personal rondo of friends.
Or to put it another way,
a Thermonuclear Klingon appears on Earth. A shady, eccentric young man is forced to own her. Hijinks ensue.
If this sounds like the most bizarre set-up, I don't blame you. The surrealism of a Saiyajin suddenly getting involved in three otherwise mundane stories is part of the conceit of the overall story.
I'm mentioning it here on the Kanzenshuu fanworks subforum for what should be a very obvious reason.
But you see, that's also kinda the thing....
Courtesy of my friend, MeloncholyMango
This is NOT a Saiyan.
I mean she
clearly
is supposed to be one; that's the conceit of the story: "what if a real life Saiyajin came to Earth?" is literally the inciting question that led to this story years ago. And this is for a point.
Yulaan is not a Saiyan but of a suspiciously similar species known as "Yabans," who hail from another universe entirely. Indeed, this universe is downright loony compared to our own and hence why she operates along wholly different lines of physics than we do. But critically, even though she isn't a Saiyan, she winds up in a place where Saiyans do exist— in fiction.
So this isn't explicitly a "Dragon Ball" story. This is even a big reason why I didn't want to make it a straight fanfic several years ago too. This story is just so tonally different from Dragon Ball's "demented cocaine-fueled kung fu Looney Tunes" that it's all around better to just take it another way. There are no elements of Dragon Ball in this story outside of generic mythical kung fu/Buddhist/Taoist tropes that occasionally pop up. As a result it's iffy as to if this even qualifies as fanfiction, even though there's no court on Earth that'd let me get away with... well, scroll up.
This isn't anything like Multiverse or other fan series; though I do have a solid idea of where the story goes, it's ultimately a slice of life serial, for the most part (I'd call it a dramedy but you can call it a silly poo-poo goozoo gaga story) and structurally it's more of a short-story cycle that's more just me
writing a self-insert fantasy about someone's Xenoverse waifu
faffing about different stories with a Legally-Not-Saiyan badly jammed into them just to see what happens as well as having fun with examining different alien physiologies, psychologies, and cultures (when that time comes, I mean).
As a result, if you have any feedback or even ideas, just make them known.
And if this is the most boring story in years, that's fine too.
So here we are!
Or here?
I do wish to stress again that this is a newly-formed web
novel
. Maybe in some distant future year when I can
flash da cash
or run a competent generative-adversarial network I can turn it into a webcomic, but outside of a few images I've commissioned, there's no visual component as of yet.