Dragon Ball is often called the father of shonen by some of it's fans. So, that got me wondering, what series were, in fact, inspired by it? And that question lead me to another one. What manga inspired Dragon Ball? Because Jump itself has been around for long before Dragon Ball ever started.
I was inspired to add the inspiring Dragon Ball portion after looking up the Dragon Ball volumes release dates. I noticed this (from Kanzentai):
Volume 27: The Legendary Super Saiyan
ISBN 4-08-851417-3 | Softcover | New Book Format (11 X 17 cm)
Released: August 12, 1991
It was released in 1991 in Japan, and that immediately made me look at a second series I enjoyed following, confirming what I knew by a 1991 release.
15 Deadly Battle
Kaitei Shinden! Nanahon no Hashira (海底神殿!七本の柱) March 1989
* 051. "The Gold-hued Bronze Cloth" (黄金色の青銅聖衣!, "Kin'iro no Buronzu Kurosu!"?)
* 052. "Death Match! The South Pacific Pillar" (死闘!南太平洋の柱, "Shitō! Saosu Pashifikku Pirā"?)
* 053. "The Golden Chains" (黄金色の鎖, "Kin'iro no Chēn"?)
* 054. "The Golden Lance vs. Excalibur" (黄金の槍V.S.聖剣, "Gōruden no Ransu bāsasu Ekusukaribā"?)
The first chapter in Volume 15 of Saint Seiya (Poseidon Arc) had Seiya push his cosmo to its maximum, awakening the Gold Saint blood in the cloth and turning it a golden hue.
That made me wonder...was Toriyama inspired by this scene? There may very well be an older occurrences, but it was the oldest I could think of right off the bat, as the series, I realized, ended before Goku went SSJ.
We know the start of the manga had some inspiration from Journey to the West, but what from other manga of the 70s/80s (if not even older)?
Also, Dragon Ball itself is one of the best selling Shonen Jump series of all time, and has surely inspired many manga-ka. For instance, in Bobobo-bo Bo-bobo, I've noticed that, several times, the series was referenced or re-created in some way, like with the fusions: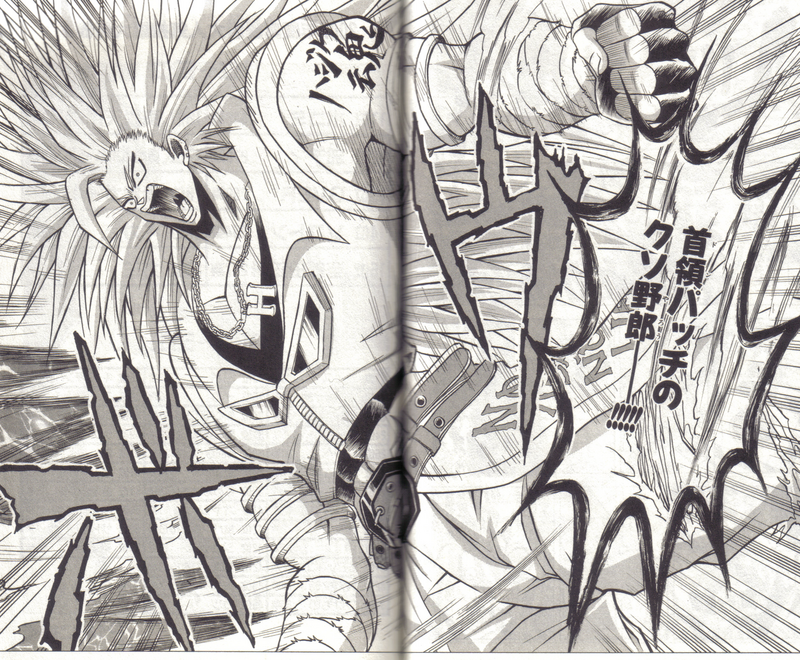 The Enhanced Fusion of Papapa-pa Pa-papatch, for instance.
These are just some brief examples I had to get the ball rolling on both sides. I don't know a large number of the references or possible series that could have been on either side, so I thought pooling the collective knowledge of the forums would be an excellent place to start.