So recently I found
Ashura's guide
on color correcting Dragon Box footage and decided to have a go at Kai. Following that guide, correcting Kai 1.0 was fairly simple with mostly minor changes to get results that look like this:
(original on left, corrected on right)
The flesh tones become much closer to what they should be and the sky is a more natural blue among other changes. Most of Kai 1.0 can be corrected like this to get fantastic results.
Another example:

Here we now have proper blue and yellow values as well as bringing out some definition around Vegeta's tail.
You can do this process with pretty much all of the footage from the Dragon Box, Kai, and the movies. Having some success I decided to have a go at Kai 2.0 considering it needed it most with the infamous green tint. That's when I started to really notice the drop in quality from the original Kai restoration. Take this screenshot of Vegeta and Goku from the Buu arc: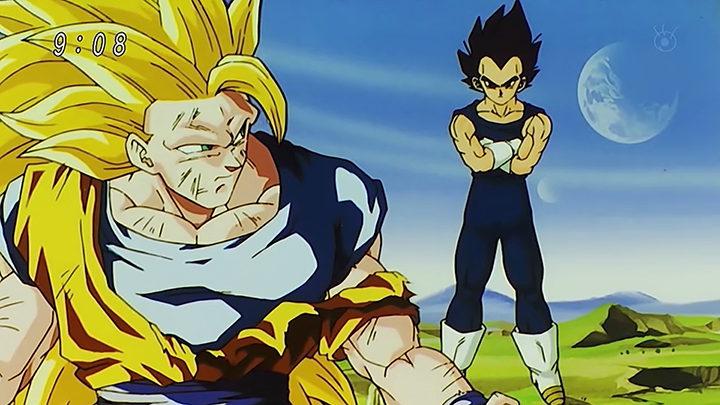 Immediately you can tell the difference in the quality and clarity of the image from the above screenshots. The dark colors are crushed to the point where you can barely see any detail in Vegeta's clothes. Removing the color cast from the image gives you slightly better results: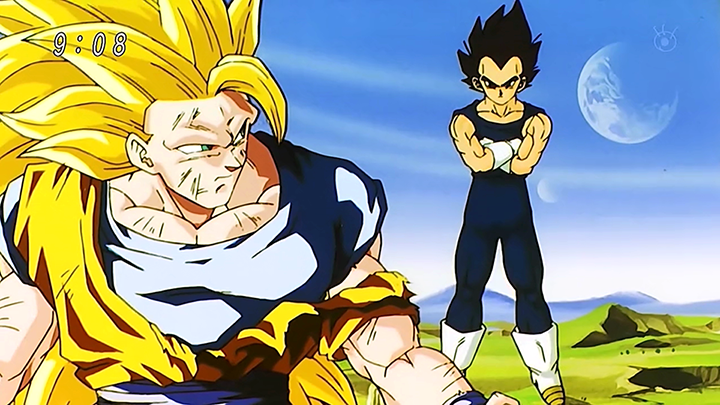 The whites are white but the darks were originally so crushed that getting any detail from them is basically impossible. Correcting the footage in VirtualDub gives us this result: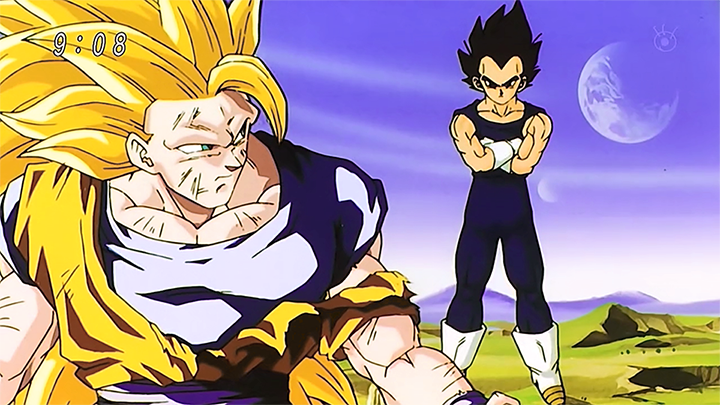 Ok, so now the flesh tones are much closer to what they should be. However correcting the sky to it's vibrant purple leaves Goku and Vegeta's clothes purple as well. The green data in the ground is lost as well leaving only sickly greens mixed with pale yellows.
Problems like this are what make me seriously question the remastering process for Kai 2.0. With all of the footage from the first 98 episodes of Kai, you can correct them with free tools close to original cel colors with little to no artifacting in the video stream. Kai 2.0 is not like that at all. In finding a decent image to use as an example in this episode of Kai (episode 153) the color of Vegeta's clothes changes at least 4 times. Kai 1.0 was very consistent with it's color correcting leaving the consumer with colors that weren't perfect, but could easily be changed to their liking. The remaster for the second half of Kai seems amateurish in comparison with extremely inconsistent corrections and contrast issues. It's especially disappointing considering that these episodes
were
color corrected instead of simply being left alone and this is the level of quality we received. I would have much rather had Kai 2.0 scanned to 1080p with colors left alone considering how correcting untouched footage can give results like this:

(Official Toei cel scan for reference)
I guess in short I'm a lot less enthusiastic about Kai than I previously was because of this among other things (weird score placements etc). Ultimately, I'll probably still purchase Kai 2.0 when it's released in the US solely for the updated script. But I'm still left with a bitter taste in my mouth. It feels like Toei pretty much flipped us the bird and gave us the cheapest version they could. Realistically, they probably did exactly that since it was made for the international market, but Kai 2.0 had so much potential to be great. The best I can hope is that Funimation at least removes the horrible green color cast from their release. We'll never get the perfect release, but hopefully we can get one that is good enough.