NOTE:
Under no circumstances should you watch this episode without the necessary subtitles (see:
Crunchyroll
/
Daisuki
/
FUNimation
).
And don't even think about breaking the
Kanzenshuu forum rules
, either.
-------------------------------
General Discussion for Dragon Ball Super episode 108, aired 24 September 2017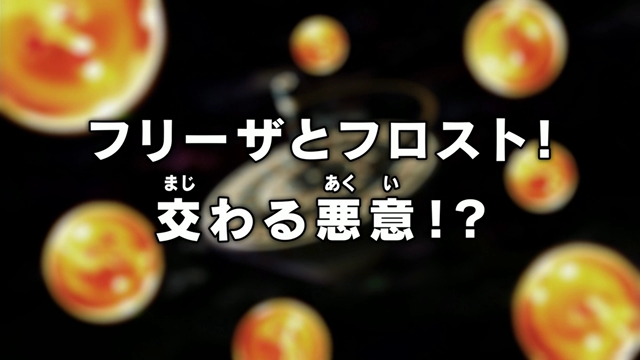 フリーザとフロスト!交わる悪意!?
Furīza to Furosuto! Majiwaru Aku'i!?
Freeza and Frost! Intersecting Evil?!
Summary:
As Goku and Ribrianne continue to trade blows, Goku is impressed by her fighting spirit, though she insists she is simply fighting out of love. She fires off her Pretty Cannon and Pretty Love Machine Gun techniques at Goku, who seems to be confused by such love-based attacks. On the sidelines, the gods from the exempted universes observe the tournament's progress. U8's God of Destruction Liquiir thinks that Ribrianne might last until the end, while U12's Kaioshin Agu notes that all three of U11's remaining warriors are quite powerful. The U1 Kaioshin Anato dismisses the tournament as a battle between low-leveling universes, saying it won't matter which one wins, while U5's Kaioshin Oguma is terrified to think what would have happened if their own universe was involved in the tournament.
While Freeza decides it's time to find a new "playmate", Gohan struggles against the U3 robot-like warrior Bollaleta. Gohan eventually retreats, but before he can go rejoin Piccolo, he is attacked by the U2 Yardratian warrior Jimeze. Gohan realizes that he can't drop his guard against an opponent who can teleport, and sure enough, Jimeze starts teleporting around, attacking Gohan from his blind spots. Gohan is impressed at Jimeze's mastery of teleportation; outmatched by Jimeze's speed, he is helplessly knocked around.
Just as it looks like Jimeze will finish Gohan off, Freeza steps in, saying he's disappointed that Gohan would have a hard time against such an opponent. When Freeza makes no move to attack Jimeze, over on the sidelines Kuririn starts to worry that he has betrayed them…maybe he's going to ring Gohan out himself! Muten Roshi is likewise worried that Freeza is simply using this tournament as part of some evil scheme. It's even possible his ultimate goal is something beyond just being resurrected. Shin notes that if Freeza is the last man standing, he'll get to use the Super Dragon Balls, which can grant wishes even Earth's Dragon Balls can't (Whis adds that they could even kill a god). Since they don't know what Freeza's wish may be, they can't relax even if U7 wins the tournament.
Meanwhile, Jimeze vows to defeat both Gohan and Freeza, but Freeza says he will wait until Jimeze and Gohan have finished their fight, and not interfere. Jimeze and Gohan start fighting again, and Jimeze still seems to have the upper hand, but when he charges up a blast to finish him off, Freeza blasts it away, claiming that his hand slipped. Watching the fight made Freeza change his mind about the whole "not interfering" thing, so Jimeze decides to take him down first. But he proves no match for Freeza, who already knows about his teleportation skills and has no trouble countering him. Freeza attacks Jimeze so brutally that the U2 gods are worried he's dead, but Freeza assures them he made sure not to hit his vitals. He knocks the still quite gravely injured Jimeze out of the arena, eliminating him from the tournament.
Gohan is mad at Freeza's brutal methods, but Freeza says none of it would have been necessary if Gohan had simply fought at full power right from the start. Just then, Frost arrives and congratulates Freeza on his wonderful fight. It turns out that the two of them are in cahoots (since both have a bone to pick with the Saiyans), and now plan on defeating Gohan. Freeza offers to let Frost take care of Gohan, but Frost insists Freeza have that honor. After all, this way he can confirm that Freeza truly intends to work with him. He'll watch from the sidelines with a beam attack ready in case Freeza betrays him.
As Freeza starts attacking Gohan, the Omni-Kings are surprised to see two people from the same universe duking it out. Champa's not entirely sure what's going on, but cheers Freeza on regardless. Gohan finally gets mad and starts landing some blows. Seeing Gohan use his true power, Freeza decides to get serious too, powering up into his golden form. It doesn't take Golden Freeza long to knock Gohan unconscious. Frost (who by now has stopped charging his beam attack) comes up to congratulate Freeza; he didn't know he was so powerful.
Freeza says that if Frost trains he should be able to obtain such power too…well, maybe not his Golden form, but at least his super muscular form (as when he used 100% of his power against Goku on Namek). Freeza demonstrates this beefy transformation, which Frost can indeed perform as well. Freeza advises Frost that since this form quickly eats up stamina, in order to use it effectively he must go all-out right from the start of battle. He offers Frost one last piece of advice: not to trust anyone. And with that, he blasts Frost out of the arena.
As the Great Priest announces Frost's elimination, nobody is quite sure what happened. Then Gohan gets back up, and it turns out that his battle with Freeza was a sham. Gohan explains that he realized from Freeza's first attack that he wasn't serious, and decided to play along (fortunately, since Freeza claims otherwise he really would have killed him). Freeza says there's no way he would ever actually team up with a small-timer like Frost. Outraged, Frost tries to attack Freeza from his spot in the bleachers, but the Omni-Kings intervene and apparently erase Frost. Attacks from outside the arena aren't allowed, and if it happens again they'll destroy all of U6!
Beerus thinks that now they can be certain Freeza is on their side, though Kuririn is not so sure. Freeza walks away, telling Gohan that the two of them should continue to work together to win the tournament. Elsewhere, Goku continues to struggle against Ribrianne.
29 minutes remain in the Tournament of Power.