NOTE:
Subtitles first (
Crunchyroll
/
Daisuki
/
FUNimation
), discussion later.
The Kanzenshuu forum rules
rule.
-------------------------------
General Discussion for Dragon Ball Super Episode 111, aired 15 October 2017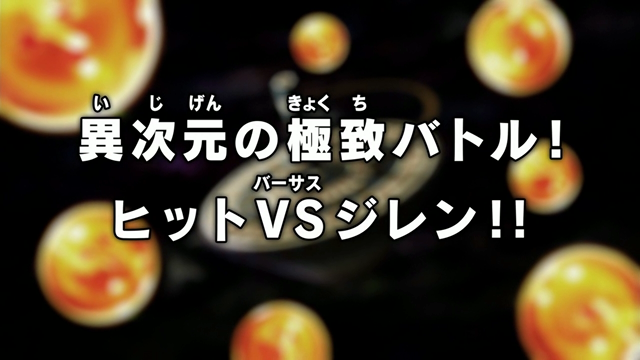 異次元の極致バトル!ヒットVSジレン!!
Ijigen no Kyokuchi Batoru! Hitto VS Jiren!!
Extreme Battle of Another Dimension! Hit vs Jiren!!
Summary:
Freeza has snatched Goku away, and now seems to be aiming a blast at him. Exhausted from his battle with Jiren, Goku no longer has the power to run away, and in their hidden location nobody can see what Freeza's doing. Freeza fires…and Goku is fine! Freeza has actually shared a little bit of his ki with Goku, thereby enabling him to move once again, just like Goku did with him back on Planet Namek. Now they're even! Besides, Freeza needs Goku to keep on working for him, since he doesn't want to take on "that monster" Jiren himself. Before leaving, Freeza tells Goku how the gods up above referred to Goku's new power as "Ultra Instinct", and Goku wonders if pulling that off once again will enable him to beat Jiren.
Meanwhile, Hit and Jiren continue to fight. Hit's Time-Skip doesn't seem to be much use against Jiren, whose heavy blows he can feel all too well. Jiren asks if Hit seriously intends to defeat him, and Hit says that yes, that's his job. Watching the fight, Toppo is surprised to see Hit doing so well against Jiren. Hit now starts using the same dimension-moving technique he used during his rematch with Goku, storing up skipped time in order to conceal himself in another dimension, leaving only an illusionary image of himself behind. However, Jiren isn't fooled by the illusion and still manages to track Hit's movements, which keeps Hit's attacks from connecting.
With Jiren able to fully counter Time-Skip, Hit is unable to land a solid blow. Yet despite its ineffectiveness, he continues to use Time-Skip against Jiren. What is he up to? Jiren tells Hit to stop this pointless effort, but Hit maintains that this is his job, and tells Jiren to stay with him until the end. Elsewhere, the U6 Namekians Saonel and Pirina try to sneak attack Goku, but Gohan and Piccolo step in to fight them (the two are surprised to see another Namekian). Vegeta is doing well against Ribrianne, until Rozie steps in to protect her. As the two escape and hide, Ribrianne starts to lose confidence in U2's chance of victory, but Rozie slaps some sense into her, telling her to remember the power of love. Ribrianne recovers her confidence: "If I can't believe in love, who can?!"
Seeing Hit having this much trouble, Caulifla wants to go help him out, but Cabba stops her, saying Hit has some strategy in mind. Though Hit keeps on taking Jiren's attacks, he's still properly guarding and so should be minimizing damage, all while waiting for the right chance to strike back. Indeed, Hit has by now memorized Jiren's attack pattern, and finally manages to land a solid attack on Jiren's chest, which sends him skidding to the edge of the arena. This one attack is what Hit needed to finally lock Jiren into a time cage, paralyzing him.
This ace-in-the-hole technique consists of Hit continually using Time-Skip against Jiren alone, but keeping Jiren frozen seems to require too much of Hit's concentration for him to do much else. He tells Cabba, Caulifla, and Kale to leave Jiren to him and go do the job only they can do, namely defeat other warriors to ensure U6's victory. While Hit normally works alone, now he's resolved to use all of his power to keep Jiren frozen until the end, and so needs his allies' help to handle everything else that must be done.
As Jiren struggles to break free from this paralysis, Hit soon realizes that his power won't last until the end of the tournament. He therefore has no choice but to put everything he has into one last attack in order to defeat Jiren then and there. Though it's not like an assassin to gamble, he must take this risk to carry out his job of making sure U6 wins. But as he goes in to finish Jiren off, Jiren blocks his blow with merely a glare, and finally breaks free. Those on the sidelines are amazed to see Jiren's strength surpass time itself. Jiren recommences attacking Hit, finally knocking him out of the arena with an energy blast.
The Great Priest confirms Hit's loss, and Hit materializes in the bleachers next to Champa, admitting that it was all over once his final blow against Jiren failed. While Champa looks on the bright side and says Hit's work ethic has been passed on to Cabba and co., Vados notes that Hit's loss is a major setback for U6. As it happens, Hit's defeat coincides with the halfway point of the tournament (only 50 taks or 24 minutes now remain), so the Great Priest changes the sky green to mark the start of the second half.
With Hit defeated and Goku exhausted, Jiren judges that there is nobody left worth fighting, so he leaves the rest up to Toppo and Dyspo and begins meditating. The U3 warrior Piara distracts Toppo and Dyspo while his colleague Katpesra moves in to take out the seemingly defenseless Jiren, but Katpesra is repelled by the wall of ki surrounding Jiren's body. The two of them are clearly unworthy of fighting Jiren!
The Tournament of Power is now halfway over.