NOTE:
Please be sure to have watched the episode with any necessary subtitles (see:
Crunchyroll
/
Daisuki
/
FUNimation
) before discussing. Otherwise, why bother?
The
Kanzenshuu forum rules
are there to be obeyed.
-------------------------------
General Discussion for Dragon Ball Super episode 104, aired 20 August 2017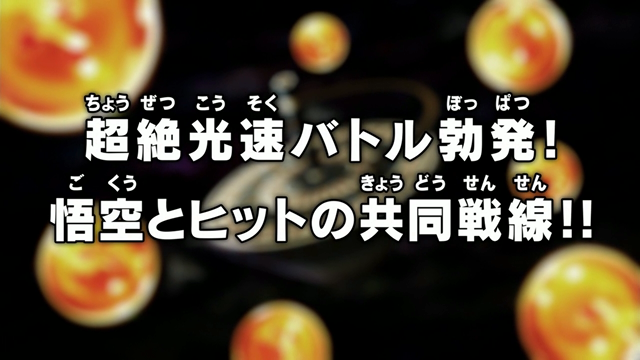 超絶光速バトル勃発!悟空とヒットの共同戦線!!
Chōzetsu Kōsoku Batoru Boppatsu! Gokū to Hitto no Kyōdō Sensen!!
A Faster-Than-Light Battle Begins! Goku and Hit's Joint Front!!
Summary:
The Pride Trooper Dyspo introduces himself to Hit, declaring that he's come to beat Hit's Time Skip for the sake of his universe. On the side-lines, Caulifla reassures Kale that there's no need for them to help Hit out; he's sure to beat the tar out of his opponent. Yet when they square off, Dyspo manages to land a solid blow to Hit's face. Champa freaks out, but writes it off as a fluke. He notices that Dyspo resembles Beerus, but objects when Vados points out this means Champa looks like him too, claiming that his face is far more "fashionable" than theirs.
Dyspo is impressed that Hit has still managed to keep his cool after that first attack, but Hit's confidence displeases him. They go at it again, and Dyspo lands a second attack. Champa is now panicking over Dyspo's speed, and asks Vados if she could see Dyspo's attack. While Vados could, it was too fast for the two Omni-Kings, so the Great Priest helpfully explains how their godPads allow them to watch slowed-down replay footage of the match.
Observing the fight, Toppo brags that Dyspo is battle-hardened to the point that he's now faster than sound and light. Baffled, to Hit it appears as if Dyspo is using Time Skip against him. But it doesn't take him long to figure out the truth: Dyspo attacks at incredible speed immediately before he can use his Time Skip. In fact, Dyspo explains that he can momentarily move thousands of times faster than normal, although this still leaves unanswered how he knows exactly when Hit is about to use Time Skip.
For their next round, Hit doesn't even try to guard against Dyspo's attack, which lands the same as before. Now though, Hit has figured out that Dyspo is listening for the sound his muscles make as they tense up before he uses Time Skip. Champa figures they should make lots of noise to drown out the sound of Hit's muscles, but Vados points out that Dyspo can probably pick out different frequencies to distinguish his target sound from any background noise.
Hit abandons trying to use Time Skip and engages Dyspo in hand-to-hand combat instead. While it looks like Hit's getting pummeled, Toppo can tell that he's actually adjusting to Dyspo's speed and dodging to avoid any critical damage. This suggests Hit's letting the attacks land on purpose, which may mean he's plotting some sort of trap. Toppo therefore orders the Pride Trooper Kunshi to go help Dyspo out, while Jiren continues watching the fight in silence.
As Hit continues to be knocked around by Dyspo, he is at last pushed right up to the edge of the arena. Dyspo closes in for the finishing blow, but passes straight through Hit as if he were a hologram (the same dimension-hopping technique he used in his rematch with Goku), and ends up falling out of the arena himself. Just as it looks like Dyspo is finished, Kunshi steps in and saves him with his energy ropes (being made from his own energy, these don't violate tournament rules against using weapons).
Dyspo and Kunshi now team up against Hit, but when it looks like he's had it, Goku joins the fight…in Super Saiyan God form. Using this form means that Goku is faster than in his regular Super Saiyan form, but can still conserve his stamina better than with Super Saiyan Blue. While Hit objects that Dyspo is his prey, Goku is itching to fight someone so strong, and dares Hit to stop him. Goku goes off to fight Dyspo, while Hit is literally roped into fighting Kunshi.
Though Dyspo moves too fast for Goku to even have time to teleport, Goku soon figures out that he tends to move in a straight line. This means that as long as Goku times things right, he can counter Dyspo by temporarily transforming into Super Saiyan Blue to maximize his power and speed. Meanwhile, Kunshi covers the ground around himself with landmine-like energy ropes to prevent Hit from approaching, but Hit simply attacks Kunshi from afar using the same shockwave-like attack he used against Goku during their rematch.
When Goku and Dyspo''s fight happens to bring them close to Hit and Kunshi, Hit insists that he and Goku trade partners. Going after Dyspo again, this time Hit manages to successfully attack him by first making the same noise as when he does Time Skip, then using another attack to catch him off-guard. For his part, Goku handles Kunshi by going Super Saiyan Blue and going right over all his landmine ropes, whose explosions fail to harm him. He counters Kunshi's energy blasts and gets in close to mercilessly attack him.
Hit's tactics continue to confuse Dyspo, who can now no longer tell if he's about to use his Time Skip for real or is only pretending. Even this sort of momentary hesitation makes all the difference in so fast a battle. With Dyspo beaten to a pulp, Hit gives him the ultimatum of jumping out of the arena himself or being thrown out. Dyspo refuses to surrender, but Kunshi again saves him from a ring-out. He tells Dyspo to retreat and recover, and plans to cover Dyspo's escape by taking Hit down with him. However, Hit doesn't waste much time knocking Kunshi out of the arena.
Now Universe 11 is down to only three warriors, but with two of them being Toppo and Jiren, their Kaioshin isn't too worried. Dyspo vows vengeance in the name of justice, but Toppo says that they should drop the hero act; here there is no good or evil, only survival. Hit decides to pay back Goku's help by letting him go without fighting him. Goku is still determined to defeat Dyspo himself, and vows to finally settle the score with Hit if they both can survive to the end of the tournament.
35 minutes remain in the Tournament of Power.