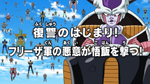 2129 November 2015

The Revenge Begins!
The Freeza Army's Malice Strikes Gohan!
"Super" News ∙ Series Info ∙ Episode List
Dragon Ball Origins 2 (released in Japan as Dragon Ball DS 2: Charge! Red Ribbon Army) is officially out in North American stores today. Here is the press release if you are into that:
DRAGON BALL®: ORIGINS 2 NOW AVAILABLE EXCLUSIVELY FOR NINTENDO DS™

SANTA CLARA, Calif., (June 22, 2010) – Leading video game publisher and developer NAMCO BANDAI Games America Inc. announced today that Dragon Ball®: Origins 2 exclusively for Nintendo DS™ is now available at retailers nationwide. Dragon Ball: Origins 2 is the sequel to the original Dragon Ball: Origins for DS. The iconic Dragon Ball story continues as players embark on an action-packed journey around the world in search of the seven legendary Dragon Balls.

Players take on the role of young Goku and various allies he meets along the way, as they face off against the menacing Red Ribbon Army. Dragon Ball: Origins 2 offers the opportunity to play as series hero Goku as well as friends including Krillin, Bulma, Yamcha and more, each with their own abilities and power-ups. By playing the single-player adventure, special multiplayer stages including challenging boss fights unlock and become available. Two players can join up together to complete multiplayer challenges via a local wireless connection. Players are also able to carry over their saved character from the single-player mode as they battle alongside friends in co-op mode.

A fun mix of fierce fighting, dynamic action, exploration and puzzle-solving awaits, as Goku and friends must utilize a wide range of skills to maneuver through each level. With support for both stylus and button input options, players can choose how they control Goku to unleash aerial attacks, land devastating combos and interact with the environment. A situation-based camera adapts with the changing gameplay to bring players closer to the action as they jump, swing and charge through forests, underwater areas and more. Meanwhile, key boss battles switch to side-view to emphasize the signature fighting style of the Dragon Ball series.

Dragon Ball: Origins 2 for Nintendo DS is rated "T" for Teen by the ESRB and carries an MSRP of $29.99. For more information about the game, please visit www.namcobandaigames.com or http://dragonball.namco.com. To join the official fan community, please visit http://www.gokuscorner.com.
Tullece, Janenba, and Dabra have been revealed as playable characters in the upcoming Raging Blast 2. All three of them have been playable in prior games, but were not included in the first Raging Blast last year.

Additionally, the folks at Saiyan Island got a quick interview with a Namco-Bandai representative at E3 this past week, in which it was divulged that six characters that have "never" appeared in a Dragon Ball video game before will show up in Raging Blast 2.
We heard a claim like that once before, but they went out of their way in this interview to mention old games for consoles like the Super Nintendo, which never received domestic releases here in North America… so it sounds like they might be slightly more accurate than Atari's old claims. It is also noted that the game's character roster will span from Origins (presumably meaning the "first" series) through to GT, so that gives them plenty more room to work with in the supposed 90 characters without resorting to bottom-of-the-barrel characters as in Sparking! METEOR.
Shueisha has revealed some additional details about their new anime guide book, TV Anime Ultimate Guide "Dragon Ball Extreme Battle Collection" Round 01: Boyhood arc – Freeza arc. The guide book will be a B6 size, which is the same size as both the GT Perfect Files and the Super Exciting Guide books. It is also listed to be 96 pages long, which is the exact same page count as the Super Exciting Guide books (I am sensing a trend here). Amazon Japan is also now listing the book, which is due out 02 July 2010.
I am starting to actually get super excited for this new guide, and will probably be more so once the cover art is available.
Those of you looking for some intensely nerd-irific analysis are in for a treat this week as our buddy Kaboom joins us to talk about the Cold family's transformations. The goal is to answer exactly what it is Coola is doing in DBZ movie 5, but to talk about that, we must first make our way through Freeza and beyond! Our buddy Marc from The Fanboy Review also joins in to talk all the big news from the week along with June's releases and some great e-mails. Download the show now, or head on over to the podcast page for more information or to subscribe.
SHOW DESCRIPTION:
Episode #0223! VegettoEX and Marc cruise through all of the week's news, including a surprising video game remake coming our way. Sean joins us later on to talk about Freeza's and Coola's transformations and all of the crazy fan theories behind their usage and relevance to each other. The rest of June's releases, your e-mails, a contest winner, and some great donor naming all round out the episode!
REFERENCED SITES:
Daizenshuu EX: The Podcast - Episode #0223
[ 1:08:28 ]
Play Now
|
Play in Popup
|
Download
Almost exactly one month ago, our favorite inside-source, "Wasted Wisher", told us that they were being put to work on approximately thirty minutes of new, traditional 2D animation for an undetermined, upcoming video game for the franchise.
Well, today we learned a little bit more about that project. As per his post on our forum:
Hey there, folks. Remember when I told you guys Toei would be making new animation cutscenes for a new Dragonball game, and I didn't have a clue which game it would be for?

Well, now I know. The new animation is for a remake/ re-release of "The Plot to Exterminate the Saiyans". The key animators finally received their first pieces of work for the new game, so I figured it out upon seeing the character models and layouts scanned from the original video.

According to my co-worker, he said the frame size for the animation was rather small, so it will most likely come out for a portable game system. (Maybe this is the Dragonball game slotted for the 3DS?) Other than that, I have no idea as to how the game is going to look like.

Oh, and one more thing…unlike in Dragonball Kai, where the new animation is basically just re-traced from the old footage, the animation here is all-new from the ground up. They'll still be using scans of the old video for the layouts, but that's just for reference (camera angles, positioning, etc.). As far as the actual animation is concerned, it's being re-built from scratch.
Earlier this afternoon, Nintendo officially unveiled the 3DS at the Electronics Entertainment Expo ("E3"). In a press release distributed after the event, it was revealed that a Dragon Ball game would be coming to the new handheld.
No concrete release date has been given for the system (other than a rough estimate of before the close of this fiscal year, ending March 2011), and no formal name or release date has been given for the new Dragon Ball game, which will be coming from Namco-Bandai.
In vague news, it seems like FUNimation is planning on releasing a "Dragon Ball GT DVD Complete Series" on 21 September 2010. Fans on Twitter are already taking the nice folks to task with inquiries on what the product will actually be. Is this just a repackaging of the green bricks from 2008-2009? Hopefully we will find out soon enough.
RightStuf has also updated with listings and release dates for other products many of us are looking forward to. Both the second set for (Z) Kai as well as the fourth Dragon Ball Z Dragon Box are due on 14 September 2010.
We finally get a chance to catch up with Julian this week on the show! Everyone is still in the middle of massive deadline Hell and the like, so we took it easy and went over all of the recent news. You all came through with some great e-mails, too, so be sure to stay tuned for all of that. Someone has a very exciting announcement during the episode, too…! Download the show now, or head on over to the podcast page for more information or to subscribe.
SHOW DESCRIPTION:
Episode #0222! VegettoEX and Julian catch up and go over the news from the last two weeks. The second "Kai" ending theme is getting eleven different releases, and a new guide book is coming our way! A great bunch of listener e-mails round out the episode, including some franchise-introduction thoughts and general life advice. Someone also has a very special announcement!
REFERENCED SITES:
Daizenshuu EX: The Podcast - Episode #0222
[ 33:31 ]
Play Now
|
Play in Popup
|
Download
Shigeru Nakahara has announced on his official fan site that he will be returning to reprise his role as Artificial Human No. 17 in Dragon Ball Kai. He does note that he will make his first appearance in episode 64, which is scheduled to air 04 July 2010. Nakahara goes on to comment about how much he has been looking forward to doing this, and how excited he is to be working with Nozawa-san (Goku) again. Of course, he finishes by asking everyone to tune-in and watch Kai.
中原 茂
Shigeru Nakahara
"Artificial Human No. 17"
In news that seems (if our community across the 'net is any indication) of interest to just about every type of fan from every walk of life in tons of different areas of the world, FUNimation has officially recast the role of Freeza for their English dub of Dragon Ball Kai (slightly re-named to Dragon Ball Z Kai). The company's YouTube channel has the third part of an on-going interview with Chris Sabat (Vegeta, Piccolo, as well as the director) and Sean Schemmel (Goku, Kaiō) in which the news is finally revealed. While we are still somewhat hesitant to accept some slight revisionist history going on with the description of their English-dubbed production, these "behind-the-scenes" looks are certainly enthralling, none-the-less. It is fascinating to hear the director note how the previous voice actress was simply unable to keep up with the accurately-adapted script for the character, which heavily factored into a recast voice — one (which happens to be male, unnamed as of yet) that has been pledged to be far more "creepy" than ever before.
Speaking solely for myself, I can say beyond a shadow of a doubt that I have not been more excited to hear a specific character from my favorite series speak aloud in English. To know that some fans will be hearing an interpretation of the character that will finally be even in the same ballpark as what we know him to be… that is very exciting. If it cannot be Ryūsei Nakao right away, this may be an acceptable second-place!
Of course, we reserve all final judgment for when we actually hear the performance. Then again, with the exception of the first Kai release from FUNimation, we typically shy away from even covering that side of their products. Is this something you even want us to cover in the future? Let us know!