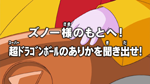 3114 February 2016

To Lord Zuno! Ask About the Location of the Super Dragon Balls!
"Super" News ∙ Series Info ∙ Episode List
Famitsu has listed the top-selling games of 2009 in Japan, and our beloved Dragon Ball whimpers along the list at least in some capacity. Note that these stats are through December 2009, and do not include any additional sales so far in 2010. Data is presented in the following format: (rank) (platform) (title) (publisher) (2009 sales) (lifetime sales) — note that titles have been adjusted back to their original Japanese versions compared to other lists you may see online:
063 [NDS] Dragon Ball Kai: Saiya-jin Raishū (Bandai Namco) – 192.200 / 192.200
111 [PS3] Dragon Ball: Raging Blast (Bandai Namco) – 107.542 / 107.542
157 [PS2] Dragon Ball Z: Infinite World (Bandai Namco) – 76.275 / 199.966
255 [WII] Dragon Ball: Tenka'ichi Dai-bōken (Bandai Namco) – 44.160 / 44.160
355 [NDS] Dragon Ball DS (Bandai Namco) – 28.966 / 214.195
616 [360] Dragon Ball: Raging Blast (Bandai Namco) 10.816 / 10.816
740 [PSP] Dragon Ball: Evolution (Bandai Namco) – 7.513 / 7.513
As expected, Raging Blast did exceptionally better on the PS3 in Japan than on the 360. The latest DS game did surprisingly well, and quite better than the original Dragon Ball DS did in its first year (approximately 72,000 copies). Infinite World has a strong showing in its second year, though it was released extremely late in 2008, so the numbers are a little misleading in that respect. The live action movie game is a shocker to see on the list at all, pushing over 7000 copies in the country that made fun of the movie more than any other.
This certainly would not be the first time that a new Dragon Ball game was leaked via online retailer listings. Play.com is currently listing a new game for the Nintendo Wii titled simply Dragon Ball Z: Spike. It is an odd title, especially considering that Japanese developer Spike is responsible for the Sparking! and Raging Blast series, though only the second and third Sparking! games (NEO and METEOR) made it to the Wii; the only other Wii game for the franchise so far has been last year's Tenka'ichi Dai-bōken / Revenge of King Piccolo. The game is listed for release 01 October 2010 in Europe, which is not all that far off. With other games coming out later this year as well, it seems strange that we would not have heard a peep about this game yet so far into 2010.
Namco-Bandai issued a press release today detailing the inclusion of the Plan to Eradicate the Super Saiyans remake animated feature in Raging Blast 2:
株式会社バンダイナムコゲームスは、2009年に発売した『ドラゴンボール レイジングブラスト』を進化させた、プレイステーション3・Xbox360用ソフト『ドラゴンボール レイジングブラスト2』を、2010年11月11日に発売致します。
(http://b.bngi-channel.jp/db_ragingblast/)

本作は、新たな試みとして過去にファミリーコンピュータ(ファミコン)用『ドラゴンボールZ外伝 サイヤ人絶滅計画』やオリジナルビデオアニメ『公式ビジュアルガイド ドラゴンボールZ外伝 サイヤ人絶滅計画』をベースに、全篇に渡って新規作画とシナリオの再構成を行い、最新の映像技術でフルリメイクし、【リバイバルアニメーション『ドラゴン ボール 超サイヤ人絶滅計画』】としてソフト内に収録致しました。
ゲーム本編は、2009年に発売した『ドラゴンボール レイジングブラスト』を大幅に進化させた格闘アクションゲーム最新作になります。前作に登場したキャラクターはもちろん、新たに登場する新キャラクターも含め、総勢100体ものキャラクターが登場します。
グラフィックは、前作のアニメテイストの表現にCGのもつ質感を融合させたリアル感の増した新たな表現へと進化しました。
さらに、新バトルシステム、新モードの導入を導入し、前作以上の白熱のドラゴンボールバトルが楽しめる本作にご期待ください。

タイトル:ドラゴンボール レイジングブラスト2
ジャンル:格闘アクション
発売日:2010年11月11日
価格:7,329円(税込)
ハード:プレイステーション3 XBOX360
プレイ人数:1-2人
コピーライト:(c)バードスタジオ/集英社・フジテレビ・東映アニメーション (c)2010 NBGI

※プレスリリースの情報は、発表日現在のものです。発表後予告なしに内容が変更されることがあります。あらかじめご了承ください。
The game's official website has also been updated with some sneak-peaks at production art and sketches: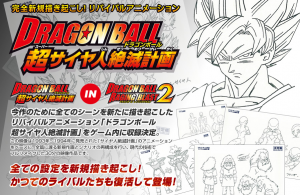 The American version of the game (on both the PS3 and Xbox 360) is due about one week before its Japanese counterparts on 02 November 2010 for our standard price of $59.99. There is no word yet from Namco-Bandai about its possible inclusion outside Japan. The first Famicom game was removed as a bonus from Origins 2 when Dragon Ball DS 2 made its way to the DS over here, but this inclusion seems to be much more a part of the overall experience than that bonus.
Shueisha has updated their listing for the JSAT Edition: Dragon Ball – Heya! Son Goku and Friends Return!! comic which is due out in Japan 03 September 2010 for ¥730 (~$8.00). It now lists some additional details that make this release much more intriguing than it ever was originally, as it appears this will not be a re-release of the manga adaptation drawn by Naho Ooishi in V-Jump. This new comic will be 160 pages in length, while the adaptation by Ooishi was only 72 pages which was slit into two 36 page volumes.
That said, all of the original film animation comics (or "animanga") were between 150-165 pages in length. On top of that, this new comic will be the exact same size as the film animation comics, "New Book Format" (11 x 17 cm), and Toriyama is the only author listed.
I hate to say it, but it seems that this will simply be an animanga edition of the Jump Super Anime Tour special. On the positive side of things, many of the film comics did include tons of supplemental information, so hopefully we can look forward to that.
After Takeshi Aono's recent stroke, we learned that all of his roles were being immediately recast. Kami-sama/God would be coming up in Dragon Ball Kai episodes right before the appearance of Cell, leaving the role (unfortunately) wide open. Veteran Bin Shimada has stepped in to the role, perhaps best known to fans as Broli from the various later Dragon Ball Z movies.
Shimada also took over for Aono's role in Chibi Maruko-chan.
Toshio Furukawa, the voice of Piccolo, recently posted on his blog that he had finished his first recording session for an episode of Dragon Ball Kai with Norio Wakamoto, confirming that he will be returning to reprise his role as Cell in Dragon Ball Kai.
若本規夫
Norio Wakamoto
Cell will make his first appearance in episode 68, which is scheduled to air this weekend on 15 August 2010. Unlike most of the characters in the Freeza arc, it appears that most of the major voice actors are returning to reprise their roles in this arc of the series.
A new page has surfaced confirming that Raging Blast 2 will contain the rumored remake of Plan to Eradicate the Saiyans, which will be re-titled Plan to Eradicate the Super Saiyans.
This will be a complete remake of the original, using modern animation techniques. It will run approximately 30 minutes and will apparently be included in the game as a sort of opening animation, viewable immediately upon purchase of the game. It is possible that in addition to the animation, the game will contain scenarios based on the OVA plot. One screen shot in the page shows Freeza fighting Goku on Earth and notes that Freeza has new attacks, possibly indicating that the game will have you fight against "Ghost Warrior" reincarnations of past enemies like in the original version.
Below is a partial translation of the scan. Unfortunately, due to the scan quality, I could not read certain parts, which are marked with [???].
See it in "RB2"!! The Plan to Eradicate the Super Saiyans!!
A mysterious scientist's conspiracy for revenge against the Saiyans!! The entire opening animation footage [???] with powerful enemies!!
Scoop: A formidable enemy from generations past attacks Goku!! An opening anime is recorded!!
The legendary title "Plan to Eradicate the Saiyans" is being fully remade as an approximately 30 minute [???] anime!! It will be fully recorded in "RB2"!! You'll be able to view this anime which can't be seen anywhere else immediately upon getting the software!!
What is "Plan to Eradicate the Super Saiyans"?
A remake of the 1993 anime work based on a game scenario!! It's been reincarnated as an approximately 30 minute long work that [???] the pictures, setup, etc.
Former formidable enemies are revived!!
A clash with the evil emperor Freeza!! He attacks Goku with new techniques and combos!!
New character setup made public for the fist time!!
Note the modern anime presentation, which has evolved over many years!! The formidable enemy Dr. Raichi has also been resurrected after 17 years!!
The game is now officially due in Japan on 11 November 2010 for ¥7,329.
Shueisha has unexpectedly announced the release of a JSAT Edition: Dragon Ball – Heya! Son Goku and Friends Return!! comic:
The comic is due out 03 September 2010 for ¥730 (~$8.00). There is no word yet to what exactly this is, but it could be either a re-release of the manga adaptation drawn by Naho Ooishi in V-Jump or an anime comic made of screen shots. Either way, it does not seem like Shueisha is going to run out of Dragon Ball releases anytime soon… not that anyone is complaining.
Shueisha's official listing website has been updated with all of the final information for the second Extreme Battle Collection guide book. The listing includes the book's cover and some additional details. The book will include a character guide, story guide, a short Dragon Ball encyclopedia, and more importantly, never before heard anime production stories from Toriyama! Note that the two guide book's covers can be placed next to each other to form a complete panoramic image.
Dragon Ball Extreme Battle Collection
"Round 02: Cell arc – Majin Boo arc"

---

Available: August 4, 2010

Retail: ¥700 (~$7.70)

Size: JIS B6 (12.8 × 18.2 cm)

Length: 96 pages
Navarre just completed their first quarter earnings conference call for Fiscal 2011, and unlike prior quarters where a few interesting tidbits relating to FUNimation and the Dragon Ball franchise were leaked out, much like FUNimation's panel at Otakon this past weekend, there is not much to say other than that things are going smoothly.
The only mention of the franchise was the same line written out in their press release from earlier in the day:
FUNimation benefited from a strong release schedule of Dragonball Z titles during the first quarter of fiscal year 2010.
Navarre is currently investigating a potential sale of FUNimation, which it announced last quarter. It has re-classified FUNimation as a "discontinued" operation, though they reiterated that FUNimation still has their full support as they look for a potential buyer, which they expect to complete over the next two quarters. As such, we will probably see less and less information come out about them from the business side of things, though it is fascinating to see that one tidbit in the press release. Our little DBZ did well enough for a discontinued operation that they figured they should toss that info out there! Nice.
Concluding FUNimation's industry panel this weekend at Otakon was a quick Q&A session in which it was noted that the Dragon Box sets continue to do well for the company. Between those and Kai, we all seem to be doing pretty well…!