Confirming what was discovered nearly a month ago, FUNimation announced this weekend at their panel at Anime Expo that they will indeed be releasing the first 31 episodes of the original Dragon Ball TV series in a DVD set on 15 September 2009.
The audience was apparently also told to stay tuned for more information regarding the series within the next month, so we will be on the lookout for that.
FUNimation's official Twitter stream has also updated with the news.
Though we have known for a while that Namco-Bandai would be releasing its own new Dragon Ball-based games in North America (completely circumventing Atari) the company has finally issued a formal press release that details this agreement, rather than simply saying they are releasing new games:
LOS ANGELES–(BUSINESS WIRE)–Leading video game publisher and developer NAMCO BANDAI Games America Inc. today confirmed that it has secured exclusive North American rights to publish future official videogames for the longstanding classic anime and manga series, Dragon Ball®, across all major consoles and hand held platforms.

This agreement will run for five years beginning in January 2010 and supersedes the existing rights granted to publish titles on the Nintendo DS™, Wii™, PLAYSTATION®3 computer entertainment system, PSP® (PlayStation®Portable) system, and Xbox 360® video game and entertainment system from Microsoft.

Additionally, NAMCO BANDAI Games America Inc. has secured the right to initially publish three titles in 2009, Dragon Ball®: Raging Blast for the Xbox 360® video game and entertainment system from Microsoft and PLAYSTATION®3 computer entertainment system, Dragon Ball®: Revenge of King Piccolo exclusively for Wii™, and Dragon Ball® Z: Attack of the Saiyans exclusively for Nintendo DS™.
The note of the new agreement beginning in January 2010 makes complete sense, with this being the termination date of Atari's original sub-license with FUNimation. However, Namco-Bandai swooping in with their own release of the three new games prior to that date makes for an interesting license/legal/arrangement nightmare, but from the sounds of it, everything is sorted out behind the scenes.
This new agreement begins in January 2010 and runs for five years. Coincidentally, as previously noted, FUNimation has also renewed their sub-license on the series for another five years, and while no dates were specified, it does conveniently seem to line up.
The newest trailer for Tenka'ichi Dai-Bōken (being released outside Japan as Revenge of King Piccolo) finally gives us a name for the new theme song performed by Hiroki Takahashi: "POWER OF DREAMER". It would not be a Dragon Ball song title without the wonderful Engrish, now, would it?
Furthermore, IGN has updated their listings for all of the new video games with release dates for Japan, Europe-ish, and North America. Here is a run-down of what they say (listed by their North American titles):
Dragon Ball Z: Attack of the Saiyans (DS)
JAPAN: 28 April 2009 (already released)
UK: 30 September 2009
USA: 30 November 2009
Dragon Ball: Raging Blast (PS3/360)
Dragon Ball: Revenge of King Piccolo (Wii)
JAPAN: 23 July 2009
USA: 30 December 2009
Whether or not these release dates are accurate remains to be seen, but it is a good first stab at it. Big thanks to everyone on our forum for keeping us up-to-date!
Episode #0181 of the podcast is available for download! Among all the news updates, we manage to cram in a little review of the DragonBall Kai ending theme CD single for "Yeah! Break! Care! Break!" We are also running a contest to win that very same CD single, so make sure you don't miss out on it! Download the show now, or head on over to the podcast page for more information or to subscribe.
SHOW DESCRIPTION:
Episode #0181! VegettoEX and Meri review the CD single for the closing theme to "DragonBall Kai", "Yeah! Break! Care! Break!" Is the shonen spirit still strong with Takayoshi Tanimoto, and what of this new image song? Tons of "Kai" home release news, FUNimation's DB Season 1 set all but confirmed, and tons of other news keeps us busy. July's releases, your e-mails, and a contest to win the CD single reviewed this episode round us out.
REFERENCED SITES:
Daizenshuu EX: The Podcast - Episode #0181
[ 48:32 ]
Play Now
|
Play in Popup
|
Download
While the "Koro-chan Pack" ended up getting canceled, it seems as if the Kai cash-in is only just beginning. Big thanks to Rachel for pointing us to a listing over on CDJapan for a Dragon Ball Kai Original Soundtrack Vol. 1. There are regular (COCX-35744) and "Limited Edition" (COCX-35743) versions available (¥2940 and ¥3150, respectively).
Coming out 19 August 2009, the CD will contain 35 tracks. Two will be the TV-sized versions of the opening and ending themes, and 33 will be background music tracks. The "Limited Edition" version is slated to include three bonus tracks as well as an "original card holder".
It is impossible for FUNimation to ignore it at this point, so their hint that we will just have to wait until Anime Expo for the full, real, true confirmation will have to suffice for now in terms of an "official" statement.
Visitor EDDYS318 sent us a note with a link to a very real trailer for the first season DVD set over on the YouTube profile of Welch Compositions. Jim Welch is a "music composer and sound designer" that does work for companies like FUNimation, and has done trailer music for properties like One Piece and Romeo x Juliet.
Whether or not this is a true, accidental "leak" or if FUNimation just figures the cat is out of the bag at this point, all it does is end up as pretty brilliant marketing… I mean, we continue to go on and on about it, right? To be fair, since this will be the first time ever that the first 13 episodes of the franchise as a whole will be available uncut and in its original Japanese language in North America, it is a pretty big deal.
The commercial is played in a 4:3 aspect ratio (conflicting with the "widescreen" listings online), and notes that the first set will contain 31 episodes spanned across 5 DVDs, and will be "digitally remastered" (seemingly closer to the Dragon Ball GT style of "remastering" than the Dragon Ball Z style). No release date is set, though online listings (as we know) peg it for 15 September 2009 for an MSRP of $49.98, though it should be clear that those details are subject to change.
In addition to the cover art, the official website for Tenka'ichi Dai-Bōken confirms that the game will have multiple control schemes including Wii Remote + Nunchuck, Classic Controller, and even the Gamecube controller: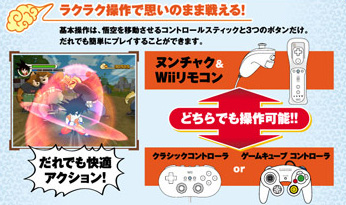 The latest commercial on the website also confirms a new theme song by Hiroki Takahashi (the performer of "Makafushigi Adobenchā!", the opening theme to the original Dragon Ball TV series).
As we mentioned in our last Blu-ray/DVD release update, Amazon Japan had listed the Blu-rays as being presented in the original 4:3 full screen aspect ratio. This fact has been confirmed on Happinet's website, which lists the screen size for the Blu-ray releases as 4:3 full screen (full HD) and the DVD releases as 16:9 widescreen. Obviously everything was remastered in full screen, but cropped simply for broadcast. Which begs the question — why did they crop it to begin with? Is there some television restriction in Japan that requires high definition broadcasts be in widescreen? All of this really raises more questions than anything, especially considering they are now releasing Blu-rays in the original aspect ratio but DVDs in the new cropped widescreen. We are so confused Toei!
So, what is the 4:3 full screen going to look like? Well, we actually got a bit of a preview on Fuji TV following the last Dragon Ball Kai episode when they aired a commercial for the first Blu-ray and DVD releases. Here are some comparisons, and you will have to excuse the difference in picture quality, but that is just the video quality of the live stream:
We also initially mentioned that it was not clear if there would be multiple individual Blu-ray volumes, or just the one already announced. Well, according to Happinet's site, there will in fact be only the one individual volume, but confirms that there will be a 4th box set, as we originally only knew about the first 3 box sets. This box set will retail for ¥15,960 (~$166) and is set to be released sometime in June 2010. It is listed to contain 10 episodes, which we assume will be episodes 40-49. Be sure to note this episode count.
From Amazon Japan's listings, we know there will be at least 10 individual DVD volumes, but Happinet's site has now listed an additional 7 volumes, bringing the total to 17. I will note that it mentions nothing about any DVD box sets which I think we can assume means we will not be seeing any, or at least not until after the series ends. Volumes 11-16 will contain 3 episodes each and is retailing for ¥2,940 (~$30), while volume 17 will contain 2 episodes and is retailing for ¥1,995 (~$20). At the moment, there are no set release dates for these volumes. So, with the first 16 volumes containing 3 episodes and volume 17 containing 2 episodes, this brings us to a total of 50 episodes. If you will remember, this differs from the Blu-ray release, which covers 49 episodes. It makes you wonder why the 4th Blu-ray box set does not contain 11 episodes, instead of 10, to bring it up to 50 episodes. Oh well…
The upcoming Dragon Ball video game for the Nintendo Wii, Tenka'ichi Dai-Bōken (The World's Greatest Adventure), finally has some cover art:
The game is set to be released 23 July 2009 and is retailing for ¥7,140 (~$75). However, Amazon Japan has it available for a pre-order price of ¥5,712 (~$54).
While no cover art is present (unlike the Wal-Mart listing), RightStuf now has an entry for the first season of Dragon Ball uncut on DVD, specifically noted as "hybrid" (meaning it will include both the Japanese and English audio tracks). It has the same information we have seen elsewhere (September 15th, $49.98)…
Meanwhile, FUNimation's official Twitter account now states:
At Anime Expo 2009, we'll FINALLY be able to announce a release that you know about already!
What could it be…?!