0509 August 2015

The Battle on Kaiō's Planet!
Goku vs God of Destruction Beerus
"Super" News ∙ Series Info ∙ Episode List
Folks have already started describing these as "Saban-era" edits, and that may very well be an accurate description.
As predicted, the Nicktoons website is streaming clips of the English dub of Dragon Ball (Z) Kai, which appear to be from the censored broadcast version. In the first clip (of several linked on our forum), we can clearly see not only is the blood removed from Bardock's face, but also his iconic scar:
| | |
| --- | --- |
| Japanese Kai Broadcast | US Nicktoons Broadcast |
Kame-Sen'nin is also rocking a nice, poorly-colored, frosty glass of… uhh… white something, which definitely reminds us of the good ol' days back in 1996:
| | |
| --- | --- |
| US Nicktoons Broadcast (Kai) | US Syndicated Broadcast (Z) |
We dislike this just as much as the rest of you, trust us. In the case of Bardock's scar, it may simply be an unfortunate necessary evil in order to properly remove the rest of the blood on his face. It makes one wonder, however, just how much will be edited to justify an "uncut" release, similar to "Season 3″ VHS releases that had minor verbiage adjustments that seemed to do little more than, as noted, merely "justify" the existence of both an edited and uncut version. Will the dreaded "next dimension" rear its ugly head yet again? Some buddies have already told us that things like "death" will not be mentioned, along with plenty of other dialogue changes…
This is a different case than back in 1999, however, with the edited version being produced exclusively for Nicktoons, rather than a simultaneous home release alongside an uncut version. It is important to note that the home releases on DVD and Blu-ray will be fully "unedited", and that word (finally) holds true for even the dialogue on the English dub side of things now that the series is being treated the way it is. Furthermore, the original Japanese version will always be there intact. If you care about the series to the degree that we do, the home release is probably what is most up your alley. That is essentially the only version we are interested in and will not extensively be covering the TV broadcast from this point forward. The nice thing about it not being 1999 anymore is that there are no worries about which version(s) will be available for a home release!
Rumblings about a new PSP entry for the franchise have been going on for months now, so it is not a particularly huge surprise to hear that it may be true.
Japanese blogs are reporting that an upcoming issue of Jump reveals a new game called Dragon Ball TAG VS. Not a whole lot of details are listed, other than it will be coming sometime in 2010 from Namco-Bandai in Japan.
With hints from English voice actors that at least two games are in the works for this year, everything seems to be falling into place.
Will it be a team fighting game, a la something like Tekken Tag or Capcom's VS series…? Seems likely!
A great bit of news has been leaking about the English-dubbed production of Dragon Ball Z Kai. Based on what we have been told from several independent sources, as well as information made public at the conventions this past weekend, here is what we can tell you:
The series will be edited on Nicktoons, and will occasionally contain different verbiage than the home release, which will be entirely unedited;
This include character attacks, many of which will regain their correct and untranslated-proper-noun announcements in the unedited dub (Makankō-sappō, Kienzan, etc.);
Some names that are deeply engrained in the English reversioning will unfortunately remain the same (namely the pronunciation of "Saiyan", Tenshinhan's adapted name, etc.);
English-dubbed/performed versions of both the opening and closing themes have been created;
General dialogue is indeed being treated with much more respect than ever before for an English dub of a Dragon Ball product;
Episode titles are also faithful translations of their original Japanese versions.
We typically do not cover a dubbed product even close to this extensively on the site, but we will not deny how exciting it is to finally be able to see an at least somewhat comparable product sitting alongside the original Japanese version on the forthcoming domestic home releases. Something that all types of fans have discussed within our community is that with the simple fact that the English dialogue coming out of characters' mouths will finally be an approximation of what it said in Japanese — that actually allows fans to have a genuine discussion with each other without first endlessly clarifying which version is being recalled and all sides being met with dumbstruck faces. That is a plus, folks.
This week on the show, Hujio joins us to chillax with a bit of news from the last week. It has been a slow build-up to some domestic news coming out of conventions this weekend, but we could only hint at some prior-knowledge with a dash of speculation as we led up to it. In a nutshell, we talk a bit more about the DragonBall Uranai book that just came out in Japan, and FUNimation's full-length trailer for DragonBall (Z) Kai. Your e-mails give us plenty to talk about, as well, though…! Download the show now, or head on over to the podcast page for more information or to subscribe.
SHOW DESCRIPTION:
Episode #0215! VegettoEX, Meri, and Heath dive in to what little news there was this past week, but spend some extra time dissecting it all and relay stories of fandom past, present, and future. As much as we try to avoid talking about "Kai" so much, it seems we just cannot avoid it. April's jam-packed releases schedule and some great e-mails from you all round out the episode.
REFERENCED SITES:
Daizenshuu EX: The Podcast - Episode #0215
[ 55:14 ]
Play Now
|
Play in Popup
|
Download
In addition to new episode titles for Dragon Ball Kai, this month's issue (May 2010) of V-Jump contains exciting news about the new illustration book, Dragon Ball: The Golden Warrior. The magazine featured a nice ad for the upcoming book, which went as followed (translated by Herms):
Dragon Ball Anime Illustration Collection: The Golden Warrior

The path of Son Goku's adventures and battles!!

From his boyhood up to Super Saiyan 4, Goku's growth is followed through over 100 illustrations! Featuring numerous illustrations, such as those drawn for the TV series or the movie books, you can see Goku's whole history!!

Contents include: movie posters/drawings made for magazines like Weekly Jump, V-Jump, etc., interviews with the different generations of character designers with illustration explanations, etc.; it's a deluxe archive edition!!
So there you have it — a Goku illustration book, jam-packed with awesomenes! You can pick-up your own copy of the book when it hits stores or Amazon Japan on 16 April 2010. I think this will be well worth the retail price of ¥1,200 (~$12.00).
This months issue of V-Jump (May 2010 issue) contained quite a bit of Dragon Ball news. In the anime portion of the magazine they unveiled the final Dragon Ball Kai episode titles of the epic Goku vs Freeza battle, which indicates Planet Namek will explode in episode 53 of Kai. Assuming they skip the Garlic Jr. filler arc, it is likely we'll see Future Trunks make his debut in episode 55 after the Z-Warriors are all wished back to life and the Namekians find a new home.
Episode 052 – April 11, 2010
「消えゆく星に残った2人!これが最終決戦だ」
"Two Remain on a Vanishing Planet! This is the Final Showdown"
Episode 053 – April 18, 2010
「孫悟空、最後の一撃…ナメック星宇宙に散る」
"Son Goku's Final Blow… Planet Namek Scatters Throughout Space"
The lovely Suupaa Gohan 2 alerted us to a product that just came out last month that we (somehow!) completely overlooked. Shoko Nakagawa put out a third Anison Cover album, and this one includes a (full-length) cover for the first Dragon Ball Z TV closing theme ("Detekoi Tobikiri ZENKAI Pawā!"), and the special 2-CD+DVD edition of the album also includes a TV-size cover of the Dragon Ball GT TV opening theme ("DAN DAN Kokoro Hikarete 'ku").
The discs came out 10 March 2010, and will run you ¥2800 for the regular edition (SRCL-7220, which does not include the Dragon Ball GT song cover!), while the 2-CD+DVD edition (SRCL-7218) will run you ¥3500.
Nakagawa's first cover album's main single was a version of the Dragon Ball TV series closing theme ("Romantikku Ageru yo"), which also received a music video — we reviewed it way back on Episode #0078 of our podcast.
FUNimation has posted a full-length trailer for their first domestic release of Dragon Ball Z Kai which is due out on both DVD and Blu-ray 18 May 2010. Judging from the trailer and FUNimation's recent comments on Twitter, it appears that the domestic release of Kai will indeed be in a 4:3 aspect ratio, which is nice to see.
Shueisha's official listing website has finally updated with some information about the upcoming Dragon Ball Uranai book.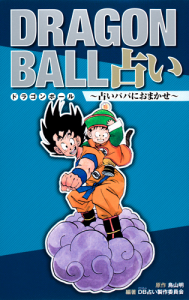 The listing included the books cover and a little blurb describing the book:
おまえさんの運命をおしえてやろう……!!

あの占いババが、あなたの運勢を『DRAGON BALL』に登場する48のキャラクターに当てはめて占う!運勢の浮き沈みが一目でわかる年間チャートつき。占いババを信じれば運気上昇まちがいなし!!

We'll tell you your destiny…!!

Uranai Baba will divine your fortune based on 48 characters which appear in "DragonBall"! A yearly chart is included that will allow you to instantly comprehend the ebb and flow of your fortune. If you trust in Uranai Baba, your fortune will definitely pick up!!
The book is set to be released 31 March 2010 for ¥840, and you can grab it from Amazon Japan if you so desire. The book will be 224 pages and is a B6 size, which is the same size as the Jump Remix comics. For reference, that is roughly right between the size of the tankōbon and the kanzenban.
This week on the show, we finally got around to taking a look at one of the more popular fan-manga out there called Dragon Ball Multiverse out of France!
It has been two years since we looked at Toyble's Dragon Ball AF fan-comic, and it made sense for us to give the other "big" one its fair shot. Does the concept do more for us than the actual execution, or is there enough genuinely interesting story-telling going on? Download the show now, or head on over to the podcast page for more information or to subscribe.
As you tune in, you will probably notice another huge jump in the sound quality. It made sense after five years or so to finally encode at a higher bitrate. You're welcome!
Daizenshuu EX: The Podcast - Episode #0214
[ 40:25 ]
Play Now
|
Play in Popup
|
Download