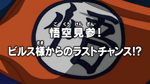 0830 August 2015

Goku Steps Up!
The Last Chance From Beerus-
sama
?!
"Super" News ∙ Series Info ∙ Episode List
This podcast episode and "Manga Review of Awesomeness" is brought to you by exploding Cell Jr. heads:
Julian just finished moving in with the fiancee, so with all of his stuff in storage and an otherwise all-local recording, we decided to do a live broadcast of the show this week. The Cell Game has finally begun, and Goku has just as quickly turned it on over to the next fighter. Was the build-up to Gohan done as well as it could have been, and are we buying it? Was this also the last great transformation sequence in the series? Our live broadcast covers a bunch of questions from the audience, talk about the upcoming new closing theme to Kai, and so much more! Download the show now, or head on over to the podcast page for more information or to subscribe.
SHOW DESCRIPTION:
Episode #0217! VegettoEX, Meri, and Jeff dive into Volume 34 in our "Manga Review of Awesomeness". The Cell Game has finally begun, and Goku has just as quickly turned it on over to the next fighter. Was the build-up to Gohan done as well as it could have been, and are we buying it? Was this also the last great transformation sequence in the series? Our live broadcast covers a bunch of questions from the audience, talk about the upcoming new closing theme to "Kai", and so much more!
REFERENCED SITES:
Daizenshuu EX: The Podcast - Episode #0217
[ 1:14:46 ]
Play Now
|
Play in Popup
|
Download
Based on a recent blog post by R Fujimoto, I think we can confidently say that Takeshi Kusao will indeed be returning to reprise his role as Trunks in Dragon Ball Kai. But wait, who is "R Fujimoto", and how does he know all this? Well…
The comedy group "Ban Ban Ban", formed by R Fujimoto, F Yamamoto, and Takagi Pikkari, were hired as voice talent for episode 56 of Dragon Ball Kai. For anyone unfamiliar with their act, they dress like their favorite Dragon Ball characters and combine their humor with different situations or scenes related to the series. Fujimoto is often seen dressed as Vegeta, while Yamamoto portrays Freeza and Pikkari does Nappa, and sometimes Kuririn. If you'd like to see some bits from their act, there are two YouTube videos you might want to watch (Video 1, Video 2).
| | | |
| --- | --- | --- |
| R Fujimoto | Takagi Pikkari | F Yamamoto |
On April 9th, Fujimoto and Yamamoto arrived at TAVAC Studios, where the audio for every episode and movie of Dragon Ball has ever been recorded. They were set to provide the voices for two of King Cold and Mecha Freeza's henchmen. But first, they met the rest of the main cast and received their official scripts. Of course, they were dressed appropriately…
After a successful recording session, what else is there left to do? Why, go out on the town drinking, of course. Now, if you think very highly of the main cast and don't want any of your wonderful preconceived judgments of them shattered, look away!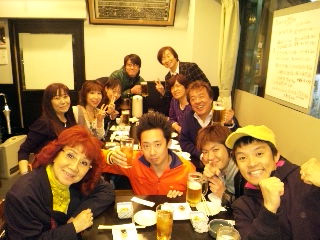 Many of the main cast members attended the gathering, including Masako Nozawa (Goku), Ryūsei Nakao (Freeza), Mayumi Tanaka (Kuririn), Ryō Horikawa (Vegeta), Hiromi Tsuru (Bulma), Toshio Furukawa (Piccolo), Tōru Furuya (Yamcha), Hikaru Midorikawa (Tenshinhan), Naoko Watanabe (Pu'er), and none other than Takeshi Kusao (Trunks). The three guys shown in the front right are from "Ban Ban Ban", with R Fujimoto sitting right next to Nozawa. As the alcohol-induced night progressed, it seemed people started to do some crazy things. Fujimoto noted that Tanaka drew a Vegeta widows peak on his head with a marker, which you can see in the picture below! Some other wacky conduct ensued, but I'll let you use your imagination to fill in the blanks.
| | |
| --- | --- |
| R Fujimoto (left), Hiromi Tsuru (middle) & Takeshi Kusao (right) | R Fujimoto (left) & Ryō Horikawa (right) |
If anything, it sounds like one Hell of a party! But most importantly, after all that, we have confirmation that Takeshi Kusao was present that day to record the voice of Trunks for episode 56. Unfortunately, we still do not know who will take over the role of King Cold, who was originally voiced by the late Daisuke Gōri. In the meantime, cheers~!
The previously-not-quite-announced release of the first Dragon Ball movie is now listed as coming out on 28 December 2010… a delay of over half a year from what had previously been listed. We are still awaiting final confirmation from FUNimation on what will actually be included on the disc, and now when it will actually be coming out.
An upcoming issue of Jump details the first tidbits about a new closing theme for the series during the "Jinzōningen & Cell arc", and will apparently premier at the end of episode 55 on 02 May 2010. Based on the title for this episode, it will indeed be the "start" of the next story arc when Freeza arrives on Earth with King Cold.
The song will be performed by "Team Dragon", which is made up of seven members from the idol group AKB48.
The name of the new closing theme has not yet been revealed. No information on an updated opening theme has been stated, so it seems likely that "Dragon Soul" will remain.
While the opening theme has had a few key scenes update in the animation as the story moved into the Freeza arc, both the song and animation for the current closing theme ("Yeah! Break! Care! Break!") have remained the same since the show's debut just over a year ago.
Our Japanese buddy kei17 notes that many Japanese fans are upset with this choice, describing AKB48 (the "AKB" standing for Akihabara) as a group popular among "disgusting idol nerds". It is a strange choice — the "Z" portion of the story has always stuck with otaku favorites like Hironobu Kageyama, sure, but never dipped into idol territory outside of cover versions from artists like Shoko Nakagawa and Hitomi Kitamura.
UPDATE: Kei17 gave us a little update, noting that Minami Takahashi, the "leader" of this "Team Dragon", has fans that claim she is "real" fan and even refers to the series frequently on her blog. This may help the Japanese fans a little bit in being slightly more accepting of this choice, but it sounds like it will certainly be an uphill battle.
Shueisha's official listing website has finally updated with some information about the upcoming Dragon Ball: The Golden Warrior illustration book. The listing included the book's cover and a little blurb describing the book: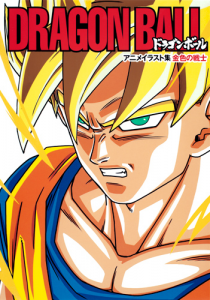 Dragon Ball Anime Illustration Collection
"The Golden Warrior"

Available: April 16, 2010

Retail: ¥1,200 (~$13.00)

Size B5 (17.6 x 25 cm)

Length: 96 pages
Of note is the size of the book (B5), which will make it the same size as the daizenshuu. However, at only 96 pages, it is about half the size of Daizenshuu 1: Complete Illustrations. You can grab the book from Amazon Japan at the full retail price — expect a review as soon as ours comes in. Hopefully this illustration book does well enough to give Shueisha an excuse to release more!
It seems like the last remnant of the Trimark/Lionsgate sub-licensing disaster is about to finally come to a close. When FUNimation began dubbing the franchise with the first series back in 1995, home distribution was sub-licensed to what eventually became absorbed into Lionsgate. Word on the street was that said sub-license (for the first 13 episodes and first movie) was "indefinite" and even FUNimation representatives were unable to concretely-comment on how or if that would ever be resolved. When we contacted Lionsgate almost exactly one year ago for comment on the situation, we were referred to their legal department who claimed that such information was not something they would share.
Fast-forward to July 2009 when FUNimation confirmed the worst-kept-secret of the day — they would be re-releasing the first TV series in a new "remastered" format, which would include the first 13 episodes fully uncut for the first time ever in North America.
Over the last couple weeks, folks have discovered that the latest issue of Otaku USA magazine has a review of a supposed upcoming new release of the first series' first movie (domestically titled Curse of the Blood Rubies).
Interestingly, the review seems to hint at the inclusion of the original, edited dub (which used a replaced musical score and FUNimation's first voice cast from Canada). I reached out to Daryl Surat, the author of the review, for some extra clarification. He noted that the final disc had not been completed at the time of review, but was informed it would not include a re-dub of the movie, and would be uncut.
At this point, we still do not have final clarification, though we have also reached out to FUNimation themselves. Will it contain two video tracks, one for the original Japanese version, and one for the old/edited dub (which actually spliced in TV footage at certain points)? Was an uncut dub of the movie never produced with their current cast?
Most importantly, a RightStuf listing for the disc has recently popped up with a release date of 27 July 2010 and an MSRP of $14.98. While listed as "hybrid" (indicating two audio tracks), this could also just be a mislabel or placeholder. At the very least, we know it is coming and it will probably contain at least the original Japanese version uncut, and it will be the first time the movie has ever been released in that fashion in this part of the world. That's a win for everyone.
Our buddy EvilGamerX already nailed the May 24th, Monday through Thursday news about (Z) Kai for us several weeks back, so you were already up-to-speed on that, right? He also tossed out there that 8 pm was being discussed as a possible broadcast time, though that was still up-in-the-air. Whether convenient rumor or not, plenty of folks are discussing a seemingly-concrete 8 pm broadcast time across the internets this week, pointing to a supposed commercial that has yet to make its way online. File it as "rumor" for now, but it seems to have some legs.
Our buddy Haseowolf once again comes in strong with some RightStuf information, this time showing their latest brochure with a 14 September 2010 release part for "Part Two" of Kai from FUNimation.
That seems like a rather long time between releases with "Part One" coming out in just a few weeks on 18 May 2010. Does the Nicktoons broadcast somehow come into play here? Possibly. FUNimation has a flip-flopping past of having some aspects of the franchise appear first on television and some appear first on a home release, so there is really no consistency to point back to as a solid precedent. There is also the issue of Blu-ray region coding being the same (Region A) for the US and Japan, so there may be a release schedule stipulation in the contract from Toei.
This week on the show, Hujio and I go it alone! We have tons of news to catch up on and discuss, including (but not limited to!) all of the (Z) Kai broadcast shenanigans. For our topic, we dive back into the Freeza arc and closely examine Vegeta and his one-on-one rivalries. Some of them are quite obvious and receive a good amount of exposition, while characters like Dodoria and Zarbon just seem to be in his way. How does he handle all of them, and what does it tell us about his character? Download the show now, or head on over to the podcast page for more information or to subscribe.
SHOW DESCRIPTION:
Episode #0216! VegettoEX and Hujio go it alone this week diving into all of the news. Birthdays, anniversaries, new books and video games, "Kai" updates both in Japan and the US (including Nicktoons censorship)… we have some busy times going on these days. We also discuss Vegeta's one-on-one rivalries during the Freeza story arc, most notably with Kewi and Ghurd. April's releases and other jabber round out the episode!
REFERENCED SITES:
Daizenshuu EX: The Podcast - Episode #0216
[ 1:00:44 ]
Play Now
|
Play in Popup
|
Download
The next three episode titles have been leaked early for Dragon Ball Kai — here is a quick run-down of what to expect in the upcoming weeks:
Episode 054 – April 25, 2010
「宇宙に消えた悟空…甦れ!超戦士たち」
"Goku Vanishes in Space… Super Warriors, Return to Life!"
Episode 055 – May 2, 2010
「あれが地球だよパパ…フリーザ親子の逆襲」
"That's Earth, Papa… Freeza and his Father Strike Back"
Episode 056 – May 9, 2010
「フリーザはボクが倒す!もう一人の超サイヤ人」
"I'll Defeat Freeza! Another Super Saiyan"
As you can see, the series is jumping straight from Freeza's demise on Planet Namek to his arrival on Earth. This is great to see, since it follows suit with the manga, but it also means we get to say goodbye to the Garlic Jr. arc. No matter how you feel about this change, it does appear that we will indeed be seeing Trunks in episode 55. Just as a reference, Trunks did not appear in Dragon Ball Z until episode 119. Also, although nothing official has been stated yet, many Japanese sources are indicating that Takeshi Kusao will in fact be reprising his role as Trunks in Kai. This is not really all too surprising, considering he is still voicing Trunks in all of the recent video games, but I will feel even better once it is officially announced.
It is a very loose connection to be drawing for a news update, especially on a site where we so strictly focus on just one of Toriyama's series… but we will make a slight exception since there are crossovers with Dragon Ball.
According to ICv2, Toei will be shopping the rights to at least one of the Dr. Slump TV series at MIPTV in Cannes, France next week. At one point in time in the 1980s, the series was briefly held by Harmony Gold, who also did a brief test-run of the Dragon Ball series and movies. Since then, all we have had in North America has been a censored manga release from Viz.
Us fans of 1980s-1990s anime might have a lot of good things to be looking forward to in the near-future!