1411 October 2015

This is Every Last Bit of My Power!
The Battle of Gods Concludes!
"Super" News ∙ Series Info ∙ Episode List
Namco-Bandai has posted a ¥29.08 billion (approximately $319 million) loss for the fiscal 2010 year.
In terms of Dragon Ball overall, the franchise dropped in net sales from ¥15.8 billion in 2009 to ¥12.5 billion this fiscal year, and the company is forecasting an even sharper drop down to ¥8.5 billion for fiscal 2011 with ¥3.0 billion of that in the first half. While not concrete, an educated guess leads us to believe that stronger (or at least more numerous) releases will come in the second half of the next fiscal year.
As for individual games, there were 700,000 copies of Dragon Ball: Raging Blast shipped worldwide in fiscal 2010. This was the only Dragon Ball game in the company's "Top 10 Game Titles" for the fiscal year, meaning that any worldwide sales of the latest DS and Wii games would be lower than approximately 400,000 copies shipped — it is at least somewhat relevant to note that Attack of the Saiyans was released significantly earlier in Japan than it was in the rest of the world, however.
In terms of general toys and hobby merchandise (non-video games), the franchise dropped in net sales from ¥3.7 billion in fiscal 2009 to ¥3.0 billion this fiscal year. The forecast for fiscal 2011 is ¥2.7 billion, with a mere ¥1.0 billion forecast for the first half of the year.
All across the board sales are down, and fiscal 2011 is not looking much brighter, though the second half sounds like it might be better than the first.
The Amazon listing for FUNimation's re-release of the first Dragon Ball movie has recently gone online, and also includes a trailer for the product.
No concrete release date is given in the trailer (just a "Coming Soon" ending splash). Nowhere in the trailer are any words such as "uncut" or "unedited" or "Japanese" used, a major departure from anything as-of-late from FUNimation. Furthermore, observant fans in our forum's dedicated thread have pointed out scenes from Dragon Ball TV episode 2 — scenes that were spliced into FUNimation's edited dub of the movie from 1995, which contained the original Canadian voice cast and replaced musical score.
Based on what we heard last month, this upcoming release would include the original Japanese version uncut, but would not include a re-dub.
We have been unable to get solid clarification as to what this release will actually have. Here is what we think:
POSSIBILITY #1: UNCUT, JAPANESE + SUB ONLY
ANALYSIS: The day that FUNimation releases a sub-only Dragon Ball product is the day I truly eat my own shorts. We can pretty safely assume that some version of an English dub will appear on this disc.
POSSIBILITY #2: UNCUT + JP + SUB / EDITED + DUB
ANALYSIS: If the information is true about it being both "uncut" and not having a re-dub, the only way for it to work would be to have two video tracks: one for the original Japanese version, and one for the edited, English-dubbed version from 1995 with the first FUNimation voice cast and replaced musical score. If what we hear about the movie not having a re-dub is true, this option might make the most sense.
POSSIBILITY #3: EDITED, ENGLISH DUBBED ONLY
ANALYSIS: FUNimation has not released a dub-only (including an edited, dub-only) Dragon Ball product in many years, and it was always accompanied by an uncut release to go along with it. Releasing a stand-alone disc with the edited 1995 dub that contains neither the original Japanese musical score nor their current voice cast seems incredibly unlikely and out-of-character for the company.
POSSIBILITY #4: UNCUT, JP + SUB / DUB
ANALYSIS: It makes the most sense in the modern world for FUNimation to re-dub the movie (uncut) with their current voice cast and release a standard, dual-language, unedited release. If what we hear about it not having a re-dub is true, though… that alone might toss this option out the window.
While Amazon is still listing a 27 July 2010 release date, RightStuf has shifted to a 28 December 2010 release date. The trailer says "Coming Soon", which leads us to believe the July date is more accurate.
Sadly, the trailer leaves us with just as many questions as it does answers. Other than some auxiliary features, this remains the only primary feature presentation for the franchise that has never seen an uncut / Japanese release in North America. Since North American distribution does not affect Japanese releases in any way, the movie was released both as a part of "Dragon Box: The Movies" (2006) and on individual DVD (2009) — we gave it an in-depth look and review back on Episode #0112 of our podcast if you want to dive in with us ahead of this domestic re-release.
EDIT: Just heard back from FUNimation that the release has indeed been pushed back to later this year. What does this hold for us? I guess we will find out… well… later this year!
C21Media.net is reporting that Toei has licensed the Dragon Ball Z TV series (along with Saint Seiya) to two "internet and IPTV on-demand platforms" over in France.
Both series are available via Orange's PC and IPTV on-demand service, 24/24 Video, and via Club Video, SFR's IPTV on-demand service. "This is a new way for the fans to have access to these series," said Toei Animation Europe MD Kanji Kazahaya.
We would love to hear from our French visitors about this. Is it the French dub that is available on these services, and is it an uncut version? Have the recent box sets all across Europe (with the exception of the edited German sets!) created a market for a subtitled Japanese version on-demand, or is that left to the physical product?
There are a few things related to Kai and its foreign (that is, outside of Japan) distribution that have been stated and suggested over the last week, such as a possible "alternate" English dub a la the AB Groupe's commission of Ocean & Blue Water Studios in the previous decade for European and Canadian broadcast. We have not been able to get any kind of independent confirmation on any of it, so we will keep it squarely in the "rumor" category for now. Until we have something to report, there just is not a whole lot to talk about!
We knew that a new ending theme from "Team Dragon" (which comprises members from idol power-house AKB48) would be coming with Episode 55 of Kai, which was later revealed to be titled "Kokoro no Hane" ("Wings of the Heart").
We will save the majority of our editorializing for the next podcast episode (and the impending CD single release and review, I am sure [though none has been announced as-of-yet]), but suffice it to say… the ending was pretty much what we all expected. Somewhat unexpected was the vast amount of new footage in the opening theme, "Dragon Soul". While the first half of the opening remains the same as the first two versions, the second half is almost entirely brand-new; the song itself remains exactly the same. The animation showcases some of the new villains (though not showcasing Cell directly, other than hints of his tail), and focuses on Gohan with foreshadowing-esque shots quite often.
Toei Animation's official website for Dragon Ball Kai was updated over night with a nice little face-lift to reflect the upcoming Artificial Human arc. They have also updated the majority of their sections with new information regarding this story arc, in addition to removing their bulletin board. However, they note that the bulletin board is being replaced with a new "special" section which is still listed as "coming soon".
The cast page confirms (but you already knew this, right?) that Takeshi Kusao will be returning to provide the voice of Trunks. It also confirms that both Gyū-Maō (Ox Demon King) and King Cold will be voiced in Kai by veteran voice actor Ryūzaburō Ōtomo, both of which were originally voiced by the late Daisuke Gōri. Ryūzaburō Ōtomo recently stepped into voicing the role of Porunga in the last few episodes of Kai, but most will know him as either the voice of Dabra in Dragon Ball Z or Ryū Shinron from Dragon Ball GT.
The page also confirms the song title of the new ending theme that will air tomorrow with episode 55: "Wings of the Heart" (心の羽根; "Kokoro no Hane"). The new ending theme is being sung by "Team Dragon", which is formed by members of the idol group AKB48. The theme's lyrics were written by Yasushi Akimoto and the song was composed by Kensuke Yoko, who have both worked on AKB48 songs before.
In a press release from this morning, FUNimation and 4Kids have announced an agreement to have their (presumably edited) English dubbed version of Dragon Ball Z Kai air as a part of "TheCW4Kids" scheduling block in the 2010-2011 broadcast season.
4Kids Entertainment Signs Dragon Ball Z Kai for U.S. Broadcast Premiere on TheCW4Kids Saturday Morning

NEW YORK, Apr 26, 2010 (BUSINESS WIRE) — 4Kids Entertainment (KDE 1.08, -0.02, -1.82%) has reached agreement with FUNimation Entertainment and Toei Animation Co., Ltd., to license the U.S. broadcast television rights to the new animated television series "Dragon Ball Z Kai".

Sneak peeks of "Dragon Ball Z Kai" will be seen this summer before the series premieres as a regularly scheduled program on TheCW4Kids Saturday morning block during the 2010-2011 broadcast season. 4Kids will also have "Dragon Ball Z Kai" episodes available for streaming on its popular www.4kids.tv and www.4kidstv.com websites.

Dragon Ball is a Japanese manga series written and illustrated by Akira Toriyama, originally serialized in Weekly Shonen Jump published by Shueisha Inc. from 1984 through 1995. Inspired by the Chinese folk novel Journey to the West, it follows the adventures of Son Goku from his childhood through adulthood as he trains in martial arts and explores the world in search of the seven mystical objects — known as the Dragon Balls — which can summon a wish-granting dragon.

As part of the series' 20th anniversary celebration in 2009, in a project overseen by its creator, Akira Toriyama, Shueisha and Toei Animation remastered the "Dragon Ball Z" series for HDTV, re-edited the series, updated its opening and ending sequences, rerecorded the vocal tracks by most of the original cast, and launched the newly named "Dragon Ball Kai" on Japanese television in April 2009. The series currently rates among the top five animated programs on Japanese television.

"'Dragon Ball' is one of the most popular manga series of the past 20 years, with more than 150 million copies of the book series sold in Japan and North America," said Alfred R. Kahn, Chairman and CEO of 4Kids Entertainment. "We are looking forward to including 'Dragon Ball Z Kai' as a mainstay in our TheCW4Kids 2010 — 2011 Saturday morning programming lineup and making this great series available on American broadcast television."

"We are excited about working with 4Kids to expose this major title to a new generation with a completely updated version," said Gen Fukunaga, President and CEO of FUNimation Entertainment.
Fans had noted how strange it was for Kai to go direct to Nicktoons (a premium cable channel and Internet portal owned by Nickelodeon) when the franchise has such a rich history in North America, previously being broadcast both in standard syndication as well as on the near-universal cable station Cartoon Network. This agreement seems to address those questions with The CW's block, an extension of prior programming blocks such as Kids' WB and 4Kids TV.
As we have been hinting at, 4Kids will also have episodes available for streaming via their websites. It remains to be seen whether FUNimation themselves (having such a successful empire of Internet-broadcasting partner agreements) will stream the series on their own in any way. Current examples of this empire include One Piece, which FUNimation streams uncut versions of entirely on their own both in Japanese and English.
Information is still a little vague at this point, but it appears that Kai will be broadcast on both stations, albeit not necessarily premiering at the same time. Today's press release notes "sneak peaks" will occur "this summer" on TheCW4Kids before it debuts "as a regularly scheduled program on TheCW4Kids Saturday morning block during the 2010-2011 broadcast season".
This is not the first time that the series has been broadcast on separate (even competing) stations at the same time. After Dragon Ball Z took off in the ratings on Cartoon Network starting in 1999, local syndication channels (which were the first to debut the series from 1996-1998) would occasionally air blocks of the first two "seasons" to capitalize on its success, apparently still having the rights to do so. At the same time, the International Channel (later AZN Television) broadcast the entirety of the Dragon Ball Z and Dragon Ball GT TV series in raw Japanese through the turn of the millennium, while the Spanish channel Telemundo ran through the Dragon Ball Z TV series with its acclaimed Mexican/Spanish dub.
The edited dub of Kai from FUNimation is set to debut on Nicktoons on May 24th at 8:00 pm. The unedited home release on DVD and Blu-ray from FUNimation (which includes the original Japanese audio track) is set for release on May 18th. Dragon Ball Kai premiered on Fuji TV in Japan 05 April 2009 at 9:00 am and airs each Sunday morning immediately prior to One Piece as a part of the special "Dream 9" programming block.
Needless to say, 2010 is going to be an interesting year for fandom discussions. For the type of fandom that we serve, let us remind everyone once again that the home release is going to be unedited and will contain the original Japanese audio track. Hurray!
Way back on Episode #0078 of our podcast we reviewed Shoko Nakagawa and her new cover album which featured the lead single "Romantikku Ageru yo", a cover on the DragonBall TV series' closing theme. Here we are almost exactly three years later, and the cat-eating otaku idol is at it again with our favorite series.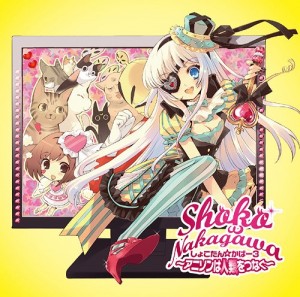 This time she is covering "Detekoi Tobikiri ZENKAI Pawâ!", the first closing theme to the DragonBall Z TV series, along with a TV-sized cover of "DAN DAN Kokoro Hikarete 'ku", the opening theme to the DragonBall GT TV series. Is the CD even worth a listen? A little bit of news discussion, releases for the next few weeks, and a nice little batch of e-mails round out the episode. Download the show now, or head on over to the podcast page for more information or to subscribe.
SHOW DESCRIPTION:
Episode #0218! VegettoEX and Meri take a listen in on Shoko Nakagawa's latest cover album, which includes both a DBZ and a DBGT cover! A little bit of news discussion, releases for the next few weeks, and a nice little batch of e-mails round out the episode.
REFERENCED SITES:
Daizenshuu EX: The Podcast - Episode #0218
[ 39:19 ]
Play Now
|
Play in Popup
|
Download
GameStop is listing Dragon Ball Origins 2 (the domestic release of Dragon Ball DS 2) as coming out 22 June 2010, a date that has not yet been formally revealed by Namco-Bandai, themselves. The game is set at the expected $29.99 price point. GameStop also has cover art for the game, which is identical to the original Japanese release (with the obvious exception of the title change):
I would expect to hear more from Namco-Bandai in the coming days — we are two months off from release on this one, supposedly.
The official Japanese website for Dragon Ball TAG VS on the PSP has gone online. There is still not a whole lot of information about the game just yet, and the site is still showcasing the same four characters previously revealed.