Dragon Ball Evolution, despite its huge build-up in the community, has given us little more than a whimper to discuss after its North American release. It has been essentially considered a flop, especially when you look at its mere $4.8 million take on opening weekend. It only did another $1.5 million this last weekend, so if you were planning on seeing it in theaters and have not done so, your chance is very quickly fading away. Our buddy Tanooki Kuribo let us know that on the date of its theatrical release, Amazon was already taking pre-orders for the DVD and Blu-ray versions of the film. No release dates have been set, however.
Episode #0173 of the podcast is available for download! It's been a crazy week for us here at the Daizenshuu EX headquarters in New Jersey, but things are coming along. Meri and I were able to crank out a show for you this evening mostly talking about episodes 2 & 3 of DragonBall Kai, but there's some other good material in there for ya'!
SHOW DESCRIPTION:
Episode #0173! VegettoEX and Meri take it easy before the big move to crank out a fun little episode talking about episodes 2 and 3 of "DragonBall Kai". There is a lot of neat stuff going on, but where did our pools of blood go…? The rest of April's releases, some great e-mails, and a look at where we're heading rounds out the episode.
REFERENCED SITES:
Daizenshuu EX: The Podcast - Episode #0173
[ 25:22 ]
Play Now
|
Play in Popup
|
Download
Episode #0172 of the podcast is available for download! While we previously reviewed the movie with Julian based on its Japanese theatrical release, we thought it would be worth it to take a second look now that the rest of us had a chance to go see it. We came back with a ton of guests (some old, some new!) to discuss the movie's merits and pitfalls. Anything and everything you wanted to hear discussed was touched upon.
SHOW DESCRIPTION:
Episode #0172! VegettoEX and Meri bring on a slew of guests to discuss the movie we have all been anticipating in some way for what feels like years — "DragonBall Evolution". A group of fans and non-fans give their take on the movie as a whole, its acting, script, special effects, and worth. No matter what you think will be said, it's guaranteed that you'll be surprised in some way.
REFERENCED SITES:
Daizenshuu EX: The Podcast - Episode #0172
[ 1:11:38 ]
Play Now
|
Play in Popup
|
Download
April has turned into such a great month. We have a "new" series currently airing on TV, another Super Exciting Guide was released, and we are only 8 days into the month. What more could you ask for? Well, the mail-in order DVD for the Dragon Ball Jump Anime Tour Special, Heya! Son Goku and Friends Return!!, has finally started being shipped to people in Japan and we got hold of a copy for ourselves.
The true highlight of this DVD is the new ending animation set to the theme "Orange Hero" by jealkb, which until now could not be heard unless you saw the Jump Super Anime Tour special live: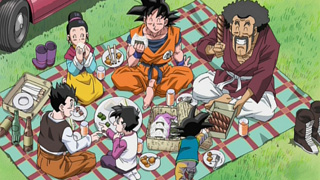 Funny enough, in the credits themselves the theme is credited as "Orenge Hero", even though on jealkb's own website they said the title was "Orange Hero". Looks like someone made a mistake and messed up the English spelling of "orange". Also, there is still no word about an actual CD release for the theme, but now that the DVD is available, maybe that will change.
Chris Roper over at IGN has reviewed the latest Dragon Ball video game, Dragon Ball Evolution for the PSP. Without spoiling too much of the review for you, let us just say that an entire paragraph is essentially the word "square" pasted over and over. Read for yourself.
McKinley Noble over at GamePro also has up a review for the game which seems ever-so-slightly more forgiving.
Our copy shipped yesterday, so look forward to our own take on it here on the website soon.
Episode #0171 of the podcast is available for download! This week is a doozy with us not only doing our regularly-scheduled Volume 26 in the "Manga Review of Awesomeness", but we also start-up the appropriately-titled "DragonBall Kai Review of Awesomeness"…! That's right, mere hours after its debut airing, we already have thoughts for you. Tune in to see what we think about this so-called "refresh" of the TV series, as well as our thoughts on this part of the Freeza arc in the manga. Lots of good stuff for ya'! Definitely check it out.
Apologies on my own mic sound during the non-Kai parts of the episode. Looks like my gain wasn't set as high as I thought it was, and I sound a little like I'm being recorded on someone else's mic. Still highly listenable. Just saying…
SHOW DESCRIPTION:
Episode #0171! VegettoEX, Meri, and Jeff settle in for a monster episode with the debut of the "DragonBall Kai Review of Awesomeness" (as episode one has just aired in Japan), and also Volume 26 in our regular "Manga Review of Awesomeness". How does "Kai" live up to its twenty-year-old original self, and how does Toriyama's continued Freeza arc fare over in the manga? April's releases, great e-mails, some donation item namings, and so much more round out the episode.
REFERENCED SITES:
Daizenshuu EX: The Podcast - Episode #0171
[ 1:20:38 ]
Play Now
|
Play in Popup
|
Download
We have some final confirmation about the most recent guide book, Dragon Ball: Super Exciting Guide – Character Volume, which is set to be released tomorrow in Japan. This manga-specific guide will cover the characters of the series, including both main and minor characters. As with the "Story Volume", a lot of the information in this guide has been printed elsewhere, but that will not stop us from picking it up for reviewing purposes! If you would like to grab it yourself, you can head on over to Amazon Japan — it will set you back a mere ¥630 (~$6.50 US).
As Shueisha did last time, they have posted a couple preview pages from the new guide. You can check out the rest of the pages (10 total) on Shueisha's manga site.
Toei's website for Dragon Ball Kai has announced that none other than Hikaru Midorikawa will be the formal replacement voice for Tenshinhan in Dragon Ball Kai (in place of the late and great Hirotaka Suzuoki). Midorikawa previously played the roles of #16 and Paikuhan in the series, so it will be interesting to see his performance of Tenshinhan.
This very well may be our last post about Dragon Ball Kai before it airs!
Our buddy SSj_Rambo has been keeping us posted on the recent update of Toei Animation's Dragon Ball Kai website. The site has pretty much been completely over-hauled from its original one-page news layout. They have put up pages highlighting the staff and cast, characters, and upcoming episodes. There is also a spot on the main page for next episode preview trailers.
Not surprisingly, Fuji TV's Dragon Ball Kai website has also been updated. Although it did not get anything like an overhaul, they did post a new 30 second trailer, or "Spot Movie", as they are calling it. It is not the best quality, especially when compared to the first HD commercial, but it is better than nothing. Gohan appears in the trailer and helps Goku narrate, and we hear the same background music that was used in the first trailer.
In addition to the trailer, they have also posted a new screen shot. I decided to compare it with the Dragon Box, and believe it or not, this shot is much more interesting than it may appear to be at first glance. You will probably notice right away that it is cropped and re-framed, and also that the color and sharpness are different. However, there is something much more intriguing that you may notice: Gohan has been moved! In the original scene, Gohan and Umigame are never that close to everyone else, since he is wandering out of the shot.

This may be the first time we are seeing proof that any re-animating or manipulation is actually being done… or are we? If you watch the new trailer, this scene is actually shown near the beginning. If you pay close attention, you will notice that Gohan is indeed farther out near the edge of the screen, as is found on the Dragon Box. My theory is that the screen shot posted is simply an old promotional image Fuji TV had lying around that they cropped for their website. This is also supported by the fact that the trailers sharpness and colors resemble those of the Dragon Box, more so than that of the Fuji TV screen shot. Besides, in that shot it looks like Kame-Sen'nin is staring off into the distance at nothing. So to all you comparison people out there, do not look into this screen shot too much like I did, since it is probably meaningless.
Episode #0170 of the podcast is available for download! This week it was just Meri and I, so we dipped back and took a more thorough look at Ayumi Hamasaki's "Rule/Sparkle" CD+DVD single. You heard some general thoughts about it two weeks ago on the show, but tune in for more in-depth thoughts and tons of sample bits. There is also a huge written review over in the new "Reviews" section! All the regular news, releases, e-mails, and the good stuff you have come to expect is also in the show. Definitely check it out.
SHOW DESCRIPTION:
Episode #0170! VegettoEX and Meri go back and give an in-depth review of the deluxe CD+DVD package for Ayumi Hamasaki's "Rule/Sparkle" single. How is the music in general, and then how does it fit in with the DB world? Is it worth purchasing, and if so, should you just upgrade to her new album instead of the single? Lots of great news, April's releases, and your e-mails round out the episode.
REFERENCED SITES:
Daizenshuu EX: The Podcast - Episode #0170
[ 46:54 ]
Play Now
|
Play in Popup
|
Download