Shonen Jump (Issue 44, August 2006)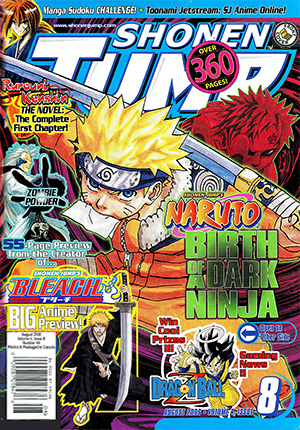 Super Saiyan Gaming
Super Dragon Ball Z Video Game
Publisher: Atari
Developer: Crafts and Meister
Release date: July 2006
Platform: PlayStation 2
ESRB Rating: Teen
Cruisin' for a bruisin'? Think you're the long-lost King of Pain? Then lace up for some serious mano-a-mano action in the latest Dragon Ball Z video game from Atari!
From the creators of the acclaimed Street Fighter II arcade game comes Super Dragon Ball Z, a new, highly intense DBZ fighting experience unlike any other Dragon Ball Z game you've played before.
This game features an all-new DBZ duel system, plus fresh combos for maximum damage! With multiple unique special attacks and fighting styles for all 18 characters (Hey — no pain, no gain!), Super Dragon Ball Z gives players a truly hardcore 3-D fighting experience in the air or on the ground!
Transcription & Notes: VegettoEX