There are so many little bits of information we want to share, but simply do not have a specific section to cover them in. They also do not seem to warrant their own larger section, so what are we to do? Make another new section just for these tidbits o' information! Whether it is simply a collection of small facts, an interesting anecdote, or even a pretty large-scale explanation of something, this is the place to find it.
Historical Tidbits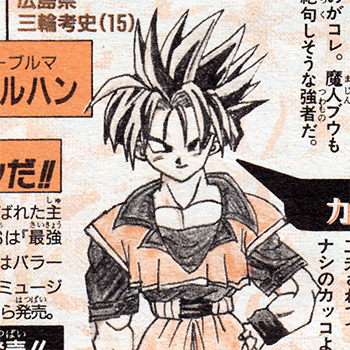 The first in a two-part retrospective looks back at the fusion design contest in Weekly Shōnen Jump from 1995 which gave birth to Piririn and Gohanks, along with a slew of other fan-created designs. The story does not end there, though, as one of the entrants went on to become a famous manga illustrator in his own right, and several characters made return appearances many years later!
Animated Works Tidbits
The anime production staff would often take advantage of any opportunity they could to incorporate non-story aspects of the manga into the anime, such as chapter title pages and even tankōbon cover art. This guide lists all of these influences, along with some neat tidbits about each.

Did you know that Bardock and his crew were actually jointly-created by Katsuyoshi Nakatsuru and Akira Toriyama? View all of the original character designs and notes starting with the character's inception and heading all the way through his most recent productions.

The fabled "OVA" for the Dragon Ball franchise began its life as a Nintendo Famicom game, a two-part VHS "Official Visual Guide" for said video game, a two-part interactive video game on the Bandai Playdia, and eventually a remake included as a part of Raging Blast 2 seventeen years after the original release.

Japan Hero Awards 2007: "Legendary Strongest Hero" Award
This historical program highlighted the achievements and unexpected truths of heroes throughout Japan's history. Son Goku makes an appearance as a special guest commentator, along side Fuji TV announcer Masaharu Miyake, to enjoy the "First Strongest Hero Fighting Tournament" featuring four of Japan's mightiest historical figures.
GT-Related Tidbits

Ever since its original airing in 1997, one of the biggest fandom discussions has revolved around what actually happens to Goku at the very end of Dragon Ball GT. Does he die? Where did he go? What did he become? What is its significance? Is there something I am missing?
In-Universe Tidbits

Throughout the majority of Dragon Ball, very few obvious examples of family names are revealed. What few family names do exist are oftentimes explicitly cited by the characters themselves (e.g., "Son Goku"). Despite this, and perhaps conflated by various international editions, confusion does arise over certain names and whether they are to be interpreted as given or family names.

Though the series ended long ago, additional interview and guide book inclusions have provided even more information about what happens to certain Dragon Ball characters long after both their individual character arcs and the actual end of the story.

There are quite a few different kinds of demons that appear throughout Dragon Ball. This mini-guide details what these different types are, what their Japanese name means, what role they play in Dragon Ball, and any other little things we felt like mentioning.

Did you know that members of the anime production crew created three "Original Illustrated Stories", taking three different characters and developing additional viewpoints from their perspectives? Aya Matsui wrote and Minoru Maeda illustrated this fascinating piece from Trunks' perspective.
Japanese/Translation Tidbits
While the name for the regular, wish-granting Dragon of Earth in the series is "Shen Long," the Evil Dragons in Dragon Ball GT's final arc are named for the Dragon Balls themselves, have a special naming scheme that has unfortunately been overlooked in many adaptations and translations.

This guide is geared more for the general English-speaking fan and covers the various kanji characters featured on clothing or other items throughout the series. We cover aspects such as what they mean, who wears them, and when in the series they are used.

This mini-guide details the various first-person pronouns used throughout the Dragon Ball series; that is, how different Dragon Ball characters say "I". You might be surprised just how many different ways there are to say "I" in Japanese, and how characters change the way they express this over time.
Movie Tidbits

Dragon Ball Evolution was released in Spring 2009. Following its home release on DVD and Blu-ray, it seems to have faded away with little more than a whimper to remind us that it even existed in the first place, but just how did it stick up against the original version of the story?
Video Game Tidbits

Released as a promotional item sent to 1000 V-Jump readers, Dragon Ball Z 2 V was an enhanced version of Dragon Ball Z 2 (Budokai 2), but it was a full stand-alone disc, and not an expansion disc. How did it come to be, and what extras did this special version contain?