ドラゴンボールZ 神と神
Doragon Bōru Zetto Kami to Kami
Dragon Ball Z: God and God / Battle of Gods
Theatrical Version Detailed Synopsis | Special Extended Version Analysis
General Information
Movie Premiere & Promotion
In July 2012 it was announced that production of the Dragon Ball franchise's first theatrical movie in 17 years was underway, and that unlike the franchise's previous movies it would be a singular film not associated with any seasonal event hosted by Toei or tied to any currently on-going television series. Shortly after the movie was announced, and prior to its official title being established, a small flyer featuring promotional artwork by Tadayoshi Yamamuro was distributed. The flyer prominently displayed the movie's tagline, "The mightiest, make their move."
Toei eventually released a teaser trailer for the yet unnamed Dragon Ball Z movie, which was first shown at Saikyō V-Jump Festa on 21 July 2012. The movie's official title, "Battle of Gods", was later confirmed by Shueisha in November 2012 and the official trailer followed shortly thereafter in December 2012. Between then and the movie's release on 30 March 2013, a second full-length trailer and numerous TV commercial spots were released.
Teaser Trailer
Running Time: 37 seconds
Official Trailer (Version 1)
Running Time: 1 minute, 13 seconds
Official Trailer (Version 2)
Running Time: 1 minute, 20 seconds
IMAX TV Commercial
Running Time: 30 seconds
TV Commercial: Battle Edition
Running Time: 15 seconds
TV Commercial: Nakagawa-san Edition
Running Time: 15 seconds
TV Commercial: Enemy Character Edition
Running Time: 15 seconds
TV Commercial: 30 Second Announcement
Running Time: 30 seconds
Along with confirmation of the movie's official title, an advance collaborative ticket for "Dragon Ball Z: Battle of Gods" and "One Piece Film Z", which premiered 15 December 2012, was announced. The tickets went on sale 23 November 2012, with a limited 8,989 (pronounced "waku-waku"; a play on the word "excitement") tickets available. To commemorate the release of these two movies, the collaborative tickets featured special new illustrations by both Akira Toriyama and Eiichirō Oda (author of One Piece). Additional advance tickets for "Battle of Gods" were later sold at the Toei Animation goods booth at Jump Festa '13.
Jump Festa '13 also hosted a 30 minute "Battle of Gods" discussion panel on 22 December 2012. In attendance were Masako Nozawa (Son Goku), Toshio Furukawa (Piccolo), Mayumi Tanaka (Kuririn), Masahiro Hosoda (the film's director), Akio Iyoku (editor-in-chief of V-Jump and Saikyō Jump), and Gyarmath Bogdan (Toei Animation producer). In addition to the movie's discussion panel, the Toei Animation goods booth handed out a promotional pamphlet for the movie which featured the movie's official poster, brief movie character profiles, and a special message from Akira Toriyama.
A second promotional pamphlet, dubbed the "Battle Book", was later released to local stores and movie theaters, which was free to those that stopped to pick it up. This fold-up pamphlet opens with a list of the previous enemies that had appeared in Dragon Ball Z, but introduces Beerus as the strongest of them yet. It also contained a new comment from Akira Toriyama, a very brief introduction to the story, showcased the movie's two special guests, and listed several of the movie's available promotional items.
In the months leading up to the movie's premiere, joint promotional campaigns and product tie-ins were launched with several major companies in Japan, such as Lawson, Mini Stop, Kentucky Fried Chicken, Geo, Ace Cook, and Kirin Beverage. There were also numerous magazines and websites that featured interviews with the movie's staff, voice actors, and original author Akira Toriyama. To even further increase hype for the movie, and promote Akira Toriyama's involvement, a new Akira Toriyama "The World of DRAGONBALL" touring exhibit was also held in Tokyo from March 27th to April 15th, in Ōsaka from April 17th to April 23rd, and in Nagoya from July 27th to September 1st.
Finally, in a last push before the movie's premiere, several Japanese networks re-aired the franchise's original 17 theatrical films and TV specials throughout the month of March. A number of websites, including Google Play, Apple's iTunes Store, Sony's PlayStation Network, the Bandai Channel, and niconico, also began streaming and making available for rent the original 17 theatrical films starting 15 March 2013.
Movie Synopsis
It is several years after the battle with Majin Boo. On North Kaiō's planet, Goku has come over to train, while Kaiō telepathically talks with East Kaiōshin and the Elder Kaiōshin. The three gods are discussing the early awakening of Beerus, the God of Destruction. Kaiō explains to Goku that in this world there are gods who create and gods who destroy. While Goku is eager to fight Beerus, Kaiō warns him that the God of Destruction's power is in a league of its own.
At Beerus' palace, awakening bombs are going off, and his attendant Whis comes to wake him up. Beerus is cranky because he "only" slept for 39 years. They discuss Planet Vegeta's destruction by Freeza, and how Freeza was defeated by the Saiyan Son Goku, who became a Super Saiyan. Beerus remembers that while asleep he dreamed of fighting the "Super Saiyan God", which he believes to be the fearsome foe predicted 39 years earlier by the Oracle Fish. It was in order to fight this prophesied strong opponent that Beerus woke up in this era. Beerus and Whis head for Kaiō's planet to question Goku about Super Saiyan God. Goku has never heard of it before, but respectfully requests a match with Beerus to test his power. Beerus handily defeats Super Saiyan 3 Goku in two blows, then departs for Earth to see if Vegeta and the other Saiyans there know anything of Super Saiyan God.
On Earth, Bulma is throwing a huge birthday party for herself, centering around an elaborate bingo tournament with big prizes, including the complete set of Dragon Balls. While virtually all of her friends and family are there, Vegeta is off training on his own. Kaiō contacts Vegeta and warns him of Beerus, who may destroy Earth if anything annoys him. Vegeta panics when he learns Beerus defeated Goku, and goes to warn everyone, but Beerus and Whis are already there. They question Vegeta, but he knows nothing about Super Saiyan God either. Beerus and Whis decide to stay and enjoy Bulma's party, with Vegeta doing everything in his power to keep Beerus happy.
Meanwhile, Pilaf, Shu, and Mai sneak into the Capsule Corporation grounds in search of the Dragon Balls there. The trio actually managed to gather them all some time ago, but Pilaf wished for youth rather than world domination, and now all three of them are little kids. Trunks stumbles on them, followed by Goten. Trunks claims that Mai is his girlfriend, while Mai secretly steals the Four-Star Ball to hold for ransom. When the bingo tournament begins and the theft is discovered, the Pilaf trio holds Trunks hostage at gunpoint. Nobody is very concerned for Trunks' safety, but nevertheless Gohan changes into his Great Saiyaman costume and challenges the Pilaf trio to shoot him. Their bullets have no effect on Gohan, but Videl is accidentally shot in the leg. When Dende heals her, he realizes she is… Videl cuts him off and swears him to secrecy. The Pilaf trio gives up, and everyone forgives them.
Beerus is annoyed that Super Saiyan God still has not shown up and is about to destroy the planet, but Vegeta gets him to calm down by desperately performing a song and dance about bingo. While the tournament finally gets underway, Beerus goes to eat some custard pudding, but finds Majin Boo hoarding them all. Boo refuses to share and attacks Beerus, who finally snaps. A fight breaks out between Beerus and everyone else, but Beerus effortlessly outclasses them all. Meanwhile, Whis wanders off to a nearby sushi stand to eat.
An enraged Bulma slaps Beerus for ruining her party, and when Beerus slaps her back, Vegeta goes berserk and knocks Beerus around. Kame-Sen'nin says Vegeta seems to have surpassed Goku, but ultimately his attacks do nothing against Beerus. Having won, Beerus is about to destroy the Earth again when Goku suddenly appears on the scene. Though Goku still has not solved the mystery of Super Saiyan God, he thinks he might be able to if given a little more time. Using the Dragon Balls, he asks Shenlong about the matter. Shenlong explains that Super Saiyan God was a being accidentally created by pure-hearted Saiyans long ago in order to oppose Planet Vegeta's dominant evil Saiyans. It was produced when five pure-hearted Saiyans infused their light into another pure-hearted Saiyan. However, its power ran out before it could completely defeat the evil Saiyans, so Planet Vegeta once more became dominated by evil Saiyans, and Super Saiyan God was erased from legend.
Now that they know the method, Goku and the rest attempt to produce Super Saiyan God. After some arguing over who does and does not count as "pure-hearted", Gohan, Goten, Vegeta, and Trunks all perform a ritual to donate their power to Goku. This causes Goku's power to greatly increase, but he has actually done nothing more than gather up everyone else's power and is not really Super Saiyan God. They realize that, per Shenlong's instructions, they need a total of six pure-hearted Saiyans: five to donate power and one to receive it. While everyone despairs of finding another Saiyan, Videl reveals what Dende had learned earlier: she is pregnant with Gohan's child. After briefly celebrating, they perform the ritual again with Videl, and this time Goku successfully becomes Super Saiyan God. Visually he is not much different: his hair is red, he has a thinner physique, and when he fights he emits a fiery red aura. Finally confronted by this "formidable foe", Beerus promises not to destroy the Earth if Goku wins.
The fight begins, and though the two seem evenly matched, Goku feels dissatisfied with Super Saiyan God because he could only reach this level of power with everyone's help. Annoyed at Goku's reservations, Beerus reveals that he still had not been fighting at full power. He gives Goku a tougher fight until Goku reverts back to being a regular Super Saiyan. Goku does not notice and continues to barely keep up with Beerus. Finally, Beerus fires a huge energy ball which Goku struggles to keep from destroying Earth. Beerus explains that while fighting as Super Saiyan God, Goku absorbed that level of power into his own body and has not greatly powered down even after returning to normal. He thinks Goku should finally feel satisfied, since he can fight Beerus with his own power, but Goku cannot push back Beerus' energy ball. As his friends and family cheer him on, Goku briefly becomes Super Saiyan God once more and repels the attack. Out of energy, he surrenders at Beerus' request.
Beerus praises Goku as the second strongest person he has ever fought. It turns out that Whis is not just Beerus' attendant, but his martial arts master as well. Furthermore, Beerus explains that he is the God of Destruction for the Seventh Universe. The world Goku knows is just the seventh out of twelve universes, and Beerus imagines there might be even more incredible people out there. Having won the fight, he starts to destroy Earth as promised, but his attack only destroys a small rock. He says he is out of stamina and will destroy the rest of Earth next time. He and Whis depart, leaving on friendly terms, while Goku and friends continue Bulma's party.
Back at his palace, Beerus tells Whis that Goku was not a truly "formidable" opponent, but that both he and Vegeta might eventually grow strong enough to warrant the term. Whis hits Beerus to put him to sleep for another three years, then tells him to brush his teeth first. Back on Earth, Goku comments on how incredible Vegeta was after Bulma got slapped by Beerus. He had actually been there watching the whole time while everyone was being beaten by Beerus, but did not step in earlier because he wanted to investigate how Beerus fought. Indignant, Vegeta tells Bulma to slap Goku, and she happily agrees.












Original Draft/Design Concepts
Movie Characters
The following original character profiles were translated from the movie's promotional pamphlet, which were later reproduced on the official "Battle of Gods" website. Additional character design comments from original author Akira Toriyama and various production staff members have also been included from a variety of sources.
Beerus, God of Destruction (

破壊神ビルス

; hakaishin birusu)
A god who governs destruction, maintaining the world's balance. Once his wrath is incurred, he'll destroy nearby planets and life, and is a being feared even by the Kaiō and Kaiōshin.

Because there are so many gods in my work… (laughs), I figured, "something humanoid might be difficult, now", so I thought I'd make him a cat. Thinking, "Speaking of feline gods…" I went with an Egypt-esque costume. It gives off a bit of an ominous air, as well, so I'm really pleased with it!
— Akira Toriyama, Weekly Shōnen Jump 2013, Issue #15 (read full Q&A)

In terms of [character] models, I suppose "Beerus", the God of Destruction, was modeled on the 14-year-old cat currently living with us. It's called a Cornish Rex; it's a bit of a rare breed.
— Akira Toriyama, Dragon Ball Chōzenshū 1: Story & World Guide (pp. 28-31)

I had used up human forms, so for Beerus, I thought I'd rather make him cat-like. Speaking of cats, there's Egypt, so I decided on his costume from there. I prefer to have strong characters who don't look strong at first glance. Simple, by contrast, brings out the fear of their unfathomable true nature better than being too showy. I also like how it's ominous.
— Akira Toriyama, Dragon Ball "Full Color Comics" Freeza arc Vol. 4 (read full interview)

Beerus originally had a lizard-like form, but at Toriyama-sensei's idea, he ultimately became an Egyptian-style cat character.
— Tadayoshi Yamamuro, OKStars Interview (read full interview)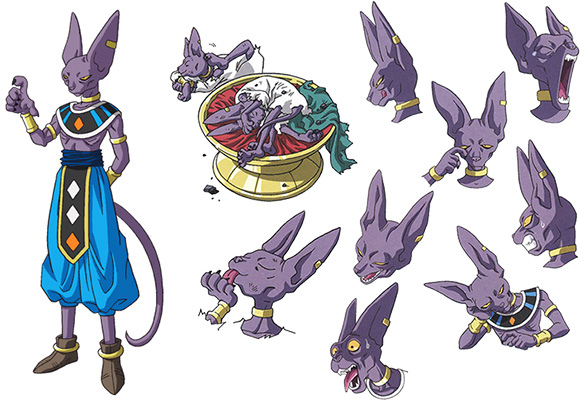 Whis (

ウイス

; uisu)
A mysterious man working in league with Beerus.


"Guess it's about time I brought out a good-lookin' feller, too!" …I thought. (laughs) And so Whis was born. Well, more so than a "good-lookin' feller", he became a character who's sort of naïvely oblivious, but as a result, I came to like this one quite a bit too. So, Beerus and Whis. Bringing them out in sets of two might also be a characteristic of my stories.
— Akira Toriyama, V-Jump "Akira Toriyama Special Interivew" (read full interview)

Whis is a character I came up with, figuring as you might expect, that I needed to bring out a handsome fella, as well. (laughs) I like his air of obliviousness. He's constantly eating delicious things, and he lacks a sense of imminent danger to the point that I wondered whether it was really OK. (laughs)
— Akira Toriyama, Dragon Ball "Full Color Comics" Freeza arc Vol. 4 (read full interview)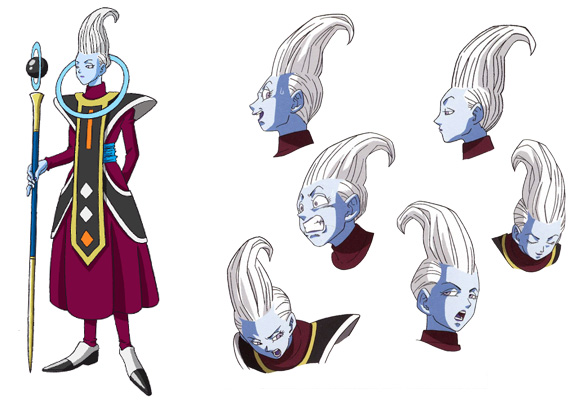 Movie Notes
Listed in Japanese as "Kami to Kami" ("God and God"), along with an English title of "Battle of Gods", this is the first full-length theatrical film for the Dragon Ball franchise in 17 years.
When the movie was initially announced in July 2012 in Weekly Shōnen Jump issue #33, a special comment from original author Akira Toriyama was published discussing his involvement with the movie's production. This would mark the first time that Toriyama had been heavily involved in a movie's story development, as he had previously only provided and reviewed character designs for prior Dragon Ball movies. More information about Toriyama's contributions to the animation-side of the franchise can be found in our Production Guide.
Confirmed by the movie's script writer, Yūsuke Watanabe, the story takes place some time between manga chapters 517 and 518, a decade's worth of time not shown in the series between the defeat of Majin Boo and the 28th Tenkaichi Budōkai (incidentally, the exact same time frame that the 2008 "Jump Super Anime Tour" special took place).
To help fund the movie's production and promotion, Toei Animation was granted 50 million yen as part of the non-profit organization UNIJAPAN's "Co-production Certification Program". The program was developed by the Japanese government's Ministry of Economy, Trade, and Industry (METI), and other affiliated organizations, to support the international endeavors of Japanese filmmakers. Of the four films awarded funding support in 2012, "Battle of Gods" was the only animated film to receive such an honor due to its "enduring international popularity" and its production collaboration with the U.S. company Fox.
Masakazu Morita, perhaps best known to general Weekly Shōnen Jump fans for voicing Ichigo Kurosaki in the Bleach anime series, previously played Vegeta's younger brother Tarble in the 2008 "Jump Super Anime Tour" special.
The movie featured two special guest voices, olympic gold-medalist jūdō-ka Kaori Matsumoto and voice actress/singer/TV-personality Shōko Nakagawa. A third, unadvertised cameo is made by Fuji TV announcer Shin'ichi Karube, who plays the sushi-seller accosted by Whis; as Karube is a noted bow-tie wearer, his character's hachimaki is tied in a bow.
Name Puns
Scriptwriter Yūsuke Watanabe revealed in an interview in the May 2013 issue of GetNavi magazine that the name pun for the movie's "Beerus" character was derived from an approximation of the word "virus" in Japanese.


When I participated in the meetings, there was already talk of, "we'd like to come out with a being surpassing Super Saiyan 3. It would be a Super Saiyan God". Also, the name of the enemy 'Beerus, God of Destruction' is something I came up with. I tweaked the word "virus" to give him the name "Beerus", and then it was officially set. That's probably the thing that moved me most this time. (laughs) Incidentally, Toriyama-sensei is the one who named Whis.
— Yūsuke Watanabe, GetNavi May 2013 Issue (read full interview)

Initially in Japan the word "virus" was taken directly from Chinese, written as

病毒

(byōdoku), but this has since been phased out of use. In 1953, the "Japanese Society for Virology" established an alternative Japanese approximation of the word based on the original Latin pronunciation, which is written in katakana as

ウイルス

(uirusu). However there was much confusion, as the "Japanese Association of Medical Sciences" had begun using a different approximation based on the German pronunciation of the word, which is also written in katakana as

ビールス

(bīrusu). In general, the former katakana approximation (

ウイルス

) is the more common of the two these days. The latter of the two approximation is still used, although chiefly within the medical field. In addition, the horticultural field uses yet another approximation,

バイラス

(bairasu), which is derived from the English pronunciation of the word.
Beerus's name is based on the German pronunciation of the word "virus".

ビールス (bi·i·ru·su) › ビルス (bi·ru·su)

The naming of Beerus's attendant Whis, on the other hand, is more convoluted. While Watanabe's statement suggests that Whis's name is based on the original Latin pronunciation of the word "virus", this is simply coincidence: in fact, Akira Toriyama mistook "Beerus" as being derived from "beer", and responded in kind when naming the character's attendant.


The name Beerus, I used as-is from the story outline. Anyway, it's apparently a name that was taken from "virus", but I mistakenly thought it came from "beer", and gave his attendant the name "Whis", which I took from "whiskey".
— Akira Toriyama, Asahi Shimbun Digital interview (read full interview)

The interview notes that according to Shueisha, "Beerus" officially comes from "beer", and "Whis" from "whiskey" (ウイスキー uisukī in Japanese).

ウイスキー (u·i·su·ki·i) › ウイス (u·i·su)
Movie Credits
The cast credits are listed as originally presented in the feature in order of character importance within the series. For more detailed information about the series cast, visit the Cast Guide.
Cast Credits
孫悟空

Son Goku

孫悟飯

Son Gohan

孫悟天

Son Goten

野沢雅子

Masako Nozawa

 

 

ブルマ

Bulma

鶴 ひろみ

Hiromi Tsuru

ベジータ

Vegeta

堀川 亮

Ryō Horikawa

亀仙人

Kame-Sen'nin

佐藤正治

Masaharu Satō

クリリン

Kuririn

田中真弓

Mayumi Tanaka

ピッコロ

Piccolo

古川登志夫

Toshio Furukawa

ヤムチャ

Yamcha

古谷 徹

Tōru Furuya

天津飯

Tenshinhan

緑川 光

Hikaru Midorikawa

トランクス

Trunks

草尾 毅

Takeshi Kusao

ビーデル

Videl

皆口裕子

Yūko Minaguchi

チチ

Chi-Chi

渡辺菜生子

Naoko Watanabe

牛魔王

Gyūmaō

大友龍三郎

Ryūzaburō Ōtomo

サタン

Mister Satan

石塚運昇

Unshō Ishizuka

ウーロン

Oolong

龍田直樹

Naoki Tatsuta

ブウ

Boo

塩屋浩三

Kōzō Shioya

18号

No. 18

伊藤美紀

Miki Itō

ピラフ

Pilaf

千葉 繁

Shigeru Chiba

シュウ

Shuu

玄田哲章

Tesshō Genda

マイ

Mai

山田栄子

Eiko Yamada

バブルス

Bubbles

藤本たかひろ

Takahiro Fujimoto

ブルマの母

Bulma's Mom

川浪葉子

Yōko Kawanami

デンデ

Dende

平野 綾

Aya Hirano

界王

Kaiō

八奈見乗児

Jōji Yanami

老界王神

Elder Kaiōshin

田中亮一

Ryōichi Tanaka

界王神

Kaiōshin

三ツ矢雄二

Yūji Mitsuya

神龍

Shenlong

内海賢二

Kenji Utsumi

すし職人

Sushi Chef

軽部真一

Shin'ichi Karube

白バイ警察官

Motorcycle Police Officer

松本 薫

(特別出演)

Kaori Matsumoto

(Special Appearance)

予言魚

Oracle Fish

中川翔子

(特別出演)

Shōko Nakagawa

(Special Appearance)

赤羽根健治

Kenji Akabane

増谷康紀

Yasunori Masutani

藤井ゆきよ

Yukiyo Fujī

一木千洋

Chihiro Ikki

大空直美

Naomi Ōzora

服巻浩司

Kōji Haramaki

福原耕平

Kōhei Fukuhara

照井春佳

Haruka Terui

一ノ瀬 彩

Aya Ichinose

 

ウイス

Whis

森田成一

Masakazu Morita

ビルス

Beerus

山寺宏一

Kōichi Yamadera
Production Credits
原作・ストーリー・キャラクターデザイン

Original Author, Story, & Character Design

鳥山 明

Akira Toriyama

製作

Production

東映

Toei

集英社

Shueisha

フジテレビジョン

Fuji Television Network

東映アニメーション

Toei Animation

バンダイ

Bandai

バンダイナムコゲームス

Bandai Namco Games

村松秀信

Hidenobu Muramatsu

茨木政彦

Masahiko Ibaraki

亀山千広

Chihiro Kameyama

高木勝裕

Katsuhiro Takagi

古澤圭亮

Keisuke Furusawa

鵜之澤 伸

Shin Unozawa

企画

Planning

鳥嶋和彦

Kazuhiko Torishima

森下孝三

Kōzō Morishita

シニア・プロデューサー

Senior Producer

清水慎治

Shinji Shimizu

種田義彦

Yoshihiko Taneda

プロデューサー

Producer

冨永理生子

Rioko Tominaga

ギャルマト・ボグダン

Gyarmath Bogdan

脚本

Script

渡辺雄介

Yūsuke Watanabe

音楽

Music

住友紀人

Norihito Sumitomo

企画協力

Planning In Cooperation With

Vジャンプ編集部

V-Jump Editorial Department

伊能昭夫

Akio Iyoku

寺師大輔

Daisuke Terashi

キャスト

Cast

~~~~

主題歌

Theme Song

「CHA-LA HEAD-CHA-LA」

"CHA-LA HEAD-CHA-LA"

歌唱

Vocals

作詞

Lyrics

作曲

Composition

編曲

Arrangement

FLOW 

FLOW

森雪之丞

Yukinojō Mori

清岡千穂

Chiho Kiyo'oka

FLOW 

FLOW

劇中歌

Insert Song

「HERO 〜希望の歌〜」

"HERO: Song of Hope"

歌唱

Vocals

作詞

Lyrics

作曲

Composition

編曲

Arrangement

FLOW 

FLOW

FLOW 

FLOW

浅川岳史

Takeshi Asakawa

FLOW & 本間昭光

FLOW & Akimitsu Honma

主題歌、劇中歌協力

Theme Song, Insert Song Collaboration

大里洋吉

Yōkichi Ōsato

福岡 毅

Takeshi Fukuoka

関 貴美

Takami Seki

石川将人

Masato Ishikawa

森 重孝

Shigetaka Mori

畠中達郎

Tatsurō Hatanaka

棚瀬浩介

Kōsuke Tanase

牧田 聡

Satoshi Makita

岩崎敦也

Atsuya Iwasaki

山田耕平

Kōhei Yamada

音楽ミュージシャン

Musicians

宮坂Strings

Miyasaka Strings

田代耕一郎

Kōichirō Tashiro

辻本憲一

Ken'ichi Tsujimoto

中西和泉

Izumi Nakanishi

藤田乙比古

Otohiko Fujita

高桑英世

Hideyo Takakuwa

山根公男

Kimio Yamane

今出 宏

Hiroshi Imade

住友紀人

Norihito Sumitomo

山田洋子

Yōko Yamada

藤澤健至

Kenji Fujisawa

山本 蓮

Ren Yamamoto

澤田真人

Masato Sawada

鳥塚心輔

Shinsuke Torizuka

勝俣 泰

Yasushi Katsumata

庄司知史

Satoshi Shōji

大澤昌生

Masao Ōzawa

鶴谷智生

Tomo'o Tsuruya

石原慎一

Shin'ichi Ishihara

東京混声合唱団

Tokyo Philharmonic Chorus

音楽録音

Music Recording

中村"E.T"悦弘

Etsuhiro "E.T." Nakamura

音楽録音助手

Music Recording Assistant

斎藤春樹

Haruki Saitō

Composer Management & Production
Coordinated by

木尾栄子

Eiko Kio

関 真実

Mami Seki

音楽ディレクター

Music Director

小西岳夫

Takeo Konishi

音楽プロデューサー

Music Producer

津島玄一

Gen'ichi Tsushima

島谷浩作

Kōsaku Shimaya

川口真太郎

Shintarō Kawaguchi

音楽協力

Music In Association With

AMUSE

東映音楽出版

Toei Music Publishing

フジパシフィック音楽出版

FUJIPACIFIC MUSIC

Sound City

Ki/oon Music

東映アニメーション音楽出版

Toei Animation Music Publishing

レガートミュージック

Legato Music

製作担当

Production Manager

藤岡和実

Kazumi Fujioka

編集

Editing

福光伸一

Shin'ichi Fukumitsu

録音

Recording

松田 悟

Satoru Matsuda

サウンドエフェクトデザイン

Sound Effect Design

新井秀徳

(フィズサウンド)

Hidenori Arai

(Fizz Sound)

絵コンテ

Storyboard

地岡公俊

Kimitoshi Chioka

山室直儀

Tadayoshi Yamamuro

竹之内和久

Kazuhisa Takenōchi

細田雅弘

Masahiro Hosoda

作画監督

Animation Supervisor

井手武生

Takeo Ide

薮本陽輔

Yōsuke Yabumoto

大西 亮

Ryō Ōnishi

菅野利之

Toshiyuki Kan'no

島貫正弘

Masahiro Shimanuki

濱野裕一

Yūichi Hamano

原画

Key Animation

稲葉 仁

Hitoshi Inaba

鎌田 均

Hitoshi Kamata

高橋優也

Yūya Takahashi

阿部美佐緒

Misao Abe

伊藤憲子

Noriko Itō

芽野京子

Kyōko Chino

北原広大

Kōdai Kitahara

大田謙治

Kenji Ōta

飯飼一幸

Kazuyuki Ikai

唐澤雄一

Yūichi Katsusawa

佐藤 元

Gen Satō

佐野誉幸

Takayuki Sano

松坂定俊

Sadatoshi Matsuzaka

志田直俊

Naotoshi Shida

楡木哲郎

Tetsurō Nireki

今岡 大

Dai Imaoka

黒崎知栄実

Chiemi Kurosaki

高木有詩

Yūji Takagi

橋本航平

Kōhei Hashimoto

三船智帆

Chiho Mifune

狩野智香

Tomoka Karino

山下 恵

Megumi Yamashita

酒井和栄

Kazue Sakai

中鶴勝祥

Katsuyoshi Nakatsuru

増田信博

Nobuhiro Masuda

青井清年

Kiyotoshi Aoi

竹内杏子

Kyōko Takeuchi

森 円美

Emi Mori

菅野芳弘

Yoshihiro Kan'no

信実節子

Setsuko Nobuzane

加野 晃

Akira Kano

木曽勇太

Yūta Kiso

山下高明

Taka'aki Yamashita

天海扶美子

Fumiko Amami

石上ひろ美

Hiromi Ishigami

青木あさ子

Asako Aoki

佐々木洋平

Yōhei Sasaki

伊藤裕次

Yūji Itō

後藤孝宏

Takahiro Gotō

村田涼一

Ryōichi Murata

徳田大貴

Hiroki Tokuda

山本 勉

Tsutomu Yamamoto

阿部智仁

Tomohito Abe

 

山室直儀

Tadayoshi Yamamuro

井手武生

Takeo Ide

薮本陽輔

Yōsuke Yabumoto

大西 亮

Ryō Ōnishi

濱野裕一

Yūichi Hamano

宍戸 望

Nozomu Shishido

多嘉良敢

Isami Takara

板井寛幸

Hiroyuki Itai

峯岸桃子

Momoko Minegishi

菅谷百合子

Yuriko Sugaya

加治木史

Fumi Kajiki

臼井香織

Kaori Usui

阪野日香莉

Hikari Sakano

孫 家隆

Ietaka Son

倉本真実

Mami Kuramoto

西田政司

Masashi Nishida

紅野華奈

Kana Kōno

李 周鉉

Yi Ju-hyeon

築山翔太

Shōta Tsukiyama

稲田正輝

Masaki Inada

鈴木理人

Masato Suzuki

生水勇気

Yūki Omizu

古家陽子

Yōko Furuya

阿藤久美子

Kumiko Atō

仲川明希

Haruki Nakagawa

二宮奈那子

Nanako Ninomiya

高波祐太

Yūta Takanami

井上高宏

Takahiro Inoue

山本真夕子

Mayuko Yamamoto

周佐祥子

Sachiko Susa

斉藤 香

Kaori Saitō

小柏奈弓

Nayumi Ogashiwa

小原広志

Hiroshi Obara

大藪恭平

Kyōhei Ōyabu

柳 孝相

Yu Hyo-sang

小笠原憂

Yū Ogasawara

阿部俊成

Toshinari Abe

遠藤香織

Kaori Endō

 

動画

In-Between Animation

Rommel Bas

Allan Conti

Fransisco Dela Rosa

Rena Santos

Brian Tibi

富田美穂子

Mihoko Tomita

村越華代恵

Kayoe Murakoshi

水口貴善

Takayoshi Mizuguchi

井上寛子

Hiroko Inoue

山口幸俊

Yukitoshi Yamaguchi

やまざき美穂子

Mihoko Yamazaki

馬渡久史

Hisashi Mawatari

Chris Buenaflor

Rowena Coguia

Juan Orense

Armando Sionosa

Reggienald Villafuerte

中村 忍

Shinobu Nakamura

守本優子

Yūko Morimoto

佐藤友子

Tomoko Satō

野口花梨

Karin Noguchi

下平夕子

Yūko Kabira

大島孝美

Takami Ōshima

 

色彩設定

Color Setting

堀田哲平

Teppei Hotta

色彩設定補佐

Color Design Assistant

竹澤 聡

Satoshi Takezawa

検査

Inspection

高橋 基

Motoi Takahashi

荻野光雄

Mitsuo Ogino

吉沢啓子

Keiko Yoshizawa

瀬口愛子

Aiko Seguchi

多田 歩

Ayumi Tada

本橋政江

Masae Motohashi

石井吉忠

Yoshitada Ishī

 

デジタル彩色

Digital Coloring

Alexander Antonio

Marites Corpuz

Brenda Garduno

Randy Monoy

Eliseo Verdadero

村本織子

Oriko Muramoto

利根川友紀

Yuki Tonegawa

福田友理恵

Yurie Fukuda

加藤英恵

Hanae Katō

安藤佳奈恵

Kanae Andō

松田良平

Ryōhei Matsuda

Emelyn Bernas

Roland Dasilo

Enrico Garduno

Rolan Monoy

Noel Santos

井浦祥子

Shoko Iura

佐藤恭子

Kyōko Satō

高柳有未

Yumi Takayanagi

田村貴子

Takako Tamura

相澤里佳

Rika Aizawa

北川太郎

Tarō Kitagawa

デジタル特殊効果

Digital Special Effects

太田 直

Nao Ōta

下川信裕

Nobuhiro Shimokawa

星野 健

Ken Hoshino

河内正行

Masayuki Kawachi

勝岡稔夫

Toshio Katsuoka

牛山裕美

Yumi Ushiyama

動画仕上進行

Animation Finishing Manager

村上昌裕

Akihiro Murakami

背景

Backgrounds

栫 梓

Azusa Kakoi

保木いずみ

Izumi Yasuki

渡部直哉

Naoya Watanabe

安田梨紗

Risa Yasuda

貴志泰臣

Yasuomi Takashi

加藤 浩

Hiroshi Katō

峯田佳美

Yoshimi Mineta

小嶋しず子

Shizuko Kojima

竹越輝子

Teruko Takekoshi

松ヶ枝恭子

Kyōko Matsugae

小倉一男

Kazuo Ogura

嶋田昭夫

Akio Shimada

酒井良美

Yoshimi Sakai

野村正信

Masanobu Nomura

Ha Dung

Nguyen Hoa

Nguyen Truong

梶原芳郎

Yoshirō Kajiwara

中村理子

Riko Nakamura

坂上裕文

Hirofumi Sakagami

柳田直子

Naoko Yanagita

米川信悟

Shingo Yonekawa

水野友香

Yuka Mizuno

栫ヒロツグ

Hirotsugu Kakoi

 

加藤正樹

Masaki Katō

濱子麻衣

Mai Hamako

友野加世子

Kayoko Tomono

源 恵子

Keiko Minamoto

横山淳史

Atsushi Yokoyama

川久保美冴

Misae Kawakubo

 

鈴木路恵

Michie Suzuki

Nguyen Huy

Doan Khuong

椿 浩幸

Hiroyuki Tsubaki

佐藤 紋

Aya Satō

美術進行

Art Manager

山口彰彦

Akihiko Yamaguchi

デジタル撮影監督

Director of Digital Photography

増元由紀大

Yukihiro Masumoto

デジタル撮影監督補佐

Assistant Director of Digital Photography

後藤晴香

Haruka Gotō

デジタル撮影

Digital Photography

姫野めぐみ

Megumi Himeno

木部さおり

Saori Kibe

藤田利寛

Toshihiro Fujita

北村直樹

Naoki Kitamura

李 首賢

Lee Su-hyun

坂巻哲嗣

Tetsuji Sakamaki

楊 暁牧

Yang Xiaomu

キム・ブチョル

Kim Boo-cheol

牛島あゆみ

Ayumi Ushijima

齊藤祟夫

Takao Saitō

加藤伸也

Shin'ya Katō

林 幸司

Kōji Hayashi

林コージロー

Kōjirō Hayashi

奧井厚子

Atsuko Okui

中村雄太

Yūta Nakamura

大石智一

Tomokazu Ōishi

佐川卓也

Takuya Sagawa

馬場貴子

Takako Baba

柏木健太郎

Kentarō Kashiwagi

山口直人

Naoto Yamaguchi

小林俊介

Shunsuke Kobayashi

内林裕美

Hiromi Uchibayashi

峯崎洋介

Yōsuke Minezaki

玄スジョン

Hyeon Su-jong

朴 孝圭

Park Hyo-gyu

小畑芳樹

Yoshiki Obata

木村健人

Kento Kimura

東海林功

Isao Shōji

田村 仁

Hitoshi Tamura

本山 修

Osamu Motoyama

萩原猛夫

Takeo Hagiwara

戸澤雄一朗

Yūichirō Tozawa

岡野亜友夫

Ayumi Okano

 

大内香苗

Kanae Ōuchi

近藤靖尚

Yasuhisa Kondō

小松 学

Manabu Komatsu

八木昌彦

Masahiko Yagi

 

 

猪鹿倉智幸

Tomoyuki Igakura

 

デジタル撮影プロダクションマネージャー

Digital Photography Production Manager

藤黒素子

Motoko Fujikuro

作本幸大朗

Kōtarō Sakumoto

CG監督

CG Director

宮原直樹

Naoki Miyahara

中沢大樹

Daiki Nakazawa

CGプロデューサー

CG Producer

氷見武士

Takeshi Himi

CGアニメーションディレクター

CG Animation Director

高橋友彦

Tomohiko Takahashi

佐々木一樹

Kazuki Sasaki

井野元英二

Eiji Inomoto

ノブタ コウイチ

Koichi Nobuta

CGアニメーター

CG Animator

みうら

Miura

池谷茉衣子

Maiko Iketani

川崎健太郎

Kentarō Kawasaki

角田瑞紀

Mizuki Tsunoda

デジタルアーティスト

Digital Artist

森田信廣

Nobuhiro Morita

吉田秀一

Shūichi Yoshida

中谷純也

Jun'ya Nakaya

森重孝太

Kōta Morishige

若江達也

Tatsuya Wakae

佐藤号宙

Gōchū Satō

白 智雲

Baek Ji-woon

矢吹 淳

Jun Yabuki

平野雄大

Yūdai Hirano

宮原洋平

Yōhei Miyahara

関 香織

Kaori Seki

鎌田匡晃

Masa'aki Kamata

松本涼一

Ryōichi Matsumoto

高師史靖

Fumiyasu Takashi

加茂鉄平

Teppei Kamo

神谷ももこ

Momoko Kamiya

都田崇之

Takayuki Miyakoda

淡路 健

Ken Awaji

藤原源人

Gento Fujiwara

 

 

湯原正巳

Masami Yuhara

キャラクターモデリング

Character Modeling

宮本浩史

Hiroshi Miyamoto

今井直也

Naoya Imai

米澤真一

Shin'ichi Yonezawa

高村英秀

Eishu Takamura

ロケーションモデリング

Location Modeling

八巻 豊

Yutaka Yamaki

副島貴大

Takahiro Soejima

木島啓介

Keisuke Kijima

田口工亮

Kōsuke Taguchi

小林真理

Mari Kobayashi

Mike De Vera

藤本大吾

Daigo Fujimoto

植木香奈江

Kanae Ueki

海老沢大生

Daisei Ebisawa

升井秀光

Hidemitsu Masui

梶 玲子

Reiko Kaji

是松尚貴

Naoki Korematsu

 

Darril Padua

Marlon Cuadrante

中橋一幸

Kazuyuki Nakahashi

 

エフェクトアーティスト

Effect Artist

土居拓馬

Takuma Doi

鄭 載薫

Hoon Jung-jae

佐藤直樹

Naoki Satō

加藤真一

Shin'ichi Katō

平内貴善

Takayoshi Hirauchi

東海徳亮

Noriaki Tōkai

首藤 拓

Taku Shudō

松浦太朗

Tarō Matsūra

朝倉靖子

Yasuko Asakura

鈴木竜史

Tatsushi Suzuki

 

佐藤龍治

Ryūji Satō

CGテクニカルサポート

CG Technical Support

山田倫之

Noriyuki Yamada

福長卓也

Takuya Fukunaga

山下浩輔

Kōsuke Yamashita

小森俊輔

Shunsuke Komori

CGプロダクションマネージャー

CG Production Manager

桜井正樹

Masaki Sakurai

三輪泰地朗

Taichirō Miwa

今村幸也

Yukiya Imamura

高橋裕哉

Yūya Takahashi

上月章裕

Akihiro Kōzuki

 

編集助手

Editing Assistant

吉田公紀

Kōki Yoshida

録音助手

Recording Assistant

阿部智佳子

Chikako Abe

スタジオエンジニア

Studio Engineer

深井康之

Yasuyuki Fukai

村田桃子

Momoko Murata

デジタル光学録音

Digital Optical Recording

薄井洋明

Hiroaki Usui

記録

Documentation

梶本みのり

Minori Kajimoto

製作進行

Assistant Production Manager

酒井直人

Naoto Sakai

江波和樹

Kazuki Enami

演出助手

Directorial Assistant

伊藤聡伺

Satoshi Itō

佐藤雅教

Masanori Satō

森 大貴

Hirotaka Mori

助監督

Assistant Director

俊藤康徳

Yasunori Gotō

録音スタジオ

Recording Studio

タバック

TAVAC

東映デジタルセンター

Toei Digital Center

河東 努

(ドルビーフィルム・コンサルタント)

Tsutomu Kawahigashi

(Dolby Film Consultant)

森 幹生

(ドルビーフィルム・コンサルタント)

Mikio Mori

(Dolby Film Consultant)

テクニカルコーディネーター

Technical Coordinator

俊藤利実

Toshimi Gotō

タイミング

Timing

小荷田康利

Yasutoshi Konita

オンライン編集

Online Editing

阿部 理

Satoru Abe

デジタルI/O

Digital I/O

佐竹 綾

Aya Satake

佐藤友美

Tomomi Satō

DCPコンプレッショニスト

DCP Compressionist

帆足康洋

Yasuhiro Hoashi

レコーディングオペレーター

Recording Operator

鈴木奈緒美

Naomi Suzuki

ラボマネージャー

Laboratory Manager

大津寄宏一

Kōichi Ōtsuki

フィルムレコーディング

Film Recording

ARRI: Arrilaser

 

現像

Film Development

東映ラボ・テック

Toei Lab Tech

技術協力

Technical Support

東映ラボ・テック

Toei Lab Tech

東映デジタルラボ

Toei Digital Lab

宣伝統括

Publicity Coordinator

相原 晃

Akira Aihara

宣伝プロデューサー

Publicity Producer

土屋 勝

Masaru Tsuchiya

宣伝

Publicity

波多野孝英

Takahide Hatano

高橋大典

Daisuke Takahashi

及川 愛

Ai Oikawa

露木志保

Shiho Tsuyuki

アドバタイジング

Advertising

田口和也

Kazuya Taguchi

高橋遥介

Yōsuke Takahashi

予告篇ディレクター

Trailer Director

里謙二郎

(LAUGH GRAPHICS INC.)

Kenjirō Sato

(Laugh Graphics Inc.)

アドデザイン

Ad Design

古川 健

Ken Furukawa

野田義貴

(ドラゴンフライ)

Yoshitaka Noda

(Dragonfly)

劇場営業

Theater Operations

菅原 史

Fumi Sugawara

ローカル宣伝

Local Publicity

川井俊一

Shun'ichi Kawai

協力プロダクション

A Cooperative Production With

山室作画スタジオ

Yamamuro Animation Studio

スタジオ座円洞

Studio Zaendō

Wish

Wish

か ぐ ら

Kagura

Triple A

Triple A

Toei Animation Phils., Inc.

タケプランニング

Take Planning

ととにゃん

Totonyan

草薙(KUSANAGI)

Kusanagi

手塚プロダクション

Tezuka Production

オレンジ

Orange

神央薬品 CG開発室

Zinō Pharmaceutics: CG Development Office

カプセル

Capsule

グラフィニカ

Graphinica

クリップアンドバイソン

CLIP+BISON

スタジオ・イースター

Studio Easter

バハンエンターテインメント

Bahan Entertainment

レアトリック

Rare Trick

スタジオトゥインクル

Studio Twinkle

@フィルム

@Film

Avid Symphony

フォーリーフジャパン

Four Leaf Japan

青二プロダクション

Aoni Production

旭プロダクション

Asahi Production

スタジオライブ

Studio Live

スタジオMAT

Studio MAT

武遊

Buyū

スタジオグラフィティ

Studio Graffiti

 

ステロタイプスマーチル

Stereotype Smarchill

スタジオPABLO

Studio Pablo

美峰

Bihō

シネグリーオ

Cinegriot

D.A.G

D.A.G.

505事務所

Office 505

アッセフィーノファブリック

Assez Finaud Fabric.

アスラフィルム

Asura Film

 

シアン

Cyan

三晃プロダクション

Sankō Production

アムガ

Amuga

報映産業

Hoei Sangyo

ワタナベエンターテインメント

Watanabe Entertainment

 

「2013ドラゴンボールZ」製作委員会

"2013 Dragon Ball Z" Production Committee

東映

Toei

吉田 順

Jun Yoshida

井上めぐみ

Megumi Inoue

大島 学

Manabu Ōshima

山野宏樹

Hiroki Yamano

フォックス・インターナショナル・プロダクションズ・ジャパン

Fox International Productions Japan

集英社

Shueisha

足立聡史

Satoshi Adachi

稗田 晋

Shin Hieda

フジテレビジョン

Fuji Television Network

情野誠人

Masato Seino

坂上真倫

Marin Sakagami

東映アニメーション

Toei Animation

大西悦代

Etsuyo Ōnishi

津留一己

Kazumi Tsuru

小山弘起

Hiroki Koyama

高柳香織

Kaori Takayanagi

バンダイ

Bandai

小野口征

Masashi Onoguchi

菅原多絵

Tae Sugawara

石田忠也

Chuya Ishida

 

バンダイナムコゲームス

Bandai Namco Games

内山大輔

Daisuke Uchiyama

渥美真紀

Maki Atsumi

橋本邦雄

Kunio Hashimoto

 

助成

Financial Grant

文化庁

Agency for Cultural Affairs

制作プロダクション

Production Company

東映アニメーション

Toei Animation

配給

Distribution

東映

Toei

20世紀フォックス映画

20th Century Fox Movies

美術監修・美術設定

Supervising Art Director & Art Design

加藤 浩

Hiroshi Katō

美術監督

Art Director

栫ヒロツグ

Hirotsugu Kakoi

アニメーションキャラクター設計・総作画監督

Animation Character Design & Chief
Animation Supervisor

山室直儀

Tadayoshi Yamamuro


監督

Director

細田雅弘

Masahiro Hosoda