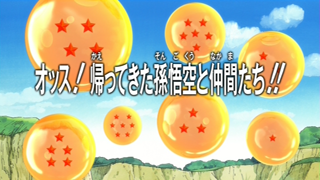 オッス!帰ってきた孫悟空と仲間たち!!
Ossu! Kaette Kita Son Gokū to Nakama-tachi!!
Heya! Son Goku and Friends Return!!
Feature Information
Jump Super Anime Tour
In honor of Weekly Jump's 40th anniversary, Shueisha's annual Jump Festa hosted a tour to 10 cities across Japan entitled the "Jump Super Anime Tour ~The Jump Heroes Great-Gathering~". The tour screened seven newly-animated specials or shorts from popular series serialized in various Jump anthologies, one of which was Dragon Ball. In fact, of all the anime series based on a manga, Dragon Ball was the only one that was not currently running in a Jump anthology.
To attend the "Jump Super Anime Tour", you had to send in an application form printed in Weekly Shōnen Jump, selecting which city (shown below) you would like to attend the tour. Once all of the applications were submitted, a certain number for each city were drawn at random, and those chosen were sent tickets to attend the screening. Following the completion of the tour, Jump streamed three of the specials online for a limited time, free of charge, on their Jumpland website. Not only that, but it was streamed with subtitles in a few languages, such as English, German, and French.
Anime Titles Screened
Dragon Ball – "Heya! Son Goku and Friends Return!!" (~34 minutes)
One Piece – "Romance Dawn" (~33 minutes)
Letter Bee – "Light and Blue Night Fantasy" (~27 minutes)
Bleach – "Colorful Bleach! The Gotei 13's Epic Food Cart Battle" (~15 minutes)
Gintama – "The Birth of the White Demon" (~10 minutes)
Yu-Gi-Oh! 5D's – "The Evolution Duel" (~15 minutes)
Blue Dragon – "Heaven's 7 Dragons – Climax Preview" (~10 minutes)
Tour Dates and Locations
09/21 – Osaka, Japan / "Grand Cube Osaka" – Main Hall
09/27 – Tokyo, Japan / "Hibiya Public Hall"
10/05 – Kagawa, Japan / "Alpha Anabuki Hall"
10/12 – Fukuoka, Japan / "Denki Hall"
10/19 – Hiroshima, Japan / "ALSOK Hall"
10/25 – Okinawa, Japan / "Naha City Meeting Hall"
11/02 – Nagoya, Japan / "Nagoya Public Hall" – Great Hall
11/09 – Nīgata, Japan / "Nīgata Citizens Plaza"
11/15 – Sapporo, Japan / "Doshin Hall"
11/23 – Sendai, Japan / "Sendai International Center" – Great Hall
Feature Synopsis
It has been two years since Majin Boo was defeated and Satan has become a hero for defeating him. However, Videl remembers the truth of those events, and seems to be embarrassed about her father. A gigantic hotel is being built in Satan's honor. Upon completion, Satan decides to throw a party for Goku and the others who fought with him. Meanwhile, Goku, Chi-Chi, Gohan, and Goten have been making their living growing radishes. Videl talks to Gohan over the Internet and asks him to bring his family to the party. At first Goku does not want to go, but he changes his mind once he hears there will be rare foods there.
Kame-Sen'nin, No. 18, Kuririn, etc., all take off for the hotel and give Goku's family a lift. Piccolo decides to not ride along, but rather flies after them on his own. The group from Capsule Corp. arrives at the hotel first, and when Vegeta and Goku see each other, they begin to fight. Goku realizes the party is starting, and heads off to the assembly hall. Apart from Goku's family, Vegeta's family, and Kame-Sen'nin's group, the crowd includes Dende, Mister Popo, Karin, Yajirobe, Yamcha, Oolong, Gyūmaō, Kaiō, Bubbles, Gregory, Kibito-shin, and Elder Kaiōshin.
Despite the fact that there is supposed to be no media coverage of the party, members of the press appear and ask Satan questions about Boo's defeat. While the "Z Warriors" are eating, two Saiyan style spaceships land on Earth. Piccolo and Gohan are the first to notice, then No. 18, and eventually everyone stops eating and the atmosphere becomes tense.
A sharp-eyed Saiyan and a small alien emerge from the two spaceships. Using his scouter to detect higher battle powers, the Saiyan soon arrives at the party. Upon seeing Vegeta, the Saiyan calls him "big brother". The "Z Warriors" are all shocked by this sudden event. The Saiyan introduces himself as Tarble, along with his wife, Gure. Vegeta says that Tarble had been sent off to a remote planet because he had no talent for battle. Tarble begs our heroes to defeat Avo and Cado, who have ravished his planet and pursued him to Earth.
Goku says that if they are strong, he will fight them, and Gohan wants to help as well. Goten and Trunks think it sounds interesting, Kuririn and Yamcha say they want to try as well, and eventually even Kame-Sen'nin wants to fight. Tarble measures Goku's battle power with his scouter, and says he will be of no help since his battle power is so low. Vegeta scolds Tarble for relying on his scouter, and as an example, Goku begins to gather ki. The battle power reading on the scouter steadily increases. It soon breaks as Goku goes Super Saiyan and then Super Saiyan 2, and Tarble is amazed by Goku's power. Goku thinks it will be unfair if everybody fights this weaker enemy, and suggests they select a single representative to fight.
Goku teleports Gohan, Goten, Trunks, Piccolo, Yamcha, Kuririn, Kame-Sen'nin, Videl, Chi-Chi, Bulma, Tarble, and Gure to Mount Paozu (this whole time, Satan, Fat Boo, Kibito-shin, and Elder Kaiōshin have been ignoring Tarble and just go on drinking). Goku suggests that they each draw a radish, and the person who draws the longest radish will be the representative. Goten draws out a very long radish, and it seems he will be the one to fight. This makes Vegeta jealous, and he tells Trunks to pull out an even bigger radish. Pressured by Vegeta, Trunks pulls out a very thin but incredibly long radish, and becomes the representative.
Meanwhile, two other spaceships land on Earth, containing Avo and Cado. Pursuing Tarble, they arrive at Satan Hotel, and a panic erupts. Goku and the others soon return, and things calm down. It turns out Avo and Cado are remnants of Freeza's army, who have taken control of Freeza's planets now that he is gone. Vegeta also knows of them, and says that they were supposed to rival the Ginyu Special-Squad. Tarble says that the two have become much stronger, and that not even Freeza could beat them now.
Goku loses his enthusiasm when he hears that they are "only" at Freeza's level, and decides that it is alright for Trunks to fight them. With some difficulty, he gets Vegeta's permission to let Goten fight as well. At first Avo and Cado underestimate their child opponents, and they get clobbered and knocked into some boulders. They decide to get serious, and they each split into three people.
Trunks and Goten are completely unable to counterattack now that Avo and Cado have become six people. Vegeta advises them to sense their ki and locate the real Avo and Cado, but they cannot do so. Gohan offers to help, but they turn him down. They settle on having Gohan merely tell them where the real Avo and Cado are. With Gohan's accurate advice, Goten and Trunks drive Avo and Cado to the wall.
Cornered, Avo and Cado merge to become even stronger, forming merged Aka. Put on the defensive by Aka's attacks, Goten and Trunks use their secret weapon, Fusion. However, since it has been so long since they have used it, they fail and become fat Gotenks. They eventually succeed on their second try, and Gotenks overwhelms Aka, using Yamcha's Rōga Fū-Fū Ken, Tenshinhan's Haikyū-ken, and to finish him off they use Satan's "Miracle Special Ultra Super Megaton Punch", going Super Saiyan the moment they punch Aka. Aka crashes into a lake and it looks like the fight is over, but…
Aka rises out of the lake and is enraged. He lets out a Wahaha no Ha ("Wahaha Wave"), firing it from both hands and his mouth. It hits Gotenks and causes the Satan Hotel to collapse. Aka then starts shooting energy bullets, damaging each part of the hotel one after the other.
In order to protect his friends, Piccolo deflects an energy bullet with a Makankōsappō. Kuririn uses a Kienzan to save No. 18 and Marron as they are about to be crushed by rubble. Yamcha protects Bulma from the falling rubble by using the Sokidan, Yajirobe saves some people by slicing rubble in half, and Kame-Sen'nin also protects a couple of beautiful women from the rubble.
Goku and Vegeta decide to finish off Aka. They contest over which one of them will defeat him, when Goku points and asks "What's that?!", causing Vegeta to look away. With Vegeta distracted, Goku takes off towards Aka, while Vegeta objects that that was a dirty trick by Goku. Aka fires a Super Wahaha no Ha and Goku counters with a Kamehameha, then nails Aka with a punch with all his heart and soul behind it.
Aka is finally defeated and the battle is over. Videl tells her father that having his hotel smashed was a punishment from God, but brightens his spirits by saying she will help rebuild it. Goku also encourages him, saying that it can be rebuilt, and the party starts again amid the hotel rubble. As the party continues, Goku eats Vegeta's sushi, who eats Goku's Char Siu in return. Angry, the two finally turn Super Saiyan and begin fighting, as everyone else watches in amazement.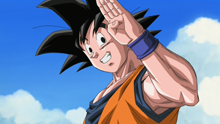 "Ja mata ne!"
Feature Notes
Tarble's name is written in katakana as

ターブル

(tāburu), which is pronounced "tah-ble", and not "tay-ble" like the piece of furniture. In Japanese, the long 'a' sound is often used to indicate an 'ar' sound. For instance, Zarbon's name is written in katakana as

ザーボン

(zābon). While Tarble's name is a pun on "vegetable", as noted below, we feel that simply writing "Table" would lead to too much confusion with the furniture, so we opted for this spelling instead. In addition, the official Jump website and Raging Blast 2 video game have also spelled his name as "Tarble", so it is so far the only official spelling available.
Some may recognize Tarble's voice as that of Ichigo Kurosaki from the Bleach anime series, as he is also voiced by Masakazu Morita.
Although his name is officially listed as "Merged Aka" in the cast credits, this particular name is never actually used in the special itself. Instead, he is simply referred to as Avocado.
After the tour ended an official DVD was announced, and order forms for the DVD release were printed in specific issues of Weekly Shōnen Jump, V-Jump, and Jump SQ. Unfortunately, the DVD was only available through this limited mail-in order form, and has never been widely commercially available in Japan or elsewhere. For information about the DVD release, please visit its respective page in our "Home Video Guide".
In early 2009, V-Jump printed a manga adaptation of the "Jump Super Anime Tour" special drawn by manga artist Naho Ooishi (

オオイシナホ

). The manga was released in two halves, and subsequently in two separate volumes of V-Jump; issue #5 (21 March 2009) and issue #6 (21 April 2009). For more information about Naho Ooishi's official spin-offs, please visit the respective section in out "Manga Guide".
Name Puns
Please note that none of the following name puns have been officially confirmed, unless specifically noted otherwise. These are merely educated assumptions of the creator's intent.
Similar to his older brother Vegeta, Tarble's name is a pun on "vegetable". Vegeta's (

ベジータ

; bejīta) pun is on the first half of "

vegeta

ble", while Tarble's (

ターブル

; tāburu) is on the latter half, "vege

table

". If the two names are combined, and the long vowels that were included for the sake of the pun are removed, the result is a direct match to the Japanese spelling of "vegetable" (

ベジタブル

; bejitaburu).
Avo (

アボ

; abo) & Cado (

カド

; kado) are a combination pun on "avocado" (

アボカド

; abokado). The pun itself is even used in the special when characters refer to Merged Aka as Avocado.
Gure's (

グレ

; gure) name is most likely a pun on the fruit "grape" (

グレープ

; gureepu), which based on the shape of her head seems to be a reasonable conclusion. If you think of her name in terms of her husband, Tarble, it also makes sense. Tarble's name is a pun on vegetable, making her his opposite, a fruit. Also, the fact that color name puns were already used for Red Ribbon Army characters indicates the pun is not on the color "grey".
A grape that is intended for consumption, as opposed to a grape grown for wine or juice production, is referred to as a "table grape". Whether or not this was intentional, it is quite an interesting coincidence.
The technique Merged Aka fires from his mouth is called the "Wahaha Wave" (

ワハハの波

; wahaha no ha). The phrase "wahaha" is widely associated with the sound of evil laughter, and different variants of the phrase are often used in American comic books. In that sense the technique can be thought of as a "wave of evil laughter", which is most likely why it is fired from the mouth.
Feature Credits
All credits listed below are as originally presented in the feature.
Cast Credits
The cast credits are listed in order of character importance within the series. For more detailed information about the series cast, visit the Cast Guide.
孫悟空

Son Goku

孫悟飯

Son Gohan

孫悟天

Son Goten

野沢雅子

Masako Nozawa

ベジータ

Vegeta

堀川 亮

Ryō Horikawa

ヤムチャ

Yamcha

古谷 徹

Tōru Furuya

クリリン

Kuririn

田中真弓

Mayumi Tanaka

ピッコロ

Piccolo

古川登志夫

Toshio Furukawa

ブルマ

Bulma

鶴 ひろみ

Hiromi Tsuru

チチ

Chi-Chi

渡辺菜生子

Naoko Watanabe

ウーロン

Oolong

龍田直樹

Naoki Tatsuta

トランクス

Trunks

草尾 毅

Takeshi Kusao

亀仙人

Kame-Sen'nin

増岡 弘

Hiroshi Masuoka

18号

No. 18

伊藤美紀

Miki Itō

ビーデル

Videl

皆口裕子

Yūko Minaguchi

Mr.サタン

Mister Satan

郷里大輔

Daisuke Gōri

ターブル

Tarble

森田成一

Masakazu Morita

グレ

Gure

西原久美子

Kumiko Nishihara

アボ

Avo

沼田祐介

Yūsuke Numata

カド

Cado

田中一成

Kazunari Tanaka

合体アカ

Merged Aka

増谷康紀

Yasunori Masutani

支配人

Manager

竹本英史

Eiji Takemoto

お姉さん

Young Lady

斉藤佑圭

Yuka Saitō

子供

Child

伊藤かな恵

Kanae Itō

レポーター

Reporter

藤本たかひろ

Takahiro Fujimoto

レポーター

Reporter

岡本寛志

Hiroshi Okamoto

レポーター

Reporter

庄司宇芽香

Umeka Shōji

レポーター

Reporter

日比愛子

Aiko Hibi

ナレーション

Narration

八奈見乗児

Jōji Yanami
Opening Credits
製作

Production

集英社

Shueisha

原作

Original Author

鳥山 明

Akira Toriyama

企画協力

Planning Cooperation

集英社「週刊少年ジャンプ」

Shueisha "Weekly Shōnen Jump"

企画

Planning

梅澤淳稔

Atsutoshi Umezawa

原案

Original Draft

鳥山 明

Akira Toriyama

脚本

Script

小山高生

Takao Koyama

音楽

Music

菊池俊輔

Shunsuke Kikuchi

製作担当

Production Manager

藤岡和実

Kazumi Fujioka

編集

Editing

福光伸一

Shin'ichi Fukumitsu

録音

Recording

阿部智佳子

Chikako Abe

サウンドエフェクトデザイン

Sound Effect Design

新井秀徳

(フィズサウンド)

Hidenori Arai

(Fizz Sound)

デジタル撮影監督

Director of Digital Photography

大貫昌男

Masao Ōnuki

CG監督

CG Director

森田信廣

Nobuhiro Morita

美術監督

Art Director

くらはしたかし

Takashi Kurahashi

色彩設定

Color Setting

辻田邦夫

Kunio Tsujita

キャラクターデザイン / 作画監修

Character Design / Animation Supervisor

山室直儀

Tadayoshi Yamamuro

演出

Director

上田芳裕

Yoshihiro Ueda
Ending Credits
声の出演

Voice Performances

~~~~

協力

In Cooperation With

青二プロ

Aoni Production

オープニング テーマ

Opening Theme

「CHA-LA HEAD-CHA-LA (チャラ・ヘッチャラ)」

"CHA-LA HEAD-CHA-LA"

作詞

Lyrics

作曲

Composition

編曲

Arrangement

唄

Vocals

森雪之丞

Yukinojō Mori

清岡千穂

Chiho Kiyo'oka

山本健司

Kenji Yamamoto

影山ヒロノブ

Hironobu Kageyama

(コロムビアレコード)

(Columbia Records)

エンディング テーマ

Ending Theme

「ORENGE HERO (オレンジ・ヒーロー)」

"Orange Hero"

作詞

Lyrics

作曲

Composition

唄

Vocals

haderu

haderu

elsa

elsa

jealkb

jealkb

作画監督補佐

Assistant Animation Supervisor

井手武生

Takeo Ide

窪 秀己

Hideki Kubo

舘 直樹

Naoki Tate

原画

Key Animation

稲葉 仁

Hitoshi Inaba

鎌田 均

Hitoshi Kamata

福島伸一郎

Shin'ichirō Fukushima

木下和栄

Kazue Kinoshita

菅野利之

Toshiyuki Kanno

久田和也

Kazuya Hisada

大西陽一

Yōichi Ōnishi

袴田裕二

Yūji Hakamada

大塚 健

Ken Ōtsuka

薮本陽輔

Yōsuke Yabumoto

新谷直大

Naohiro Shintani

山下 恵

Megumi Yamashita

飯塚葉子

Yōko Īzuka

金丸綾子

Ayako Kanamaru

田中志穂

Shiho Tanaka

井手武生

Takeo Ide

山室直儀

Tadayoshi Yamamuro

海老沢幸男

Yukio Ebisawa

梨沢孝司

Takashi Nashizawa

上田明美

Akemi Ueda

中鶴勝祥

Katsuyoshi Nakatsuru

福原恵次

Keiji Fukuhara

谷口繁則

Shigenori Taniguchi

仲條久美

Kumi Nakajō

市川慶一

Kei'ichi Ichikawa

白井俊行

Toshiyuki Shirai

比留間梢

Kozue Hiruma

川村敦子

Atsuko Kawamura

高波祐太

Yūta Takanami

片山貴仁

Kiyohito Katayama

小市由佳

Yuka Koichi

山口杏奈

Anna Yamaguchi

舘 直樹

Naoki Tate

 

動画

In-Between Animation

TAP

Toei Animation Philippines

かぐら

Kagura

馬渡久史

Hisashi Mawatari

M.S.J.武蔵野制作所

M.S.J. Musashino Productions

デジタル彩色

Digital Coloring

TAP

Toei Animation Philippines

かぐら

Kagura

M.S.J.武蔵野制作所

M.S.J. Musashino Productions

特殊効果

Special Effects

太田 直

Nao Ōta

牛山裕美

Yumi Ushiyama

背景

Backgrounds

保坂有美

Yumi Hosaka

金山えみ子

Emiko Kaneyama

田中里緑

Satomidori Tanaka

渡部 葉

Yō Watanabe

倉橋 隆

Takashi Kurahashi

青柳ゆづか

Yuzuka Aoyagi

佐藤千恵

Chie Satō

 

編集助手

Editing Assistant

麻生芳弘

Yoshihiro Asō

録音助手

Recording Assistant

松田 悟

Satoru Matsuda

選曲

Music Selection

神保直史

(AUDIO·タナカ)

Tadashi Jinbo

(Audio Tanaka)

記録

Documentation

樋口裕子

Yūko Higuchi

演出助手

Assistant Director

後藤康徳

Yasunori Gotō

製作進行

Assistant Production Manager

大町義則

Yoshinori Ōmachi

美術進行

Art Manager

山口彰彦

Akihiko Yamaguchi

動画仕上進行

Animation Touch-up Progression

村上昌裕

Masahiro Murakami

音楽協力

Music Collaboration

フジパシフィック音楽出版

FUJIPACIFIC MUSIC

コロムビアミュージックエンタテインメント

Columbia Music Entertainment

東映アニメーション音楽出版

Toei Animation Music Publishing

デジタル撮影

Digital Photography

トライパッド

Tripod

大久保悠子

Yūko Ōkubo

川尻絵梨香

Erika Kawajiri

小池瑞穂

Mizuho Koike

伊藤愛聖

Aijō Itō

奥沢太郎

Tarō Okuzawa

森田幾太郎

Ikutarō Morita

CGプロデューサー

CG Producer

氷見武士

Takeshi Himi

CGプロダクションマネージャー

CG Production Manager

梅本麻友子

Mayuko Umemoto

録音スタジオ

Recording Studio

タバック

TAVAC

オンライン編集

On-line Editing

TOVIC

TOVIC

アニメーション製作

Animation Production

東映アニメーション

Toei Animation