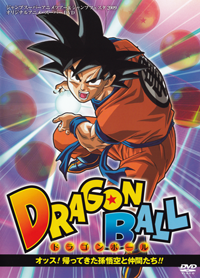 オッス!帰ってきた孫悟空と仲間たち!!
Ossu! Kaette Kita Son Gokū to Nakama-tachi!!
Heya! Son Goku and Friends Return!!
General Information
Tour Premiere Date:
21 September 2008
Online Premiere Date:
24 November 2008
DVD Order Start Date:
20 December 2008
DVD Order Deadline:
31 January 2009

---

Released:
April 2009
Retail:
¥1,600
Catalog Number:
SDVD-014187
Property Holders:
Bird Studio / Shueisha
Manufacturer:
Pony Canyon
Encoding:
Region 2 / NTSC (Japan)

---

Disc(s):
1 disc
Disc Format:
Single Sided / Single Layer
Encoding Format:
MPEG-2
Video Format:
16:9 Letterbox
Running Time:
Approximately 34 minutes
Contains:
"Dragon Ball — Heya! Son Goku and Friends Return!!", plus bonus features

---

Audio Format:
Linear PCM Stereo
Language:
Japanese
Subtitles:
None
Alternate Angles:
None

---

Extra Features:
— Picture labeled discs (uncommon for Japanese DVDs)
— Original Postcard
— Original Mini Clear File
Jump Super Anime Tour
In honor of Weekly Jump's 40th anniversary, Shueisha's annual Jump Festa hosted a tour to 10 cities across Japan entitled the "Jump Super Anime Tour ~The Jump Heroes Great-Gathering~". The tour screened seven newly-animated specials or shorts from popular series serialized in various Jump anthologies, one of which was Dragon Ball. In fact, of all the anime series based on a manga, Dragon Ball was the only one that was not currently running in a Jump anthology.
To attend the "Jump Super Anime Tour", you had to send in an application form printed in Weekly Shōnen Jump, selecting which city (shown below) you would like to attend the tour. Once all of the applications were submitted, a certain number for each city were drawn at random, and those chosen were sent tickets to attend the screening. Following the completion of the tour, Jump streamed three of the specials online for a limited time, free of charge, on their Jumpland website. Not only that, but it was streamed with subtitles in a few languages, such as English, German, and French.
Anime Titles Screened
Dragon Ball – "Heya! Son Goku and Friends Return!!" (~34 minutes)
One Piece – "Romance Dawn" (~33 minutes)
Letter Bee – "Light and Blue Night Fantasy" (~27 minutes)
Bleach – "Colorful Bleach! The Gotei 13′s Epic Food Cart Battle" (~15 minutes)
Gintama – "The Birth of the White Demon" (~10 minutes)
Yu-Gi-Oh! 5D's – "The Evolution Duel" (~15 minutes)
Blue Dragon – "Heaven's 7 Dragons – Climax Preview" (~10 minutes)
Tour Dates and Locations
09/21 – Osaka, Japan / "Grand Cube Osaka" – Main Hall
09/27 – Tokyo, Japan / "Hibiya Public Hall"
10/05 – Kagawa, Japan / "Alpha Anabuki Hall"
10/12 – Fukuoka, Japan / "Denki Hall"
10/19 – Hiroshima, Japan / "ALSOK Hall"
10/25 – Okinawa, Japan / "Naha City Meeting Hall"
11/02 – Nagoya, Japan / "Nagoya Public Hall" – Great Hall
11/09 – Nīgata, Japan / "Nīgata Citizens Plaza"
11/15 – Sapporo, Japan / "Doshin Hall"
11/23 – Sendai, Japan / "Sendai International Center" – Great Hall
Ordering the DVD
Unlike the Dragon Boxes, the process for ordering this DVD was much more complex and limited. Anyone in the world was allowed to order any of the Dragon Boxes as long as the order was placed through an online store, like Amazon Japan, before the deadline ended. However, this DVD release was restricted to those living within Japan and Shueisha even went so far as to specifically note that orders from outside of Japan would not be accepted. Order forms for the three Jump specials seeing a DVD release were printed in specific issues of Weekly Shōnen Jump, V-Jump, and Jump SQ.
To order any of these DVDs, you had to purchase a copy of one of the issues listed below, cut out the order form, and fill it in with the following information: 7-digit Zip Code, Address (in Japan), Full Name, Parents Name, Phone Number, Date of Birth, Gender, and the Quantity of Each DVD. The order form then had to be mailed in and if you met the deadline, you would receive an order confirmation in the mail. You then had until 21 February 2009 to visit a local convenient store listed on the order confirmation to actually pay for your order. Once paid, your order was complete and your DVDs would be shipped to you in early April.
Jump Issues Containing Order Forms
Weekly Shōnen Jump – #4/5 (Dec. 22), #6/7 (Jan. 5), #8 (Jan. 19), #9 (Jan. 26)
Jump SQ – #2 (Jan. 5)
V-Jump – #2 (Dec. 20), #3 (Jan. 21)
DVD Case
The disc comes packaged in a standard white single DVD case with the cover slipped in the outside sleeve. The cover features the same image of Goku drawn by veteran animator Tadayoshi Yamamuro, which was used in virtually all of the promotional images for the Jump Super Anime Tour special. This image is placed over a weird purplish background with the Dragon Balls placed over that. The cover also features a new Dragon Ball logo, which is actually different than the new one used in the special itself. The back of the cover features a short synopsis, along with some screen shots, another newly drawn image of Goku, and a credit listing of the main staff and cast. It should be noted that Gotenks is listed under these cast credits, although he is not actually credited in the special itself and was never credited in Dragon Ball Z (they were credited as Goten and Trunks individually).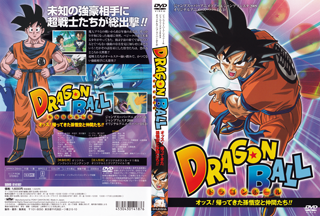 Disc / Contents
The disc is made to look like the Four-Star Ball, which is a nice touch for all Dragon Ball fans. While most other DVD discs from the franchise utilize character illustrations on the disc image, its simplicity in this case makes it work really well.

Single Disc
—
オッス!帰ってきた孫悟空と仲間たち!!
Ossu! Kaette Kita Son Gokū to Nakama-tachi!!
Heya! Son Goku and Friends Return!!
---
Bonus Features:
Non-Credit Ending
Bonus Feature
The only bonus feature included on the DVD is a non-credit version of the ending animation set to the theme "Orange Hero" by jealkb.



DVD Menus
The DVD opens with a fun "40th Weekly Jump" animation. Sound effects commonly found in manga are shown on the screen and are pronounced as they're shown. To finish things off, the "40th Weekly Jump" logo pops onto the screen.



The main menu is a simple static image of the DVD cover with no music, which is a shame for such an exclusive release. There are two buttons, one to play the special, and another to play the "Non-Credit Ending". Other than this, there are no other menus on the DVD.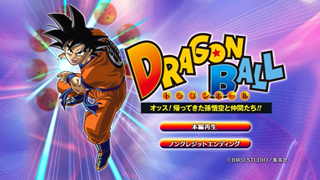 Special Items
The DVD comes packaged with two special items, a mini clear file and a postcard. The front of the mini clear file is transparent, and features an image of the Son family (without Chi-Chi) and the same Dragon Ball logo that was used on the DVD cover. The back of the mini clear file is translucent and features images from the special that have been pieced together, along with images of the Dragon Balls. The file is sealed on the bottom and the left, allowing items to be placed inside the file.
The postcard included features textless version of the DVDs respective cover image. The back of the postcard is nothing fancy (grayscale "Kame" and Dragon Ball logos), but interestingly enough there is actually an area to insert a 7-digit zip code in Japan. So you could technically send this postcard to someone, but why would any fan send this gem to someone instead of just keeping it in their own personal collection?