ドラゴンボールZ 復活の「F」
Doragon Bōru Zetto Fukkatsu no "Efu"
Dragon Ball Z: Revival of "F" / Resurrection 'F'
General Information
Premiered:
18 April 2015
EIRIN Code:
120094
Running Time:
93 Minutes
Box Office:
Unknown
Theme Song:
"Pledge of 'Z'" by Momoiro Clover Z

---

Availability:
"Dragon Ball Z: Revival of 'F'" Special Limited Edition Blu-ray/DVD Box (07 October 2015)
"Dragon Ball Z: Revival of 'F'" Standard Edition Blu-ray/DVD (07 October 2015)
Movie Premiere & Promotion
Following the success of Battle of Gods, the franchise's first film in 17 years, a sequel was announced in mid-July 2014 to debut during the 2015 "Golden Week" holidays nationwide in Japan. Shortly after the movie was announced, and prior to its official title being established, a small flyer featuring promotional artwork by director Tadayoshi Yamamuro was distributed at the Jump Victory Carnival to attendees. The flyer prominently displayed the movie's tagline, "The worst wish in history. That is the beginning of despair.", and a comment from Akira Toriyama on the reverse side.
Toei eventually released a teaser trailer for the yet unnamed Dragon Ball Z movie on 24 July 2014, shortly following its tease on the Japanese morning program Mezamashi TV a few days prior. The movie's official title, "Revival of 'F'", was later confirmed by Shueisha in November 2014, and the official trailer followed shortly thereafter in December 2014. Between then and the movie's release on 18 April 2015, a second full-length trailer was released.
Teaser Trailer
Running Time: 44 seconds
Official Trailer (Version 1)
Running Time: 1 minute, 13 seconds
Official Trailer (Version 2)
Running Time: 1 minute, 22 seconds
TV Commercial: Z Warrior Edition
Running Time: 30 seconds
TV Commercial: Battle Edition
Running Time: 15 seconds
TV Commercial: IMAX3D Edition
Running Time: 15 seconds
Along with confirmation of the movie's official title, Shueisha unveiled the movie's official promotional poster. Shortly thereafter, Jump Festa '15 hosted a 40 minute "One Piece x Dragon Ball Panel" on 20 December 2014, which included Masako Nozawa (Son Goku), Ryūsei Nakao (Freeza), and Mayumi Tanaka (Kuririn). Along with revealing a few elements of the movie's story, the panelists noted that the film's dialogue had not yet been recorded. Additionally, the Toei Animation goods booth handed out a new promotional pamphlet for the movie which featured the movie's official poster on the cover, a very brief introduction and movie synopsis on the inside, and a special message from Akira Toriyama on the back.
In the months leading up to the movie's premiere, an official promotional blog run in-character by "Bulma" opened to provide daily countdown posts, beginning with "Day 59" (Go-kū), with thoughts and comments from various other characters, staff, and voice actors from the movie. Joint promotional campaigns and product tie-ins were also launched with several major companies in Japan, including Kirin Beverage, Lawson, HMV, Kura Corporation, JoySound, Honya Club, Meitetsu, First Kitchen, and Curry House. There were also numerous magazines and websites that featured interviews with the movie's staff, voice actors, and original author Akira Toriyama.
Movie Synopsis
Down in Hell, a gaggle of cute angels and stuffed animals crowd around a lone tree in a verdant field. Encased in a pod suspended from the tree's branches is Freeza, looking thoroughly displeased.
Sorbet, the de facto leader of Freeza's remaining forces, reluctantly orders their withdrawal from Planet 448 as the inhabitants rebel. He inquires of his soldiers' progress in locating the Namekians' new planet, but in spite of their many spy robots, they have found nothing. In disgust, he orders Tagoma, his top lieutenant, to accompany him to Earth to return Lord Freeza to life!
From orbit, Sorbet and Tagoma see that someone besides "that woman" can collect Dragon Balls, and this group already has six! Bringing the Pilaf Trio aboard, the group goes on to obtain the seventh ball at the bottom of the ocean.
Elsewhere, Piccolo is babysitting an infant Pan in front of Mr. Satan's mansion, rocking her cradle with his foot. Videl and Gohan apologize for being late as Piccolo acts embarrassed. He suddenly notices an unusual ki in the distance.
In a rocky, barren landscape, Sorbet orders Pilaf to summon Shenlong, and orders that Lord Freeza be returned to life! Though Shenlong initially resists reviving a chopped-up body, the minions go through with it anyway. Freeza's body lands in a pile of chunks in front of them. The Dragon then demands a second wish, so Shuu hastily wishes for one million zenny. The Dragon takes its leave, leaving Sorbet and Tagoma to collect the pieces of Freeza before departing.
Freeza pieces himself back together in a healing chamber on Sorbet's ship. Freeza emerges in his first form, surveying his surroundings. Sorbet hastily introduces himself, as do his lieutenants Tagoma and Shisami, who Sorbet claims are equal in ability to the late Zarbon and Dodoria. Sorbet suggests reviving his father as well, but Freeza refuses, citing "Papa's" egotism. After killing a random minion and grousing about the state of his own power, Freeza says it will take some time before his revenge. Tagoma attempts to reason with him, suggesting that it would be wiser to simply ignore the Saiyans; Freeza lifts him up telekinetically, then tosses him through the viewport into space. Soldiers are sucked out into the vacuum, as Sorbet orders the shields raised. Sorbet attempts to explain that Son Goku has become much, much stronger since their last encounter, but in spite of this massive power-up, Freeza, who has never trained before in his life, believes that if he trains for a few months, he will be able to surpass even that Saiyan…!
After a brief argument with a Capsule Corporation receptionist, Jaco, a member of the Galactic Patrol, is able to meet up with his old friends Dr. Brief and Bulma. Jaco says he's heard that she was friends with the one who defeated Freeza… who has been revived, and is on his way to Earth with a thousand soldiers! Bulma attempts to summon Whis through a strawberry sundae offering, but when nothing happens, she decides to let everyone know about the situation herself.
Kuririn's arrest of two thugs is interrupted by a call from Bulma. He hurries home to prepare, where he puts on his dōgi, and gets No. 18 to shave his head. He tells his wife and daughter to stay safe. As he flies away, No. 18 whispers, "So cool…."
Goku and Vegeta are sparring against Whis. While both appear to be going all-out, neither is able to touch him, and when they attempt to attack in tandem, they merely get in each other's way. Both are thinking before they attack; they need to let their bodies take the initiative and act. Vegeta is always tense and slow to react, while Goku is too relaxed and open to attack. At this point, Beerus appears: he can't get any sleep with that racket going on. He sneezes, and sends an energy ball hurtling towards a nearby planet, which explodes. Whis complains about the time that he had to fix Beerus' destruction of several nearby suns. Goku is surprised, and asks if Whis can create worlds, but Whis says he can merely rewind time a bit and do things over. Vegeta asks what he is; Whis supposes he is… a life-form called "Whis".
Back on Earth, Freeza's ship arrives, and troops spill out. Earth's fighters can feel Freeza's ki and head in that direction, but not before he, as a greeting, obliterates North City with a single blast.
Gohan purposely avoided telling Goten and Trunks about the impending fight because the two of them might do something rash. Freeza notices the heroes, and singles out the one he remembers killing on Namek. A spaceship arrives and Bulma hops out. She wastes no time in unloading a verbal barrage on Freeza, who responds asking where Son Goku is. She engages in provocation until Kuririn points out to her that Freeza has in fact gotten much, much stronger, like he's a different person. She quickly changes her tune and asks for Freeza to wait until Son-kun shows up, but when Freeza gives only 10 seconds, she unloads on him again. Freeza unleashes his army, while each hero is forced to engage multiple enemies at a time. Freeza dryly notes that Earth's fighters are intentionally avoiding killing their foes.
As the crowd of soldiers thins, Piccolo is taken on directly by Shisami, who proves a more formidable challenge than the others. Gohan steps in, however, and makes quick work of him after becoming a Super Saiyan. Sorbet is horrified, and Freeza says he didn't know how truly fearsome a Super Saiyan was.
Earth's fighters take a senzu each to recover from their fight. Freeza laments the pitiable state of his forces, as one soldier apologizes for being no match for the Earthlings. Freeza comments that their lying around like that is an eyesore, and dispatches them all in an instant.
Freeza eyes Gohan and knocks him down with a single punch. Kuririn panics when he realize that Gohan has no pulse. There's no way for him to eat a senzu like this, either…! Piccolo uses a kiai as a form of chest-compression which gets Gohan's heart beating and enables him to down the second-to-last senzu.
The Oracle Fish shows up to tell Whis that there was a message for him earlier. Whis is excited at the thought of there being something tasty waiting for him, but his joy is quickly interrupted by Bulma shouting at him for not getting back earlier and that Freeza has returned. Whis notes that it would take 35 minutes, but Bulma interrupts to tell Goku to just teleport there already!
Goku tells Vegeta to hurry up and grab his hand, which flusters him. Goku reminds him that if they don't hurry, Bulma might get killed, and he reluctantly puts his hand in Goku's. The two of them disappear from Beerus' planet.
Goku teleports to Earth, and Vegeta hastily lets go of his hand. Freeza speaks of his suffering in Hell, but at last the day of his revenge has arrived. He can't bear the thought of Son Goku alive, to the point that he trained for the first time in his life. Goku says his power has indeed increased, but he himself has also gotten a lot stronger. Freeza acknowledges that he was caught a bit off-guard, but no matter: this time, he will start fighting right in his final form!
Goku is impressed, and comments that if Freeza weren't such an evil guy, he'd make a good rival. This just annoys Freeza even further. After a moment, he also expresses his confusion at Goku's lack of a Super Saiyan transformation. Goku responds that he does not need to. The two clash, and while the fighting is fierce, it becomes clear to the others that Freeza hasn't landed a single hit. Realizing this, Freeza attacks with a renewed ferocity. However, Goku is not seriously perturbed, and Vegeta starts to get annoyed. Eventually, he flies up to where the two are fighting… and starts fighting against Goku, shouting for him to give him a turn instead. Freeza, misunderstanding the situation, assumes Vegeta still has a bit of loyalty to him, and tells the Saiyan prince to stand back to let him have his vengeance.
Vegeta grudgingly obliges, and Goku and Freeza pause their fight. Freeza is impressed that Goku has improved this much, even if it took him quite a while. Goku senses that Freeza is still hiding something, and Freeza expects the same of him. They agree not to hold back any longer, and Goku goes first, warning Freeza that he won't want to fight anymore once he sees it. He concentrates, and his hair stands on end as he is enveloped by an ethereal blue aura.
Goku says it's hard to explain, but basically it's Super Saiyan with the power of Super Saiyan God. Freeza is glad, then, that he decided to attempt attaining a further transformation. Freeza concentrates, and powers up a great deal, surrounding himself in a blinding light. Freeza acknowledges the cheap name, but refers to it as "Golden Freeza" anyway. Goku is impressed, but it also makes him excited. Goku offers to let Vegeta fight now, but he nervously declines, saying that Freeza's opponent is Kakarrot.
The battle begins in earnest this time, and is much more evenly matched than before. Beerus notes that Vegeta isn't fighting together with Goku, and that the two of them are just too proud. Beerus calls them both fools, which Whis says is just like the God himself.
As he begins to lose the battle, Goku compliments how amazing Freeza is, to have come so far when it took him so long to get this strong. Freeza is apparently tickled by this, but says it won't do him any good. It is then, however, that Freeza notices the presence of Beerus, who complains that Freeza is going to get dust all over the food if he doesn't fight somewhere else.
Goku thinks Freeza should quit while he's ahead and go home: after all, they've spotted his weak point. Freeza is incredulous, but Vegeta pointedly explains that Freeza, consumed with the idea of revenge, probably came to Earth as soon as he achieved his "Golden Freeza" form. He hasn't had time to get used to it, so it's rapidly consuming his strength.
After holding him under water for a bit, Freeza sends a volley of energy blasts after Goku, who manages to evade or deflect them all. Finally, Freeza manages to land a solid punch directly to Goku's face… but Goku is completely unfazed.
Finally, Goku launches a massive Kamehameha at Freeza, which he attempts to repel with a blast of his own. It is no use, however; the tyrant is utterly defeated. As Goku stands above him, Freeza hauls himself up on the water's edge, erupting in rage and humiliation… followed by a smirk. Just then, a bolt of energy comes from behind Freeza and pierces Goku straight through the heart: it was Sorbet with his ring. Freeza then takes out his pent-up rage on Goku, kicking and stomping on his chest repeatedly.
Freeza gloats over Goku's softness, mocking the "bad habit" of letting down his guard that left even his powerful body vulnerable to a mere beam attack. Freeza offers to let Vegeta have the final blow against the Saiyan he hates. Vegeta flies over, calling Goku an idiot for not listening to Whis' warnings. However, he also refuses to kill him, saying that as much as Goku pisses him off, he needs him around for his own purposes. Freeza attempts to sweeten the deal, by offering to make Vegeta the supreme commander of his forces. However, Vegeta chooses instead to utterly obliterate Freeza. There's no way he'd have any loyalty to the one who destroyed Planet Vegeta!
Vegeta tells Kuririn to give Kakarrot the last senzu, or else he'll die. Kuririn does so, but Freeza tries to interfere, sending energy blasts towards them. However, Vegeta deflects them away, and one ends up killing Sorbet in a fitting comeuppance. Goku thanks Vegeta for saving him; Vegeta scoffs, and says in exchange, he'll be taking the best part of the fight. Vegeta powers up, and reveals that he can also use the form Goku demonstrated earlier. Freeza freaks out, and unleashes a torrent of energy blasts at Vegeta, but to no avail. What follows is a one-sided beating in which Freeza is humiliated even further, to the point that he even loses his much-vaunted "Golden" form. Back in his fourth form, he pounds against the ground in despair. Standing before Freeza, Vegeta prepares to deliver the final blow…
Freeza sends a ball of energy straight into the ground below him. The Earth's crust cracks and distorts, revealing magma underneath that rushes to the surface. Earth is engulfed in fire, and explodes in a giant shockwave.
Only Beerus, Whis, and those near them survive the destruction, thanks to Whis' barrier. Goku laments not finishing Freeza off when he had the chance. "In that case… why don't you?" asks Whis, as Beerus tells Goku it was his softness that invited Freeza's victory. Goku asks what Whis means, and he responds that he will be turning back time. Goku had best hurry, as he can only go back three minutes. He taps his staff twice on the ground, and the events are undone.
Once again, Freeza is on his hands and knees, with Vegeta preparing to deal the final blow. As Freeza shouts his retort, Goku screams "FREEZA!" and hits him full-force with a massive Kamehameha. Freeza screams in defeat as his body is completely disintegrated.
The moment of relief is broken by Vegeta shouting at Kakarrot for stealing the coup de grâce out from under him. Goku apologizes as Vegeta chews him out for not switching out like he said he would, but Bulma tells him it's all right, and that Son-kun actually saved him. Vegeta demands an explanation.
Beerus says it's unbecoming for a God of Destruction to restore a planet, but Bulma says that as thanks, she'll prepare them a feast… as soon as they restore North City with the Dragon Balls, that is. Whis is pleased. Bulma asks Jaco if it's really all right for him not to be arresting Whis, since control over time is a serious offense.
Even after having things explained to him, Vegeta is less than pleased. Goku tries to add that, like Whis said, if they'd simply fought together from the beginning, none of that would have happened in the first place. Vegeta refuses point blank, saying he'd never do that. Goku laughs and says he feels the same way. Vegeta notes it's the first time they've shared the same opinion on something.
After the credits, the angels and stuffed toys in Hell gather around the tree, shouting "Welcome back!" Freeza is back where he started, suspended once more in his pod.












Original Concept
Following the success of Battle of Gods, both domestically and abroad, the production committee wanted to take advantage of the franchise's significant momentum and the decision was made to move forward with the production of a sequel film. From the onset, it was requested that Akira Toriyama be directly involved with its production.

After the last movie premiered, the momentum was high to go make another movie without leaving too big of a gap between the two, but it was decided to have Toriyama-sensei write the script next. We conveyed just how strongly everyone involved felt about it, and Shueisha and Toriyama-sensei gladly agreed.

— Norihiro Hayashida, Flying Postman Press, April 2015 Issue (read full interview)

Once the theme, of Freeza's resurrection at the very least, was set, since Freeza is an extremely distinct character, even a forgetful person like me remembered him well. Plus, this time I had also decided to increase the amount of action scenes, so more and more story ideas came easily. All I had left was [to decide] how to upgrade the rejuvenated Freeza. Luckily, the characters of Beerus and Whis, who I took some hints for from the scriptwriter for the last movie, Battle of Gods, stood out plenty already. Combining these [elements] together, the story was completed smoothly, which is rare for me.

— Akira Toriyama, V-Jump, May 2015 Issue (read full comment)
Akira Toriyama's Character Designs
In addition to establishing the original concepts for the movie and writing its script, author Akira Toriyama also provided all of the movie's initial character designs.
Golden Freeza (

ゴールデンフリーザ

; gōruden furīza)
After training for the first time in his life, Freeza achieves an "ultimate evolution" in power, transforming him into what he dubs, "Golden Freeza".

Since there was no way I could possibly make his design any simpler than it already was, I opted to mostly just change his color. This color feels strongest, maybe because I associate it with Gold Medals?

— Akira Toriyama, Dragon Ball Volume "F"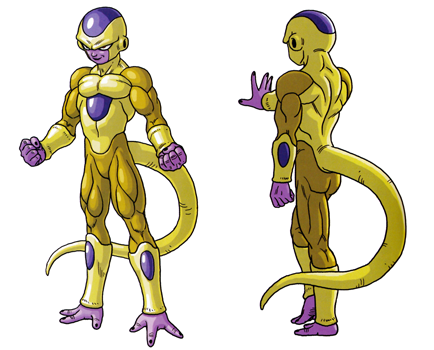 Super Saiyan God Super Saiyan (

超サイヤ人ゴッドSS

; sūpā saiya-jin goddo sūpā saiya-jin)
Akira Toriyama further expanded on the concept of the "Super Saiyan God" transformation featured in Battle of Gods by incorporating its power into that of a Super Saiyan. As Toriyama explained it, and as Son Goku similarly mentions in the movie, "This Super Saiyan is a Saiyan with the power of Super Saiyan God".

Son Goku
I made his hair light blue to express how "by overcoming a certain limit he has become both strong and tranquil, able to keep his composure in a fight".

Vegeta
I gave Vegeta black clothes because I figured that maybe Bulma had modified his combat uniform to add some slight improvements. On that note, it was constructed by the [Capsule Corp.] development branch under Bulma's instructions.

— Akira Toriyama, Dragon Ball Volume "F"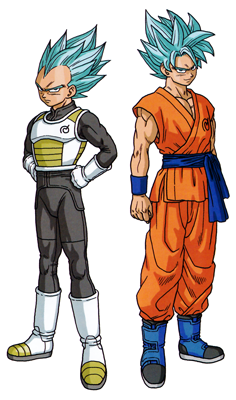 Movie Characters
Sorbet (

ソルベ

; sorube)
A remnant of Freeza's army, he has risen to its top position following Freeza's death. Although his body is small, he is quite cunning. To resurrect Freeza's army, he travels to Earth to revive Freeza with the Dragon Balls, in hopes he can bring their once formidable army back to its former greatness.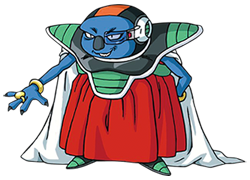 Tagoma (

タゴマ

; tagoma)
As Sorbet's personal bodyguard, he travels to Earth with his comrade to revive Freeza with the planet's Dragon Balls.

If you're a soldier in Freeza's army, you can have [a Scouter] made to order to fit your ear. The different screen colors can be chosen to fit the peculiarities of different aliens' eyes, or to suit one's tastes. Also, dual-eye types exist as well.

— Akira Toriyama, Saikyō Jump Q&A with Naho Ooishi, July 2014 Issue (read full interview)

Movie Notes
The movie's title was established by Akira Toriyama and is based on the Freeza tribute song "F" by Japanese rock metal group Maximum the Hormone. In October 2012, Toriyama attended a concert held by Maximum the Hormone (and jealkb) in Nagoya, and met the band backstage. He presented the group with an autographed illustration commemorating their song dedicated to Freeza. Years later, when thinking of a new story for the upcoming movie, Toriyama recalled the song and used it as inspiration. To pay tribute to Maximum the Hormone, he also included the title of the song in the movie's title.

And so this time, as a way of saying "thank you", I went and took the cool-looking spelling of "F" from the song.
— Akira Toriyama, V-Jump, January 2015 Issue (read full interview)
Name Puns
Akira Toriyama has often mentioned his idea of grouping like characters into specific naming schemes in order to more easily determine new character names as needed. The members of Freeza's forces are no exception, as these new characters — Sorbet, Tagoma, and Shisami — fall into the scheme as Toriyama described it:

For example, the one in control of the Saiyans and other villainous aliens is Freeza. Strictly speaking, Freeza is "freezer", but I envisioned a refrigerator when I named him. So, I grouped the names according to foods that go inside it. The Saiyans are vegetables [yasai, "vegetables"], and the Ginyu Special-Squad are dairy products [gyūnyū, "cows' milk"], like that.
— Akira Toriyama, Super Exciting Guide: Character Volume interview (read full interview)

Sorbet gets his name from the popular frozen dessert "sorbet" (

ソルベ

), which is written exactly the same as his namesake.
Tagoma's name is taken from the Japanese word for "egg".

卵

(

ta·ma·go

)

›

タゴマ

(

ta·go·ma

)

Shisami's name is an anagram of the word "sashimi", a Japanese delicacy consisting of very fresh raw meat or fish sliced into thin pieces.

刺身

(

sa·shi·mi

)

›

シサミ

(

shi·sa·mi

)
Movie Credits
The movie credits are listed below as originally presented in the feature. For more detailed information about the series cast, visit the Cast Guide.
Cast Credits
孫悟空

Son Goku

孫悟飯

Son Gohan

野沢雅子

Masako Nozawa

 

ベジータ

Vegeta

堀川りょう

Ryō Horikawa

ブルマ

Bulma

鶴 ひろみ

Hiromi Tsuru

亀仙人

Kame-Sen'nin

佐藤正治

Masaharu Satō

クリリン

Kuririn

田中真弓

Mayumi Tanaka

ピッコロ

Piccolo

古川登志夫

Toshio Furukawa

トランクス

Trunks

草尾 毅

Takeshi Kusao

天津飯

Tenshinhan

緑川 光

Hikaru Midorikawa

ジャコ

Jaco

花江夏樹

Natsuki Hanae

ビーデル

Videl

皆口裕子

Yūko Minaguchi

ブリーフ

Brief

田中亮一

Ryōichi Tanaka

人造人間18号

Artificial Human No. 18

伊藤美紀

Miki Itō

神龍

Shenlong

大友龍三郎

Ryūzaburō Ōtomo

ソルベ

Sorbet

斎藤志郎

Shirō Saitō

タゴマ

Tagoma

中井和哉

Kazuya Nakai

シサミ

Shisami

稲田 徹

Tetsu Inada

参謀

Staff

麻生智久

Tomohisa Asō

強盗A

Robber A

服巻浩司

Kōji Haramaki

強盗B

Robber B

平井啓二

Keiji Hirai

部下

Subordinate

藤本たかひろ

Takahiro Fujimoto

受付嬢

Receptionist

森下由樹子

Yukiko Morishita

小川慎太郎

Shintarō Ogawa

滑川洋平

Yōhei Namekawa

川上晃二

Kōji Kawakami

牛田裕子

Hiroko Ushida

高橋花林

Takahashi Karin

小杉史哉

Fumiya Kosugi

井野 優

Masaru Ino

増尾興佑

Kōsuke Masuo

金 香里

Hyang Ri Kim

山下まみ

Mami Yamashita

ピラフ

Pilaf

千葉 繁

Shigeru Chiba

マイ

Mai

山田栄子

Eiko Yamada

シュウ

Shuu

玄田哲章

Tesshō Genda

予言魚

Oracle Fish

中川翔子

Shōko Nakagawa

天使

Angels

ももいろクローバーZ

Momoiro Clover Z

百田夏菜子

Kanako Momota

玉井詩織

Shiori Tamai

佐々木彩夏

Ayaka Sasaki

有安杏果

Momoka Ariyasu

高城れに

Reni Takagi

ウイス

Whis

森田成一

Masakazu Morita

ビルス

Beerus

山寺宏一

Kōichi Yamadera

フリーザ

Freeza

中尾隆聖

Ryūsei Nakao
Production Credits
原作・脚本・キャラクターデザイン

Original Author, Script, & Character Design

鳥山 明

Akira Toriyama

製作

Production

東映

Toei

集英社

Shueisha

フジテレビジョン

Fuji Television Network

東映アニメーション

Toei Animation

バンダイ

Bandai

バンダイナムコエンターテインメント

Bandai Namco Entertainment

村松秀信

Hidenobu Muramatsu

茨木政彦

Masahiko Ibaraki

石原 隆

Takashi Ishihara

高木勝裕

Katsuhiro Takagi

垰 義孝

Yoshitaka Tao

大下 聡

Satoshi Ōshita

企画

Planning

鳥嶋和彦

Kazuhiko Torishima

森下孝三

Kōzō Morishita

シニア・プロデューサー

Senior Producer

清水慎治

Shinji Shimizu

小川 泰

Yasushi Ogawa

エグゼクティブ・プロデューサー

Executive Producer

梅澤淳稔

Atsutoshi Umezawa

プロデューサー

Producer

林田師博

Norihiro Hayashida

冨永理生子

Rioko Tominaga

音楽

Music

住友紀人

Norihito Sumitomo

企画協力

Planning In Cooperation With

集英社「Vジャンプ」編集部

Shueisha's "V-Jump" Editorial Department

伊能昭夫

Akio Iyoku

寺師大輔

Daisuke Terashi

内田太樹

Taiki Uchida

CAST

主題歌

Theme Song

「Z」の誓い

Pledge of "Z"

作詞

Lyrics

作曲

Composition

編曲

Arrangement

 

歌

Vocals

森 雪之丞

Yukinojō Mori

NARASAKI

NARASAKI

NARASAKI

NARASAKI

ゆよゆっぺ

Yuyoyuppe

ももいろクローバーZ

Momoiro Clover Z

(EVIL LINE RECORDS)

バトルソング

Battle Song

「F」

"F"

作詞・作曲

Lyrics & Composition

歌唱

Vocals

マキシマムザ亮君

Maximum the Ryō-kun

マキシマムザホルモン

Maximum the Hormone

(ミミカジル / バップ)

(Mimi Kajiru / Vap)

主題歌、バトルソング協力

Theme Song & Battle Song Collaboration

宮本純乃介

Jun'nosuke Miyamoto

川上アキラ

Akira Kawakami

牧田 聡

Satoshi Makita

千石一成

Kazunari Sengoku

田中健太郎

Kentarō Tanaka

 

音楽ミュージシャン

Musicians

住友紀人

Norihito Sumitomo

辻本憲一

Ken'ichi Tsujimoto

松居洋輔

Yōsuke Matsui

山口尚人

Hisato Yamaguchi

藤田乙比戸

Otohiko Fujita

高橋臣宜

Takanori Takahashi

今泉 洋

Hiroshi Imaizumi

musique luxueuse

musique luxueuse

宮坂Strings

Miyasaka Strings

長谷川智之

Tomoyuki Hasegawa

中西和泉

Izumi Nakanishi

古賀 光

Hikaru Koga

勝俣 奏

Yasushi Katsumata

佐藤 清

Kiyoshi Satō

Remi

Remi

 

音楽録音

Music Recording

中村"E.T"悦弘

Etsuhiro "E.T." Nakamura

音楽録音助手

Music Recording Assistant

石塚陽大

Yōta Ishizuka

Composer Management & Production
Coordinated by

木尾栄子

Eiko Kono'o

関 真実

Mami Seki

音楽プロデューサー

Music Producer

島谷浩作

Kōsaku Shimaya

津島玄一

Gen'ichi Tsushima

金野沙矢香

Sayaka Kon'no

音楽協力

Music In Association With

イーブルラインレコード

EVIL LINE RECORDS

ミミカジル

Mimi Kajiru

日本テレビ音楽

Nippon Television Music

東映アニメーション音楽出版

Toei Animation Music Publishing

レガートミュージック

Legato Music

スターダストプロモーション

Stardust Promotion

バップ

Vap

東映音楽出版

Toei Music Publishing

フジパシフィックミュージック

FUJIPACIFIC MUSIC

Sound City

Sound City

製作担当

Production Manager

藤岡和実

Kazumi Fujioka

編集

Editing

福光伸一

Shin'ichi Fukumitsu

音響監督

Audio Director

本田保則

Yasunori Honda

録音

Recording

伊東光晴

Mitsuharu Itō

サウンドエフェクトデザイン

Sound Effect Design

サウンドエディター

Sound Editor

サウンドレコーディングミキサー

Sound Recording Mixer

サウンドフォーリー

Sound Foley

新井秀徳

(フィズサウンド)

Hidenori Arai

(Fizz Sound)

 

 

 

デジタル撮影監督

Director of Digital Photography

元木洋介

Yōsuke Motoki

CGディレクター

CG Director

牧野 快

Kai Makino

色彩設定

Color Setting

堀田哲平

Teppei Hotta

美術監督

Art Director

行 信三

Shinzō Yuki

アニメーションキャラクター設計・総作画監督

Animation Character Design & Chief
Animation Supervisor

山室直儀

Tadayoshi Yamamuro


作画監督補佐

Assistant Animation Supervisor

井手武生

Takeo Ide

梨澤孝司

Kōji Nashizawa

林 裕己

Yūki Hayashi

島貫正弘

Masahiro Shimanuki

辻 美也子

Miyako Tsuji

渡辺巧大

Kōdai Watanabe

原画

Key Animation

稲葉 仁

Hitoshi Inaba

浦田幸博

Yukihiro Urata

高橋優也

Yūya Takahashi

酒井和栄

Kazue Sakai

青井清年

Kiyotoshi Aoi

中鶴勝祥

Katsuyoshi Nakatsuru

鮫島寿志

Hisashi Samejima

仲條久美

Kumi Nakajō

清水 洋

Hiroshi Shimizu

阿部美佐緒

Misao Abe

伊藤尚往

Naoyuki Itō

北原広大

Kōdai Kitahara

板井寛幸

Hiroyuki Itai

山下 恵

Megumi Yamashita

薮本陽輔

Yōsuke Yabumoto

和久千明

Chiaki Waku

木下ゆうき

Yūki Kinoshita

峰岸桃子

Momoko Minegishi

山室直儀

Tadayoshi Yamamuro

島貫正弘

Masahiro Shimanuki

辻 美也子

Miyako Tsuji

渡辺巧大

Kōdai Watanabe

Romeo Anonuevo

Reggie Manabat

Dennis Cablao

Rodel Redillas

Ed Martin Crisostomo

会津五月

Satsuki Aizu

菊地慧里奈

Erina Kikuchi

犬飼さおり

Saori Inukai

鈴木俊玄

Toshiharu Suzuki

伊藤哲也

Tetsuya Itō

佐藤友子

Tomoko Satō

二階堂渥志

Atsushi Nikaidō

増田信博

Nobuhiro Masuda

飯飼一幸

Kazuyuki Ikai

鎌田 均

Hitoshi Kamata

牛尾優衣

Yui Ushio

八木元喜

Motoki Yagi

大塚 健

Ken Ōtsuka

石塚勝海

Katsumi Ishizuka

宮崎康子

Yasuko Miyazaki

石川晋吾

Shingo Ishikawa

金久保典江

Norie Kanekubo

西野武志

Takeshi Nishino

加野 晃

Akira Kano

江口寿志

Hisashi Eguchi

小泉初栄

Hatsue Koizumi

吉邊尚希

Naoki Yoshibe

吉岡幸恵

Yukie Yoshioka

 

井手武生

Takeo Ide

梨澤孝司

Kōji Nashizawa

林 裕己

Yūki Hayashi

 

Alfred Reyes

Paul Zaldivar

Allen Geraldino

Marvin Mendoza

Resty Roque

張 紹偉

Shao-wei Zhang

山川拓己

Takumi Yamakawa

久保 正

Tadashi Kubo

鈴鹿陽子

Yōko Suzuka

尾形美奈子

Minako Ogata

 

動画進行

In-Between Animation Manager

張 紹偉

Shao-wei Zhang

Bong Lustanas

富田美穂子

Mihoko Tomita

菊地慧里奈

Erina Kikuchi

Juan Orense

 

動画

In-Between Animation

Rod Mallare

Alex Ibalio

Mannix Francisco

Patton Reyes

Eric Ramos

Allan Cohti

Rizel Toniza

Jess Calayo

Peter Magdaraog

Marilou Cabral

山本拓美

Takumi Yamamoto

渡邉寛子

Hiroko Watanabe

中村 忍

Shinobu Nakamura

井上寛子

Hiroko Inoue

下平夕子

Yūko Shimohira

大島孝美

Takami Ōshima

戸井田 宙

Hiroshi Toida

木下喜生

Yoshio Kinoshita

高井一弥

Kazuya Takai

Huang Wei Zhong

Yuan Yun Yan

Zhug Guo Qin

Frank Rivas

Ivan Mina

Jojo de Fiesta

Ricky Caboteja

Rean Santos

Romel Bas

Julius Brian Tibi

Cris Buenaflor

Rowena Coquia

鈴木沙知

Sachi Suzuki

 

守本優子

Yūko Morimoto

水口貴善

Takayoshi Mizuguchi

山崎美穂子

Mihoko Yamazaki

山口幸俊

Yukitoshi Yamaguchi

小谷瞳美

Hitomi Kotani

三浦嘉友

Yoshitomo Miura

高橋浩也

Hiroya Takahashi

Hong Xiao Fen

Zhou Yong Quan

色指定・仕上進行

Color Selection & Touch-up Manager

加藤良高

Yoshitaka Katō

デジタル彩色

Digital Coloring

荻野光雄

Mitsuo Ogino

安藤 茂

Shigeru Andō

高橋 基

Motoi Takahashi

竹内達彦

Tatsuhiko Takeuchi

Randy Monoy

Eliseo Verdadero Jr.

Sellamar Aplaon

Alexander Antonio

Enrico Garduno

井浦祥子

Yōko Iura

相澤里佳

Rika Aizawa

佐藤恭子

Kyōko Satō

安藤佳奈恵

Kanae Andō

星川麻美

Mami Hoshikawa

北川太郎

Tarō Kitagawa

安藤 壮

Takeshi Andō

伊藤美恵

Mie Itō

吉野 諒

Ryō Yoshino

吉沢啓子

Keiko Yoshizawa

瀬口愛子

Aiko Seguchi

多田 歩

Ayumu Tada

 

Rolando Dasilio

Brenda Garduno

Noel Santos

Emelyn Bernas

Alex Palabrica

利根川友紀

Yuki Tonegawa

加藤英恵

Hanae Katō

福田友理恵

Yurie Fukuda

田村貴子

Takako Tamura

内田 聡

Satoshi Uchida

松田良平

Ryōhei Matsuda

 

北村夏樹

Natsuki Kitamura

小島良紀

Yoshinori Kojima

デジタル特殊効果

Digital Special Effects

太田 直

Nao Ōta

牛山裕美

Yumi Ushiyama

河内正行

Masayuki Kawachi

勝岡稔夫

Toshio Katsuoka

下川信裕

Nobuhiro Shimokawa

星野 健

Ken Hoshino

動画仕上進行

Animation Touch-up Manager

黒木耕次郎

Kōjirō Kuroki

背景

Backgrounds

徳重 賢

Ken Tokushige

吉田智子

Tomoko Yoshida

安積裕子

Yūko Azumi

中根崇仁

Takahito Nakane

真喜屋実義

Saneyoshi Makiya

鹿野良行

Yoshiyuki Shikano

杦浦正一郎

Shōichirō Sugiura

大谷正信

Masanobu Ōtani

勝又アイ子

Aiko Katsumata

行 信三

Shinzō Yuki

井芹達朗

Tatsurō Iseri

山口大悟郎

Daigorō Yamaguchi

張  敏

Zhang Ming

井上慎太郎

Shintarō Inoue

林 鴻生

Kōki Hayashi

 

斉藤信二

Shinji Saitō

木下千春

Chiharu Kinoshita

 

 

美術進行

Art Manager

山口彰彦

Akihiko Yamaguchi

デジタル撮影監督補佐

Assistant Digital Photography Director

新井拓己

Takumi Arai

保坂友哉

Yūya Hosaka

デジタル撮影ディレクター

Digital Photography Director

和田尚之

Naoyuki Wada

デジタル撮影

Digital Photography

飯島 亮

Ryō Iijima

石山智之

Tomoyuki Ishiyama

髙橋賢司

Kenji Takahashi

大久保潤

Jun Ōkubo

武井夏樹

Natsuki Takei

大図 佑

Tasuku Ōzu

鯨井 亮

Ryō Kujirai

豊岡茂紀

Shigeki Toyo'oka

林 賢太

Kenta Hayashi

安井正論

Seiron Yasui

趙  婧

Zhou Jing

遠藤翔子

Shōko Endō

佐藤華保

Kaho Satō

柳田貴志

Takashi Yanagida

安西良行

Yoshiyuki Anzai

杉山大樹

Daiki Sugiyama

野上大地

Daichi Nogami

大島由貴

Yuki Ōshima

渡辺 瞳

Hitomi Watanabe

野中裕里

Yuri Nonaka

近藤直基

Naoki Kondō

牧寺智昭

Tomoaki Makidera

周 馳游

Zhou Chi You

伊藤隆洋

Takahiro Itō

岡田航季

Kōki Okada

 

CGプロデューサー

CG Producer

今村幸也

Yukiya Imamura

CGラインプロデューサー

CG Line Producer

玉那覇博紀

Hiroki Tamanaha

CGアニメーションディレクター

CG Animation Director

都田崇之

Takayuki Toda

小林 丸

Maru Kobayashi

西入俊雄

Toshio Nishi'iri

CGアニメーター

CG Animator

能沢 諭

Satoshi Nozawa

小泉正行

Masayuki Koizumi

池谷茉衣子

Maiko Iketani

笹原正揮

Masaki Sasahara

織笠晃彦

Akihiko Orikasa

矢山健太郎

Kentarō Yayama

古川 厚

Atsushi Furukawa

湯本綾佳

Ayaka Yumoto

Nguyen An Van

Nguyen An Van

千葉高雪

Takayuki Chiba

大澤裕章

Hiroaki Ōsawa

森本祥久真

Shiguma Morimoto

木村太郎

Tarō Kimura

佐藤遊星

Yūsei Satō

佐藤号宙

Gōchū Satō

坂野友軌

Yūki Ban'no

小平和久

Kazuhisa Kodaira

谷口貴彦

Takahiko Taniguchi

徳原和人

Kazuto Tokuhara

山之口創

Hajime Yamanokuchi

 

齋藤雄太

Yūta Saitō

デジタルアーティスト

Digital Artist

宮原 眞

Shin Miyahara

小川大祐

Daisuke Ogawa

中田俊裕

Toshihiro Nakata

荻田直樹

Naoki Ogita

Darril M. Padua

Jeffrey C. Picaso

Lhest B. Bernardo

Phoebe A. Semfuego

Nico B. Saberon

Mark Cris D. Victorio

 

村野徳晃

Noriaki Murano

牧野志織

Shiori Makino

藤巻拓也

Takuya Fujimaki

Michael M. DeVer

Dindo P. Tagubasi

Ericson P. Hidalgo

Emmett C. Menes

Dhavee C. Morato

Narciso B. Tagros

エフェクトアーティスト

Effect Artist

鄭 載薫

Hoon Jung-jae

キャラクターモデリング

Character Modeling

澤村由起夫

Yukio Sawamura

辰口智樹

Tomoki Tatsuguchi

茂呂成人

Shigeto Moro

藤本大吾

Daigo Fujimoto

大隅ひさき

Hisaki Ōsumi

内田なつみ

Natsumi Uchida

Tran Trinh Quang

Tran Trinh Quang

山田敏史

Toshifumi Yamada

キャラクターセットアップ

Character Setup

小林 東

Higashi Kobayashi

ロケーションモデリング

Location Modeling

海老沢大生

Taiki Ebisawa

柳 賢娥

Hyun-ah You

マットペイント

Matte Painting

永井留美子

Rumiko Nagai

タイトルアニメーション

Title Animation

佐々木一樹

Kazuki Sasaki

白 智雲

Baek Ji-woon

三輪泰地朗

Taichirō Miwa

テクニカルアドバイザー

Technical Advisor

加藤康弘

Yasuhiro Katō

中沢大樹

Daiki Nakazawa

高橋友彦

Tomohiko Takahashi

CGテクニカルサポート

CG Technical Support

佐藤直樹

Naoki Satō

山田倫之

Noriyuki Yamada

山下浩輔

Kōsuke Yamashita

新澤千明

Chiaki Niizawa

CGプロダクションマネージャー

CG Production Manager

福長卓也

Takuya Fukunaga

Francis Cayetano

奈良岡智哉

Tomoya Naraoka

浦 雄二

Yūji Ura

Dave Davantes

野田由紀夫

Yukio Noda

編集助手

Editing Assistant

西村英一

Ei'ichi Nishimura

吉田公紀

Kōki Yoshida

サウンドエフェクトアシスト

Sound Effect Assist

神保直史

(AUDIO・タナカ)

Tadashi Jinbo

(Audio Tanaka)

録音助手

Recording Assistant

新垣未希

Miki Aragaki

録音協力

Recording Support

木村 哲

Satoshi Kimura

オペレーター

Operator

宮本明子

Akiko Miyamoto

記録

Documentation

樋口裕子

Yūko Higuchi

演技事務

Talent Coordination

角 康昭

Yasuaki Tsuno

製作進行

Assistant Production Manager

小林克規

Katsunori Kobayashi

福田一夫

Kazuo Fukuda

助監督

Assistant Director

俊藤康徳

Yasunori Gotō

小山保徳

Yasunori Koyama

演出

Direction

暮田公平

Kōhei Kureta

録音スタジオ

Recording Studio

サウンドインスタジオ

(SOUND INN)

Sound Inn Studio

(SOUND INN)

東映デジタルセンター

Toei Digital Center

音響製作

Audio Production

タバック

TAVAC

技術協力

Technical Support

東映ラボ・テック

Toei Lab Tech

東映デジタルラボ

Toei Digital Lab

テクニカルコーディネーター

Technical Coordinator

緩鹿秀隆

Hidetaka Yuruka

オンラインエディター

Online Editor

阿部 理

Osamu Abe

DCPパッケージ

DCP Package

西川浩司

Kōji Nishikawa

馬場 亮

Ryō Baba

3D映像制作ユニット

3D Video Production Unit

テクニカルコーディネーター

Technical Coordinator

根岸 誠

Makoto Negishi

與野勝弘

Katsuhiro Yono

阿部 理

Osamu Abe

AEアーティスト

AE Artist

千葉英樹

Hideki Chiba

マーキュリーシステム

Mercury System

テクニカルプロデューサー

Technical Producer

江良末広

Suehiro Era

久下沼次夫

Tsugio Kugenuma

テクニカルディレクター

Technical Director

江良友紀枝

Yukie Era

宣伝統括

Publicity Coordinator

鈴木英夫

Hideo Suzuki

宣伝プロデューサー

Publicity Producer

土屋 勝

Masaru Tsuchiya

宣伝

Publicity

吉田 稔

Minoru Yoshida

大槻裕司

Yūji Ōtsuki

渡辺祥子

Sachiko Watanabe

三瓶貴士

Takashi Sanpei

露木志保

Shiho Tsuyuki

山崎翔太

Shōta Yamazaki

アドバタイジング

Advertising

高橋遥介

Yōsuke Takahashi

劇場営業

Theater Operations

菅原 史

Fumi Sugawara

ローカル宣伝

Local Publicity

川井俊一

Shun'ichi Kawai

予告篇ディレクター

Trailer Director

北山貴之

(TATSUMI)

Takayuki Kitayama

(TATSUMI)

宣伝デザイン

Ad Design

古川 健

Ken Furukawa

野田義貴

(ドラゴンフライ)

Yoshitaka Noda

(Dragonfly)

オフィシャルサイトデザイン

Official Site Design

weave

weave

協力プロダクション

A Cooperative Production With

山室作画スタジオ

Yamamuro Animation Studio

東京アニメーションセンター

Tokyo Animation Center

スタジオウォンバット

Studio Wombat

Triple A

Triple A

すたじおかぐら

Studio Kagura

スタジオ・ミュウ

Studio Myū

Toei Animation Phils., Inc.

マジックハウス

Magic House

ムクオスタジオ

Mukuo Studio

ラークスエンタテインメント

Larx Entertainment

森三平

Morisanpei

A-worth

NAM HAI ART

旭プロダクション

Asahi Production

@フィルム

@Film

Avid Symphony

mouse computer

ワタナベエンターテインメント

Watanabe Entertainment

青二プロダクション

Aoni Production

スタジオライブ

Studio Live

エー・ライン

A-Line

スタジオグラフィティ

Studio Graffiti

マジックバス

Magic Bus

武遊

Buyū

AMGA

AMGA

アテネアートスタジオ

Athens Art Studio

 

オレンジ

Orange

しいたけデジタル

SHiiTAKE DiGiTAL

GiFT

 

報映産業

Hoei Sangyo

Hewlett-Packard Company

.Too

 

 

Special Thanks

jealkb

「2015ドラゴンボールZ」製作委員会

"2015 Dragon Ball Z" Production Committee

東映

Toei

吉田 順

Jun Yoshida

井上めぐみ

Megumi Inoue

大島 学

Manabu Ōshima

山野宏樹

Hiroki Yamano

Fox International Productions, Japan

集英社

Shueisha

足立聡史

Satoshi Adachi

森 亮介

Ryōsuke Mori

稗田 晋

Shin Hieda

林 辰朗

Tatsurō Hayashi

フジテレビジョン

Fuji Television Network

野﨑 理

Osamu Nozaki

岡田翔太

Shōta Okada

東映アニメーション

Toei Animation

小林宜弘

Takahiro Kobayashi

上村敏行

Toshiyuki Uemura

津留一己

Kazumi Tsuru

長谷川敦

Atsushi Hasegawa

バンダイ

Bandai

小野口征

Masashi Onoguchi

花井雄二朗

Yūjirō Hanai

田中 快

Kai Tanaka

 

バンダイナムコゲームス

Bandai Namco Games

内山大輔

Daisuke Uchiyama

吉崎邦法

Kuninori Yoshizaki

平野真之

Masayuki Hirano

山崎秀之

Hideyuki Yamazaki

制作プロダクション

Production Company

東映アニメーション

Toei Animation

配給協力

Distribution In Cooperation With

20世紀フォックス映画

20th Century Fox Movies

配給

Distribution

東映

Toei

監督

Director

山室直儀

Tadayoshi Yamamuro
Future Trunks Edition Production Credits
土曜プレミアム "未来"トランクス特別編 特別新作パート

Saturday Premium: Future Trunks Special Edition — Special New Production Part

原作・脚本・キャラクターデザイン

Original Author, Script, & Character Design

鳥山 明

(集英社「ジャンプコミックス」刊)

Akira Toriyama

(Published in Shueisha's "Jump Comics")

企画

Planning

情野誠人

Masato Seino

渡辺和哉

Kazuya Watanabe

森下孝三

Kōzō Morishita

プロデューサー

Producer

野﨑 理

Osamu Nozaki

橋爪駿輝

Shunki Hashizume

佐川直子

Naoko Sagawa

木戸 睦

Atsushi Kido

高見 暁

Satoru Takami

音楽

Music

住友紀人

Norihito Sumitomo

制作協力

Production Coordination

東映

Toei

制作

Production

フジテレビ

Fuji TV

読売広告社

Yomiko Advertising, Inc.

東映アニメーション

Toei Animation

脚本

Script

キング・リュウ

King Ryū

CAST

孫悟空

Son Goku

孫悟飯

Son Gohan

ゴクウブラック

Goku Black

野沢雅子

Masako Nozawa

 

 

ブルマ

Bulma

鶴 ひろみ

Hiromi Tsuru

ベジータ

Vegeta

堀川りょう

Ryō Horikawa

ピッコロ

Piccolo

古川登志夫

Toshio Furukawa

クリリン

Kuririn

田中真弓

Mayumi Tanaka

マイ

Mai

山田栄子

Eiko Yamada

フリーザ

Freeza

中尾隆聖

Ryūsei Nakao

トランクス

Trunks

草尾 毅

Takeshi Kusao

アニメーションキャラクター設計・作画監督

Animation Character Design & Supervision

山室直儀

Tadayoshi Yamamuro

原画

Key Animation

高橋優也

Yūya Takahashi

大塚 健

Ken Ōtsuka

金久保典江

Norie Kanekubo

美馬健二

Kenji Miuma

小酒井智也

Tomoya Kosakai

山室直儀

Tadayoshi Yamamuro

稲葉 仁

Hitoshi Inaba

仲條久美

Kumi Nakajō

大田謙治

Kenji Ōta

板井寛幸

Hiroyuki Itai

薮本陽輔

Yōsuke Yabumoto

梨沢孝司

Takashi Nashizawa

動画

In-Between Animation

Toei Phils.

Toei Animation Philippines

かぐら

Kagura

色彩設計

Color Design

堀田哲平

Teppei Hotta

色指定・仕上検査

Color Selection & Touch-up Inspection

森 綾

Aya Mori

デジタル彩色

Digital Coloring

Toei Phils.

Toei Animation Philippines

かぐら

Kagura

動画仕上進行

Animation Touch-up Manager

黒木耕次郎

Kōjirō Kuroki

デジタル特殊効果

Digital Special Effects

太田 直

Nao Ōta

勝岡稔夫

Toshio Katsuoka

森 綾

Aya Mori

美術監督

Art Director

行 信三

Shinzō Yuki

背景

Backgrounds

徳重 賢

Ken Tokushige

斉藤信二

Shinji Saitō

木下千春

Chiharu Kinoshita

美術進行

Art Manager

山口彰彦

Akihiko Yamaguchi

デジタル撮影監督

Director of Digital Photography

元木洋介

Yōsuke Motoki

デジタル撮影

Digital Photography

旭プロダクション

Asahi Production

安西良行

Yoshiyuki Anzai

林 賢太

Kenta Hayashi

野上大地

Daichi Nogami

石山智之

Tomoyuki Ishiyama

鈴木那智

Nachi Suzuki

千葉秀樹

Hideki Chiba

和田尚之

Naoyuki Wada

崔 勝求

Cui Shengqiu

岡田航季

Kōki Okada

 

宮城白石スタジオ

Miyagi Shiroishi Studio

伊藤隆洋

Takahiro Itō

小松耕介

Kōsuke Komatsu

佐藤華保

Kaho Satō

 

編集

Editing

福光伸一

Shin'ichi Fukumitsu

編集助手

Editing Assistant

吉田公紀

Kōki Yoshida

音響監督

Audio Director

本田保則

Yasunori Honda

録音

Recording

伊東光晴

Mitsuharu Itō

録音助手

Recording Assistant

新垣未希

Miki Aragaki

音響効果

Sound Effects

西村睦弘

(JetSoundEngine)

Mutsuhiro Nishimura

(JetSoundEngine)

記録

Documentation

樋口裕子

Yūko Higuchi

アシスタントプロデューサー

Assistant Producer

静 美保

Miho Shizuka

音響製作

Audio Production

タバック

TAVAC

録音スタジオ

Recording Studio

サウンドイン

Sound Inn

アバコクリエイティブスタジオ

Avaco Creative Studio

東映デジタルセンター

Toei Digital Center

オンライン編集

Online Editing

東映デジタルラボ

Toei Digital Lab

緩鹿秀隆

Hidetaka Yuruka

音楽協力

Music In Association With

東映アニメーション音楽出版

Toei Animation Music Publishing

フジパシフィックミュージック

FUJIPACIFIC MUSIC

企画協力

Planning In Cooperation With

集英社「Vジャンプ」編集部

Shueisha's "V-Jump" Editorial Department

演技事務

Talent Coordination

角 康昭

Yasuaki Tsuno

広報

Public Relations

太田真紀子

(フジテレビ)

Makiko Ōta

(Fuji TV)

データ放送

Datacasting

腰塚 悠

(フジテレビ)

Yū Koshitsuka

(Fuji TV)

製作担当

Production Manager

小林克規

Katsunori Kobayashi

演出協力

Production Coordination

佐藤美幸

Miyuki Satō

絵コンテ・演出

Storyboard & Director

山室直儀

Tadayoshi Yamamuro