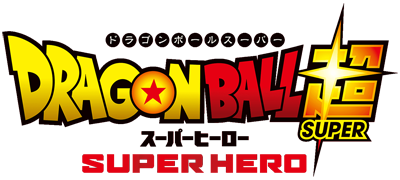 ドラゴンボール超 スーパーヒーロー
Doragon Bōru Sūpā Sūpā Hīrō
Dragon Ball Super: Super Hero
General Information
| | |
| --- | --- |
| Premiered: | 11 June 2022 |
| EIRIN Code: | 123026 |
| Running Time: | 99 minutes |
| Box Office: | Unknown |
| Theme Song: | None |
Movie Premiere & Promotion
The film was officially announced on "Goku Day" in Japan, or 09 May 2021, and at the time was merely slated for a 2022 release with no definitive date set. However, the announcement was accidentally leaked two days early on 07 May 2021 by way of a headline on Toei Animation's Europe website to an unpublished article indicating a "surprise announcement" of a new Dragon Ball Super movie. Unlike previous movie announcements, no accompanying teaser image or poster was provided, but instead only included a new comment from original author Akira Toriyama teasing the movie's story, including an unexpected character playing a big role, and more refreshed visuals.
In July 2021, a few months following the initial announcement, additional details including the film's official sub-title, "Super Hero", and the introduction of original characters Gamma 1 and 2 (who were unnamed at the time) were revealed via a pre-recorded virtual panel at Comic-Con@Home 2021. It was here that the first teaser trailer debuted, showcasing the new CG animation style that this film would utilize, which was a drastic departure from the updated animation style utilized in the previous movie. Executive producer and head of Shueisha's "Dragon Ball Room", Akio Iyoku, specifically noted that they wanted to showcase Goku's "movement and feeling" in the teaser and confirmed that they would be "using different technologies" for this production.
Teaser Trailer #1
Running Time: 22 seconds
Teaser Trailer #2
Running Time: 50 seconds
Official Trailer #1
Running Time: 58 seconds
Official Trailer #2
Running Time: 1 minute, 7 seconds
Official Trailer #2 (Short Version)
Running Time: 30 seconds
Promotional Video #1
Running Time: 30 seconds
Promotional Video #2
Running Time: 30 seconds
Promotional Video #3
Running Time: 30 seconds
Short Promotional Video #1
Running Time: 15 seconds
Short Promotional Video #2
Running Time: 15 seconds
Short Promotional Video #3
Running Time: 15 seconds
Short Promotional Video #4
Running Time: 15 seconds
Short Promotional Video #5
Running Time: 15 seconds
A special "Super Hero" panel was hosted at New York Comic Con in October 2021, which was hosted in New York City with in-person appearances by English voice actors Ian Sinclair (Whis) and Monica Rial (Bulma), who were also joined by the movie's production team via live stream from Toei Animation Studios in Tokyo, Japan. Along with revealing the Red Ribbon Army as the movie's primary antagonist and several new character tidbits, the panel showcased a second teaser trailer filled with clips of finished scenes from the movie. The panel also played two quick pre-recorded Q&As with voice actors Toshio Furukawa (Piccolo) and Masako Nozawa (Son Goku), both of whom noted the Japanese cast had just finished recording. A new key visual was also unveiled, which was handed out to fans in attendance and prominently featured as a banner throughout the convention building.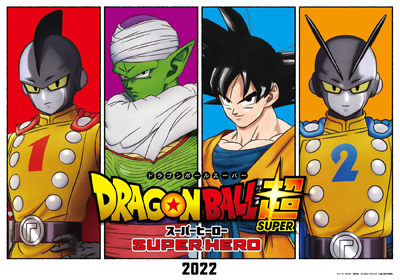 Leading up to Jump Festa '22, the Dragon Ball Official Site and Dragon Ball Super Twitter account unveiled the official movie poster. The next day, 18 December 2021, a Dragon Ball Super panel was held at said event to promote the upcoming movie. The Japanese premiere date of 22 April 2022 was also finally announced, along with debuting the movie's first official trailer and revealing the names and voice actors for the movie's original characters. The movie's official website was also updated in conjunction with the panel, including character biographies, a main staff list, and a new message from original author Akira Toriyama, as well as from voice actors Masako Nozawa (Son Goku), Toshio Furukawa (Piccolo), Hiroshi Kamiya (Gamma 1), and Mamoru Miyano (Gamma 2).
Another promotional "Super Stage" panel was held in February 2022 at the second annual "Dragon Ball Games Battle Hour", a two-day streaming event covering Dragon Ball games and merchandise. Shueisha executive producer Akio Iyoku revealed that the illustration for the movie's official poster actually extends farther to the left, revealing some additional familiar characters that will appear in the movie, which included teenage versions of Trunks and Goten. Tetsuro Kodama, the movie's director, also debuted three completed clips from key scenes in the movie. On the same day it was announced that advance tickets for the movie would go on sale 04 March 2022, including an exclusive "Super Movie Ticket" which reproduces a normal ticket card on a super-sized scale of 930 times larger at 2.4 x 1.8 meters (7.9 x 5.9 feet).
Just prior to tickets going on sale, a second full-length trailer and new official poster were released, highlighting Gohan and Piccolo's prominent roles in the film. However, shortly afterwards it was announced that the movie's release would be indefinitely delayed due to a third-party breach in Toei Animation's network that occurred in early-March 2022 and caused issues in the movie's production, which was reported to include a ransomware virus. Just prior to the movie's original release date, Toei announced a new release date of 11 June 2022.
Movie Synopsis
The following synopsis has been translated from the movie's official website:
The ultimate artificial humans, Gamma 1 and 2, have been newly created by the Red Ribbon Army. Piccolo, who was attacked by Gamma 2, infiltrates the Red Ribbon Army base and witnesses a huge conspiracy unfolding. But then Gohan is also pulled into the battle after Pan, his beloved daughter, is kidnapped. To save the world from such strong enemies, Piccolo must release his hidden potential! He also calls on Gohan to "show his true power", but can Gohan respond and defeat the Red Ribbon Army?!
Original Concept
Executive producer and head of Shueisha's "Dragon Ball Room", Akio Iyoku, revealed at the San Diego Comic-Con@Home 2021 virtual panel that Akira Toriyama actually began writing the script for Super Hero while the previous movie, Dragon Ball Super: Broly, was still in production.


それも実は、もう、あの、前回のブロリーの映画の途中からもう脚本をにかかっていただいてて。どんな形で始まったかっていうと、ブロリーの脚本が終わって。映画制作は進行しています。で なんだけども次の映画 ちょっとやっちゃいます ま、その後も、細かくいろんな部分、 セリフ回し含めて、直して、直して、もう何度も何度も やり取りはあったんです おそらく本人にとっても最高に、ま、傑作というかよくできたっていうようなお話になってるっていう自負があるんじゃないかなと思う仕上がりです。

---

So, erm, we actually already had him working on the script from the middle of [production on] Broly, the last outing. As for how it started, the script for Broly was done with, and production of the movie proper was underway. And so then we said, "Why don't we do a bit on the next one?" And after that of course, we polished up the finer bits, including the dialogue, polishing and polishing, going back and forth over and over again. Perhaps even he himself considers it the greatest — a masterpiece — or at least, he's said something along the lines of us having done a good job on it, so I think he's probably pretty proud of how it turned out.

However, Akio Iyoku and Toei Animation producer Norihiro Hayashida first alluded to this in the booklet accompanying the home video release of Broly.

映画『ドラゴンボール超 ブロリー 』が次回作への原動力に

伊能: 今は次の『ドラゴンボール』の映画に向けて、着々と準備を進めています。ブロリーがあまりにも強かったので、次は多分、ぜんぜん違う方向になると思います。今回のプロリーで色々な部分のハードルを上げてしまったので、燃え尽き症候群にならないように。これからも『ドラゴンボール』は続いていくと思うので、楽しみにしていてほしいですね。

林田: ハードルを上げたことで、見えてきたことがたくさんありました。今回はこれ以上にないくらいスタッフィングやキャスティングなどがうまくハマって、自分でもかなりやれたという手応えはあるのですが、この体験を活かしてこれからも更に上を目指していきます!

伊能: 今回できなかったことも色々あるので、次はもっともっと、すごいものになると思います。ご期待下さい。

---

The movie Dragon Ball Super: Broly is the driving force for the next production

Iyoku: Preparations are now steadily underway for the next Dragon Ball movie. Broli was too powerful, so I think it will probably go in an entirely different direction next time. There were parts in the film where we ended up raising the bar, so we have to be careful to avoid burnout. I think Dragon Ball will continue on in the future, so I hope everyone looks forward to it.

Hayashida: A lot of things became apparent by raising the bar. The staffing and casting were on point to a level they've never been before, and though I feel that we did a great job, I'll use this experience to aim even higher in the future!

Iyoku: There were some things that we weren't able to execute this time, so I think the next one will turn out to be even more amazing. Please look forward to it.
Movie Characters
The following original character profiles were translated from the movie's official website.
Movie Notes
This movie marks the 21st produced for the franchise and the second under the Dragon Ball Super brand name.
This production included many firsts for the franchise, such as being primarily produced with CG animation, not announcing or promoting the main enemy prior to film's release, not utilizing a theme song or band, and having the ending close on background music.
Characters
Taken directly from their names, the uppercase Greek letter "Γ" (gamma) is prominently featured on the belts of both Gamma 1 and 2.
The face on the t-shirt worn by Pan is a reference to her mother Videl and grandfather Mr. Satan, whose names are puns on the devil. In addition, the "GTH" above it is likely the abbreviation for "Go To Hell", a common abbreviation used on social media platforms.
Name Puns
Falling in-line with the established family of Red Ribbon Army character name puns, Magenta and Carmine take their names directly from these colors, which are the same as their corresponding suit colors.
Similar to Dr. Gero, the former scientist of the Red Ribbon Army whose name is believed to be a pun on a Japanese word for "vomit", Dr. Hedo's name also appears to be based on another Japanese word for "vomit" (

反吐

; hedo).
Movie Credits
The movie credits listed below are a partially incomplete listing of those originally presented in the feature. This section will be updated as the credits continue to be translated. For more detailed information about the series cast, visit the Cast Guide.
Cast Credits
孫悟空

Son Goku

孫悟飯

Son Gohan

孫悟天

Son Goten

野沢雅子

Masako Nozawa

 

 

ブルマ

Bulma

久川 綾

Aya Hisakawa

ベジータ

Vegeta

堀川りょう

Ryō Horikawa

クリリン

Kuririn

田中真弓

Mayumi Tanaka

トランクス

Trunks

草尾 毅

Takeshi Kusao

人造人間18号

Artificial Human No. 18

伊藤美紀

Miki Itō

ビーデル

Videl

パン

Pan

皆口裕子

Yūko Minaguchi

 

ビルス

Beerus

山寺宏一

Kōichi Yamadera

ウイス

Whis

森田成一

Masakazu Morita

ブロリー

Broli

島田 敏

Bin Shimada

チライ

Cheelye

水樹奈々

Nana Mizuki

レモ

Lemo

杉田智和

Tomokazu Sugita

デンデ

Dende

平野 綾

Aya Hirano

カリン様

Karin

魚 建

Ken Uo

神龍

Shenlong

大友龍三郎

Ryūzaburō Ōtomo

Dr.ヘド

Dr. Hedo

入野自由

Miyu Irino

ガンマ1号

Gamma 1

神谷浩史

Hiroshi Kamiya

ガンマ2号

Gamma 2

宮野真守

Mamoru Miyano

マゼンタ

Magenta

ボルケーノ太田

Volcano Ōta

カーマイン

Carmine

竹内良太

Ryōta Takeuchi

3番兵士

Soldier 3

山口太郎

Tarō Yamaguchi

15番兵士

Soldier 15

松山鷹志

Takashi Matsuyama

28番兵士

Soldier 28

片貝直生

Nao Katagai

33番兵士

Soldier 33

寺崎千波也

Chihaya Terasaki

79番兵士

Soldier 79

佐藤悠雅

Yūga Satō

兵士

Soldier

坂井易直

Yasunao Sakai

幼稚園の先生

Kindergarten Teacher

森下由樹子

Yukiko Morishita

園児

Kindergartener

川口 桜

Sakura Kawaguchi

セルマックス

Cell Max

若本規夫

Norio Wakamoto

ピッコロ

Piccolo

古川登志夫

Toshio Furukawa
Opening Credits
原作・脚本・キャラクターデザイン

Original Author, Script, & Character Design

鳥山 明

Akira Toriyama

製作

Production

集英社

Shueisha

東映

Toei

東映アニメーション

Toei Animation

フジテレビジョン

Fuji Television Network

バンダイナムコエンターテインメント

Bandai Namco Entertainment

バンダイ

Bandai

BANDAI SPIRITS

Bandai Spirits

瓶子吉久

Yoshihisa Heishi

村松秀信

Hidenobu Muramatsu

高木勝裕

Katsuhiro Takagi

小川晋一

Shin'ichi Ogawa

宮河恭夫

Yasuo Miyakawa

古澤圭亮

Keisuke Furusawa

宇田川南欧

Nao Udagawa

企画

Planning

森下孝三

Kōzō Morishita

伊能昭夫

Akio Iyoku

シニア・プロデューサー

Senior Producer

鈴木篤志

Atsushi Suzuki

臼井裕詞

Hirotsugu Usui

プロデューサー

Producer

林田師博

Norihiro Hayashida

冨永理生子

Rioko Tominaga

企画協力

Planning In Cooperation With

集英社

Shueisha

ドラゴンボール室

Dragon Ball Room

Vジャンプ編集部

V-Jump Editorial Department
Ending Credits
CAST

音楽

Music

佐藤直紀

Naoki Satō

美術監督

Art Director

須江信人

Nobuhito Sue

色彩設計

Color Design

永井留美子

Rumiko Nagai

CGディレクター

CG Director

鄭 載薫

Hoon Jung-jae

作画監督

Animation Supervisor

久保田 誓

Chikashi Kubota

監督

Director

児玉徹郎

Tetsuro Kodama