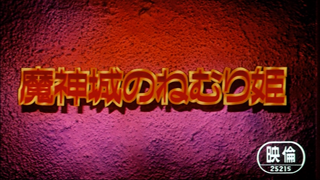 魔神城のねむり姫
Majin Jō no Nemuri Hime
The Sleeping Princess in Devil's Castle
General Information
Movie Premiere & Promotion
The movie premiered as part of the Summer 1987 "Toei Cartoon Festival" (東映まんがまつり; Tōei Manga Matsuri) on 18 July 1987, along with three other movies from the Saint Seiya, Hikari Sentai Maskman, and Chōjinki Metalder series. The "Toei Cartoon Festival" was established by Toei in 1969 as a way to showcase their popular children's series as theatrical films during seasonal breaks in the school year: spring vacation, summer vacation, and winter vacation. In Japan, almost all schools below the university level run a three-term school year (trimester system) with a vacation period of several weeks to a month at the end of each trimester. The movies were screened together back-to-back in various cities across Japan, with a typical total running time of roughly three hours. Most festivals would last roughly one month, or as long as the seasonal vacation allowed. Tickets could be purchased at the theater, or discount tickets could be purchased in advance which covered the cost of admission, as well as a bonus item such as a promotional pamphlet describing the featured movies, and various other special presents, such as posters, paper hats, cards, and toys. Additional items, including the official theatrical pamphlet and a variety of other commemorative goods, were available for purchase at cinemas or by mail during this period.



Home Video Release
Up until the Dragon Box DVD sets began being released in the early 2000s, the only Dragon Ball properties released to home video in Japan were the original seventeen theatrical films, most of which were available on VHS, LaserDisc, and 8mm film reels. These home video releases were a luxury for most fans, as they came at a rather high price point for the time. They were later re-released in 1996 to replace the then out-of-print VHS tapes with a lower price point and slightly different covers.
After releasing the entirety of the three Dragon Ball TV series, Toei released their fifth and final "Dragon Box", which was entitled "Dragon Box The Movies". The Dragon Box contained all seventeen original Dragon Ball movies presented in their theatrical 16:9 widescreen aspect ratio. As a special bonus for the movie's first DVD release, Toei dug through their vaults and included some of the movie's original promotional material.
Theatrical Preview (劇場予告)
Running Time: 25 seconds
Digest (ダイジェスト)
Running Time: 1 minute, 10 seconds
Following the "Dragon Box", Toei began releasing each movie individually on DVD. To help promote the sale of movie individual discs, Shueisha handed out a free promotional DVD highlighting the releases at Jump Festa 2009. The DVD contained promotional trailers for each movie which were narrated by veteran Dragon Ball cast member Shigeru Chiba, the voice of such notable characters as Pilaf, Garlic Jr. (TV series), and Raditz. More information about the promotional DVD is available in our "Home Video Guide".
In July 2018, the original seventeen theatrical films were released on Japanese Netflix and Amazon Prime streaming services. The addition of the movies themselves was heavily promoted throughout social media, however it was not announced or promoted at the time that they were actually new, high-definition remasters of the films scanned, and subsequently remastered, from the original film negatives. Shortly thereafter on 09 August 2018, Toei Animation formally announced the release of these newly-remastered versions of the movies across eight Blu-ray volumes. All non-credit versions of the opening and endings included with the release are up-converts of those originally included on the original LaserDisc releases and all bonus promotional materials (trailers, digests, etc.) are presented in their original standard definition format as included in the Dragon Box release.
Movie Synopsis
Goku heads to Kame House to train with Kame-Sen'nin, but when he arrives, Kame-Sen'nin is "busy". Goku shouts in his ear, and finally gets his attention. Shortly after, Kuririn arrives on the island and requests that Kame-Sen'nin take him on as a student, as well. After some bribing, Kame-Sen'nin says he will accept one of them as a student, but only whichever one returns with the "Sleeping Princess".
The boys set off toward Devil Castle, where the "Sleeping Princess" is said to be. Meanwhile, Bulma and the others tail Goku, but as they approach Devil Castle, they are attacked, and Bulma is kidnapped. After losing consciousness, Bulma wakes up in a lavish room. The owner of the castle, Lucifer, introduces himself and treats Bulma as an honored guest.
Goku and Kuririn sneak into the castle, but are soon swarmed by demons that have learned of their ambitions to take the "Sleeping Princess". Lucifer escorts Bulma to a giant room, and informs Bulma that it is time to awaken the "Sleeping Princess". As she is tied to a chair, Bulma realizes she is going to be used as a sacrifice. Suddenly, Goku's and Kuririn's battle with the demons crashes into the room. Goku ends up under an altar, where he finds the jewel known as the "Sleeping Princess".
Lunch, a violent, blonde thief, rides into the room and quickly snatches the jewel from Goku. Goku gives chase, but after obtaining the jewel, he is forced to hand it over to Lucifer in exchange for Kuririn, who has been captured. Everyone is rounded up and encased in a wall of rock. Lucifer plans to use the jewel to power a beam cannon that he will use to destroy the sun. The "Sleeping Princess" is finally awakened with the light of the full moon, but this also triggers Goku's transformation into a giant ape.
As Goku rampages through the castle, Pu'er eventually manages to cut off his tail, returning him to normal. Goku then takes on Lucifer and fires a Kamehameha at the beam cannon, destroying it. As it explodes, the out-of-control energy from the "Sleeping Princess" engulfs Lucifer, killing him. Everyone escapes, and the two boys return to Kame House with Lunch, who has transformed into a docile, dark-haired form. Kame-Sen'nin then accepts them both as his students. Kame-Sen'nin takes Lunch inside the house, but she suddenly sneezes and transforms back into her blonde form, riddling our heroes with bullets.













Movie Characters & Items
The following original character profiles were translated from Daizenshuu 6, with additional character design comments from the movie's character designer, Minoru Maeda, as published in the "Design Lab" section of the "Dragon Box The Movies" Dragon Book.
Items
Sleeping Princess (

ねむり姫

; nemuri hime)
Long ago, there was a beautiful young girl who was kidnapped by devils and imprisoned in Devil Castle. It was said that from then on, she continued sleeping for thousands of years inside a dark room, but the eyes of whoever saw her would be paralyzed by her great beauty. However, the Sleeping Princess's true identity turns out to be a gigantic jewel with formidable hidden power that is awakened by the light of the full moon.
Beam Cannon (

光線砲

; kōsen-hō)
Developed by Lucifer and his underlings, it was designed to utilize the formidable power of the Sleeping Princess jewel to destroy the sun.
Movie Notes
This movie is an alternative re-telling of the second Dragon Ball story arc, roughly covering chapters 024-031, or episodes 014-018 of the original Dragon Ball TV series. Daizenshuu 6 does not distinctly classify this movie as an event that takes place in an alternate world, but rather notes that it conflicts with the events of the original story:


Goku and Kuririn becoming pupils under Kame-Sen'nin and Yamcha's objective of searching for the Dragon Balls are the same as the TV version. However, points such as seeking out the Sleeping Princess being a part of the training do not synch up with the timeline of the TV show.
— "Dragon Ball Daizenshuu 6: Movies & TV Specials" (p. 24)

Although this movie was presented in a 16:9 widescreen aspect ratio in theaters, it was actually animated in a 4:3 fullscreen format. In fact, when the movie was initially released in 1987 on VHS and Betamax, it was presented in this 4:3 fullscreen format. However, the "Dragon Box The Movies" release would later drop this format, instead presenting all of the movies in their original widescreen theatrical format. Overall, this movie has been released to the home market on VHS, Betamax, 8mm film reel, DVD, and Blu-ray.
The movie was eventually adapted and released by Shueisha as a film animation comic in February 1995, and subsequently re-released under Shueisha's "Jump Remix" line in July 2005.
Name Puns
The first "Memorial" section in Daizenshuu 6 explains that Lucifer was "modeled after a demon from the Bible". In fact, his name comes directly from Lucifer, the name many Christians treat as the Devil's original angelic name. Although it was presumably not the staff's intention, it is quite ironic that the word "Lucifer" means "Light Bringer" in Latin, whereas in the movie, the character attempts to destroy the sun.
The Supplemental Daizenshuu states that Ghastel's name is derived from the wasei-eigo term "gas table", which refers to a kitchen appliance containing one or more gas burners, and possibly a broiler for cooking fish. "Gas tables" are used in older Japanese homes that do not have a "system kitchen", where a cooking stove is instead built into the kitchen unit.

ガステーブル

(

ga·su·te·e·bu·ru

)

›

ガステル

(

ga·su·te·ru

)
Movie Credits
All credits listed below are as originally presented in the theatrical film. All original credit errors have been corrected to maintain accurate spellings throughout the site. For more information and a complete listing of the series staff, visit the Production Guide.
Cast Credits
The cast credits are listed in order of character importance within the series. For more detailed information about the series cast, visit the Cast Guide.
孫悟空

Son Goku

野沢雅子

Masako Nozawa

ヤムチャ

Yamcha

古谷 徹

Tōru Furuya

ランチ

Lunch

小山茉美

Mami Koyama

クリリン

Kuririn

田中真弓

Mayumi Tanaka

ブルマ

Bulma

鶴 ひろみ

Hiromi Tsuru

ウーロン

Oolong

龍田直樹

Naoki Tatsuta

プーアル

Pu'er

渡辺菜生子

Naoko Watanabe

亀仙人

Kame-Sen'nin

宮内幸平

Kōhei Miyauchi

執事

Butler

飯塚昭三

Shōzō Īzuka

ガステル

Ghastel

郷里大輔

Daisuke Gōri

インストラクター

Instructor

川浪葉子

Yōko Kawanami

魔人

Demon

田中亮一

Ryōichi Tanaka

沢木郁也

Ikuya Sawaki

田中和実

Kazumi Tanaka

岡 和男

Kazuo Oka

平野正人

Masato Hirano

ナレーター

Narrator

八奈見乗児

Jōji Yanami

ルシフェル

Lucifer

野沢那智

Nachi Nozawa
Opening Credits
製作総指揮

Executive Producer

今田智憲

Chiaki Imada

原作

Original Author

鳥山 明

Akira Toriyama

(週刊少年ジャンプ・連載)

(Weekly Shōnen Jump – Serialization)

企画

Planning

七條敬三

Keizō Shichijō

製作担当

Production Manager

岸本松司

Shōji Kishimoto

脚本構成

Scenario Composition

由木義文

Yoshifumi Yuki

脚本

Script

照井啓司

Keiji Terui

音楽

Music

菊池俊輔

Shunsuke Kikuchi

オープニング テーマ

Opening Theme

作詞

Lyrics

作曲

Composition

編曲

Arrangement

うた

Vocals

「魔訶不思議アドベンチャー!」

"Mystical Adventure!"

森 由里子

Yuriko Mori

いけたけし

Takeshi Ike

田中公平

Kōhei Tanaka

高橋洋樹

Hiroki Takahashi

(コロムビアレコード)

(Columbia Records)

エンディング テーマ

Ending Theme

作詞

Lyrics

作曲

Composition

編曲

Arrangement

うた

Vocals

「ロマンティックあげるよ」

"I'll Give You Romance"

吉田健美

Takemi Yoshida

いけたけし

Takeshi Ike

田中公平

Kōhei Tanaka

橋本 潮

Ushio Hashimoto

(コロムビアレコード)

(Columbia Records)

撮影

Photography

池上元秋

Motoaki Ikegami

編集

Editing

福光伸一

Shin'ichi Fukumitsu

録音

Recording

二宮健治

Kenji Ninomiya

美術監督

Art Director

伊藤岩光

Iwamitsu Itō

補佐

Assistant

塩崎広光

Hiromitsu Shiozaki

作画監督

Animation Supervisor

前田 実

Minoru Maeda

監督

Director

西尾大介

Daisuke Nishio
Ending Credits
声の出演

Voice Performances

~~~~

協力

In Cooperation With

青二プロ

Aoni Production

原画

Key Animation

青嶋克己

Katsumi Aoshima

竹内留吉

Tomekichi Takeuchi

荒牧園美

Sonomi Aramaki

中鶴勝祥

Katsuyoshi Nakatsuru

劉 輝久

Teruhisa Ryū

三角昌子

Masako Misumi

海老沢幸男

Yukio Ebisawa

小原太一郎

Tai'ichirō Ohara

井手武生

Takeo Ide

清水保行

Yasuyuki Shimizu

島貫正弘

Masahiro Shimanuki

内山正幸

Masayuki Uchiyama

動画

In-Between Animation

白須順子

Yoshiko Shirasu

鈴木初枝

Hatsue Suzuki

三柴直樹

Naoki Mishiba

中村まゆみ

Mayumi Nakamura

星野紀美子

Kimiko Hoshino

飯田倫也

Tomoya Iida

三浦辰夫

Tatsuo Miura

江原 仁

Hitoshi Ehara

増田清美

Kiyomi Masuda

呉 偉峯

Eramine Kure

水梨ひとみ

Hitomi Mizunashi

佐藤和香子

Wakako Satō

望月啓史

Hiroshi Mochizuki

松本明子

Akiko Matsumoto

西川秀明

Hideaki Nishikawa

工藤誉寿治

Yosuji Kudō

中村美雪

Miyuki Nakamura

棚橋香矛

Kahoko Tanahashi

久田和也

Kazuya Hisada

舘 直樹

Naoki Tate

動画チェッカー

In-Between Animation Checker

佐野哲郎

Tetsurō Sano

背景

Backgrounds

谷口淳一

Jun'ichi Taniguchi

行 信三

Shinzō Yuki

上田三輪子

Miwako Ueda

佐藤美幸

Miyuki Satō

澤井裕滋

Hiroshige Sawai

千田国広

Kunihiro Chida

吉池隆司

Ryūji Yoshiike

堀越幸江

Yukie Horikoshi

今野良子

Ryōko Imano

安西徹夫

Tetsuo Anzai

仕上

Finishing Touches

入江美帆子

Mihoko Irie

上村育代

Ikuyo Uemura

斉藤広美

Hiromi Saitō

増井美知子

Michiko Masui

大堀陽子

Yōko Ōbori

鈴木美佐子

Misae Suzuki

萩野 優

Yū Hagino

鈴木安子

Yasuko Suzuki

検査

Inspection

藤岡真子

Mako Fujioka

特殊効果

Special Effects

平尾千秋

Chiaki Hirao

撮影

Photography

前原勝則

Katsunori Maehara

大藤哲生

Tetsuo Ōfuji

黒田洋一

Yōichi Kuroda

野口博志

Hiroshi Noguchi

伊藤るり子

Ruriko Itō

杉山知子

Tomoko Sugiyama

鈴木典子

Noriko Suzuki

佐伯 清

Kiyoshi Saeki

池谷和美

Kazumi Iketani

伊藤 寛

Hiroshi Itō

難波充子

Michiko Nanba

 

オーディオディレクター

Audio Director

小松亘弘

Nobuhiro Komatsu

音響効果

Sound Effects

新井秀徳

Hidenori Arai

ネガ編集

Negative Editing

禾几直子

Naoko Kaki

録音助手

Recording Assistant

内田義夫

Yoshio Uchida

監督助手

Assistant Director

橋本光夫

Mitsuo Hashimoto

記録

Documentation

柴 八千穂

Yachiho Shiba

仕上進行

Finishing Manager

植木知子

Tomoko Ueki

美術進行

Art Manager

中村 実

Minoru Nakamura

製作進行

Assistant Production Manager

末永雄一

Yūichi Suenaga

録音スタジオ

Recording Studio

タバック

TAVAC

現像

Film Developing

東映化学

Toei Chemistry
おわり
The End
© TOEI ANIMATION STUDIO 1987